We learn from many sources. This is a compilation of the ones which we used in here so far. As you can see, inspirations can come from anywhere, even from us, perhaps?
To keep the ideas flowing, we're maintaining our wish list. It's mainly books of course. Have a look, maybe you'll find something for yourself.
Uczymy się z wielu źródeł. Oto kompilacja tych, z których dotychczas tu skorzystaliśmy. Jak widzisz, inspiracja może przyjść zewsząd, może również i od nas?
Aby zapewnić sobie stały przypływ pomysłów, utrzymujemy listę życzeń. To głównie książki, rzecz jasna. Zerknij, może znajdziesz coś dla siebie.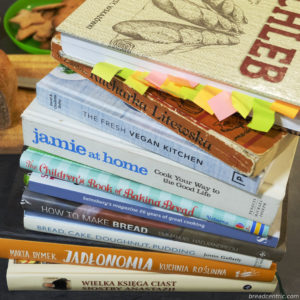 External resources
"Chleb"/"Bread" by Jeffrey Hamelman (Polish edition: ISBN 978-83-7881-928-8, English edition ISBN 978-0-4711-6857-7)
"The Children's Book of Baking Bread" by Abigail Wheatley and Sam Baer (ISBN 978-1-4095-8219-9)
Sainsbury's Magazine
Bread Ahead Bakery and School, "Bread, Cake, Doughnut, Pudding" by Justin Gellatly (ISBN 978-0-241-14605-7)
"How to make bread" by Emmanuel Hadjiandreou (ISBN 978-1-84975-140-7)
"Chleb. Domowa piekarnia" by Piotr Kucharski (ISBN: 978-83-764-2418-7)
"100 Great Breads" by Paul Hollywood (ISBN 978-1-84403-700-1):
"Mąka Woda Drożdże Sól"/"Flour Water Yeast Salt" by Ken Forkish (ISBN PL: 978-83-280-1257-8, EN: 978-83-280-1257-8):
Robert Makłowicz
"Jamie at Home" by Jamie Oliver (ISBN 978-1-856-13092-9)
Eliza Mórawska "O Chlebie" (ISBN 978-83-939782-1-2)