I am always happy to steal an idea from here or there. We had some catering at work the other day and guys brought mini cheeseburgers. About an inch in diameter, insanely good. I wanted to make them and try some recipe while doing so.
Zawsze chętnie podkradam pomysły stąd i owąd. Mieliśmy niedawno catering w firmie i goście przynieśli małe cheeseburgerki. Miały średnicę 2-3 cm, niesamowicie smaczne. Chciałem je zrobić i przy okazji wypróbować nowy przepis.
I made burger buns once based on J. Hamelman's recipe, but something wasn't right in them. Instead of trying again I decided to check a different recipe, from Piotr Kucharski's "Chleb. Domowa piekarnia" (ISBN 978-83-764-2418-7, Polish only).
UPDATE: There were some errors in the recipe so I have retried it and republished the updated version in Burger buns, take two. Bułki do burgerów, podejście drugie.
Before I begin, let me just warn you that something is not right with the recipe – there is no water in it and even if I count milk and cream as water, the hydration is 44.(4)% (the water to flour ratio) which strongly feels not enough. The dough was tearing while rising, did not stretch well (it could just as well be because of amount of fats in the dough, so I did not change anything while making), and the finished buns crumbled easily. I think I could have easily added 50 g of water to the dough and I will try that next time. I wrote a message to the author on Facebook, let's hope he replies.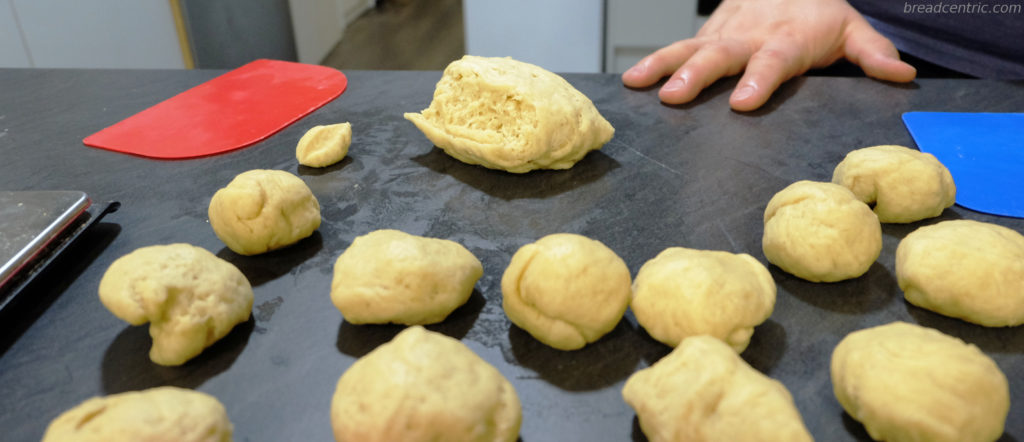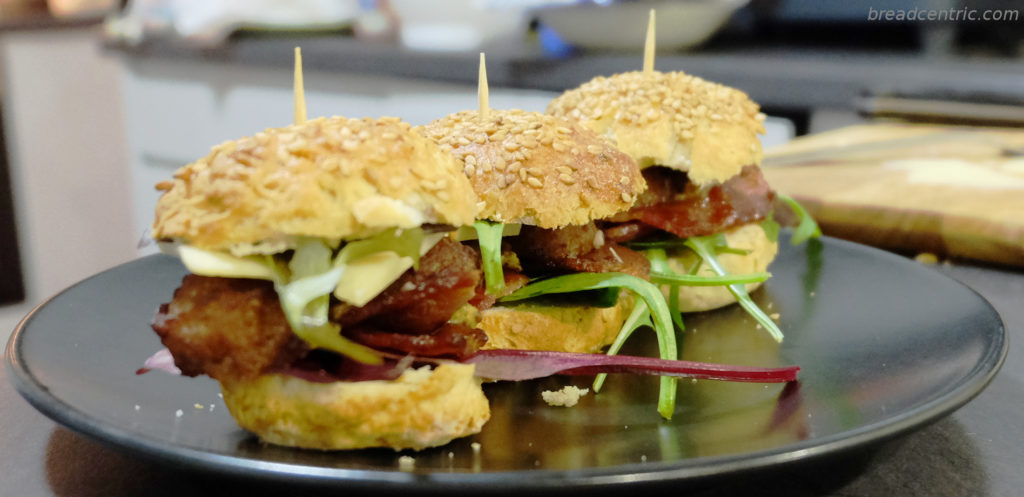 Summary
Fill the buns with whatever you like. I was lazy and used Swedish meatballs from Iceland (same as the Ikea ones), bacon, mustard, cheddar and some vegetables. I recommend having toothpicks to keep them stable.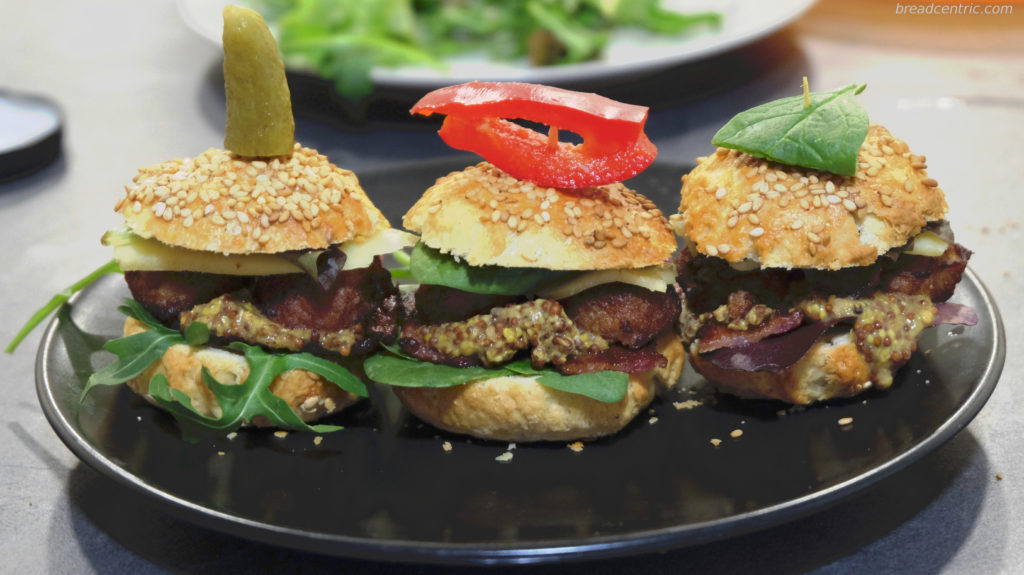 Kiedyś robiłem bułki na burgery z przepisu J. Hamelmana, ale chyba coś nie wyszło jak trzeba. Przed drugim podejściem postanowiłem wypróbować przepis od Piotra Kucharskiego. No bardzo chcę dać gościowi szansę.
AKTUALIZACJA: W przepisie były błędy, toteż wypróbowałem go ponownie. Poprawiona wersja dostępna we wpisie Bułki do burgerów, podejście drugie.
Przed rozpoczęciem zdradzę, że moim zdaniem z przepisem jest coś nie tak – nawet jeślibym liczył mleko i śmietanę jak wodę, hydracja wynosi 44,(4)% (stosunek wody do mąki) – to moim zdaniem za mało. Ciasto się rwało zamiast ciągnąć (to mogło też być przez ilość tłuszczu z masła, śmietany i mleka, więc niczego nie zmieniałem), a gotowe bułki kruszyły się. Spokojnie można by dodać 50 g wody do ciasta, tak mi się wydaje. Za drugim razem spróbuję. Napisałem na stronie autora, zobaczymy czy dostanę odpowiedź:
Coraz bardziej odnoszę wrażenie, że to jest zwykła celebrycka książka, pisana do tego niezbyt starannie. Szybko spojrzałem do książki, polecana przez Szanownych Macieja Nowaka, Roberta Makłowicza, Darię Pawlewską, korekta dokonana przez Katarzynę Ziołę-Zemczak. Piekarzy w tym gronie brak – na miejscu Pana Piotra poprosiłbym kogoś z Rodziny o rzucenie okiem. Oczywiście należy tu zaznaczyć, że ja jestem bardzo czepialski i szczegóły potrafią wytrącić mnie z równowagi, toteż nie przekreślam tej książki, tym bardziej że bułki poznańskie wyszły obłędne, a do tego jest jeszcze kilka przepisów, które chcę wypróbować.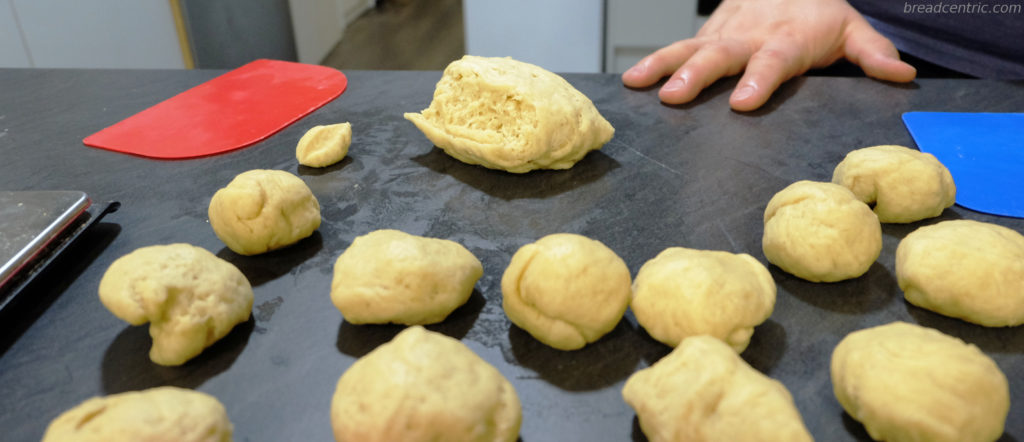 Dzielenie ciasta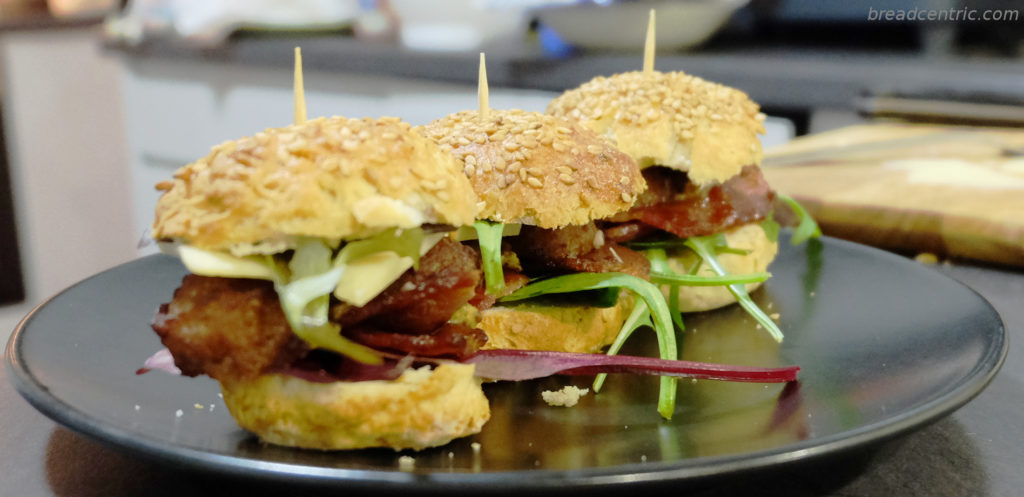 Podsumowanie
Nadziej bułki czym lubisz. Ja byłem leniwy i użyłem klopsików szwedzkich z Icelanda (takie jak z Ikei), boczku, musztardy, cheddara i trochę warzyw. Polecam mieć wykałaczki żeby utrzymać kreacje w jednym kawałku.