I am always happy to steal an idea from here or there. We had some catering at work the other day and guys brought mini cheeseburgers. About an inch in diameter, insanely good. I wanted to make them and try some recipe while doing so.
Zawsze chętnie podkradam pomysły stąd i owąd. Mieliśmy niedawno catering w firmie i goście przynieśli małe cheeseburgerki. Miały średnicę 2-3 cm, niesamowicie smaczne. Chciałem je zrobić i przy okazji wypróbować nowy przepis.
I made burger buns once based on J. Hamelman's recipe, but something wasn't right in them. Instead of trying again I decided to check a different recipe, from Piotr Kucharski's "Chleb. Domowa piekarnia" (ISBN 978-83-764-2418-7, Polish only).
Before I begin, let me just warn you that something is not right with the recipe – there is no water in it and even if I count milk and cream as water, the hydration is 44.(4)% (the water to flour ratio) which strongly feels not enough. The dough was tearing while rising, did not stretch well (it could just as well be because of amount of fats in the dough, so I did not change anything while making), and the finished buns crumbled easily. I think I could have easily added 50 g of water to the dough and I will try that next time. I wrote a message to the author on Facebook, let's hope he replies.
Planning
You need about four-five hours from start to taking out of the oven: 30-60 minutes for the levain, two-three hours for bulk rise, half an hour for final rise and 10-15 minutes for baking.
Ingredients
Levain
20 g dry yeast (I think it's dried yeast, the author did not mention the type)
100 g strong white wheat flour
100 g warm milk
2 tablespoons sugar
Dough
Levain
350 g plain white wheat flour
100 g double cream
3 egg yolks
80 g soft unsalted butter
5 g salt
30-50 g water (this is my suggestion, this isn't listed in the recipe)
egg white (for coating)
a handful of sesame seeds (for sprinkling)
Preparation
Mix all ingredients for the levain and leave for 30-60 minutes
Add the rest of ingredients apart from the egg white and the sesame and mix them. In the mixer I used lower speed for 2-3 minutes and then higher for another 2-3 minutes. By hand, knead the dough without the butter first, than mix it in – it may be easier this way
Leave for 2-3 hours to rise. It may more than double in volume, it's not a problem. I did a stretch and fold after an hour
In the original version, the dough was divided into 8 portions, a 100 g each, I did 30-35 g portions and got 25 buns 4-5 cm in diameter. The ones from catering were even smaller, but it would be too much work. Round the buns, flatten really well (1-1.5 cm thickness). Brush the egg white on top, sprinkle with sesame. Make sure you get some flour on the base so that they don't stick. Leave for 30 minutes for a final rise
Bake in 220 C for 10-15 minutes (the small ones need 10 minutes or so). I baked with a fan and some steam
Summary
Fill the buns with whatever you like. I was lazy and used Swedish meatballs from Iceland (same as the Ikea ones), bacon, mustard, cheddar and some vegetables. I recommend having toothpicks to keep them stable.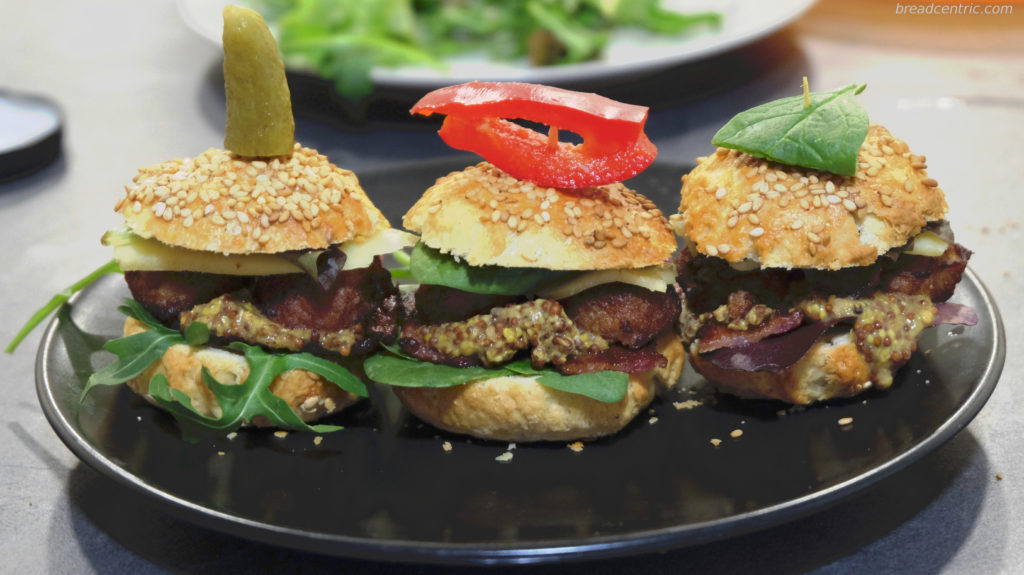 Kiedyś robiłem bułki na burgery z przepisu J. Hamelmana, ale chyba coś nie wyszło jak trzeba. Przed drugim podejściem postanowiłem wypróbować przepis od Piotra Kucharskiego. No bardzo chcę dać gościowi szansę.
Przed rozpoczęciem zdradzę, że moim zdaniem z przepisem jest coś nie tak – nawet jeślibym liczył mleko i śmietanę jak wodę, hydracja wynosi 44,(4)% (stosunek wody do mąki) – to moim zdaniem za mało. Ciasto się rwało zamiast ciągnąć (to mogło też być przez ilość tłuszczu z masła, śmietany i mleka, więc niczego nie zmieniałem), a gotowe bułki kruszyły się. Spokojnie można by dodać 50 g wody do ciasta, tak mi się wydaje. Za drugim razem spróbuję. Napisałem na stronie autora, zobaczymy czy dostanę odpowiedź:
Coraz bardziej odnoszę wrażenie, że to jest zwykła celebrycka książka, pisana do tego niezbyt starannie. Szybko spojrzałem do książki, polecana przez Szanownych Macieja Nowaka, Roberta Makłowicza, Darię Pawlewską, korekta dokonana przez Katarzynę Ziołę-Zemczak. Piekarzy w tym gronie brak – na miejscu Pana Piotra poprosiłbym kogoś z Rodziny o rzucenie okiem. Oczywiście należy tu zaznaczyć, że ja jestem bardzo czepialski i szczegóły potrafią wytrącić mnie z równowagi, toteż nie przekreślam tej książki, tym bardziej że bułki poznańskie wyszły obłędne, a do tego jest jeszcze kilka przepisów, które chcę wypróbować.
Planowanie
Potrzeba około czterech-pięciu godzin od rozpoczęcia do wyjęcia z piekarnika: 30-60 minut na zaczyn, dwie-trzy godziny na wyrastanie, pół godziny na garowanie i 10-15 minut na pieczenie.
Składniki
Zaczyn
20 g drożdży suszonych (chyba suszonych, autor nie rozróżnia na liście składników)
100 g mąki chlebowej (typ 750)
100 g ciepłego mleka
2 łyżki cukru
Ciasto
zaczyn
100 g śmietany kremówki
3 żółtka
80 g miękkiego masła
5 g soli
30-50 g wody (według mnie, w przepisie nie było)
białko jajka (do smarowania)
garść sezamu (do posypywania)
Przygotowanie
Zmieszaj składniki na zaczyn i zostaw na 30-60 minut
Dodaj składniki poza białkiem i sezamem i wymieszaj. W mikserze 2-3 minuty na niższej i 2-3 minuty na wyższej prędkości. Ręcznie najpierw wyrób bez masła, potem dodawaj stopniowo masło aż się wchłonie
Zostaw na 2-3 godziny do wyrośnięcia. Może się więcej niż podwoić, to nie problem. Ja po godzinie złożyłem raz ciasto
W oryginale ciasto było dzielone na 8 porcji po 100 g każda, ja dzieliłem po 30-35 g i wyszło 25 bułek o średnicy około 4-5 cm. Pierwowzór miał jeszcze mniej, ale to już byłaby przesada. Kęsy zaokrągl, mocno spłaszcz ( 1-1,5 cm grubości). Wierzch posmaruj białkiem i posyp sezamem, spód pokryj mąką, żeby się nie kleiły (ja miałem szufelkę z mąką i kładłem każdą bułkę przed położeniem na tacę). Pozostaw na 30 minut do wyrośnięcia
Piecz w 220 stopniach przez 10-15 minut (te małe potrzebują 10). Ja używałem termoobiegu i trochę pary
Podsumowanie
Nadziej bułki czym lubisz. Ja byłem leniwy i użyłem klopsików szwedzkich z Icelanda (takie jak z Ikei), boczku, musztardy, cheddara i trochę warzyw. Polecam mieć wykałaczki żeby utrzymać kreacje w jednym kawałku.