Every day we get some fruit at the office. When they aren't eaten, they get thrown away while still good. I decided to fix that and took some bananas home.
Codziennie dostajemy w biurze owoce. Jeśli nie zostaną zjedzone, są wyrzucane, często wciąż dobre. Postanowiłem to naprawić i zabrałem do domu banany.
Banana bread is a tasty cake. The technical difficulty is that bananas are moist and so is the dough, and if you don't do it the right way, you'll end up with some slack dough (still, very tasty).
I followed the recipe from BBC Good Food.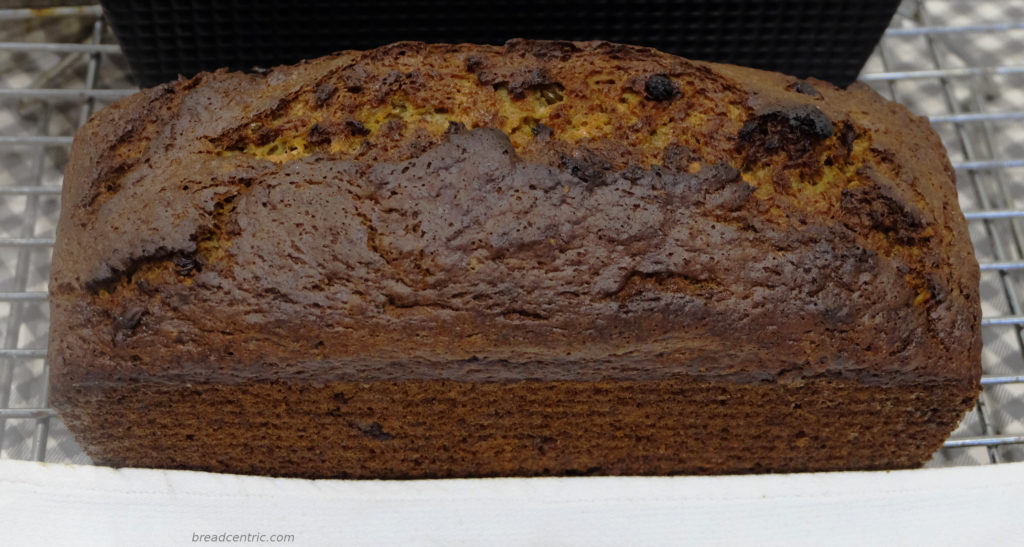 Planning
Butter a loaf tin, mine's 24 cm x 10 cm x 7.5 cm. Maybe learn how to fold ingredients into the dough:
[youtube https://www.youtube.com/watch?v=jXe-kTlTv8I ]
Be aware it is baked for over an hour.
Ingredients
100 g softened unsalted butter
140 g light muscovado sugar (I only had demerara, I don't know the difference)
2 large eggs
450 g mashed ripe bananas (after peeling, of course)
50 g roughly chopped pecan nuts. You can replace them with walnuts which taste quite similarly
50 g raisins (I had a mix with cranberries and something else, worked well)
150 ml buttermilk. You can get a good one at a Polish store near you. Don't worry if it comes a big packaging – you can use the remaining bit as a base for smoothies, or to make even more banana bread
280 g plain white wheat flour
1 teaspoon bicarbonate of soda
50 g icing (if you want, I think it's sweet enough without it)
Preparation
Preheat the oven to 160 C fan / 180 C conventional / gas 4. Always know your oven
Whisk sugar and butter into a cream
Add eggs, continue mixing
Add bananas, raisins, nuts, buttermilk
Sift flour and soda on top of the mixture, then fold it in until mixed evenly. Don't overmix
Pour the mixture into the tin and level the top
Bake for 75 minutes. It will turn dark on the surface, but will be fine. By the end I used a skewer to check that it is not too moist inside
I took the repaired bananas back to work. No more waste 🙂
Chleb bananowy to bardzo smaczne ciasto. Pewnym utrudnieniem w robieniu jest to, że zarówno banany jak i ciasto są bardzo mokre, więc jeśli się go dobrze nie zrobi, nietrudno o zakalec.
Użyłem przepisu z BBC Good Food.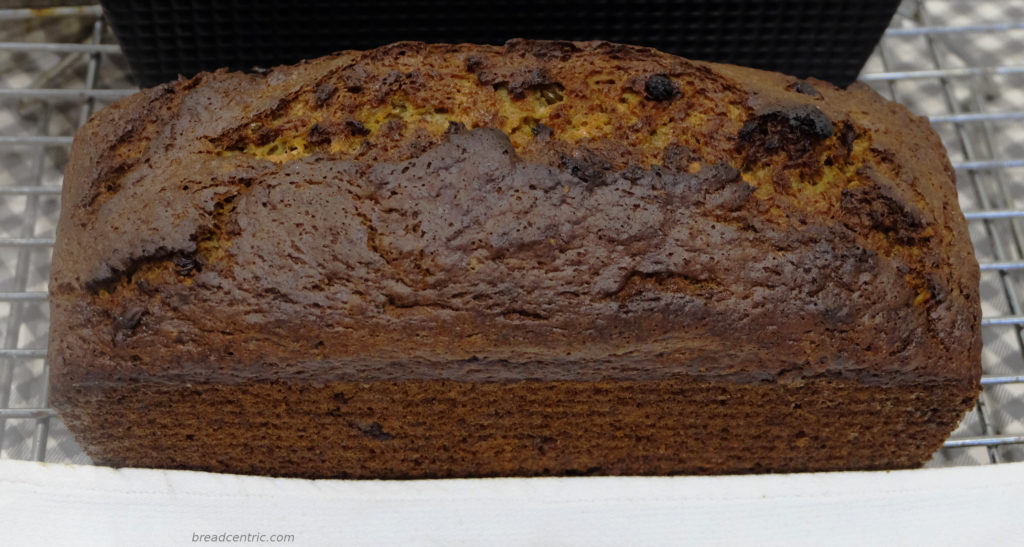 Planowanie
Posmaruj foremkę masłem, wymiary mojej: 24 cm x 10 cm x 7.5 cm. Naucz się jak wmieszać (ang. fold) składniki do ciasta.
[youtube https://www.youtube.com/watch?v=jXe-kTlTv8I ]
Ciasto piecze się ponad godzinę.
Składniki
100 g miękkiego masła
140 g jasnego cukru muscovado (ja miałem tylko demerara, nie znam różnicy)
2 duże jajka
450 g rozgniecionych, dojrzałych bananów (waga oczywiście po obraniu)
50 g grubo siekanych orzechów pekan. Możesz je zastąpić orzechami włoskimi, które smakują podobnie
50 g rodzynek (ja miałem mieszankę z żurawiną i czymś jeszcze – dała radę)
150 ml maślanki
280 g mąki tortowej
1 łyżeczka sody
50 g lukru (jeśli chcesz luktować, dla mnie było bardzo słodko bez tego)
Przygotowanie
Nastaw piekarnik na 160 stopni z cyrkulacją powietrza / 180 stopni góra dół / gaz na czwórkę (czy w Polsce kuchenki gazowe mają standardy ustawień pokrętła?)
Utrzyj masło z cukrem na masę
Dodaj jajka, dalej miksuj
Dodaj banany, rodzynki, orzechy, maślankę
Przesiej mąkę i sodę na wierzch mikstury i wmieszaj je do połączenia w jednorodną masę. Nie przesadź z mieszaniem
Przełóż miksturę do foremki i wygładź wierzch
Piecz przez 75 minut. Wierzch się mocno spiecze, to ok. Pod koniec użyj patyczka żeby sprawdzić, czy środek jest dobrze upieczony – będzie wilgotny, ale nie za bardzo
Naprawione banany zabieramy ponownie do pracy. Już się nie zmarnują 🙂