The carnival is heading towards its end. This Thursday is Fat Thursday in Poland. On this day calories don't exist.
Karnawał się kończy. Jak dobrze wiemy, w Tłusty Czwartek kalorie nie istnieją.
Fat Thursday is our version of Pancake Tuesday, just deep-fried and more varied.
"Angel wings" is a name I have never heard of in England until I looked it up on Wikipedia. These light and crunchy treats aren't too sweet, but dangerously moreish. Easy to make and you can beat the dough with a hammer – get rid of any frustrations you may have.
Source of the recipe is Polish website Moje Wypieki.
Planning
You'll need a meat hammer, and a good saucepan with thick bottom. I use a pizza knife to cut the dough.
I really recommend having a thermometer with a probe that can be put into the pan. I control the temperature to be at 175 C. This helps prevent burning or soaking the oil too much. Paper towel will also help with the fat.
Having some skewers to handle the wings when frying will be helpful.
Ingredients
Makes a nice stack of these.
450 g plain wheat flour
5 egg yolks
pinch of salt
1 tablespoon pure spirit, or 2 tablespoons rum, or 1 tablespoon pain vinegar
200 ml thick sourcream
frying oil (rapeseed, coconut)
Preparation
Mix sifted flour with other ingredients to form a ball of dough. Leave it for about 30 minutes in room temperature
Use a kitchen hammer to beat the dough, then fold it in two and repeat. You need to incorporate as much air in the dough as possible. If you use the spiky side, the bubbles will be tiny, if you use the flat one, they will be bigger. I usually do it for 10 minutes or so
Refrigerate the dough for half an hour
Start heating the oil. Use reasonably low heat, this way it's easier to control the temperature. It should be 175 C hot

I use a simple electronic thermometer with a probe

Roll the dough until about 2 mm thick, cut in stripes about 3 cm wide and then in rectangles about 10-15 cm long. Cut a hole about 5 cm long in the middle and put one end through it
[youtube https://youtu.be/p5n-dJG9a1c ]
Put two or three pieces in the oil, fry until light brown on one side, then flip and do the same in the other side

Put more in the oil if they fit

Stack cool angel wings on a plate and dust each layer with icing sugar
These come out delicately crunchy, absolutely irresistible. Note that they have no sugar in the dough so they will be as sweet as you dust them.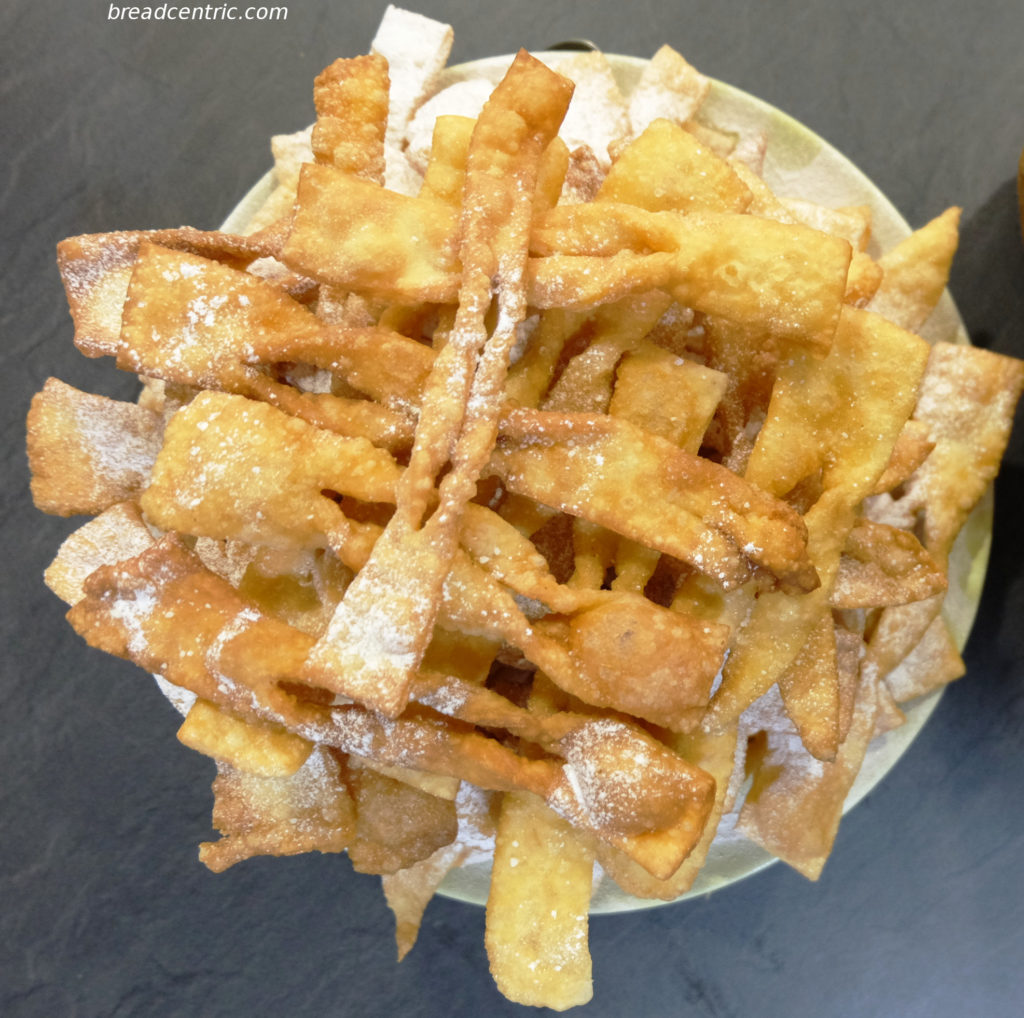 You'll be left with a lot of egg whites. You can use them to make an egg white cake, an omelette, scrambled eggs, meringue, macaroons… The list goes on, just made sure you don't waste them.
Wiecie jak jest: jest karnawał – są faworki.
Przepis pochodzi ze strony Moje Wypieki. Jeśli możecie, zajrzyjcie i doceńcie autorów.
Planowanie
Będziesz potrzebować tłuczka do mięsa, dobrego garnka z grubym dnem. Do cięcia ciasta używam noża do pizzy.
Bardzo polecam termometr z sondą, którą można umieścić w oleju. Ja utrzymuję temperaturę w okolicach 175 stopni. Dzięki temu ciasto się nie przypali, a chrust nie nasiąknie tak bardzo olejem. Potem jeszcze odsączam na papierowym ręczniku.
Przydadzą się patyczki do szaszłyków, aby nimi obracać faworki.
Składniki
Wystarczy na ładny stosik.
450 g mąki pszennej
5 żółtek
szczypta soli
1 łyżka spirytusu lub 2 łyżki rumu, lub łyżka octu
3/4 szklanki gęstej kwaśnej śmietany 18%
tłuszcz do głębokiego smażenia (np. olej rzepakowy, kokosowy)
Pzygotowanie
Połącz przesianą mąkę z pozostałymi składnikami w jednolitą kulę ciasta. Pozostaw na pół godziny w temperaturze pokojowej
Użyj tłuczka kuchennego do napowietrzenia ciasta: uderzaj ciasto, następnie złóż na pół i powtarzaj. Musisz wprowadzić jak najwięcej powietrza do ciasta. Jeśli użyjesz strony z kolcami, bąbelki będą malutkie, od płaskiej będą większe. Zazwyczaj robię to przez około 10 minut
Umieść ciasto na pół godziny w lodówce
Nastaw olej. Użyj względnie małego ognia, żeby temperatura rosła stopniowo. Olej powinien mieć temperaturę 175 stopni

Używam prostego, elektronicznego termometru z sondą

Rozwałkuj ciasto na około 2 mm grubości. Potnij na paski o szerokości około 3 cm, a następnie w prostokąty długości około 10-15 cm. Natnij dziurkę długości koło 5 cm w środku i przełóż przez nią jeden koniec
[youtube https://youtu.be/p5n-dJG9a1c ]
Wkładaj dwa-trzy chruściki do oleju, smaż na jednej stronie, aż się ładnie zezłocą, po czym odwróć je i zrób to samo z drugą stroną

Możesz włożyć do garnka więcej, jeśli się zmieszczą

Wyjmij je z garnka i połóż na papierowym ręczniku, aby usunąć jeszcze trochę oleju

Odsączanie nadmiaru oleju

Układaj chrust warstwami na talerzu, po czym każdą warstwę oprósz cukrem pudrem.
Wychodzą delikatnie chrupiące i trudno się im oprzeć. Pamiętaj, że w cieście nie ma w ogóle cukru, więc będą tak słodkie, jak popudrujesz.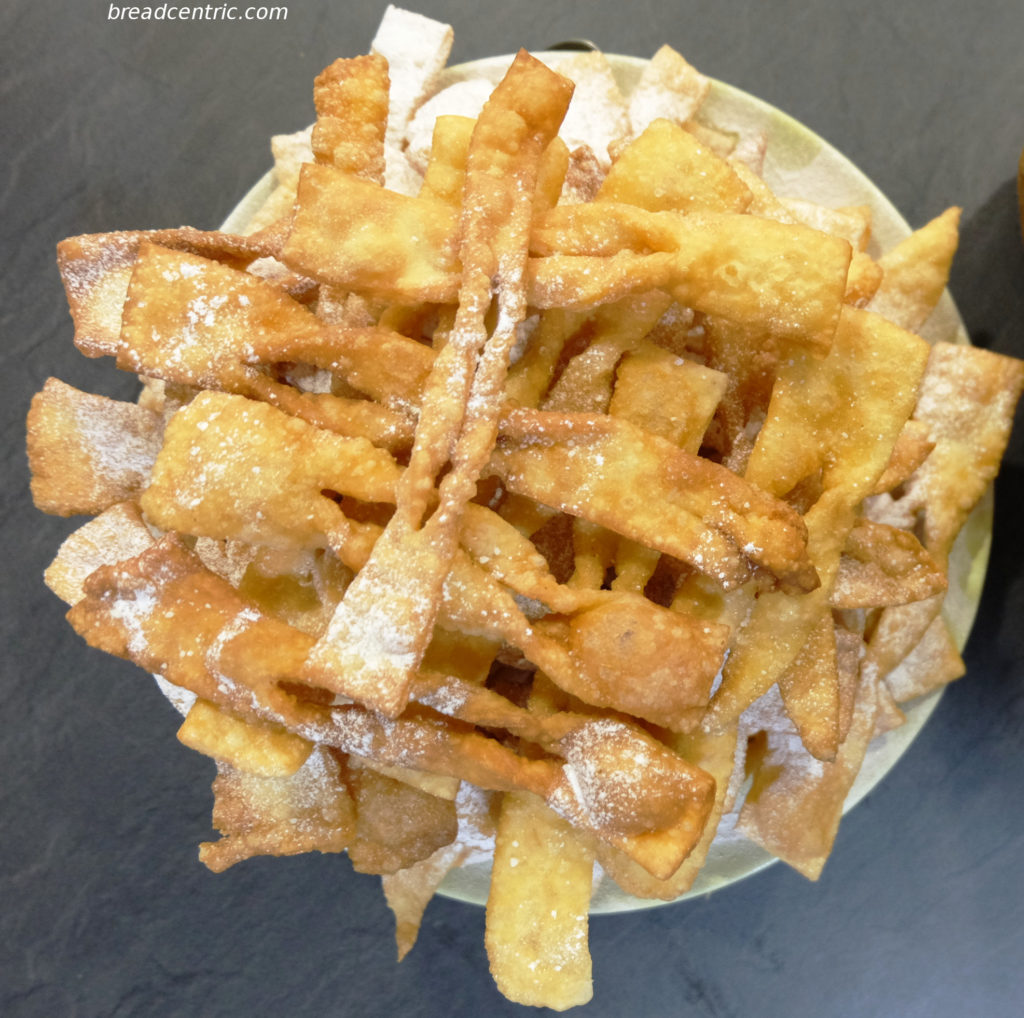 Zostanie Ci wiele białek. Możesz ich użyć do ciasta z białek, omleta, jajecznicy, bez, makaroników… lista jest długa. Upewnij się tylko, że ich nie zmarnujesz.