I made a simple bread using the recipe from Piotr Kucharski's book.
Upiekłem prosty chleb, korzystając z przepisu z książki Piotra Kucharskiego.
We've got a couple recipes for simple quick yeast breads, there are also some more complex with sourdough. I was missing something in between. There is Rustic bread. Chleb rustykalny., but it requires a couple more ingredients. This one has four, is simple to make and this is why I'm presenting it to you today.
Source: Piotr Kucharski, "Chleb. Domowa Piekarnia" (sources)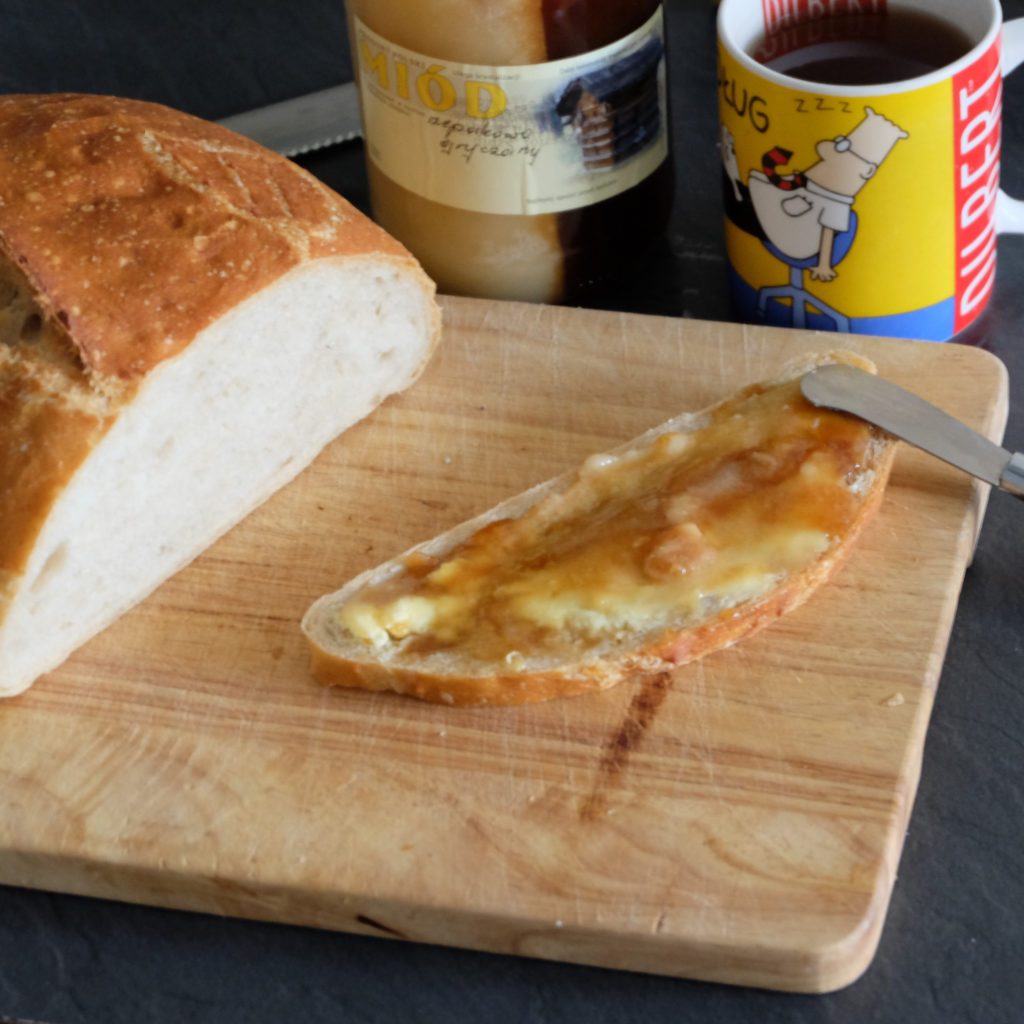 Planning
The levain is quick to make, but you have to wait 12-16 hours. Next mixing the dough, 2-3 hours bulk proof, shaping, 60-90 minutes final proof, 40-45 minutes baking, cooling down.
Ingredients
This is enough for a single loaf around 1 kg in weight.
Levain
Dough
Preparation
Crumble the yeast in a bowl, add the water, stir, add the flour, stir
Leave for 12-16 hours
Crumble the yeast in a bowl, add the water, stir
In a bigger bowl mix flour and salt
Add the levain and water with yeast
In a mixer, using the dough hook, mix for 6-8 minutes. By hand: knead in a bowl until the dough forms it's structure and starts coming off your hands. In the meantime have a small bowl with water to dip your hand from time to time. Don't take water from it to add to the dough, but don't worry about your hand being too wet. You're dipping it so that the dough doesn't stick to it
When it's ready, leave for 2-3 hours to proof. The dough must at least double it's volume. If it triples or more, it's also OK
Shape a loaf. I put it in a basket, the author left it on a floured baking tray. Make sure you cover it so that  it doesn't get too dry during the 60-90 minutes final proof
Set your oven to 220 C degrees without a fan and 200 C degrees with a fan. Know your oven
Score the loaf so that it opens in a controlled way, add steam to your oven and bake for 40-45 minutes
Leave to cool down
Well, it isn't Boulangerie Poilâne really. The bread was baked in the evening and in the morning was very soft, like a big roll. But it did crack nicely when cooling down 🙂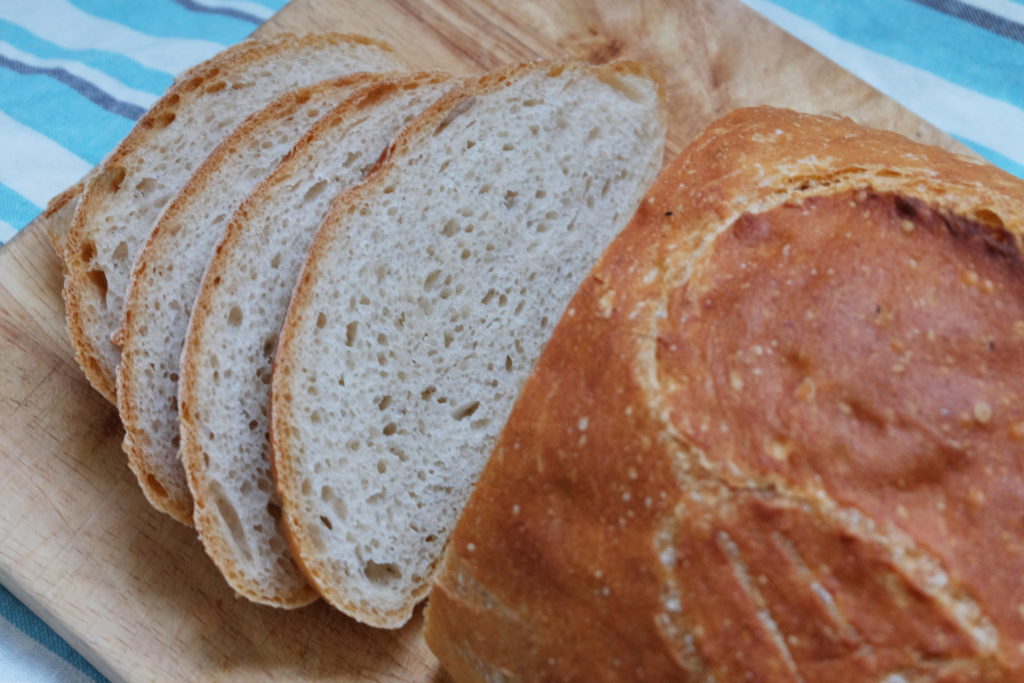 It's very delicate, I was tempted to add some rye flour to it. I think it is a good recipe for someone who would like to try making something leavened, but only has the basic ingredients. I will however stay with the sourdough.
Mamy kilka przepisów na szybkie chleby na drożdżach, są też bardziej złożone na zakwasie. Brakowało mi czegoś pomiędzy. Jest co prawda Rustic bread. Chleb rustykalny., ale wymaga trochę więcej składników. Ten ma cztery, jest prosty do zrobienia, i dlatego go przedstawiam.
Źródło: Piotr Kucharski, "Chleb. Domowa Piekarnia" (źródła)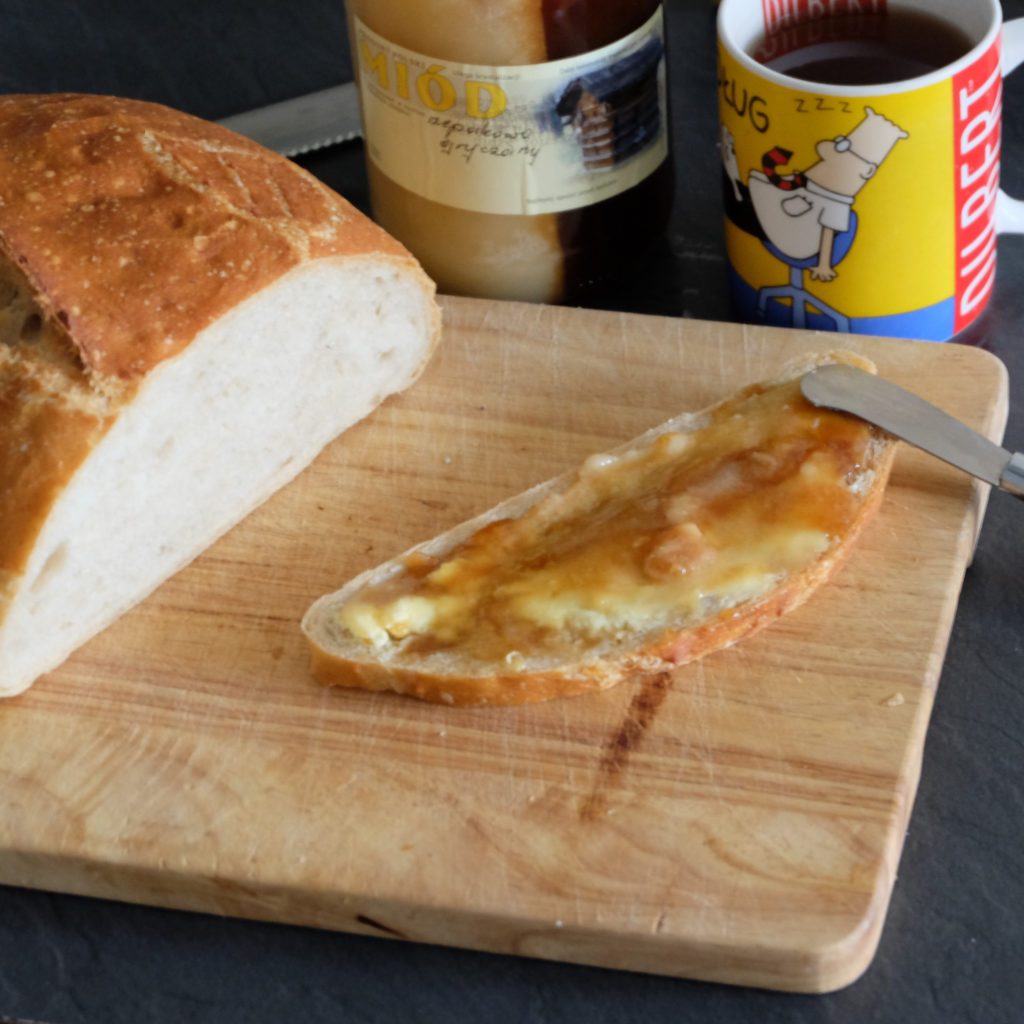 Planowanie
Podmłodę robi się szybko, ale trzeba potem czekać 12-16 godzin. Następnie mieszanie ciasta, 2-3 godziny wyrastania, formowanie, godzina-półtorej wyrastania i 40-45 minut pieczenia, studzenie.
Składniki
Wystarczy na jeden bochenek około 1 kg.
Podmłoda
Ciasto
Przygotowanie
Pokrusz drożdże, zalej letnią wodą, rozmieszaj, dodaj mąkę, rozmieszaj
Zostaw na 12-16 godzin
Pokrusz resztę drożdży, zalej resztą letniej wody, rozmieszaj
Mąkę połącz z solą
Dodaj wodę z drożdżami i podmłodę
Mieszaj mikserem za pomocą haka przez 6-8 minut. Ręcznie: wyrabiaj w misce aż ciasto połączy się w zwartą całość i zacznie odchodzić od dłoni. W międzyczasie miej pod ręką miskę z wodą i zamaczaj rękę od czasu do czasu. Nie zbieraj wody żeby dolewać do ciasta, ale nie martw się też, że ręka będzie zbyt mokra. Moczysz po to, żeby ciasto nie oblepiło dłoni
Gdy już będzie gotowe, odstaw na 2-3 godziny do wyrośnięcia. Ciasto musi minimum podwoić objętość. Jak potroi lub więcej, też będzie ok
Uformuj bochenek. Ja włożyłem do kosza, autor położył jedynie na oprószonej mąką blasze, niech będzie tylko przykryty, żeby nie wysechł wyrastając przez 60-90 minut
Nastaw piekarnik na 220 stopni bez termoobiegu 200 z termoobiegiem. Znaj swój piekarnik
Chleb natnij, żeby pękał w sposób kontrolowany, piekarnik zaparuj, piecz przez 40-45 minut
Odstaw do ostygnięcia
No cóż, Boulangerie Poilâne to to nie jest. Chleb upieczony wieczorem, rano miał już miękką skórkę, taka duża bułka. Ale fajnie trzaskał podczas stygnięcia 🙂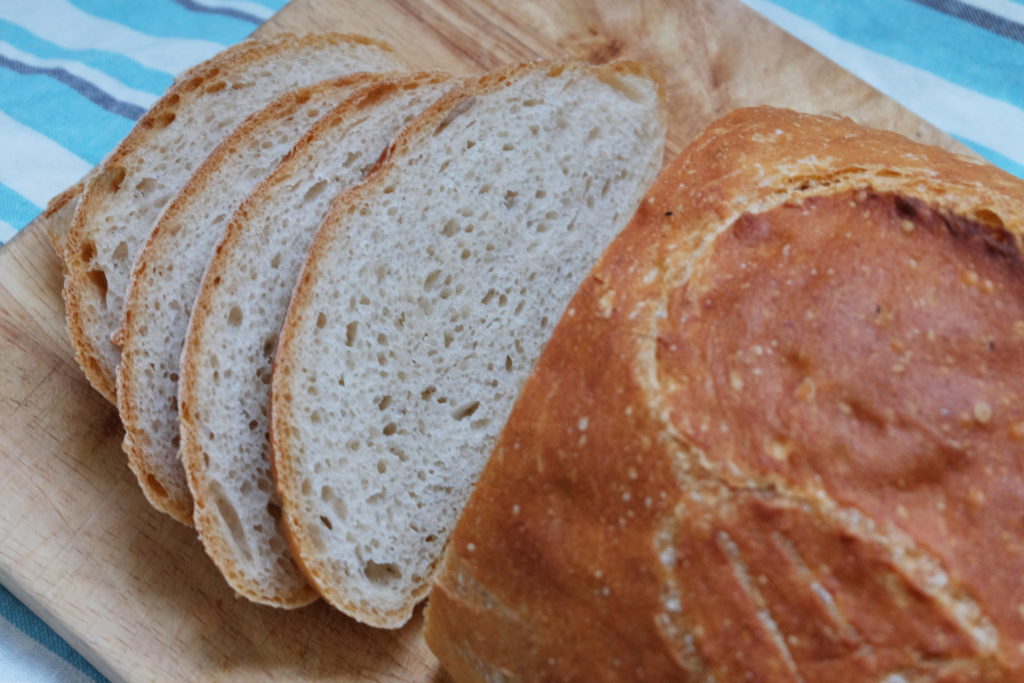 Chleb jest delikatny, bardzo lekki. Aż korciło, żeby dodać garstkę mąki żytniej. Wydaje mi się, że jest to dobry pomysł dla kogoś, kto chiałby spróbować upiec coś z zaczynem, ale ma tylko podstawowe składniki. Ja jednak pozostanę przy zakwasie.