Mięciutkie, puszyste maślane bułeczki, idealne na śniadanie, do śniadaniówki  do szkoły, na podwieczorek. Z kakao z cukrem, kawą, mlekiem…
Soft and fluffy buttery buns, perfect for breakfast, brunch, lunch, tea. With hot chocolate, coffee, milk…
Wersja polska poniżej
I just love yeast dough – brings memories of my grandma Zosia who baked a lot of it, mainly as a strudel filled with cocoa or apples. She kneaded it in a bowl or a huge pot and proofed it under a tea towel.
I have always liked baking with yeast and since I got myself a proper kitchen robot and the dough "kneads itself", I do it regularly.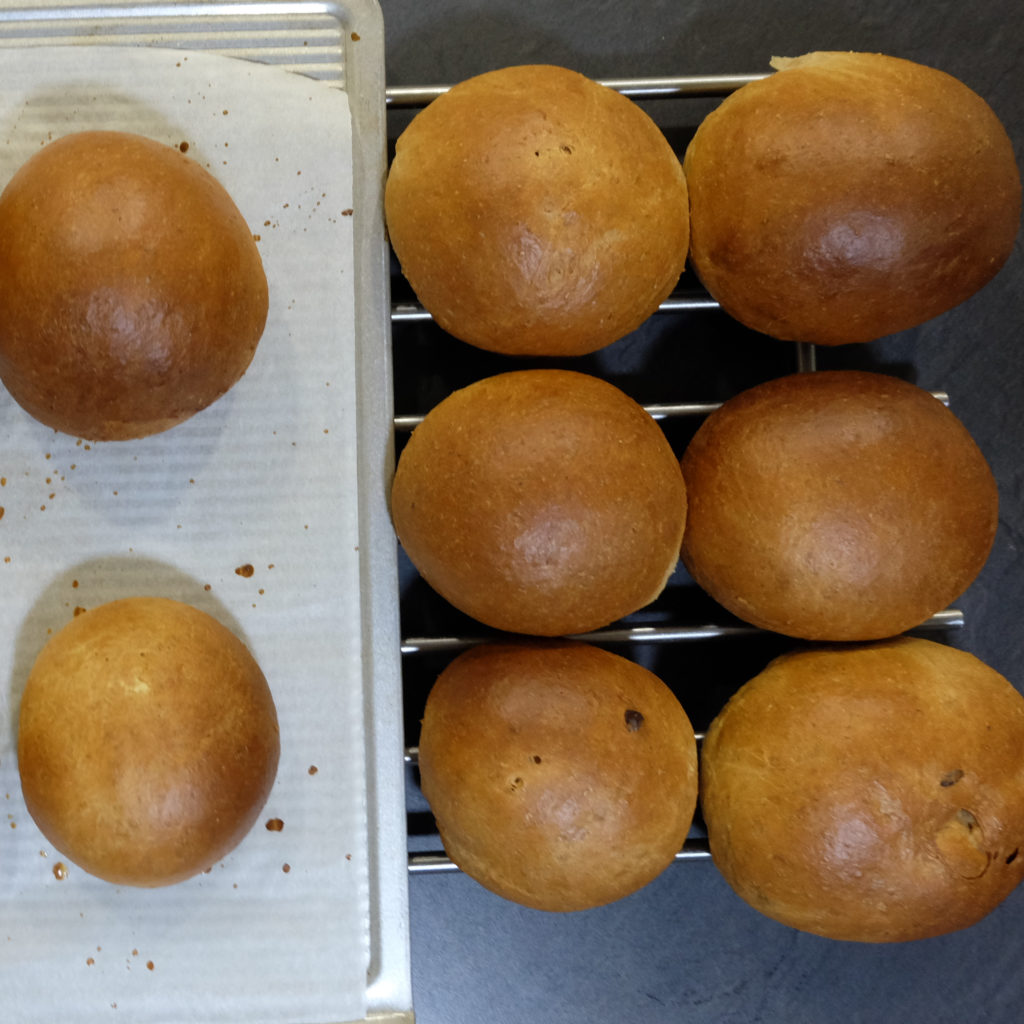 The recipe comes from the LadyKitchen blog, I did however change it a bit: a quarter of flour has been replaced with wholemeal and the raisins have been skipped – our kids don't like them in cakes, only as nibbles.

Planning
We need 3-3.5 hours. 20 minutes to prepare and knead the dough. 1.5-2 hours for proofing, about 30-45 minutes for second proofing ad 20-30 minutes for baking.
Ingredients
This is enough for 12 quite large buns.
250 ml warm milk

110 g melted and cooled down butter
half of a 250 ml cup sugar
2 eggs
a pinch of salt
4 250 ml cups wheat flour (1 wholemeal + 3 plain)
3 flat teaspoons dry yeast
1 tablespoon vanilla paste/essence (can be skipped)
Preparation
Warm the milk up. I do it with butter in one saucepan. Sometimes you may need to cool it down a bit if it comes out too warm
Throw everything into a bowl, add milk with butter and knead with a dough hook, or by hand with a spoon, or just by hand
Cover the bowl and put it away until the dough at least doubles in about 1.5-2 hours
Take the dough out of the bowl and divide into 12 portions. Shape the rolls
Put the rolls on a baking tray lined with baking paper and leave covered for the final proofing for 30-45 minutes
Set the oven to about 170-180 C degrees. Know your oven
Coat the buns with milk or a whisked egg
They are just delicious, buttery and soft. It's a great alternative to the buttery buns offered at the store. You can add a lot of extras: raisins, cranberries, or more chocolate. Next time I will chop the chocolate a bit coarser to have some chunks in the buns, but thanks to it they had a nice chocolatey colour.
Wersja polska
Uwielbiam ciasto drożdżowe – kojarzy mi się z moją babcią Zosią,  która chyba tylko takie piekła:  zawijane drożdżowe ciasto wypełnione kakao albo jabłkami. Wyrabiane ręcznie w misce albo dużym garnku, wyrastające pod kuchenną ścierką.
Zawsze lubiłam piec ciasta na drożdżach, a od kiedy mam robot planetarny i ciasto wyrabia się "samo", piekę je dość często.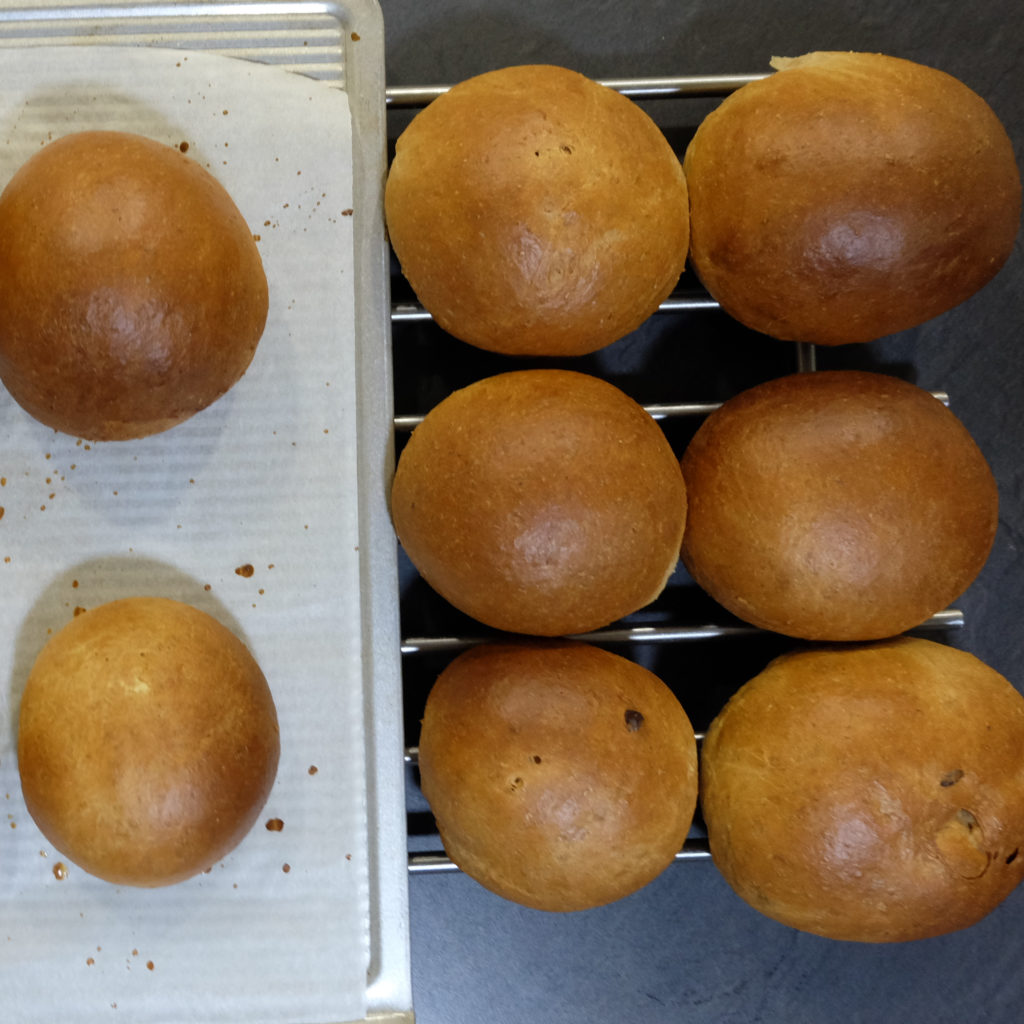 Przepis pochodzi z LadyKitchen, zmieniłam jedynie udział mąk: 1/4 mąki zastąpiłam mąką pełnoziarnistą i nie dodałam rodzynek – nasze dzieci nie lubią ich w  wypiekach.

Planowanie
Potrzebujemy około 3-3,5 godzin.  20 minut na przygotowanie i wyrobienie ciasta. 1,5 do 2 godzin na  pierwsze wyrastanie ciasta, około 30-45 min na drugie wyrastanie, około 20-30 minut na pieczenie
Składniki
Z podanych składników wyszło mi 12 sporych bułeczek.
1 szklankę ciepłego mleka
110 g rozpuszczonego i ostudzonego masła
pół szklanki cukru
2 jajka
szczypta soli
4 szklanki mąki pszennej (1 pełnoziarnista + 3 zwykłe)
3 łyżeczki suchych drożdży
1 łyżka pasty waniliowej/esencji waniliowej (można pominąć)
Przygotowanie
Pogrzej mleko. Ja podgrzewam mleko razem z masłem, mam od razu rozpuszczone mało i ciepłe mleko. Czasem trzeba ostudzić bo wychodzi za gorące
Wszystko wrzuć do miski, wlej mleko z masłem i wyrób mikserem z hakiem, łyżką, albo ręką
Miskę przykryj i odstaw do wyrośnięcia na około 1,5- 2 godziny
Wyjmij ciasto z miski i podziel na 12 części i uformuj bułeczki
Ułóż bułeczki na blaszce wyłożonej papierem do pieczenia i odstaw przykryte do ponownego wyrastania na około 30-45 min
Rozgrzej piekarnik do około 170-180 stopni. Znaj swój piekarnik
Wyrośnięte bułeczki posmaruj mlekiem albo rozmąconym jajkiem z mlekiem
Naprawdę pyszne bułeczki, maślane, mięciutkie . Dobra alternatywa dla bułeczek mlecznych dostępnych w sklepach. Można wrzucić wszystko co się lubi: rodzynki, żurawinę albo więcej czekolady.  Ja za drobno posiekałam czekoladę i mało jest kawałków w bułkach, ale za to mają piękny czekoladowy kolor.