We store must of our sourdoughs in the fridge, but the one made with Helena is kept in room temperature. This means regular feeding, and this means a lot of discarded sourdough. We're learning to tackle this today.
Większość naszych zakwasów trzymamy w lodówce, ale ten zrobiony z Heleną stoi na blacie kuchennym. To oznacza regularne karmienie, a to z kolei oznacza dużo wyrzucanego zakwasu. Dziś spróbujemy sobie z tym poradzić.
We chose to keep Flower on the kitchen counter mainly out of curiosity. We never did that before and thought it would be time consuming and inconvenient. It hasn't been too bad so far. We feed it once a day by giving it a stir and pouring most of it to a food waste bin, next we add 50 g of water and 40 g of strong flour. If we forget once, it will forgive us. When we left for two weeks, it went into the fridge and back out after returning. It did underperform temporarily afterwards, but got back in shape after two days or so.
What to do with discards? We usually throw it away, but from time to time we try to find a use for it, like the waffles. Now I stumbled upon a thread on the fresh loaf that has loads of ideas. We chose the biscuits for a start.
This recipe uses the sourdough discard mainly for the flavour, the rise comes from baking powder and baking soda. They turn out quite dry and can use some extra water, which I mentioned in the ingredients. I added Parmesan cheese (other time Cheddar) and caraway seeds to it which was a spot on. I didn't have enough discard, so I added the rest from a rye sourdough. This worked well.
Planning
None. Mix, bake, enjoy.
Ingredients
170 g plain wheat flour, plus extra for dusting
10 g Parmesan/Cheddar
3 g salt (1/4 teaspoon)
7 g baking powder (2 teaspoons)
2 g baking soda (1/2 teaspoon)
Pinch of caraway seeds (maybe two, try once and adjust to your needs)
Pinch of pepper
80 g soft butter
250 g sourdough discard
30 g water
Preparation
Set your oven to 200 C with a fan or 220 without. Know your oven
Mix the dry stuff
Cut the butter into small pieces and incorporate it into the dry mixture
Add the wet stuff
Combine into a dough
Flatten on a floured surface to about 15 mm thickness. Use your hands, it's not worth getting a rolling pin dirty
Cut out desired shapes and place them on a baking tray
Bake for about 10-15 minutes
Let them cool down
I recommend eating them with something, as they can be a bit dry on their own. I took them for lunch the other day, had them with butter, smoked mackerel, cocktail tomatoes and chives. Absolutely gorgeous. The serving idea comes from Gosia. I took four, should have taken six or seven to replace my regular lunch and share one or two with my workmates. Today I'm taking a couple to have with a lentil soup.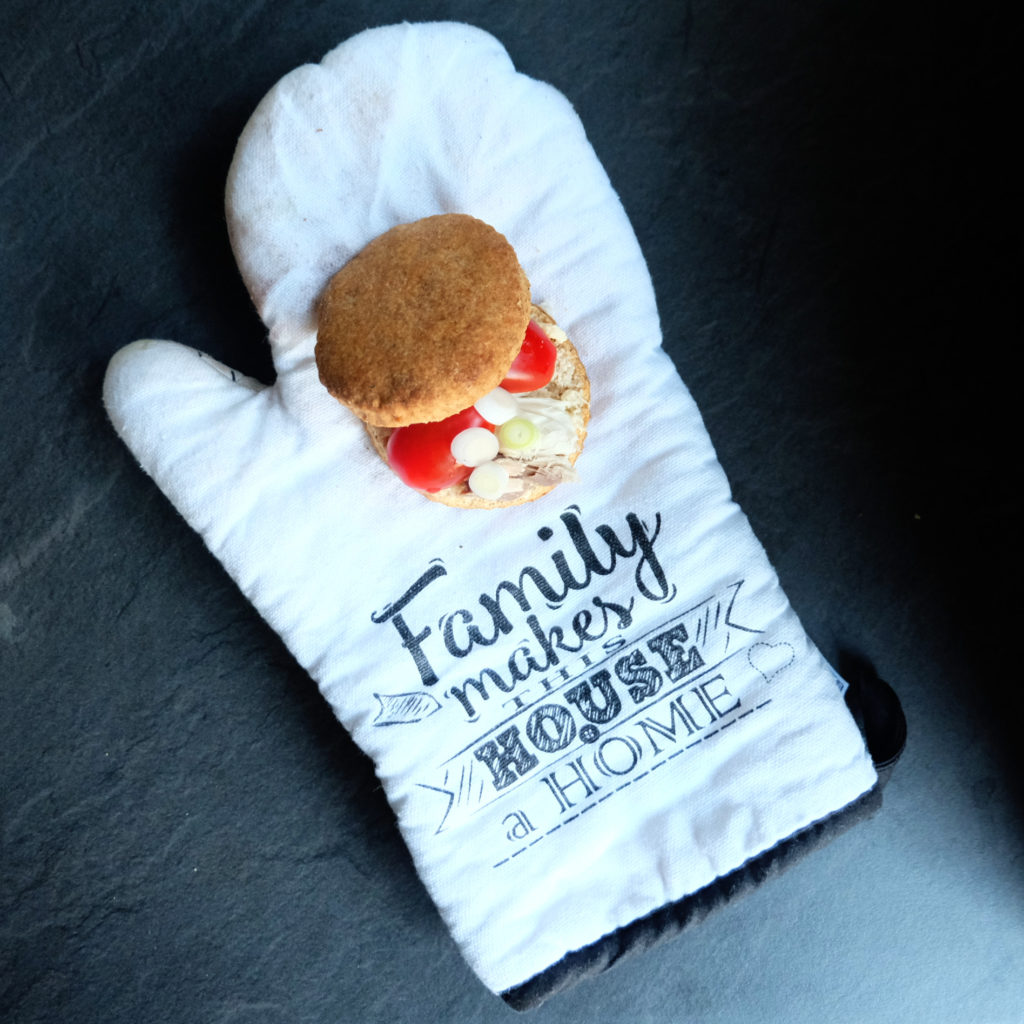 If you want to surprise your party guests, you have to try these. You can make them smaller and serve with a toothpick. Your guests will love them.
Wersja polska
Postanowiliśmy trzymać Kwiatek na kuchennym blacie głównie z ciekawości. Nigdy wcześniej tak nie robiliśmy i myśleliśmy, że będzie to czasochłonne i niewygodnie. Póki co nie było źle. Karmimy go raz na dzień: wylewamy większość, dodajemy 50 g wody i 40 g mąki chlebowej. Jeśli zdarzy nam się zapomnieć, wybacza. Gdy wyjechaliśmy na dwa tygodnie, włożyliśmy go do lodówki i wyjęliśmy po powrocie. Miał potem drobne problemy, ale wrócił do formy po dwóch dniach.
Co zrobić z odpadem? Zazwyczaj go wyrzucamy, ale od czasu do czasu szukamy pomysłu na jego wykorzystanie, jak w przypadku gofrów. Teraz trafiłem na wątek na The Fresh Loaf, w którym jest pełno pomysłów. Na start wybraliśmy wytrawne ciastka.
W przepisie zakwas jest użyty głównie dla smaku, a ciastka rosną na sodzie i proszku do pieczenia. Można użyć w nich jeszcze nieco wody, bo pierwsze ciastka wyszły dość suche – przepis już to uwzględnia. Dodałem do nich parmezan (innym razem cheddar) i kminek, i był to strzał w dziesiątkę. Nie miałem dość zakwasu do wylania, więc dodałem trochę żytniego zakwasu. Efekt był zadowalający.
Planowanie
Brak. Zmieszaj, upiecz, delektuj się.
Składniki
170 g mąki (i trochę do oprószenia)
10 g parmezanu
3 g soli (1/4 łyżeczki)
7 g proszku do pieczenia (2 łyżeczki)
2 g sody oczyszczonej (1/2 łyżeczki)
Szczypta kminku (lub więcej, spróbuj i dopasuj do swoich potrzeb)
Szczypta pieprzu
80 g miękkiego masła
250 g zakwasu
30 g wody
Przygotowanie
Nastaw piekarnik na 200 stopni z termoobiegiem lub 220 stopni bez. Znaj swój piekarnik
Wymieszaj suche składniki
Pokrój drobno masło i wgnieć w ciasto
Dodaj mokre składniki
Połącz w ciasto
Rozpłaszcz na oprószonej mąką powierzchni do grubości około 15 mm. Nawet nie użyłem do tego wałka, żal było go brudzić
Wytnij wybrane kształty i umieść na tacce do pieczenia
Piecz przez około 10-15 minut
Daj im ostygnąć
Polecam jeść je z czymś, bo same mogą być trochę za suche. Wziąłem je sobie kiedyś na lunch, przygotowane z masłem, wędzoną makrelą, pomidorkami koktajlowymi i szczypiorkiem. Oszałamiająco pyszne. Propozycja podania autorstwa Gosi. Wziąłem cztery, a powinienem z sześć lub siedem, aby wystarczyło zamiast regularnego lunchu i zostało troszkę do poczęstowania. Dziś biorę je do zupy soczewicowej, będzie jedzone.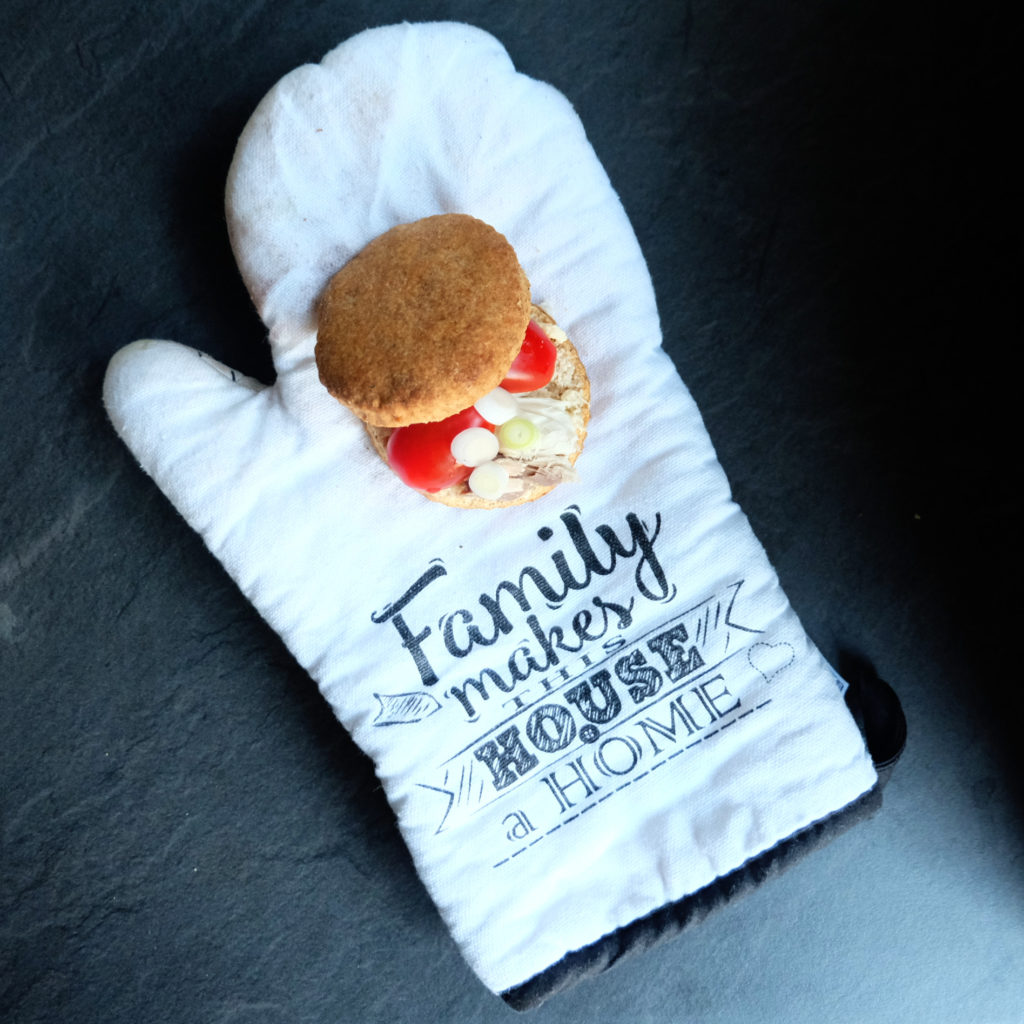 Jeśli szykujesz przyjęcie i chcesz zaskoczyć swoich gości, musisz je wypróbować. Możesz je zrobić malutkie i nadziać na wykałaczkę. Goście je pokochają.