A couple reasons have led to today's recipe: I got some new bannetons and wanted to try them out, I wanted to try a recipe with yeast-based levain and most of all, I wanted to bake something interesting.
Kilka przyczyn doprowadziło do wykorzystania dzisiejszego przepisu: Kupiłem nowe koszyki i chciałem je wypróbować, chciałem znaleźć przepis na chleb na drożdżach z użyciem zaczynu, a przede wszystkim, chciałem upiec coś ciekawego.
Before, I had three round bannetons: two holding a 1 kg of dough each and one holding 2 kg. I was missing an oval one and smaller round ones. I did buy an oval banneton for Easter, but left it behind for my Mom to use. Also, it was a 1 kg basket, so a bit too big for my plans. I wanted to learn shaping and proofing, and make smaller loaves to try out what I can get out of a recipe without making too much of it. As usual, I made friends with Amazon and found small round bannetons for 250 g of dough and two round ones for 500 g each.
I will be soon presenting a new page on a blog. I get questions about how to start, what to try etc. It's really cool, but I do feel that I keep repeating myself over and over again. I decided to prepare a single place with suggestions on what to try. I found a lot of basic recipes, a lot of basic sourdough recipes, but I have not found much interesting things with yeast and a levain. I browsed through J. Hamelman's "Bread" (sources) and found a rustic bread. It is yeast-based, has a levain, contains wholemeal flours, both rye and wheat. Sounds like a perfect thing to try.
Planning
You need to make a levain 12-16 hours before baking (assuming temperatures around 21 C degrees), then mixing, 2.5 hours bulk proof, shaping, 75-90 minutes final proof, 35-38 minutes baking (I did less, but I made very small loaves; I also controlled the sound of knocking on the bottom to make sure they were good – ready loaves make a hollow sound).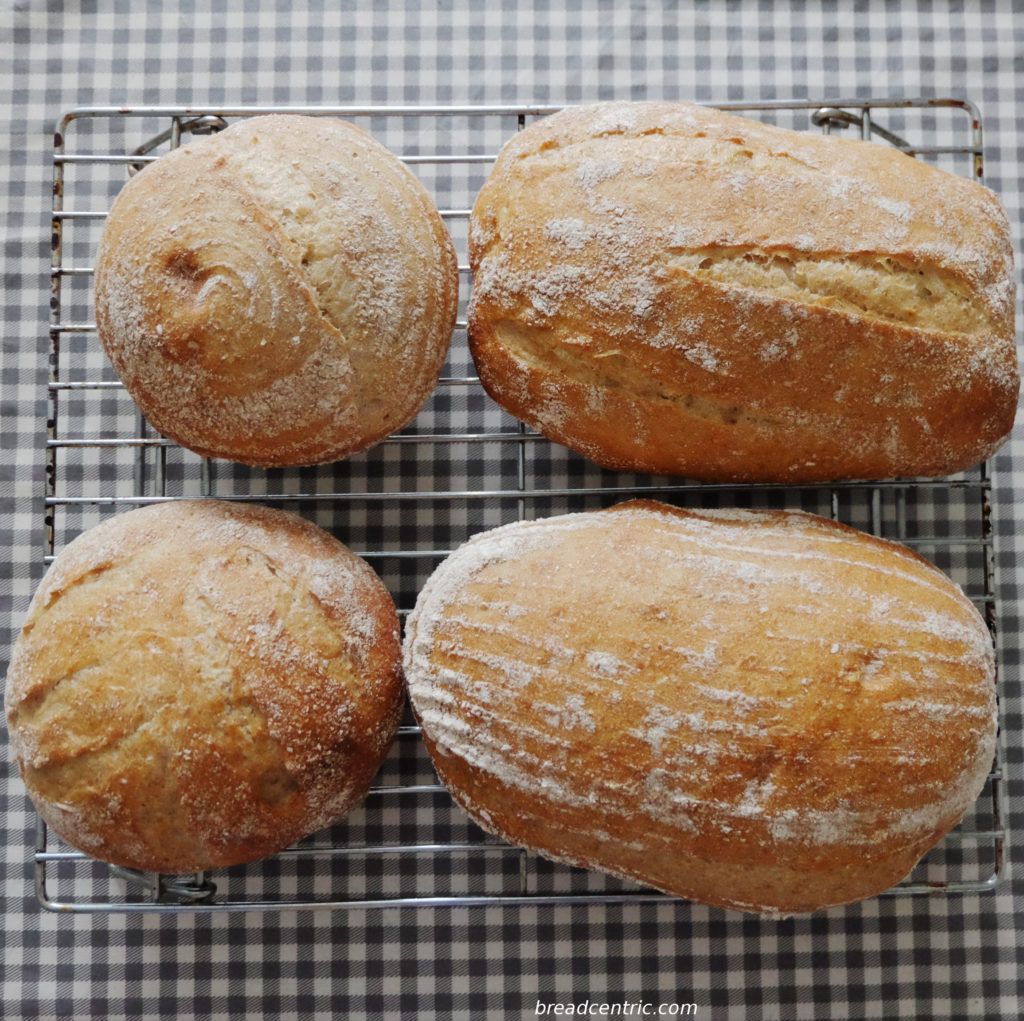 Ingredients
Levain
450 g white strong wheat flour
270 g water
10 g salt
pinch of instant yeast, 1/8 of a teaspoon
Final dough
270 g white strong wheat flour
90 g wholemeal rye flour
90 g wholemeal wheat flour
350 g water
10 g salt
2 g instant yeast
730 g levain
Preparation
Levain: Mix water with yeast first. Mix with the rest of ingredients for the levain. It will be very firm and rather dry. If you are struggling after a couple minutes of incorporating all the ingredients, add a couple drops of water. Leave it for 12-16 hours
Mix all dough ingredients except for the levain. I used a mixer with a dough hook. When the dough was mixing on a lower speed, I was gradually adding the levain. When everything was in the bowl, I turned the mixer to a slightly higher speed and mixed for 2.5 minutes. The dough should still be rather stiff
Proof for 2.5 hours. Stretch and fold after 50 and 100 minutes
Divide into portions and shape the loaves. If you don't have bannetons, you can use a colander with a tea towel, or a sieve, or a bowl, or just a tea towel and wrap it around and let's hope it will not give something insanely flat. If it does, don't worry, just use something to hold the dough in next time
Proof for 75-90 minutes. I usually wait until the loaves double in size
If you use a baking stone, start your oven straight away and set it to 230 C degrees without convection. If not, start it about 30-40 minutes before baking, with same settings. Know your oven
Remember add steam to your oven. I usually keep a roasting pan at the bottom and add boiling water to it when I put the bread into the oven. I usually also place a baking tray above so that the crust doesn't form too quickly. Anyway, score your loaves and place them on the baking stone and in the oven. Bake for 35-38 minutes, and halfway through the baking start releasing the steam
Take the ready loaves out and put them on a cooling rack
I liked the stiffness of the dough, that was very pleasant. I could feel it resisting even though it was easy to shape . It didn't stick too much.
Another advantage is that very little yeast was used. I don't always like yeasted recipes. The bakes give an awkward sourness in my mouth after eating. This one didn't.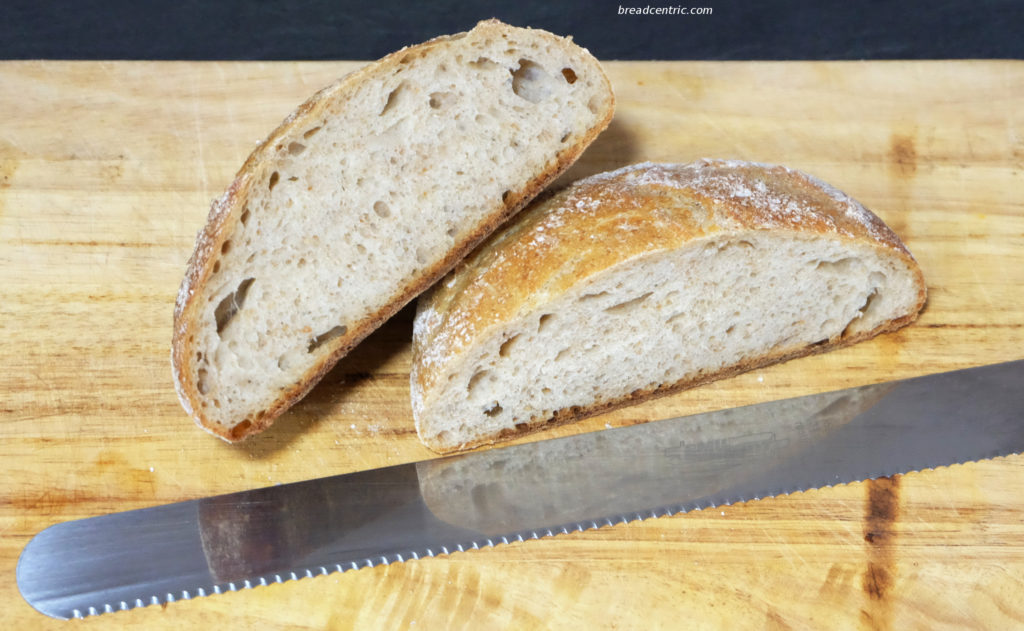 The outcome is very satisfactory, the loaves grew nicely, I was afraid they would be smaller than they were in the end. They did rise nicely during baking. The shaping isn't ideal but hey, it's a good start anyway.
We have a school fair in two weeks, which is yet another event to raise money to make kids' learning experience better. This recipe lands on my list of candidates to land on the Polish table.
Wersja polska
Dotychczas miałem trzy okrągłe kosze do wyrastania: dwa na kilogram ciasta i jeden dwukilogramowy. Brakowało mi mniejszych okrągłych i jakichś owalnych. Co prawda jeden taki kupiłem koło Wielkanocy, ale zostawiłem Mamie w Polsce. Poza tym był na kilogram ciasta, więc trochę zbyt duży dla mnie. Chciałbym pouczyć się formować i wyrastać ciasto, robiąc mniejsze bochenki, żeby lepiej wykorzystać mniejsze ilości ciasta. Jak zwykle, spoufaliłem się z Amazonem i znalazłem cztery okrągłe koszyki na 250 g ciasta i dwa owalne na 500 g.
Wkrótce będę prezentował nową stronę na blogu. Dość regularnie dostaję pytania, jak zacząć, co wypróbować itp. Fajne uczucie, ale też mam wrażenie że regularnie się powtarzam. Postanowiłem przygotować jedno miejsce z sugestiami. Znalazłem na blogu sporo podstawowych przepisów, w tym z zakwasem,ale nie znalazłem zbyt wielu ciekawych rzeczy na zaczynie drożdżowym. Przejrzałem "Chleb" Hamelmana (źródła) i znalazłem chleb rustykalny. Jest na drożdżach, ma zaczyn, zawiera też mąki pełnoziarniste. Idealny kandydat.
Planowanie
Zaczyn trzeba zrobić 12-16 godzin przed pieczeniem (przy temperaturze w okolicach 21 stopni), następnie mieszanie, 2,5 godziny wyrastania, formowanie, 75-90 minut końcowego wyrastania, 35-38 minut pieczenia (ja piekłem mniej, ale bochenki były maciupkie, na śniadanie zjedliśmy półtora). Przypominam o stukaniu w dno, żeby sprawdzić, czy chleb się upiekł (ma wydawać głuchy odgłos).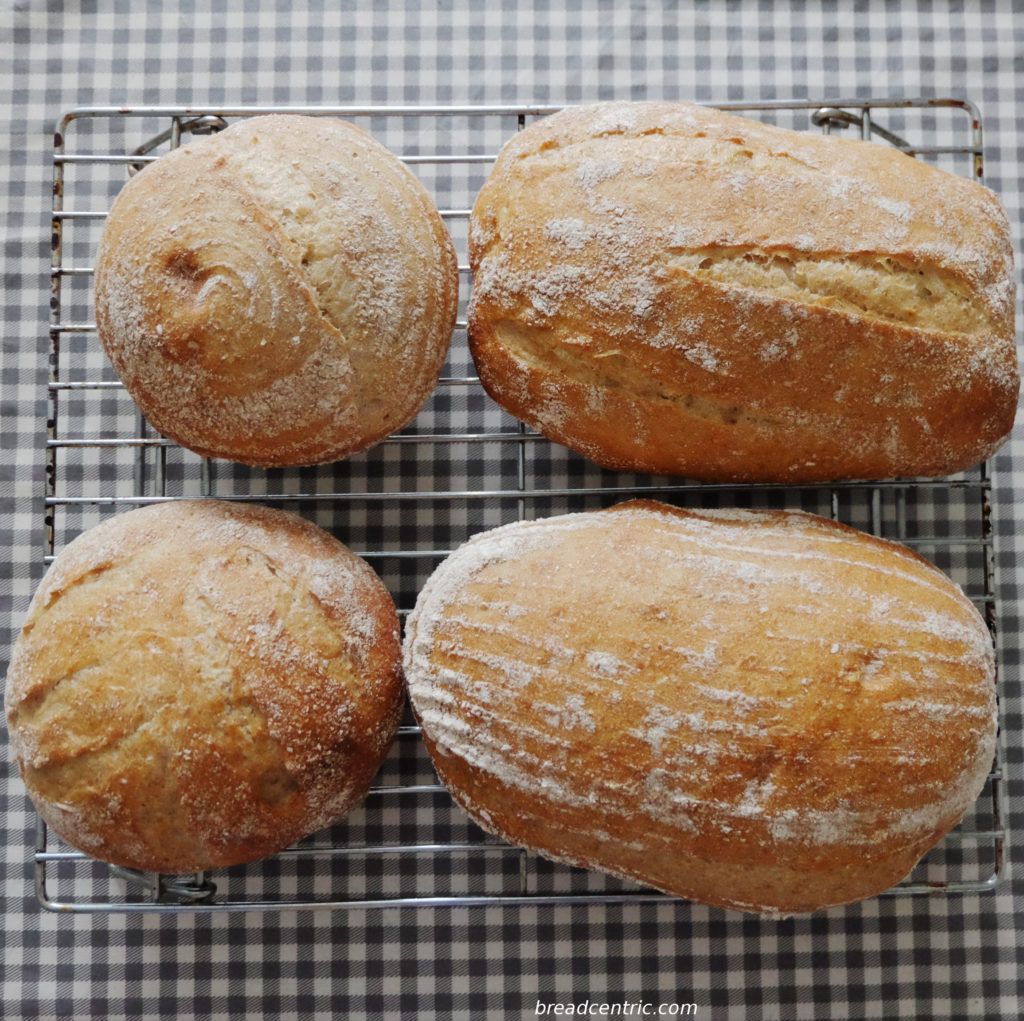 Składniki
Zaczyn
450 g mąki pszennej chlebowej
270 g wody
10 g soli
szczypta suchych drożdży, koło 1/8 łyżeczki
Końcowe ciasto
270 g mąki pszennej chlebowej
90 g mąki pszennej pełnoziarnistej
90 g mąki żytniej pełnoziarnistej
350 g wody
10 g soli
2 g suchych drożdży
730 g zaczynu
Przygotowanie
Zaczyn: Rozrób drożdże w wodzie. Dodaj mąkę i sól i wymieszaj. Będzie bardzo sztywne i dość suche. Jeśli po kilku minutach wciąż masz problem, żeby wszystko wymieszać, dodaj kilka kropel wody. Pozostaw na 12-16 godzin
Wymieszaj wszystkie składniki na ciasto poza zaczynem. Ja używałem miksera z hakiem do ciasta. Kiedy mieszałem na niższej prędkości, stopniowo dodawałem zaczyn. Kiedy wszystko było w misce, podniosłem prędkość na 2,5 minuty. Ciasto powinno wciąż być raczej sztywne
Wyrastaj przez 2,5 godziny. Po 50 i 100 minutach złóż ciasto
Podziel ciasto na porcje i uformuj bochenki. Jeśli nie masz koszyków do wyrastania, użyj durszlaka/sitka/miski z obmączoną ściereczką w środku. Albo samej ściereczki, tylko ją obwiń wokół ciasta i miejmy nadzieję, że nie rozwinie się dając bardzo płaski bochenek. Jeśli jednak da, to nie problem, następnym razem użyj jakiegoś naczynia
Wyrastaj przez 75-90 minut. Ja zazwyczaj czekam aż bochenki podwoją objętość
Jeśli używasz kamienia do pieczenia, włącz od razu swój piekarnik i nastaw na 230 stopni bez termoobiegu. Jeśli nie, włącz na 30-40 minut przed pieczeniem z tymi samymi ustawieniami. Znaj swój piekarnik
Pamiętaj zaparować piekarnik. Ja zazwyczaj mam tackę na dnie piekarnika i dodaję do niej wrzącej wody, kiedy wkładam chleb do piekarnika. Zazwyczaj też kładę tackę nad chlebem, aby skórka zbyt szybko się nie uformowała. Tak czy tak, natnij swoje chleby, umieść na kamieniu/tacce i siup do piekarnika. Piecz przez 35-38 minut. W połowie tego czasu wypuść parę z piekarnika
Wyjmij chleb i przełóż na kratkę, aby ostygł
Bardzo podobała mi się sztywność ciasta, było bardzo przyjemne w obróbce. Czułem jak opiera się, ale jednocześnie stosunkowo łatwo się je formowało. Nie kleiło się też nadmiernie.
Kolejną zaletą tego przepisu było to, że wymaga małej ilości drożdży. Zazwyczaj nie lubię chlebów na samych drożdżach, bo zostawiają mi w ustach dziwny, kwaśnawy posmak. Ten nie zostawił.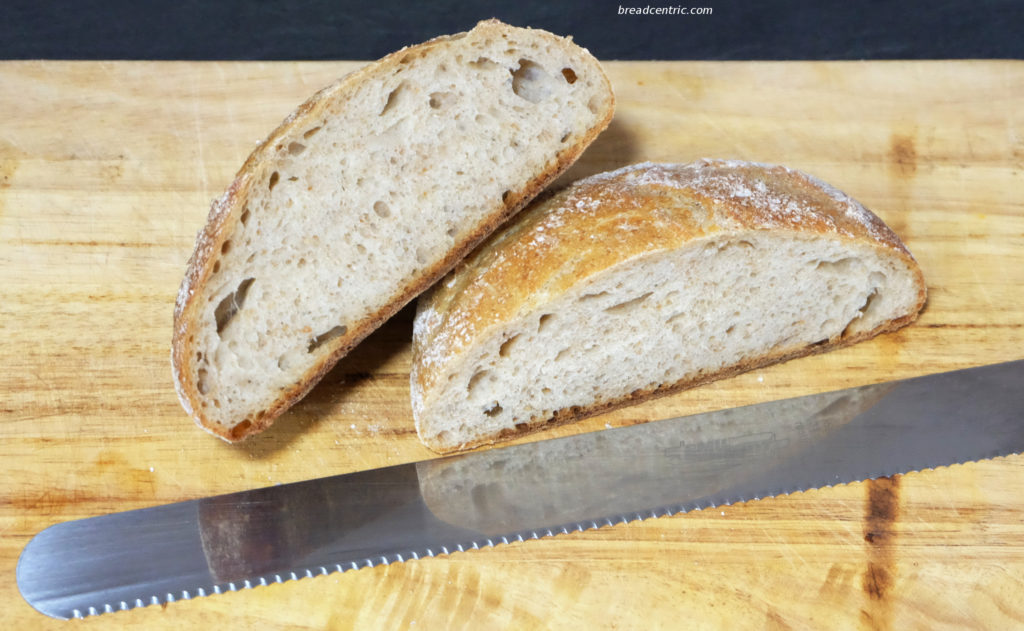 Rezultat był bardzo satysfakcjonujący, bochenki ładnie wyrosły. Bałem się, że będą mniejsze niż były ostatecznie, na szczęście rozrosły się w pieczeniu.
Za dwa tygodnie w szkole jest festyn – kolejna okazja, aby uzbierać trochę pieniążków i dać dzieciom kilka dodatkowych atrakcji w szkole. Ten przepis umieszczam na liście kandydatów do pieczenia na polski stół.