Kids like pizza. It is quick and easy to make, and as kids put their own food on top, they can't complain about what's given to them to eat. I would like to present a very basic recipe that we use on regular basis, straight from Jamie Oliver.
Dzieci lubią pizzę. Jest szybka i łatwa do zrobienia, a ponieważ dzieci same nakładają swoje dodatki, nie mogą narzekać, że nie chciały czegoś. Przedstawiam bardzo podstawowy przepis, z którego regularnie korzystamy, prosto od Jamiego Olivera.
Gosia is all about efficiency with minimum effort. She's simply got too much on her plate. What she really likes about this recipy is that she can mix the dough quickly, let it rise, then freeze half of it for the next time and bake with the other half straight away.
The recipe comes from "Jamie at Home" (sources). While in my opinion Jamie is not wonderful with baking, but this recipe has a very high outcome to effort ratio and we simply like it.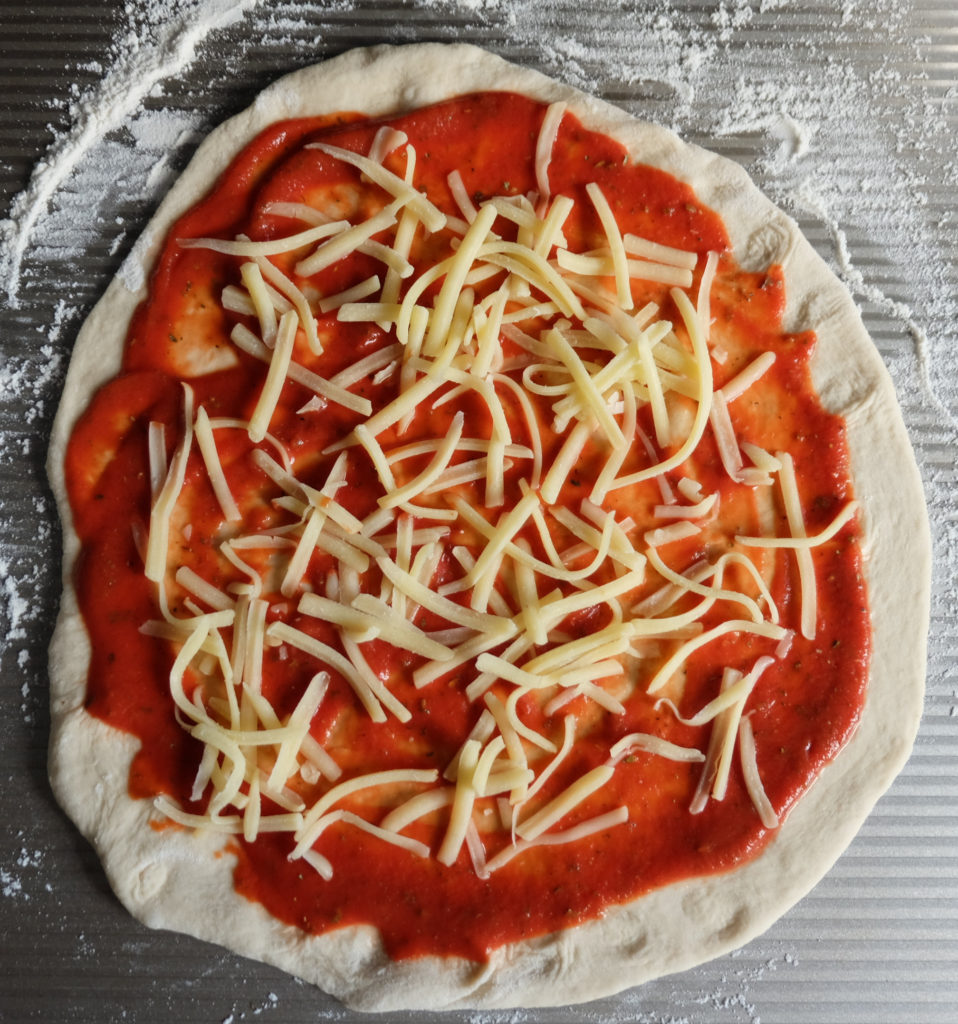 Planning
Make the dough an hour before baking (at least). For defrosting, just take it out in the morning and use when you need to.
Note that we use our mixer for this. What Jamie suggests is making a heap of flour with a crater for the wet mixture and working the flour gradually into a dough. Sounds awesome, but it's messy and time consuming. I recommend a mixer.
Ingredients
This is enough for eight pizzas. We usually use four and freeze four portions for the next time.
800 g strong white bread flour (or Tipo '00' flour)
200 g fine ground semolina flour (if you don't have it around, use 200 g more of the above)
650 g lukewarm water
1 level tablespoon fine sea salt
2×7 g sachets of dried yeast
Preparation
Mix yeast and sugar with water to get them active
Add flours and salt and start mixing using a dough hook. Use some medium speed for about 6-8 minutes
When the dough is ready, dust it with flour on top, take the hook out and leave covered in a bowl to double in size. If it does more, it shouldn't hurt. It usually takes about 40-60 minutes to do so, it largely depends on the temperature of dough: the warmer the shorter
When the dough has doubled, degas it by kneading on a floured surface
Divide the dough into portions as desired. The ones to use for later should be put in bags and stored in the freezer
Switch your oven on for 200-220 C. Know your oven
I do recommend you give 10-20 minutes to the portions you're about to use. This will let the gluten relax and the dough will be stretchier

Use a rolling pin…

Form the base on a baking parchment on a baking tray. Put whatever you like on top. What we usually do is prepare the sauce, slice whatever ingredients we plan for the day and let the kids plan their pizzas. Helena usually makes faces, Antoni makes whatever. We use the remaining ingredients
There's pizza and it's there fast. It is tasty and solves a lot of breakdowns at home right after school. Thank you Jamie.
Now that you have the dough ready, possibilities become endless. Why only pizza? Press garlic into butter and make garlic bread. Or roll the pizza, cut in bits and bake pizza muffins.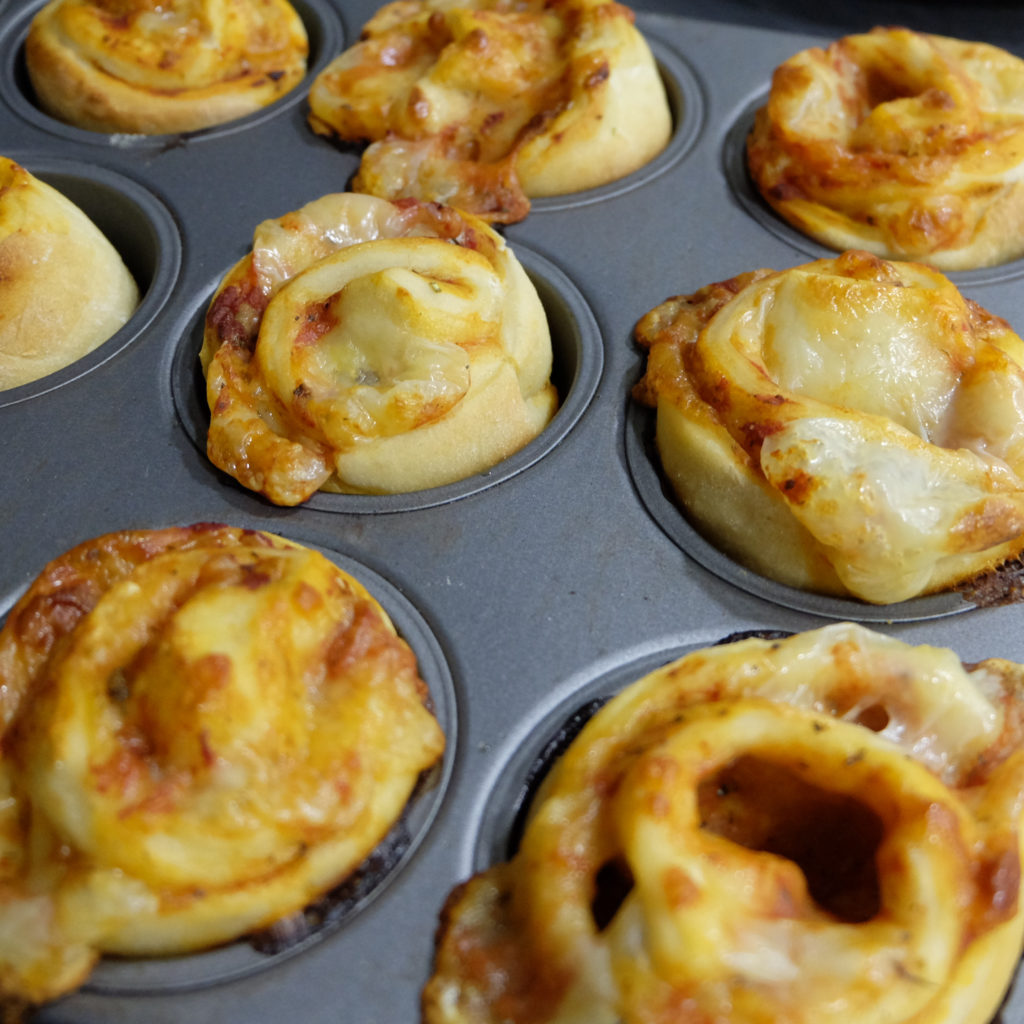 Gosia kładzie olbrzymi nacisk na wydajność przy minimum wysiłku. Ma zwyczajnie zbyt dużo na głowie. W tym przepisie lubi to, że może wymieszać szybko ciasto, dać mu wyrosnąć, po czym zamrozić połowę na później, a drugą wykorzystać od razu.
Przepis pochodzi z książki "Jamie at Home" (źródła). Uważam, że Jamie nie jest wspaniały w pieczeniu, ale tu mamy bardzo fajny rezultat przy minimum wysiłku, zdecydowanie warto spróbować.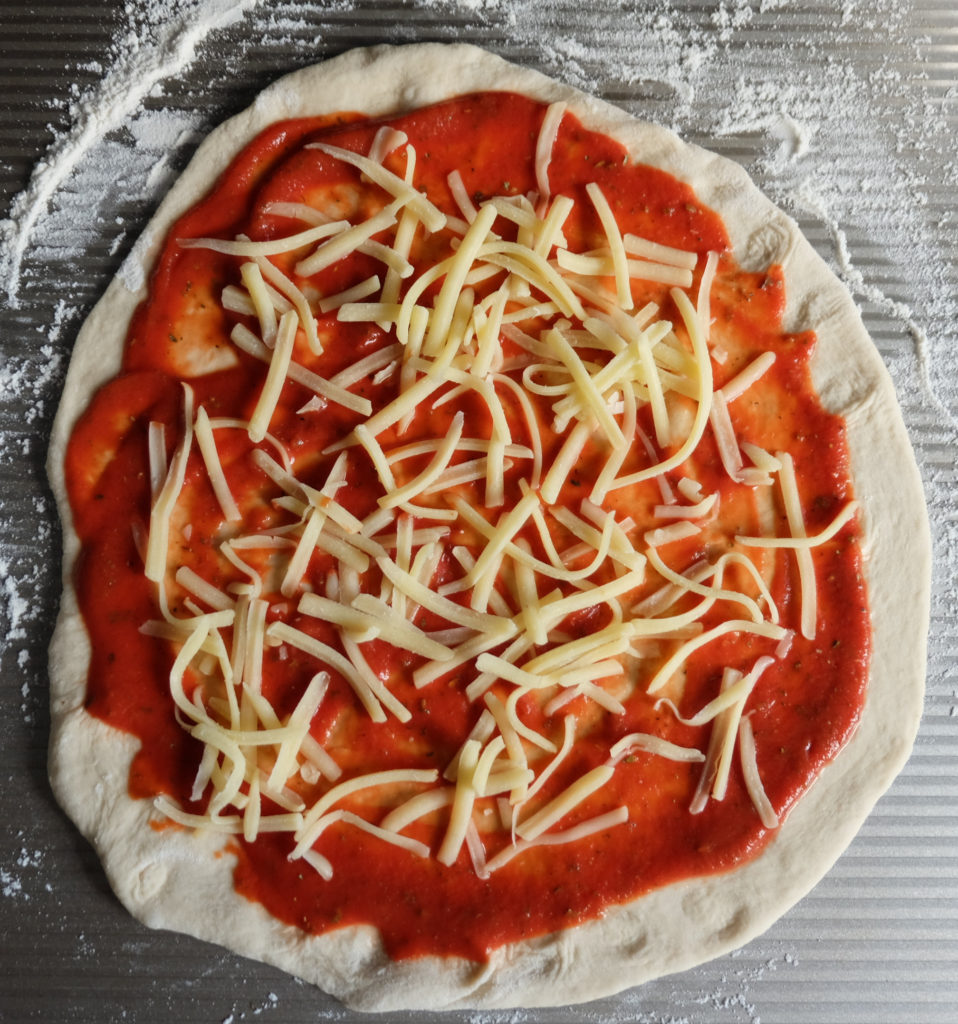 Planowanie
Przygotuj ciasto na minimum godzinę przed pieczeniem. Jeśli masz zamrożone, wyjmij je z lodówki rano i użyj kiedy potrzebujesz.
Zwróć uwagę, że korzystamy z miksera. Jamie sugeruje zrobienie górki mąki z kraterem na płynną część i mieszanie stopniowo mąki w ciasto. Brzmi fajnie, ale robi sporo bałaganu i jest czasochłonne. Polecam mikser.
Składniki
Wystarczy na osiem placków. Zazwyczaj pieczemy cztery, a pozostałe cztery zamrażamy na następny raz.
800 g mąki pszennej chlebowej (lub Tipo '00')
200 g drobnozmielonej kaszy manny (jeśli nie masz możesz użyć 200 g więcej tego co powyżej)
650 g ciepłej wody
1 płaska łyżka drobnej soli
2×7 g suszonych drożdży (dwie saszetki)
Pzygotowanie
Wymieszaj drożdże i cukier z wodą, aby je aktywować
Dodaj mąkę i sól i zacznij mieszać hakiem do ciasta. Użyj jakiejś środkowej prędkości przez około 6-8 minut
Kiedy ciasto będzie gotowe, oprósz je mąką po wierzchu, wyjmij hak i pozostaw przykryte do podwojenia objętości. Jeśli urośnie bardziej, nie zaszkodzi mu. Zazwyczaj wyrasta 40-60 minut, zależy to od temperatury ciasta – im cieplejsze, tym wyrasta szybciej
Kiedy ciasto podwoi objętość, odgazuj je wyrabiając na oprószonej mąką powierzchni
Podziel ciasto na porcje. Jeśli chcesz część przechować na później, wrzuć do woreczków i do zamrażarki
Włącz piekarnik na 200-220 stopni. Znaj swój piekarnik
Polecam dać ciastu 10-20 minut przed użyciem. Dzięki temu gluten odpocznie po wyrabianiu i ciasto lepiej się rozciągnie

Użyj wałka…

Uformuj podstawę na papierze do pieczenia na tacce do pieczenia. Oprósz spód hojnie mąką, aby nie przywarł. Nałóż składniki. My zazwyczaj przygotowujemy kilka opcji i dajemy dzieciom do wyboru. Helena zazwyczaj robi twarz, Antoni ckolowiek. My zjadamy pozostałe składniki
Mamy pizzę i to szybko. Jest smaczna i rozwiązuje wiele kryzysów domowych bezpośrednio po powrocie ze szkoły. Dziękujemy Ci Jamie.
Gdy masz już ciasto, możliwości są spore. Czemu tylko pizza? Wyciśnij czosnek do masła i zrób pieczywo czosnkowe. Albo zwiń pizzę, podziel na kawałki i zrób pizzowe muffinki.