Happy Pancake Tuesday! It's time to wrap up the week of greasy insanity. Let's make it with waffles.
Szczęśliwego Naleśnikowego Wtorku! Czas zakończyć tydzień tłustego absurdu. Zrobimy to goframi.
I have been challenged by Hannahalla on wykop.pl to make some gluten free sourdough waffles. I thought I had to use some xanthan gum or guar gum to make this, but I found a recipe without any of those on Cultures For Health. I simply converted it to standardised units here, so no credit for me here.
You will need sourdough, obviously. I made mine using brown rice flour (used some white rice flour along the way as well) using a method described in "Sourdough. Zakwas.".
If you're really aiming for gluten free, make sure your ingredients are classified as such. This includes oats that are often contaminated at the factory and vanilla extract. I think baking powder and soda may also get contaminated. I know my stuff is contaminated, every day I breath in more gluten in my kitchen than pollution in London. Also, I cheat because I can – I don't need to have a fully gluten-free stuff and potential contamination is not an issue to me. I comes out cheaper this way.
For dairy free you need to use coconut oil. For egg free – I would try replacing eggs with bananas and a bit of xanthan gum (I'm not sure if without the gluten or the egg white there will be anything to bind the dough in the baking, that's why some gum as an extra).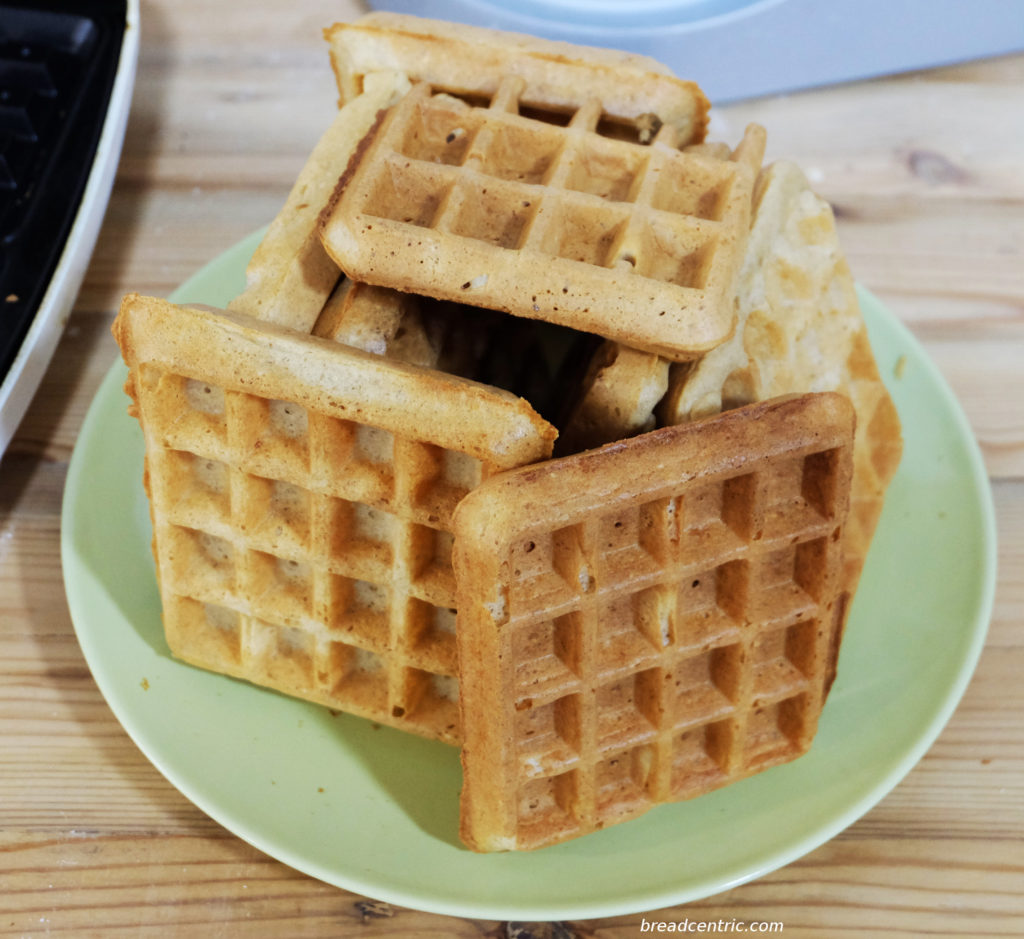 Planning
You need to make the first batter using the starter and leave it for some eight hours. You need a waffle maker or an iron if you plan to make waffles, not pancakes.
Ingredients
Makes around 11-12 waffles.
First batter
220 g fresh, thick brown rice starter (by fresh I understand a freshly fed starter)
175 g water
240 g gluten-free oat flour (i ground my rolled oats)
Final batter
40 g maple syrup
1/2 tsp baking powder
1 tsp salt
2 eggs
15 g (1 tbsp) vanilla extract
40 g melted butter or coconut oil
1/2 tsp baking soda
1 tsp water
some fat for greasing the waffle iron or the pan
Preparation
Mix sourdough, water and oat flour together to form a mixture. Cover loosely and let sit at room temperature for eight hours, till the morning in my case. Initially I added 120 g of flour for the night, but it turned out too runny and added 120 g more before making the waffles. It may be that for the overnight stay this is too much and 200 g will be enough. I recommend you try – you can always add remaining flour before adding the soda and water
Start heating your waffle making device
In the morning you'll see thick and bubbly mixture. Add maple syrup, baking powder, salt, eggs, melted butter/coconut oil and vanilla (all except for soda and water), and stir it up until it's thoroughly combined. If now you feel the result is too runny, you can still add some flour
Dissolve baking soda in a teaspoon of water and stir into batter. Do not stir it any more now
Put the mixture in the waffle maker/iron/frying pan and cook the way you like them
Let me tell you one thing: wow. I did not think they would be very tasty and now look: we've eaten all straight away. They came out soft inside, crunchy on the outside. The sugar comes mainly from the maple sugar, therefore they aren't overly sweet either and can be used for sweet ones as much as the savoury ones.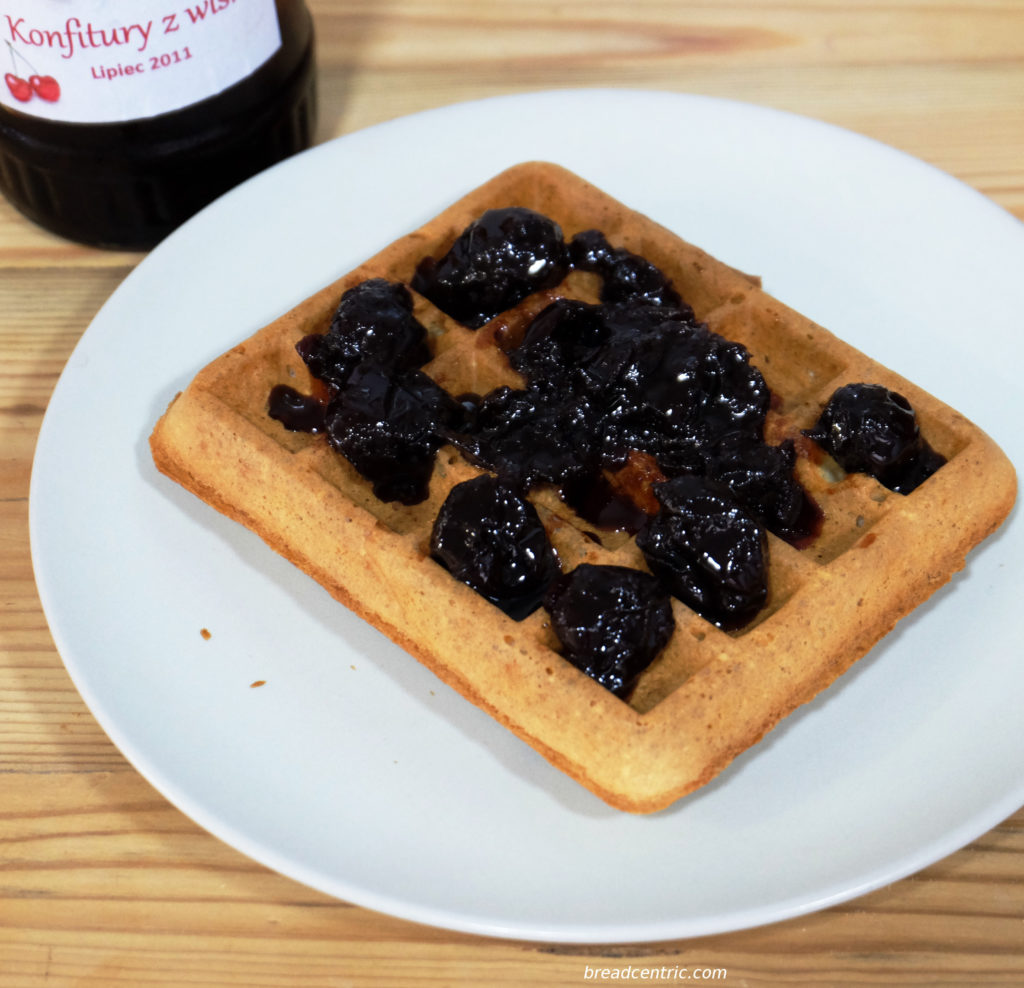 I really recommend trying this recipe.
Hannahalla z wykop.pl rzuciła mi wyzwanie, abym zrobił bezglutenowe gofry na zakwasie. Początkowo myślałem, że muszę użyć gumy ksantanowej lub gumy guar, ale znalazłem przepis na Cultures For Health, który tego nie wymagał. Jedyne co zrobiłem to przeliczyłem na standardowe jednostki wagowe i dopracowałem do swoich warunków.
Będziesz potrzebować zakwasu. Ja swój zrobiłem z mąki z brązowego ryżu (w międzyczasie dokarmiałem też mąką z białego), używając metody opisanej w "Sourdough. Zakwas.".
Jeśli rzeczywiście celujesz w wersję bezglutenową, upewnij się, że produkty są tak sklasyfikowane. Płatki owsiane są dość często skażone glutenem w fabryce, ekstrakt waniliowy również. Chyba także proszek do pieczenia i soda mogą być. Ja wiem, że moje składniki są skażone, każdego dnia wdycham więcej glutenu w mojej kuchni niż skażenia w Londynie. Także oszukuję, bo mogę – nie muszę mieć składników certyfikowanych i ewentualne skażenie mi nie zaszkodzi. Tak jest taniej.
Żeby zrobić wersję bez nabiału, zastąp masło olejem kokosowym. Żeby zrobić wersję bez jajek – spróbowałbym zastąpić jajka bananami i odrobiną gumy ksantanowej (nie jestem pewien czy bez glutenu i jajek będzie w cieście cokolwiek do połączenia go w całość w pieczeniu – stąd dodatek gumy).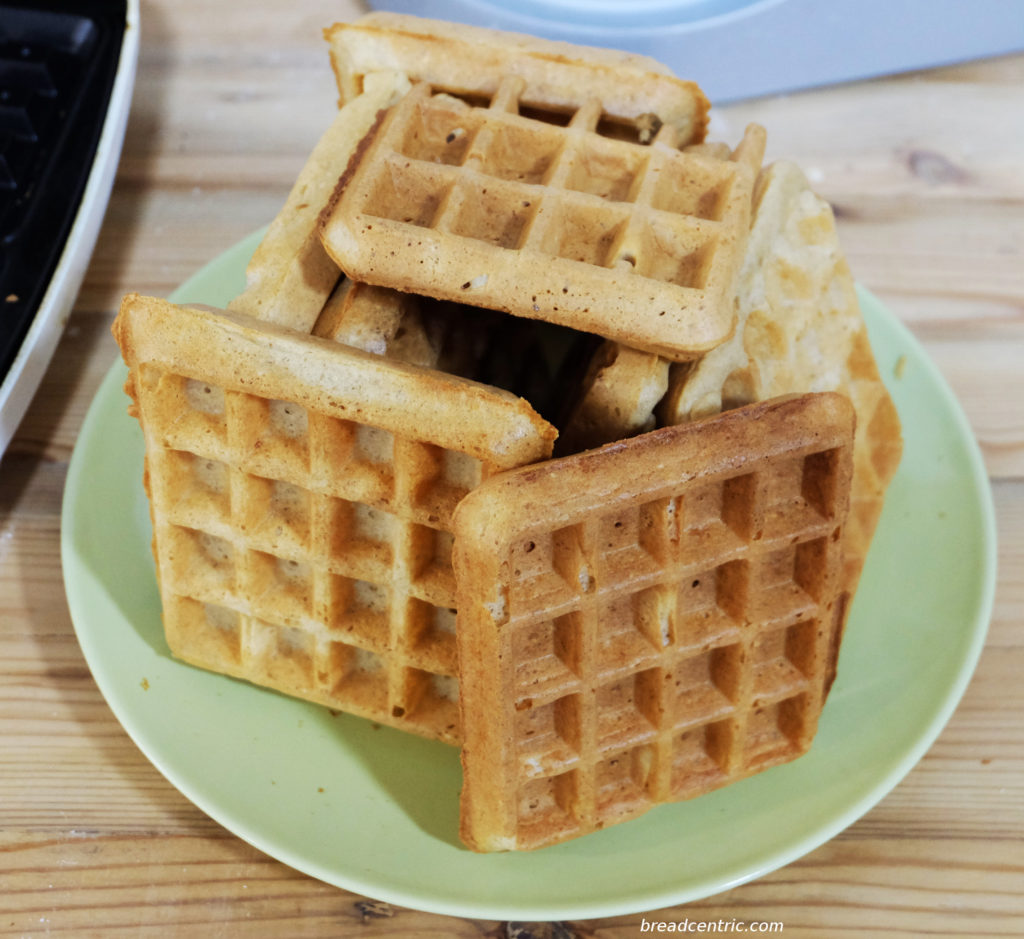 Planowanie
Wstępne ciasto musisz zrobić jakieś osiem godzin przed pieczeniem. Będziesz potrzebować gofrownicy, jeśli chcesz robić gofry, a nie naleśniki.
Składniki
Wystarczy na około 11-12 gofrów.
Wstępne ciasto
220 g świeżego, sztywnego zakwasu z brązowego ryżu (jako świeży rozumiem świeżo karmiony)
175 g wody
240 g bezglutenowej mąki owsianej (ja zmieliłem płatki owsiane)
Końcowe ciasto
40 g syropu klonowego
1/2 łyżeczki proszku do pieczenia
1 łyżeczka soli
2 jajka
15 g (1 łyżka) ekstraktu waniliowego
40 g stopionego masła lub oleju kokosowego
1/2 łyżeczki sody oczyszczonej
1 łyżeczka wody
trochę tłuszczu do natłuszczenia patelni/gofrownicy
Przygotowanie
Zmieszaj zakwas, wodę i mąkę owsianą. Przykryj niezbyt dokładnie i pozostaw w pokojowej temperaturze na osiem godzin, w moim przypadku do rana. Za pierwszym razem użyłem 120 g mąki i ciasto było na tyle rzadkie, że dodałem kolejne 120 g przed samym smażeniem. Może się jednak okazać, że 240 g na noc to za dużo, więc radzę zacząć od 200 g – resztę zawsze można dodać później
Po ośmiu godzinach zacznij nagrzewać gofrownicę
Ciasto będzie miało sporo bąbelków. Dodaj wszystko poza sodą i wodą i mieszaj, aż będzie dobrze połączone. Jeśli uznasz, że jest zbyt rzadkie, dodaj jeszcze trochę mąki, do osiągnięcia satysfakcjonującej konsystencji
Rozpuść sodę w łyżeczce wody i wmieszaj do ciasta. Już nie mieszaj więcej
Nakładaj ciasto do gofrownicy i upiecz tak jak lubisz
Powiem Ci jedno: Ja Cię kręcę! Nie sądziłem, że będą zbyt smaczne, a tu popatrz: wszystkie zjedliśmy od razu. Wyszły delikatne w środku, chrupiące na zewnątrz. Cukier pochodzi głównie z syropu klonowego, więc nie są zbyt słodkie – nadadzą się zarówno do czegoś słodkiego jak i wytrawnego.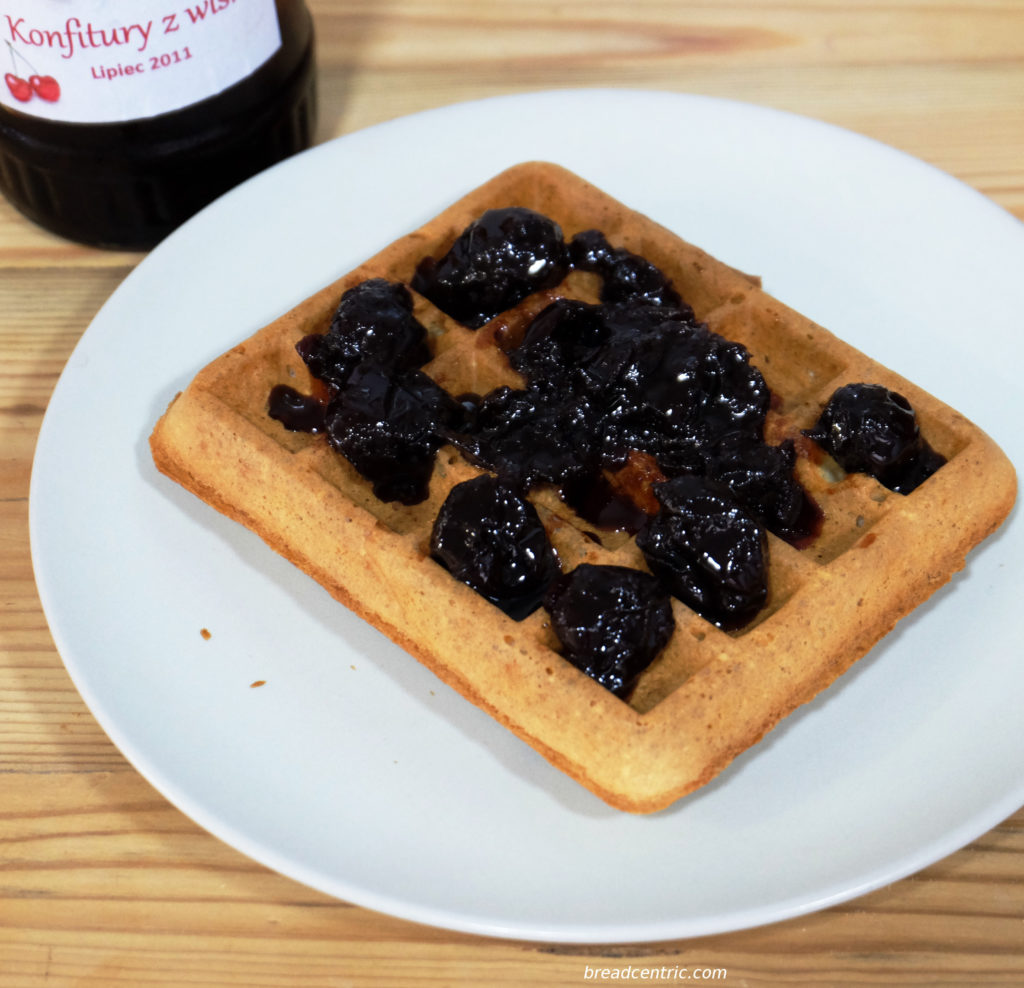 Zdecydowanie polecam ten przepis.