Sometimes it feels like I've had enough of baking. It does however look like baking has not had enough of me. I got back to Master Hamelman.
Czasami mam już dość pieczenia. Wygląda jednak, że pieczenie nie ma dość mnie. Powróciłem do Mistrza Hamelmana.
I've been struggling with it for quite a while. Long working hours, little time with family. And the oven. Our oven broke down and the new one is much worse than the previous one. I thought it wasn't possible to bake a nice bread in it. Until last weekend.
Gosia got a baking glass dish with a lid and I decided to put it to test as quickly as possible. For the recipe I chose Hamelman's Vermont sourdough with wholewheat flour (sources).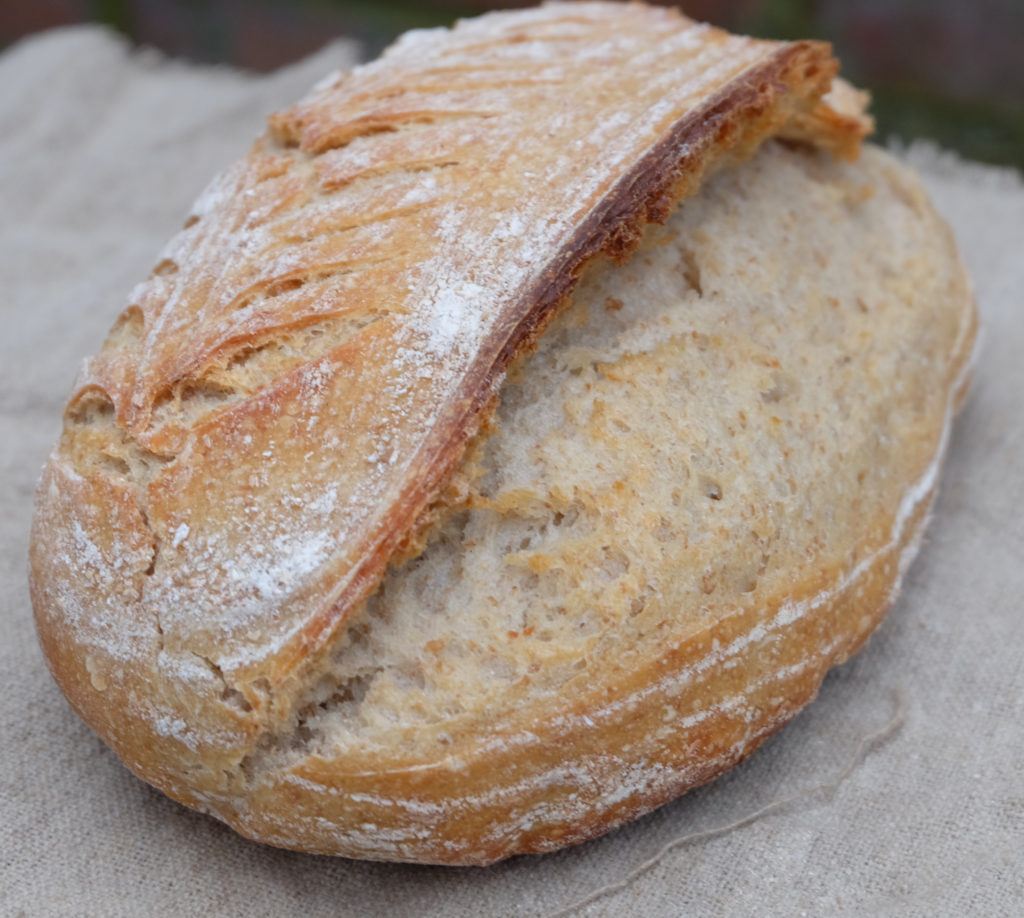 I keep a white wheat flour starter on my worktop all the time, so I used it as a base for the levain. I also used a mixer to make the dough and after that it was all by hand (till baking).
I did bake a basic version of this loaf before the blog era, in the good old days when a recipe requiring more than 10 minutes attention before baking was insane and extremely difficult to make.
Planning
I made the starter around midnight, then mixed the dough for autolyse (or fermentolyse) at 2:00 p.m., mixing at 3:00 p.m., one fold at 4:10 p.m., shaping at 5:30 p.m., setting the oven with the dish in at 7:30 p.m. and baking at 8:00 p.m. and 9:00 p.m. The loaf that had to wait more went into the fridge for the baking time.
I used a glass baking dish, a mixer, a banneton, a lame for the cuts, a couple bowls, a scale. Out of all of that you really really need a scale and a couple bowls. And a baking dish if your oven is my oven's twin brother.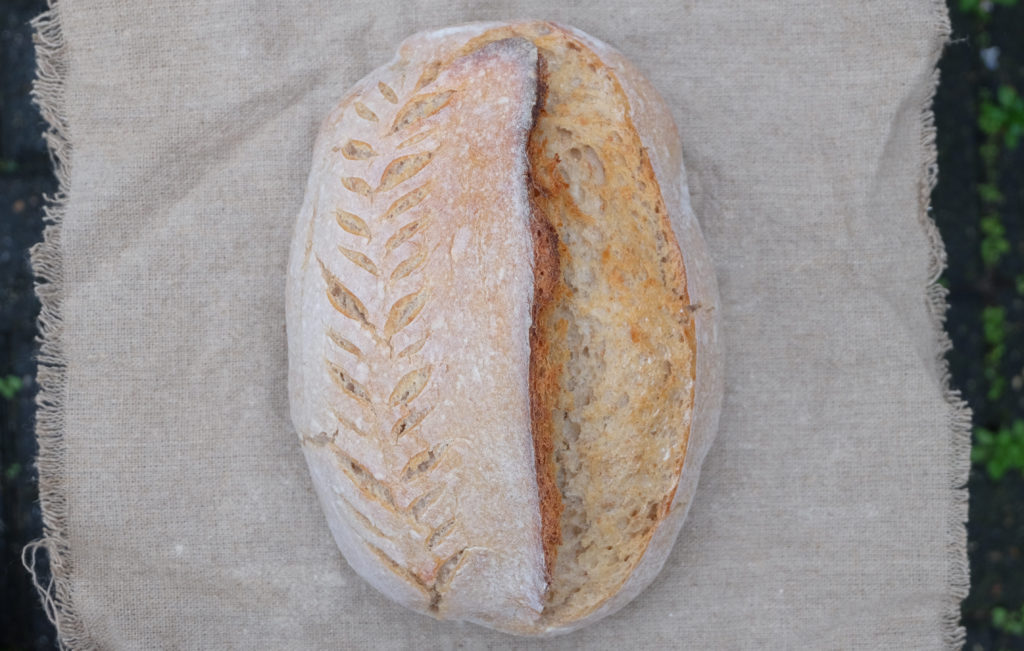 Ingredients
Makes two loaves 700 g each.
Levain
140 g strong white wheat flour
170 g water
30 g sourdough starter, ripe
You will have a bit of it left as the recipe assumes you will reuse it for the next levain.
Final dough
300 g levain
680 g strong white wheat flour
90 g wholemeal wheat flour
420 g water
Preparation
Mix the levain ingredients together and leave in about 21C for 12-16 hours
Place all ingredients except salt in a bowl and mix them just until a shaggy dough gets formed. Leave it for 20-60 minutes for autolyse (or fermentolyse as some call it when you add the levain at this point)
Add salt and mix for 2 minutes
Leave to rise for 2.5 hours. I did one stretch and fold after first 70 minutes of that time
Form the loaves. I made batards. Put them into proofing baskets, cloth or whatever you use.
I usually don't degas too well and shaping is not my grates strength. This time I flattened the dough significantly, made a bread trifold. Next I let it rest for 5-10 minutes, flattened again, made another trifold, rotated by 90 degrees, then another flattening, a trifold and rolling into a batard shape
Leave them for 2-2.5 hours to rise. The bread will be ready if it passes the test: stick your finger in the dough, just push it in by 1-1.5 cm. If the dough returns slowly, it's ready. If quickly, it's too early. If it doesn't, it's too late, do not score the loaf before baking
30 minutes before baking put the baking dish into the oven and start heating it up to 250C (you will lower the temperature to 240C after putting the bread in). I used a fan assisted baking. Know your oven
I prepared a square sheet of baking paper, took the bread out of the banneton and lined it diagonally, then scored it, took the dish out of the oven, placed the bread in, sprayed water on the cover, covered and popped back into the oven
I was very pleased to see that the dish works. It doesn't hold the steam very well, so I might need to think of some trick to get more steam inside.
The bread opened nicely inside and baked evenly. The crust formed a bit too quickly and then cracked a bit uncontrollably. Perhaps I should use a lower temperature.
It does seam that I might enjoy baking a bit more again.
Wersja polska
Już od jakiegoś czasu ciężko mi się zebrać. Długo pracuję, mało mam czasu dla rodziny. I piekarnik. Nasz piekarnik się zepsuł, a nowy jest gorszy od poprzedniego. Myślałem już, że nie da się w nim upiec ładnego chleba. Do zeszłego weekendu.
Gosia kupiła naczynie żaroodporne z pokrywką, chciałem je jak najszybciej wypróbować. Na przepis wybrałem chleb z Vermont z pełnoziarnistą mąką (źródła).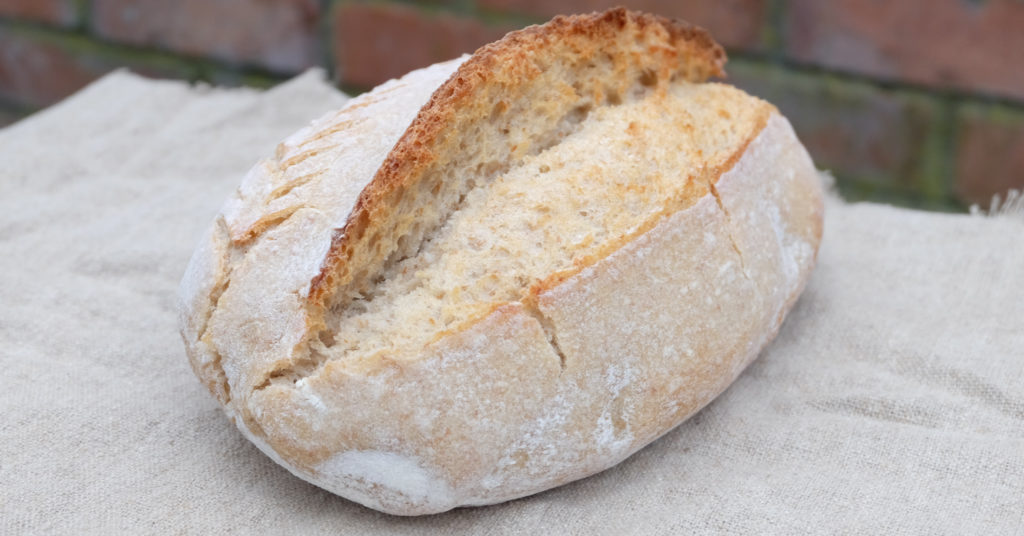 Trzymam obecnie w kuchni zakwas na białej mące, więc użyłem go jako bazę dla zaczynu. Użyłem też miksera do zamieszania ciasta, potem już pracowałem dłońmi (do pieczenia).
Zrobiłem już kiedyś wersję podstawową, jeszcze przed prowadzeniem bloga, kiedy przepis wymagający więcej niż 10 minut uwagi przed pieczeniem wydawał się być bardzo trudnym. Trochę się zmieniło.
Planowanie
Zrobiłem zaczyn koło północy, zamieszałem ciasto do autolizy (czy fermentolizy) o 14:00, mieszanie o 15:00, składanie o 16:10, formowanie o 17:30, nastawiłem piekarnik o 19:30 i piekłem o 20:00 oraz 21:00. Chleb który musiał trochę poczekać, na czas pieczenia pierwszego trafił do lodówki.
Użyłem wspomnianego naczynia żaroodpornego, miksera, kosza do wyrastania, żyletki do nacięcia, kilku misek i wagi. Z tego wszystkiego potrzebujesz wagi i misek. I naczynia żaroodpornego, jeśli Twój piekarnik jest bliźniakiem mojego.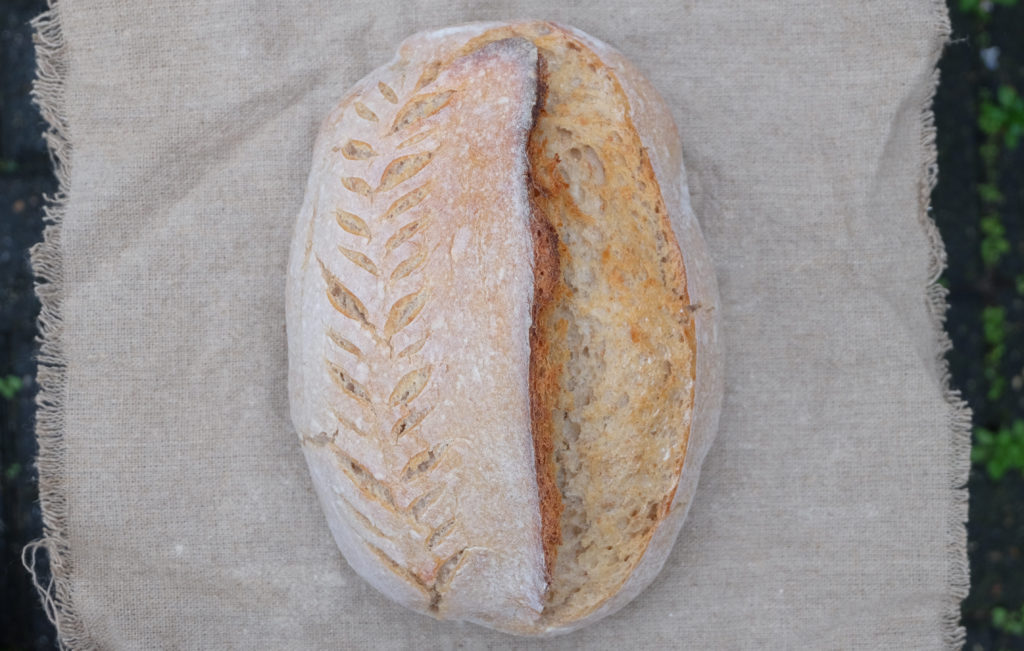 Składniki
Wystarczy na dwa bochenki po 700 g.
Zaczyn
140 g mąki pszennej chlebowej
170 g wody
30 g dojrzałego zakwasu
Tego zaczynu jest trochę więcej niż potrzeba, pozostałość może być wykorzystana na następny zaczyn.
Ciasto końcowe
300 g zaczynu
680 g mąki pszennej chlebowej
90 g mąki pszennej pełnoziarnistej
420 g wody
Przygotowanie
Zamieszaj składniki na zaczyn i pozostaw w temperaturze około 21 stopni na 12-16 godzin
Umieść wszystkie składniki na ciasto oprócz soli w misce i zamieszaj aż powstanie luźne ciasto. Pozostaw na 20-60 minut na autolizę (a raczej fermentolizę, jak to niektórzy nazywają, gdy zaczyn jest dodany na tym etapie)
Dodaj sól i mieszaj przez 2 minuty
Pozostaw do wyrośnięcia na 2,5 godziny. Zrobiłem jedno rozciąganie i składanie po 70 minutach tego czasu
Uformuj bochenki – ja zrobiłem owalne. Umieść w koszach do wyrastania, w ściereczce czy co tam wolisz. Zazwyczaj średnio radzę sobie z odgazowaniem i formowaniem. Tym razem mocno rozpłaszczyłem ciasto i złożyłem do środka. Następnie pozostawiłem na 5-10 minut, znów rozpłaszczyłem, znów złożyłem na trzy, obróciłem o 90 stopni, znów rozpłaszczyłem, złożyłem na trzy i rozwałkowałem na owalny bochenek
Pozostaw na 2-2,5 godziny do wyrośnięcia. Chleb będzie gotowy, jeśli przejdzie test: wetknij palec w ciasto, wciśnij na 1-1,5 cm. Jeśli ciasto wraca powoli jest gotowe. Jeśli szybko – jest za wcześnie. Jeśli nie wraca – jest za późno, nie nacinaj przed pieczeniem
30 minut przed pieczeniem włóż naczynie żaroodporne do piekarnika i nastaw go na 250 stopni (po włożeniu chleba do środka obniżysz temperaturę). Użyłem pieczenia z wentylatorem. Znaj swój piekarnika
Przygotowałem kwadratowy kawałek papieru, umieściłem na nim chleb po przekątnej, naciąłem, wyjąłem naczynie z piekarnika, włożyłem do niego bochenek i przykryłem, spryskując wcześniej pokrywkę wodą
Jestem bardzo zadowolony z efektu. Naczynie nie trzymało za dobrze pary, więc muszę znaleźć jakiś sposób, żeby było jej więcej.
Chleb ładnie otworzył się i dobrze upiekł. Skórka uformowała się tyć za szybko i potem popękał trochę bez kontroli. Może muszę użyć niższej temperatury.
Wygląda na to, że znów będę czerpał trochę przyjemności z pieczenia.