Sometimes you get too much starter. You may decide to throw some away, but you may also decide to keep it and make use of it. This recipe is one of ideas to handle the surplus.
Czasem będziesz mieć zbyt dużo zakwasu. Możesz trochę wyrzucić, ale możesz go wykorzystać. Ten przepis jest jednym z przykładów, jak poradzić sobie z naddatkiem.
Usually when I get a craving for waffles, I want them now. I've heard about superiority of the ones made using sourdough or yeast, and now it's time to verify the claims.
The recipe comes from "Bread" by J. Hamelman (sources).
You can also use the dough to make pancakes.
Ingredients
Makes around 12-13 – may not be enough for four adults.
Dough
42 g honey (not to strong flavour)
227 g warm water (hot, if the honey is crystallized)
6 g salt
2 eggs
227 g sifted white strong wheat flour
Levain
255 g liquid wheat levain, 125 % hydration. If you have a different one just like me, you'll need to prepare something that resembles this one
Final ingredients
6 g sifted baking powder
3 g sifted baking soda
85 g melted butter
Preparation
The levain
Mr Hamelman usually uses a white wheat flour liquid levain, 125 % hydration, I use wholemeal wheat flour, 100 % hydration. Hydration is a weight ratio of water to all flour used in the recipe. To make a starter of his type, I need to do some maths. 255 g of his starter means 140 g water and 115 g flour. I also need some of my starter, let's say 30 g, to reduce bran content significantly. It will probably take a whole day to mature, which is fine with me. It's just time, and I'm getting used to waiting.
Anyways, putting things back together:
My levain is 15 g flour and 15 g water, so I need to add 100 g white bread flour and 125 g water. I'm preparing it about 12 hours before making the dough.
Initial Dough
Mix water, honey, salt and eggs in a bowl
Add flour, mix to form a rather runny dough
Cover, put into the fridge
In another bowl, measure the levain. Cover, put into the fridge
Wait at least one hour, up to twelve. I'm waiting around ten, depends on the day
Final dough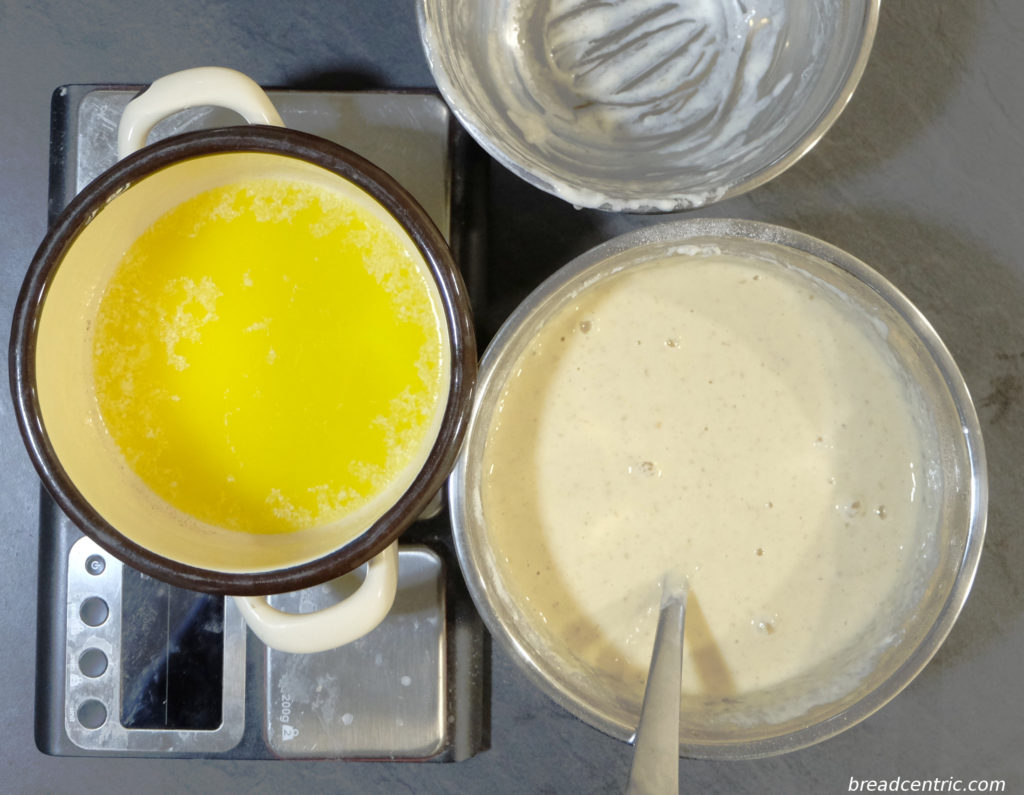 Mix the dough, the levain, baking powder, soda and butter together
My two observations were that it takes quite long to get them baked inside (know your waffle maker) and that honey with strong flavour (like buckwheat) should rather be avoided, as it takes over the whole taste.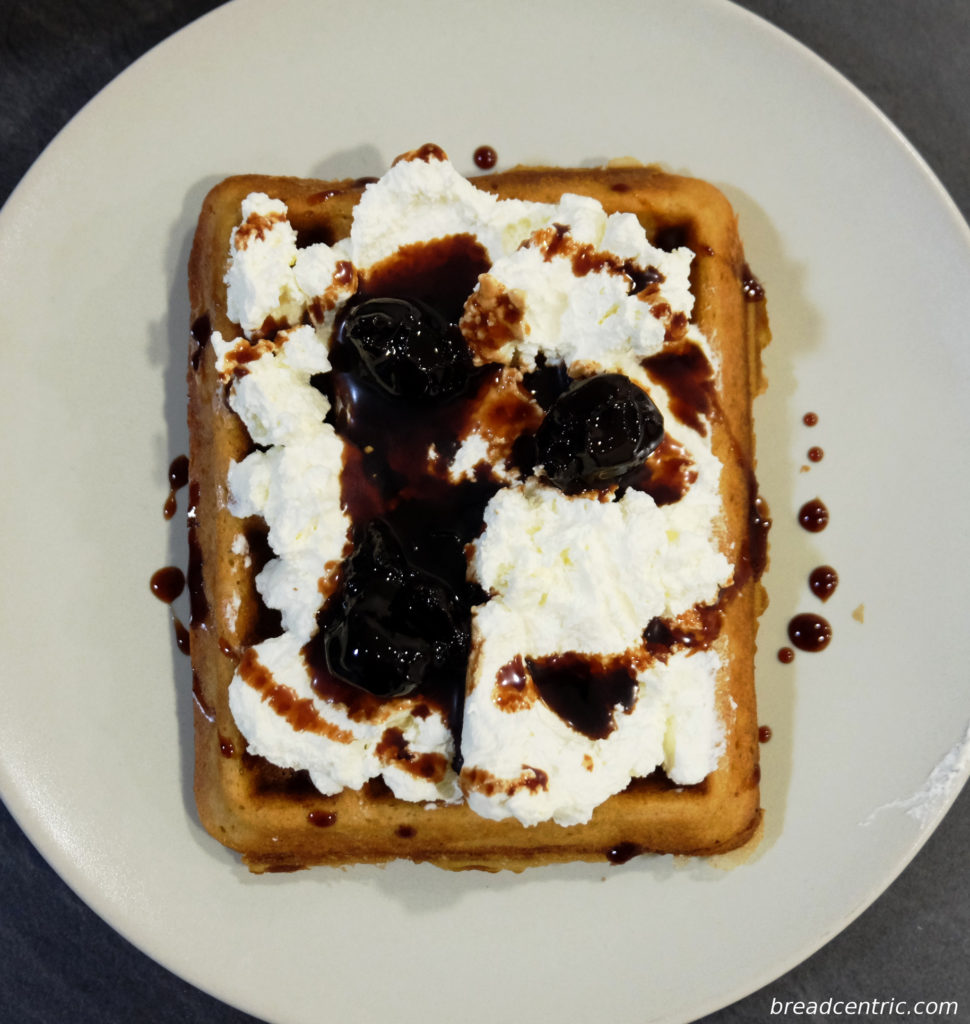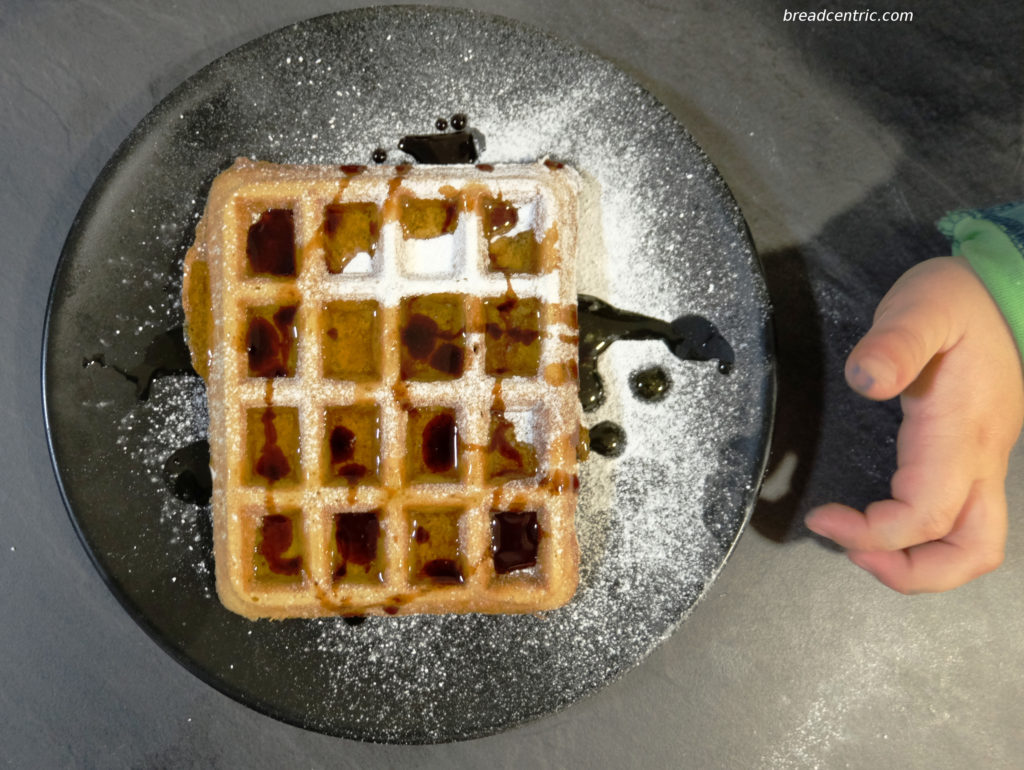 Zazwyczaj gdy najdzie mnie ochota na gofry, chcę je tu i teraz. Wiele razy słyszałem, że te na zakwasie lub na drożdżach są o niebo lepsze. Przyszedł czas, żeby to sprawdzić.
Przepis pochodzi z książki "Chleb" J. Hamelmana (źródła).
Możesz użyć też ciasta żeby zrobić amerykańskie naleśniki.
Składniki
Wyjdzie koło 12-13 – może być mało na cztery dorosłe osoby.
Ciasto
42 g miodu (niezbyt aromatycznego)
227 g ciepłej wody (gorącej, jeśli miód się skrystalizował)
6 g soli
2 jajka
227 g przesianej mąki chlebowej
Zaczyn
255 g płynnego zakwasu pszennego, 125 % hydracji. Jeśli masz inny, tak jak ja, konieczne jest przygotowanie czegoś, co będzie przypominać ten
Końcowe składniki
6 g proszku do pieczenia
3 g sody oczyszczonej
85 g stopionego masła
Przygotowanie
Zaczyn
Pan Hamelman zwykle używa płynnego zakwasu na mące chlebowej, 125% hydracji, podczas gdy ja mam pełnoziarnisty zakwas pszenny, 100% hydracji. Hydracja to stosunek wagowy wody do mąki użytej w przepisie. Żeby zrobić jego wersję, muszę wykonać kilka obliczeń. 255 g jego zakwasu składa się z 140 g wody i 115 g mąki. Muszę użyć trochę swojego zakwasu, powiedzmy 30 g, żeby ograniczyć zawartość otrąb. Pewnie będzie potrzebować całego dnia żeby mikstura dojrzała, co mi nie przeszkadza. To tylko czas, a ja powoli przywykam do czekania.
Złóżmy wszystko do kupy:
Mój zaczyn to 15 g mąki i 15 g wody, więc muszę dodać 100 g mąki pszennej chlebowej i 125 g wody. Przygotowuję go około 10 godzin przed robieniem ciasta.
Wstępne ciasto
Zmieszaj wodę, miód, sól i jaja w misce
Dodaj mąkę i połącz w dość mocno lejące się ciasto
Przykryj i włóż do lodówki
W drugiej misce odmierz zaczyn. Przykryj i włóż do lodówki
Poczekaj co najmniej godzinę, do dwunastu. Ja czekam koło dziesięciu, zależy od dnia
Końcowe ciasto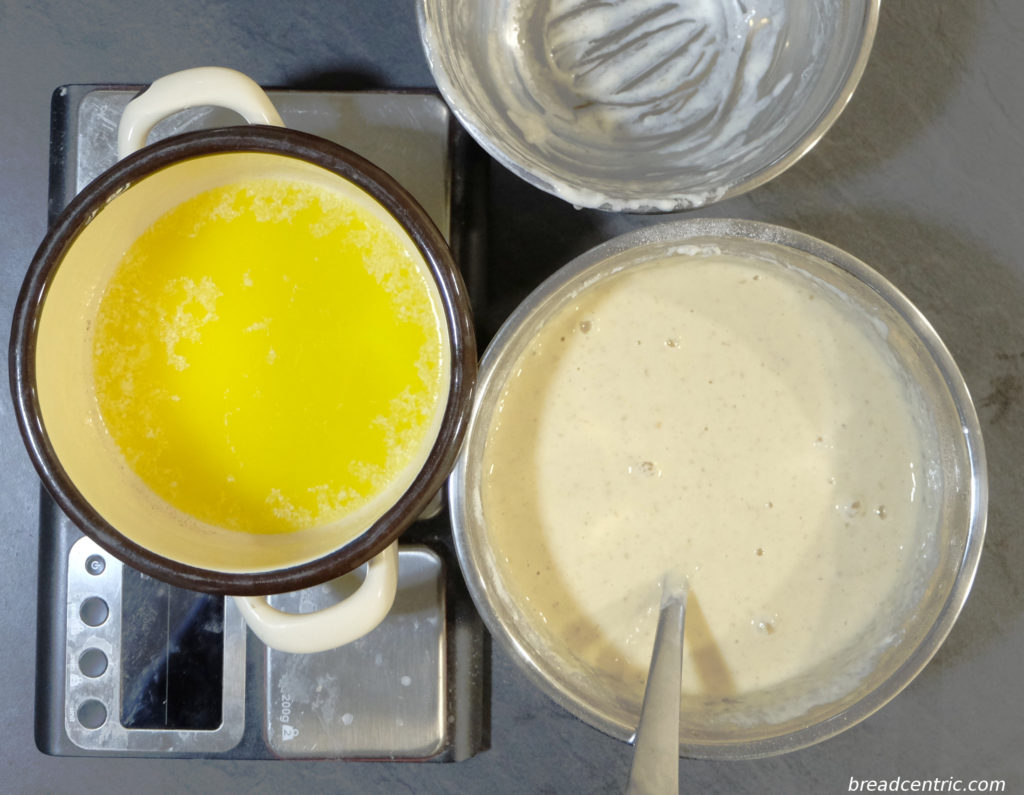 Połącz ciasto, zaczyn, proszek do pieczenia, sodę i masło ze sobą
Moje dwie obserwacje to że zabiera sporo czasu dobre upieczenie (znaj swoją gofrownicę) oraz że nie polecam zbyt intensywnych smakowo miodów, bo potrafią zdominować cały smak.