I can't make new breads every time. Sometimes we do get back to the old ones, just add something new to them. Like a sourdough starter.
Nie da się bez przerwy robić nowych chlebów. Czasami wracamy do tych starych, tylko dodajemy do nich czegoś nowego. Na przykład zakwasu.
Mixing yeast and sourdough is rather new to us and we don't do it very often. Some might view it as blasphemy, I don't mind (or care). Sometimes when making a simple white bread we add a bit of yeast to give it a boost, especially when we need the bread a bit faster – we can't always wait 6-8 hours for a loaf at home. A teaspoon of dried yeast does the trick, and the loaf gets a bit more open crumb.
This time however we've added sourdough to a typical quick yeast loaf. I like it in the basic version, but this was one of those "what if" moments. Gave it a try, and it worked.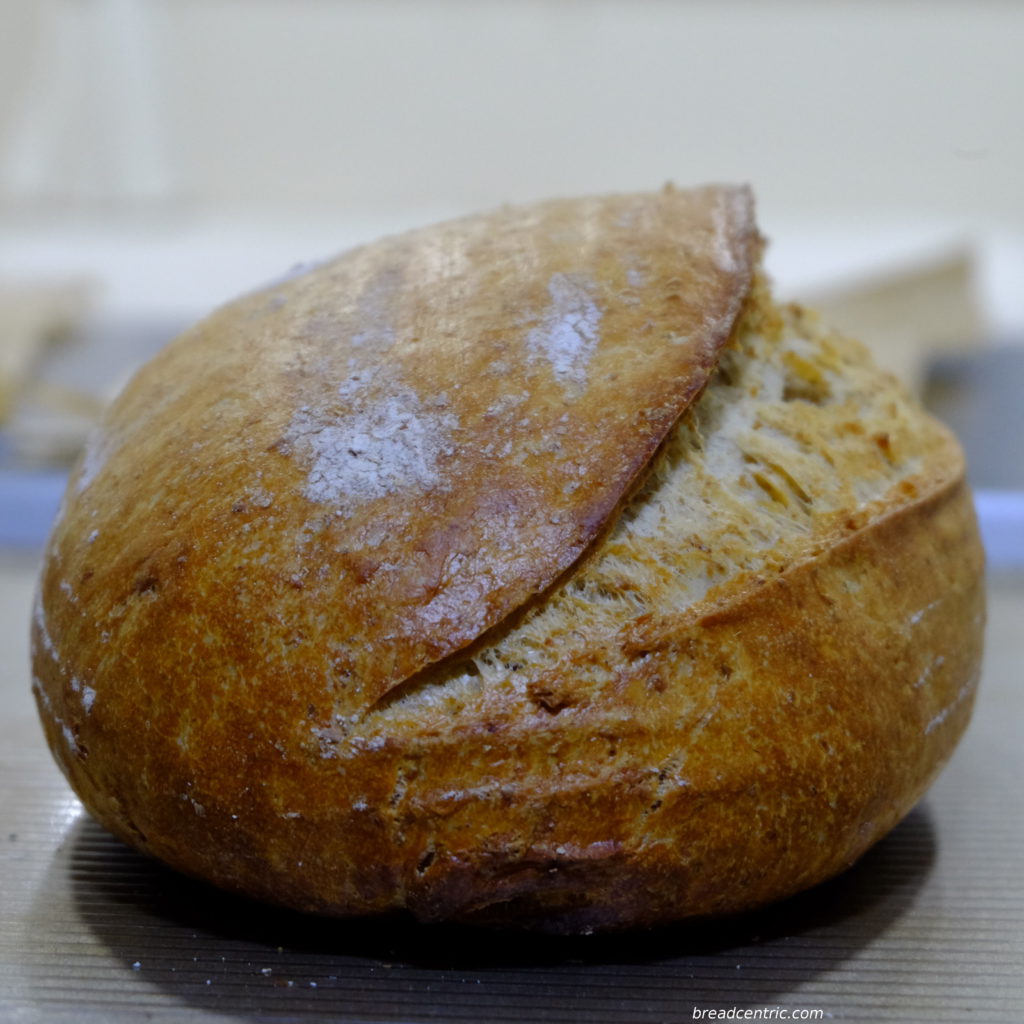 Planning
None. You'll need around 90 minutes for preparation and 20-30 minutes for baking.
Ingredients
This made a decent size loaf.
400 g wholemeal wheat flour
150 g strong wheat flour
325 g water (hand-warm)
40 g butter (rather soft)
60 g sourdough
1 teaspoon dry yeast
12 g salt
Preparation
Follow instructions for Basic kids' bread. Podstawowy chleb dla dzieci.
An experienced reader will notice I had used a banneton this time. I think this is the first time I got such a nice shape from an oval banneton.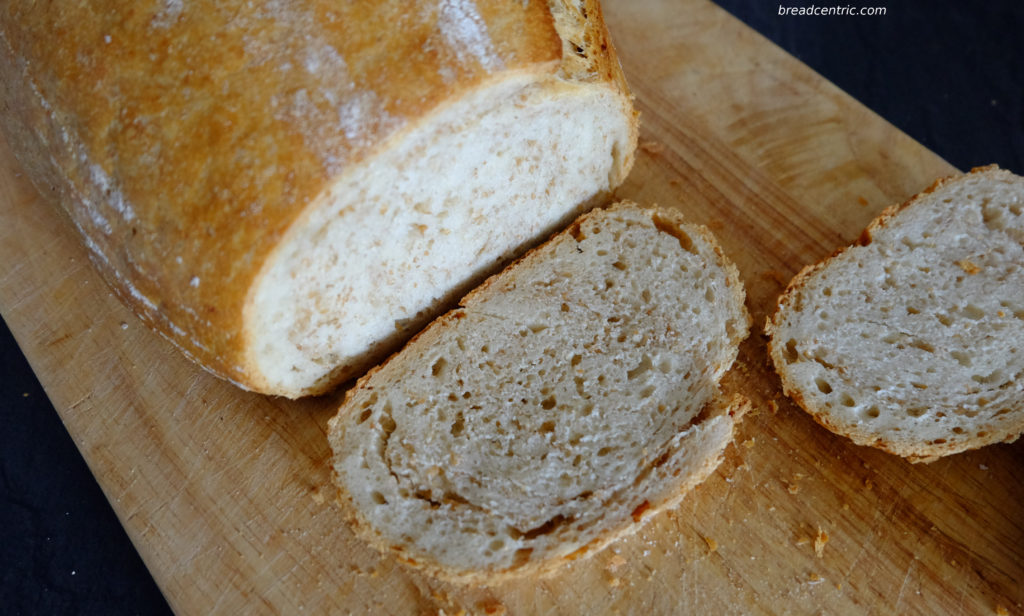 The crumb shows I haven't shaped the loaf well enough. Also, maybe I should be adding butter to the dough after all other ingredients are mixed so that the gluten forms first.
The flavour is really nice, a bit richer than on yeast alone.
Mieszanie drożdży z zakwasem to dla nas raczej nowa rzecz, nie zdarza się nam zbyt często. Niektórzy uważają to za bluźnierstwo, mi to nie przeszkadza. Czasem dodajemy łyżeczkę drożdży do podstawowego białego chleba – nie możemy zawsze czekać 6-8 godzin na chleb do domu. Dzięki odrobinie tych żyjątek oszczędzamy sporo czasu, a i miękisz jest bardziej otwarty.
Tym razem jednak dodaliśmy zakwas do typowego chleba na drożdżach. Lubimy wersję podstawową, ale to było jedno z tych "ciekawe co wyjdzie jeśli". Spróbowaliśmy, wyszło.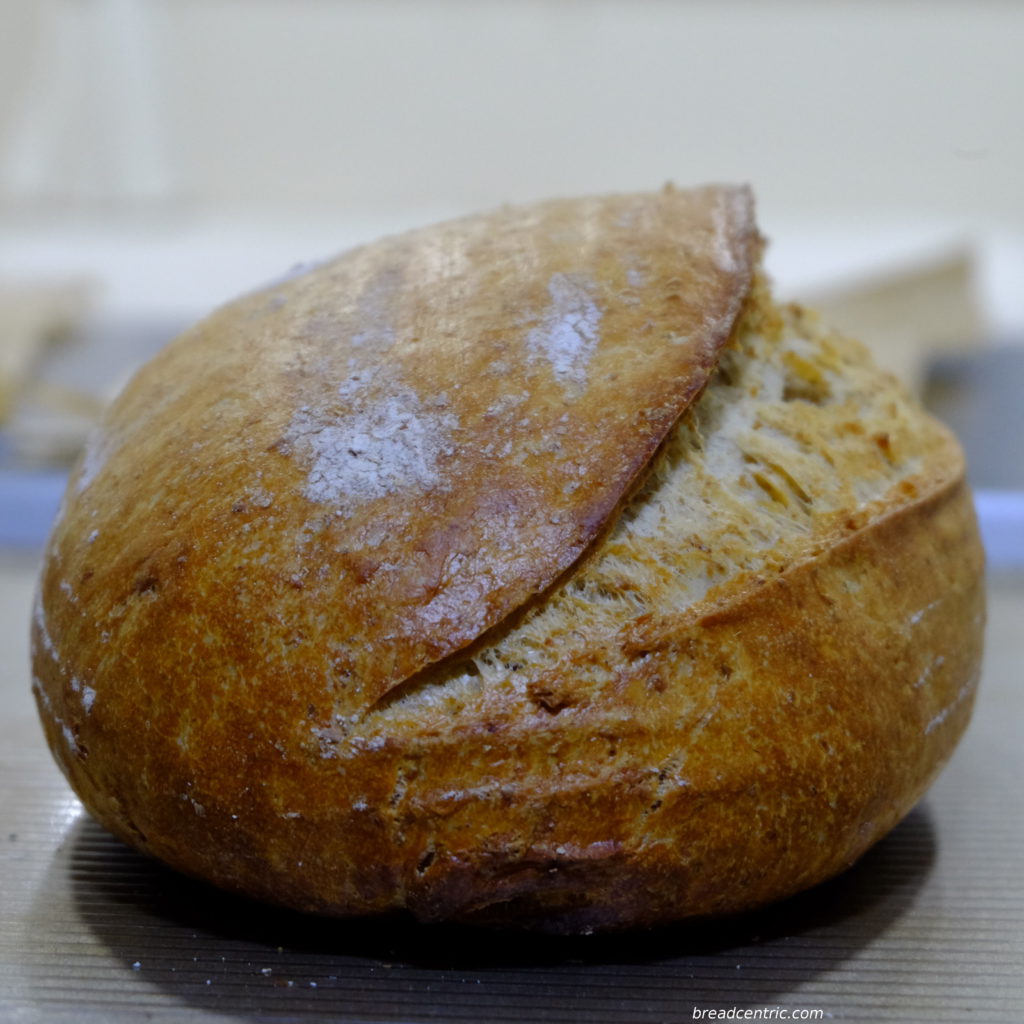 Planowanie
Brak. Przygotowanie chleba zajmuje około 90 minut, pieczenie 20-30 minut.
Składniki
Wyszedł z tego jeden rozsądnych rozmiarów bochenek.
400 g mąki pszennej pełnoziarnistej
150 g mąki pszennej chlebowej
325 g wody (ciepłej, nie gorącej)
40 g miękkiego masła
60 g zakwasu
1 łyżeczka suszonych drożdży
12 g soli
Przygotowanie
Wykonaj instrukcje z Basic kids' bread. Podstawowy chleb dla dzieci.
Doświadczony czytelnik zauważy, że tym razem użyłem koszyka do wyrastania chleba. Chyba pierwszy raz uzyskałem taki ładny kształt z owalnego kosza.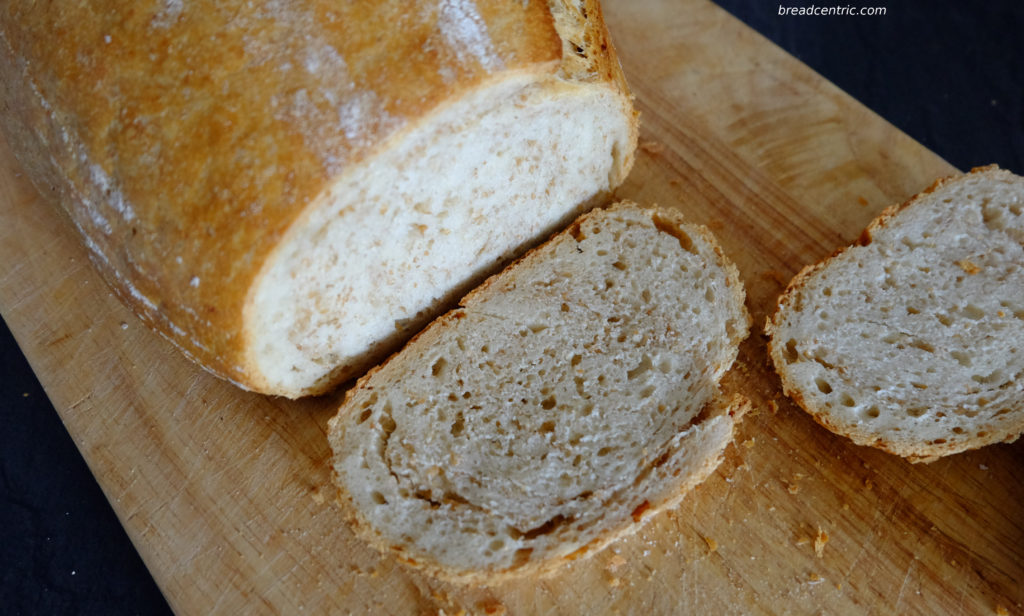 Miękisz sugeruje, że nie uformowałem za dobrze bochenka. Być może również powinienem dodawać masło do ciasta już gdy reszta składników jest wymieszana, aby zawiązać trochę glutenu przed dodaniem tłuszczu.
Smak jest bardzo ładny, nieco bogatszy niż w wersji podstawowej.