This is a rather simple bread recipe, but making it was quite tricky, it took me three attempts to get it right, because of a dumb mistake that I was doing.
To raczej prosty przepis, ale wykonanie go było trochę podchwytliwe. Potrzebowałem trzech prób żeby zrobić go dobrze, a to wszystko przez głupi błąd, który popełniałem.
Time to put all the doughnuts aside and begin the Lent. I will do my best to get back to baking mainly bread stuff now.
This bread is made using yeast and with whole water replaced with Guinness and buttermilk. I got the recipe from Chez CateyLou. I only replaced and some of the strong flour with wholemeal and removed bran.
Planning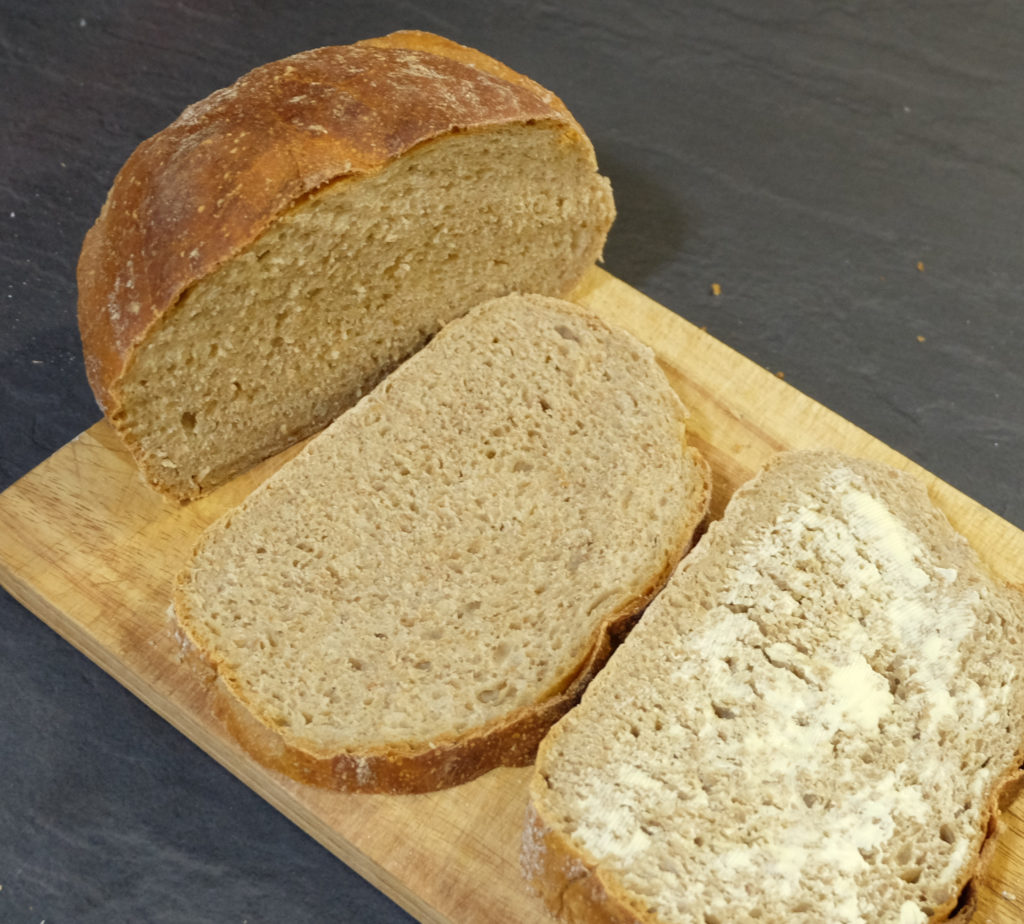 Mix the dough, leave for 12-18 hours, shape it, leave for 1-2 hours, bake for 40 minutes. Sounds easy, doesn't it?
Ingredients
I used two 440 ml cans of Guinness and got three large loaves (enough for us for five days). I am presenting a one loaf recipe below. The remaining third of a Guinness can can be used to chef's liking.
480 g strong white wheat flour
180 g wholemeal wheat flour
10 g salt
1.6 g dry yeast (I have a precise scale, use half a teaspoon)
290 g Guinness
290 g buttermilk
Preparation
Mix buttermilk and Guinness in a bowl, then add salt and yeast and mix well
Add flours and mix into a very shaggy dough
Leave covered in your kitchen for 12-18 hours. I did a single stretch and fold after an hour, but this isn't very important to do
After that time take it out onto a floured surface, shape a loaf and put it in a banneton or a bowl with a dusted teatowel and leave for another 1-2 hours
Set your oven to 240 C degrees top+bottom, or 200-210 C degrees with a fan. Know your oven
Bake for 40 minutes. The bread will make a hollow sound when tapped on the bottom
The bread is nice brown, moist and very lightly sour in flavour. We made it on Friday and still enjoy it five days later. The flavour to effort ratio is gazillion. Highly recommended.
Czas odłożyć pączki na bok i rozpocząć post. Postaram się teraz pisać więcej o chlebie.
To pieczywo robi się na drożdżach, przy czym zamiast wody, w przepisie zostaje wykorzystany Guinness i maślanka. Przepis wziąłem z bloga Chez CateyLou. Jedyna zmiana to zamiast dawać otręby, dodałem mąki pełnoziarnistej i ująłem chlebowej.
Planowanie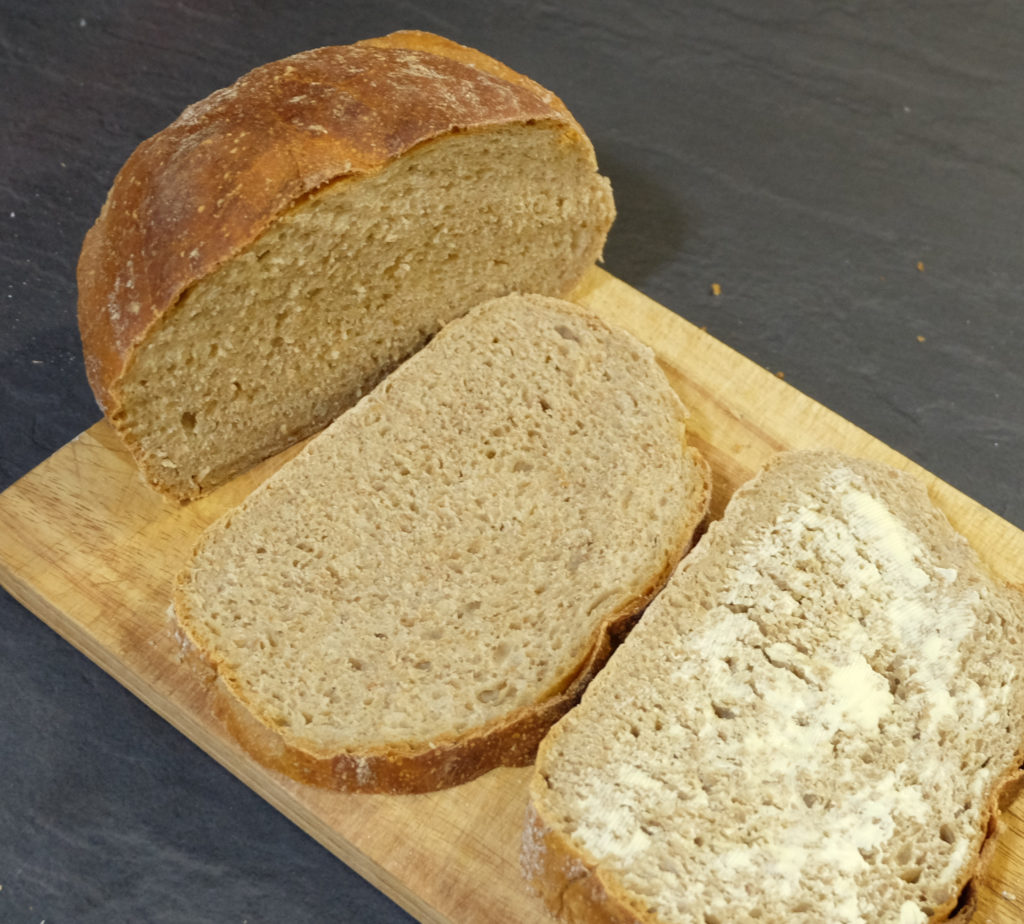 Mieszanie ciasta, 12-18 godzin wyrastania , formowanie, 1-2 godziny wyrastania, pieczenie 40 minut. Brzmi raczej łatwo, nie uważasz?
Składniki
Użyłem dwóch puszek 440 ml Guinnessa i wyszły mi trzy bochenki. Prezentuję ilości na jeden bochenek – pozostała  jedna trzecia puszki do wykorzystania wedle upodobania szefa kuchni.
480 g mąki pszennej chlebowej
180 g mąki pszennej pełnoziarnistej
10 g soli
1.6 g suchych drożdży (ja mam precyzyjną wagę, Ty możesz dać pół łyżeczki)
290 g Guinnessa
290 g maślanki
Przygotowanie
Wymieszaj maślankę i Guinnessa w misce, następnie dodaj sól i drożdże, i wymieszaj jeszcze bardziej
Dodaj mąki i mieszaj do otrzymania dość luźnego ciasta
Pozostaw przykryte w kuchni na 12-18 godzin. Ja raz rozciągałem i składałem ciasto, po godzinie od wymieszania, ale nie jest to bardzo konieczne
Po tym czasie wyjmij ciasto na oprószoną mąką powierzchnię, uformuj bochenek i umieść w koszu do wyrastania lub misce z oprószoną mąką czystą ściereczką kuchenną. Pozostaw na kolejne 1-2 godziny
Nastaw piekarnik na 240 stopni góra+dół, lub 200-210 stopni z termoobiegiem. Znaj swój piekarnik
Piecz przez 40 minut. Chleb będzie wydawał głuchy odgłos gdy się go postuka w spód
Chleb ma ładny brązowy kolor, jest wilgotny i delikatnie kwaśny w smaku. Zrobiliśmy go w piątek, tydzień później wciąż jest dobry. Stosunek smaku do wysiłku wynosi pierdyliard. Bardzo polecam.