This week I will end up looking (even more) like a doughnut.
W tym tygodniu stanę się (jeszcze bardziej) podobny do pączka.
I must say, I do like doughnuts made by my Mom, but I don't have her recipe. That said, I think I found a perfect one, from Justin Gelatly (available in his book, "Bread Cake Doughnut Pudding", sources). This is what they look like:
On the Stall @boroughmarket #now #today #doughnuts #vanilla pic.twitter.com/Q07e7spz1L

— Bread Ahead Bakery (@BreadAhead) February 11, 2017
… and this is what they look like when I make them:
@sourdough_mania recipe from @breadaheadboroughmarket 's Justin Gellatly #doughnuts

A post shared by Breadcentric (@breadcentric) on
Close enough. But this time I want to try them differently. Instead of frying them empty, and filling them with all the custard love ( ͡° ͜ʖ ͡°), I want to make them traditionally Polish, with rose petal jam. To do this, I will need to round the dough with jam already inside.
Planning
Normally I would make the doughnuts Wednesday night to be ready for Fat Thursday, but it will be middle of the week and I may be willing to try something less adventurous (like cheese donuts), therefore this is a weekend bake for me. This is the plan:
Make the dough Saturday morning, let it double in volume (about 30 minutes)
Knock back the dough, pop into the fridge, let it proof throughout the day
In the evening make doughnuts, leave for about four hours to double in size (in my case two hours)
Fry
I recommend getting some rice flour for dusting, as the dough will be very fragile and will collapse if it sticks to the proofing surface. It will not stick to rice flour.
If you will be frying in a sauce pan, get one with thick bottom and get a thermometer to monitor temperature around 180 C. Deep fryer owners have it easier with automated temperature control.
Ingredients
Makes around 20 doughnuts
500 g strong white wheat flour
60 g caster sugar
10 g fine sea salt
15 g fresh yeast, crumbled
4 eggs
zest of half lemon (get an organic lemon, make sure the skin is not waxed)
150 g water
125 g unsalted butter
about 2 litres rapeseed oil for frying
some icing sugar for dusting
Preparation
Put all the ingredients apart from butter in the mixer bowl and mix on medium speed for about 8 minutes until they form a dough that forms a ball. I used a dough hook
Turn the mixer off and let the dough rest for about a minute
Start it again on medium speed and add butter in small portions, giving it a bit time to incorporate. Once it's all nicely mixed in, mix on high speed for 5 minutes


The dough is super stretchy

Cover with cling film and let the dough double in volume
Knock back the dough, cover again and store in the fridge overnight
Next day, cut the dough in 50 g pieces, make them flat, put jam in the middle, close them firmly and round to form a nice tight ball. The dough is sticky as hell, so dusting with wheat flour is encouraged. It's also easier to round empty doughnuts, as with jam you can easily get it through on the other side of the dough and not to close it properly


Not all rounded doughnuts were perfect, but hey, nobody is

Place on a dusted tray (rice flour!), with a lot of space between the doughnuts
Cover them lightly with clingfilm. I sprinkle a bit flour on top before covering (rice flour!). They will need about 4 hours to double in size (two hours in my case)
Heat up the oil – 180 C is what you want
Put doughnuts in the pan, enough to have the space to rotate. Picking up must be gentle. Make sure the doughnut does not tear or deflate. Fry for 2 minutes on each side, until golden brown. Keep monitoring the temperature – I keep the probe in the pan all the time


Doughnuts in the oil

When taking out, place the doughnuts on a paper towel. It will help get rid of some of the excess fat. Next, put them on a cooling rack to cool down completely


Fried doughnuts
The doughnuts are insanely good with homemade custard, but also quite heavy, that's why I decided to go for the jam. They went very flat after frying. With the filling it's easy, as you reinflate it with cream, with jam already inside, it's looking so so.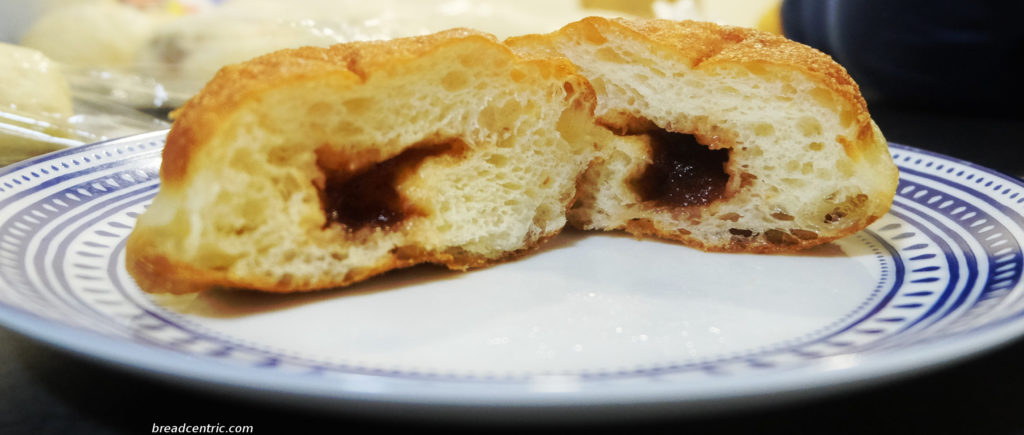 If you are reading this recipe and wondering "how will I eat 20 doughnuts?", change it into "who will I share 20 doughnuts with?". Sharing the guilt helps. Enjoy!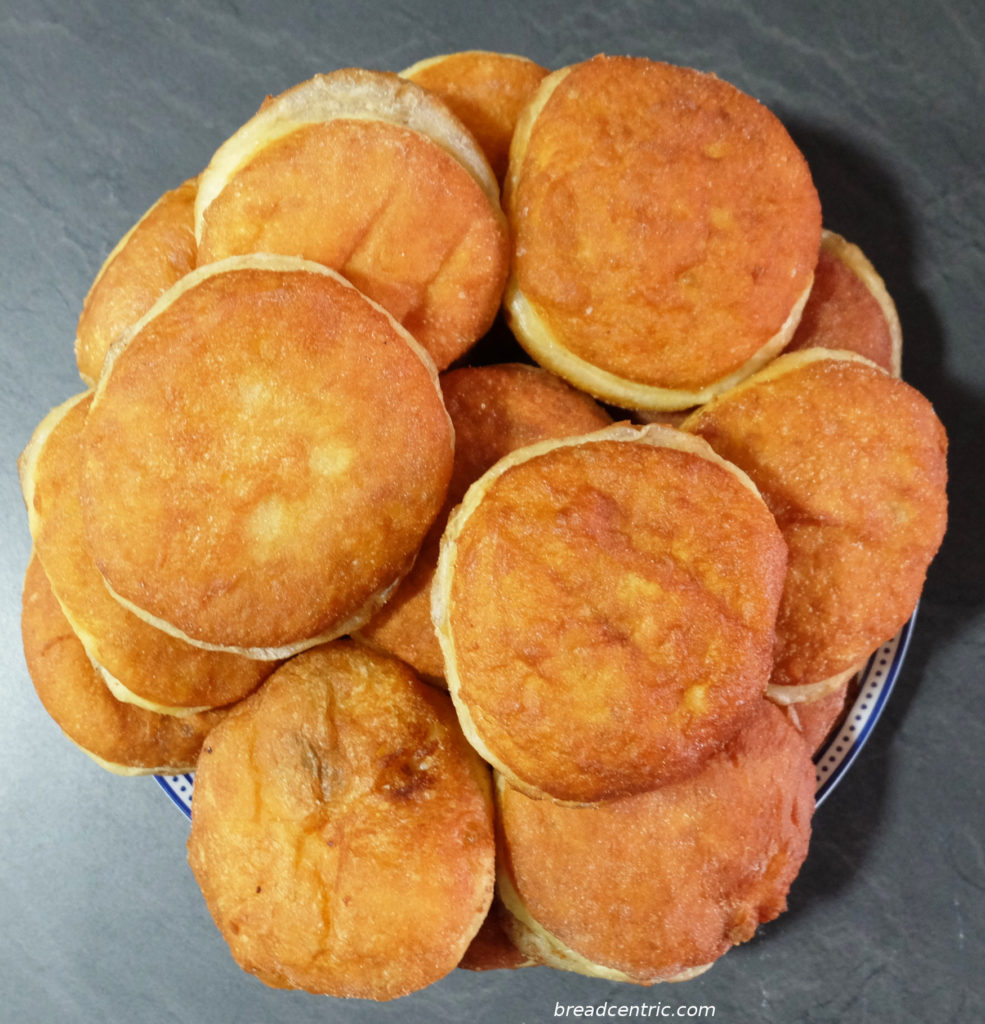 Bardzo lubię pączki, jakie robi moja Mama, ale nie mam jej przepisu. Szczęśliwie chyba znalazłem przepis idealny, od Justina Gelatly'ego z książki "Bread Cake Doughnut Pudding" (źródła). Wyglądają tak:
On the Stall @boroughmarket #now #today #doughnuts #vanilla pic.twitter.com/Q07e7spz1L

— Bread Ahead Bakery (@BreadAhead) February 11, 2017
… a tak gdy ja je zrobię:
@sourdough_mania recipe from @breadaheadboroughmarket 's Justin Gellatly #doughnuts
Podobne. Tym razem jednak chcę trochę zmienić wykonanie. Zamiast smażyć puste pączki i nadziewać waniliową miłością ( ͡° ͜ʖ ͡°), chcę je zrobić tradycyjnie po polsku, z różą. Będą też smażone z dżemem w środku.
Planowanie
Normalnie robiłbym pączki w środę w nocy, żeby były gotowe na Tłusty Czwartek, ale tym razem robię je w weekend, a na czwartek może spróbuję czegoś innego. Oto plan:
Zrobić ciasto w sobotę rano, czekać aż podwoi objętość (30 minut czy jakoś tak)
Odgazować ciasto, schować do lodówki na cały dzień
Wieczorem zrobić pączki i zostawić, aby podwoiły objętość, na około cztery godziny (u mnie były gotowe po dwóch)
Smażyć
Polecam nabyć mąkę ryżową do podsypywania. Ciasto będzie bardzo delikatne i zapadnie się jeśli przyklei się do powierzchni, na której wyrasta. Do mąki ryżowej się nie przyklei.
Jeśli smażysz w garnku, zadbaj by miał grube dno. Warto mieć termometr z sondą, żeby utrzymywać temperaturę 180 stopni. Frytkownice mają termostaty, więc jest łatwiej.
Składniki
Wystarczą na około 20 pączków
500 g mąki pszennej chlebowej
60 g drobnego cukru
10 g soli
15 g świeżych, pokruszonych drożdży
4 jajka
skórka z połowy cytryny (zadbaj o niewoskowaną skórkę)
150 g wody
125 g masła
około 2 litry oleju rzepakowego do smażenia
Cukier puder do posypania
Przygotowanie
Wrzuć wszystkie składniki poza masłem do miksera i mieszaj na średniej prędkości przez około 8 minut aż uformuje się kula ciasta. Użyłem haka do ciasta
Wyłącz mikser i daj ciastu odpocząć przez minutę
Włącz ponownie na średniej prędkości i dodawaj masło małymi porcjami, dając mu czas na wchłonięcie się. Po dodaniu i wmieszaniu całego ciasta mieszaj jeszcze 5 minut na wysokich obrotach


Ciasto jest bardzo elastyczne

Przykryj miskę folią i poczekaj aż ciasto podwoi objętość
Odgazuj ciasto, przykryj i włóż do lodówki na noc
Następnego dnia podziel ciasto na porcje 50 g, umieść na środku dżem, zamknij dokładnie w środku i zaokrąglij do uformowania ładnej, zwartej kulki. Ciasto jest bardzo lepkie i trudno jest z nim pracować bez podsypywania mąką. Łatwo jest nie domknąć pączka, lub przy zaokrąglaniu przepchnąć dżem na drugą stronę


Nie wszystkie pączki były dobrze uformowane, ale nikt nie jest idealny

Umieść na oprószonej tacy (mąka ryżowa!), zostawiając wiele miejsca między pączkami
Przykryj ostrożnie folią. Ja trochę posypuję wierzch mąką ryżową przed przykryciem. Muszą podwoić objętość, co zabierze około cztery godziny (według autora, u mnie dwie)
Nagrzej olej – powinien osiągnąć temperaturę 180 stopni
Wkładaj pączki do garnka, dbając żeby miały miejsce na obrócenie. Obchodź się z nimi delikatnie, żeby się nie porwały, ani żeby nie opadły. Smaż dwie minuty z każdej strony, aż staną się złoto-brązowe. Kontroluj temperaturę – ja mam sondę w garnku piszesz cały czas smażenia


Pączki w oleju

Po wyjęciu połóż na ręcznik papierowy, żeby pozbyć się nadmiaru oleju. Następnie umieść na kratce do ostygnięcia


Usmażone pączki
Pączki w wersji z domowej roboty kremem custard są absurdalnie smaczne, ale też dość ciężkie, stąd użycie dżemu. Po smażeniu bardzo się spłaszczyły. Gdy je nadziewasz, możesz je łatwo napompować, gdy jednak dżem jest już w środku, wyglądają wtedy tak sobie.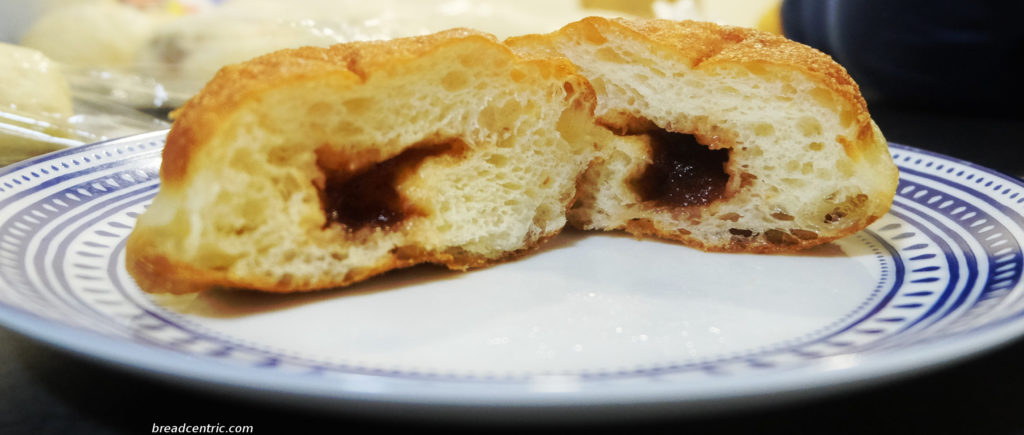 Jeśli czytasz ten przepis i zastanawiasz się: "jak ja zjem 20 pączków?", pomyśl raczej, z kim się nimi podzielisz. Zawsze to mniej poczucia winy z przejedzenia. Smacznego!