While being crazy about trying to make everything bread related, and the rest, there are three types that we bake regularly. This is the last recipe from that list.
Choć mam bzika na punkcie próbowania robienia wszystkiego związanego z chlebem, i pozostałych, są trzy rodzaje, które pieczemy regularnie. To jest ostatni z tej listy.
Our requirement for a regularly made bread is simple – it needs to be simple to make, easy to bake, relatively clean and not too time consuming. That's why most loaves like that are baked in a tin, do not have a separate bulk fermentation or shaping.
We've presented  Simple rye bread, and The Seedy Bread. Now it's time for the third one that we make this way – a white wheat-rye bread with seeds. The recipe comes from a Polish website Przepis Na Chleb (which means a bread recipe). Our version is very slightly altered. We also use different seeds, depending on what's available and what's about to expire (do you control expiry dates of your products at home?).
Planning
No levain is needed for this bread. We usually prepare a starter, because we need more than we store. If you make some, just do it before and leave for about eight hours.
Ingredients
Makes a single loaf, around 1 kg weight
100 g rye sourdough
550 g strong white wheat flour
400 g water
12 g salt
50 g sunflower seeds (this time we replaced half with some malted rolled wheat flakes)
20 g sesame seeds
20 g linseed
some poppy seeds on top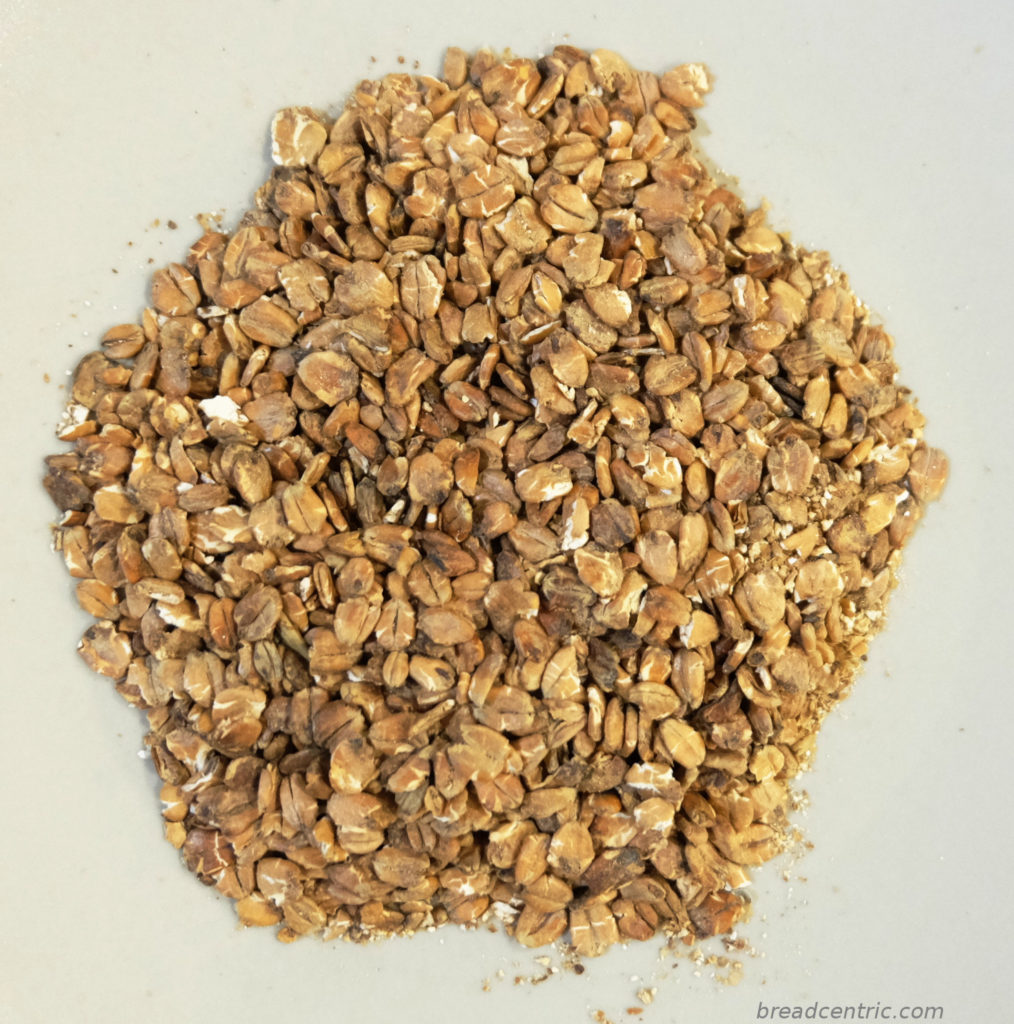 The magic ingredient of the day is malted wheat. The grain is malted by making it sprout (soak in water), then just when it's ready, the sprouting process is stopped, the grain is dried and seasoned for a short time. The key word over here is amylase, that breaks starch into simple sugars, therefore the grain becomes sweeter. Rolled grain gets soft in the dough, so you don't need to soak it.
Preparation
Mix all ingredients together
Put it all in a greased baking tin, get make surface smooth. We use Ikea bread tins and the dough takes up a bit above half of them
Sprinkle poppy seeds on top, cover with cling film and leave for about 6-7 hours to rise
When the dough doubles, set the oven to 150 C with a fan (know your oven, ours tends to do much more than we set it to). Put some water in a dish at the bottom of the oven
Put the tins into the oven and bake for 70 minutes. After about 20 minutes release the steam
As you may have noticed, we use same baking tins in all three recipes, same temperatures, same times. It's handy to make it this way, as it saves us time and energy when baking many loaves.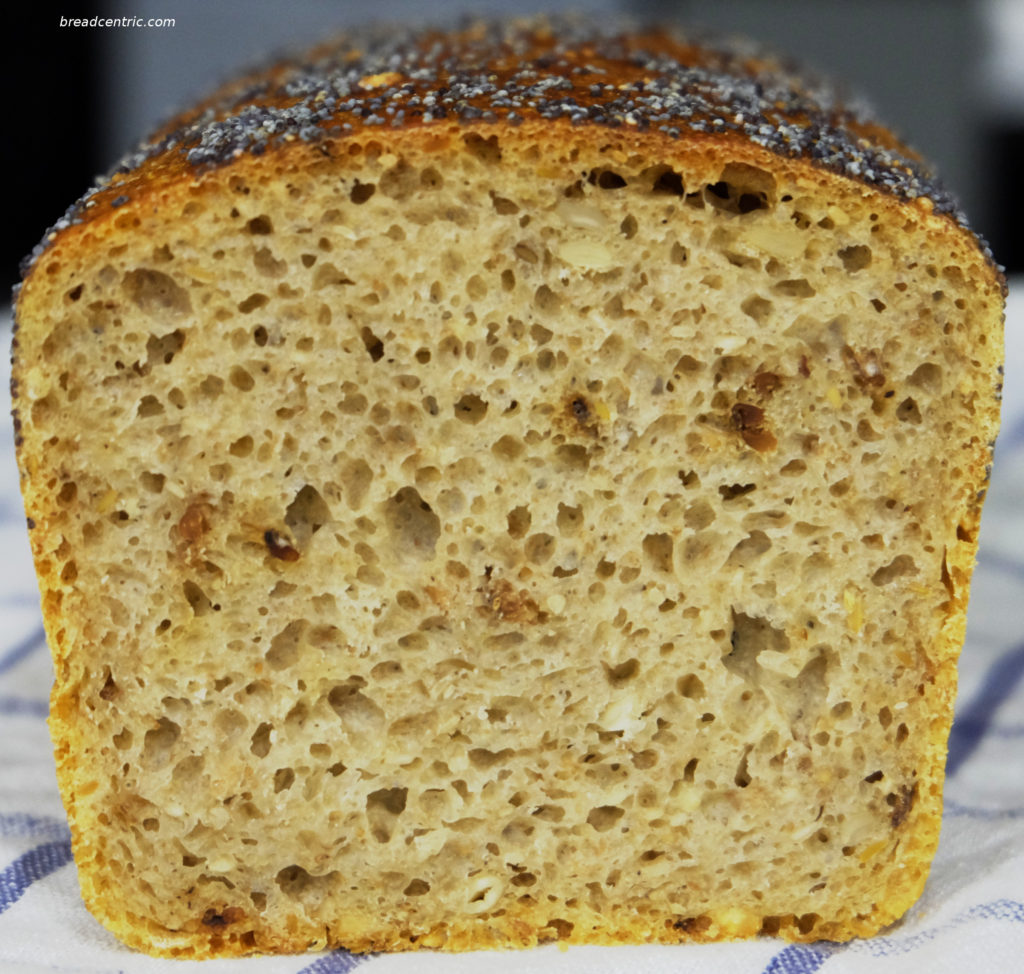 The dark spots that look as if a group of mice made a toilet out of my flour, are areas coloured by the malted grain.
What can it be eaten with? Just about anything. Just be warned it goes really smooth, it's easy to eat half in an instant.
Nasze wymagania dla chleba do regularnego szykowania są proste – musi być łatwy do zrobienia, łatwy do pieczenia, niewymagający bałaganu, niezbyt czasochłonny. Dlatego większość bochenków jest pieczonych w foremce, nie ma osobnej pierwszej fazy fermentacji, ani formowania.
Zaprezentowaliśmy już prosty chleb żytni oraz chleb ziarnisty. Teraz czas na trzeci, który robimy podobnie – biały chleb pszenno-żytni z ziarnami. Przepis pochodzi ze strony Przepis Na Chleb. Nasza wersja leciutko się różni. Używamy też różnych ziaren, zależnie od dostępności i terminu ważności (czy kontrolujesz daty przydatności swoich produktów w domu?).
Planowanie
Nie potrzeba żadnego zaczynu. Zwykle przygotowujemy, ale tylko dlatego, że potrzebujemy więcej niż przechowujemy. Jeśli też będziesz chcieć zrobić zaczyn, zrób to około ośmiu godzin przed planowanym mieszaniem.
Składniki
Wystarcza na pojedynczy bochenek, około 1 kg masy.
100 g żytniego zakwasu
550 g mąki pszennej chlebowej
400 g wody
12 g soli
50 g ziaren słonecznika (tym razem zastąpiliśmy połowę słodowanymi płatkami pszennymi)
20 g ziaren sezamu
20 g ziaren lnu
trochę maku do posypania wierzchu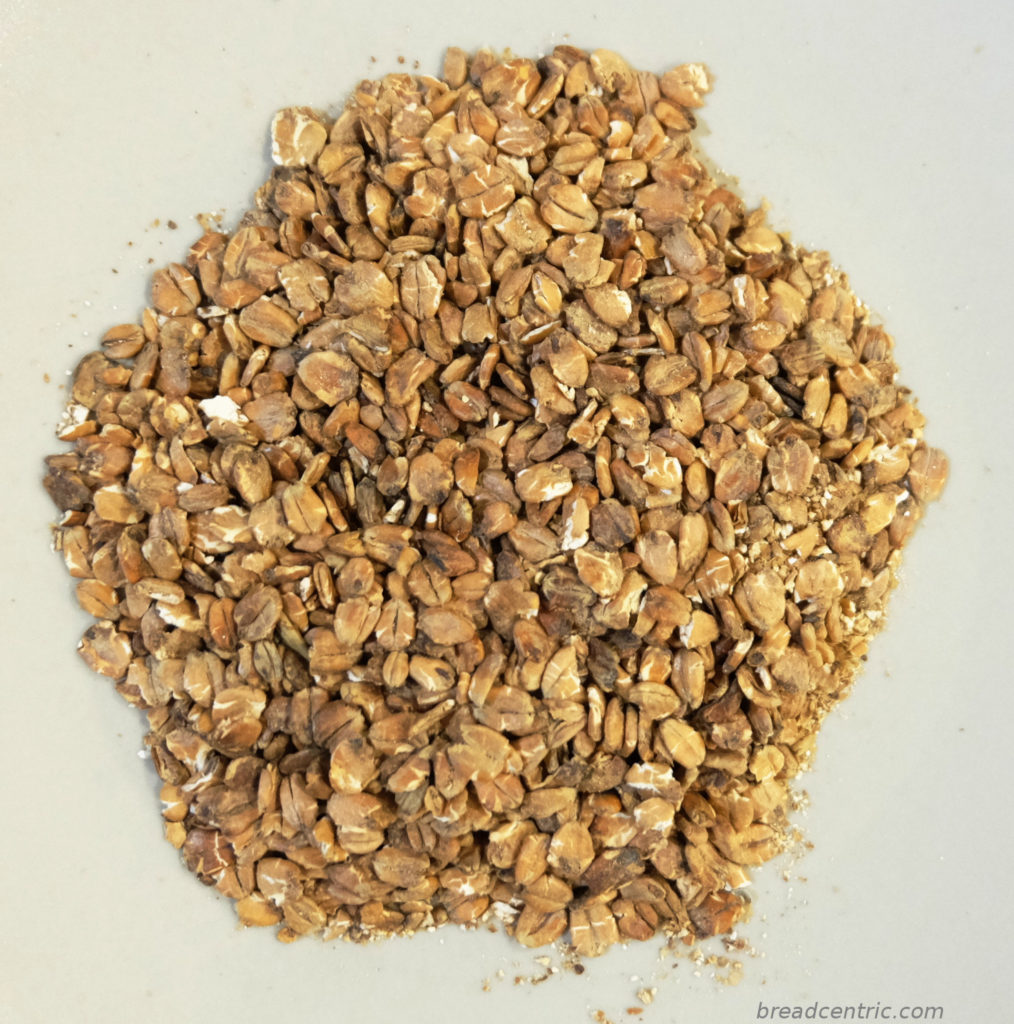 Magiczny składnik dnia to słodowane płatki pszenne. Ziarno słoduje się, dążąc do jego wykiełkowania (zamoczenie w wodzie), po czym przerywając ten proces suszeniem i leżakując przez pewien czas. Słowo-klucz to amylaza, która rozbija skrobię na proste cukry, co sprawia, że ziarno jest słodsze. Płatki z ziarna miękną łatwo w cieście, więc  nie potrzeba ich namaczać.
Przygotowanie
Zmieszaj wszystkie składniki
Włóż ciasto do natłuszczonej foremki, wygładź powierzchnię. My używamy foremek do chleba z Ikei, ciasto zajmuje w nich około połowę wysokości
Kiedy ciasto podwoi objętość, nastaw piekarnik na 150 C z termoobiegiem (znaj swój piekarnik, , nasz ma tendencje do przegrzewania). Wlej trochę wody do naczynia na dnie piekarnika
Włóż foremki do piekarnika i piecz przez 70 minut. Po około 20 minutach wypuść parę z piekarnika
Jeśli uważnie się przyjrzeliście, używamy takich samych foremek e wszystkich trzech przepisach, takich samych temperatur i czasów. To jest bardzo wygodne, bo oszczędza nam czasu i energii, gdy pieczemy wiele bochenków.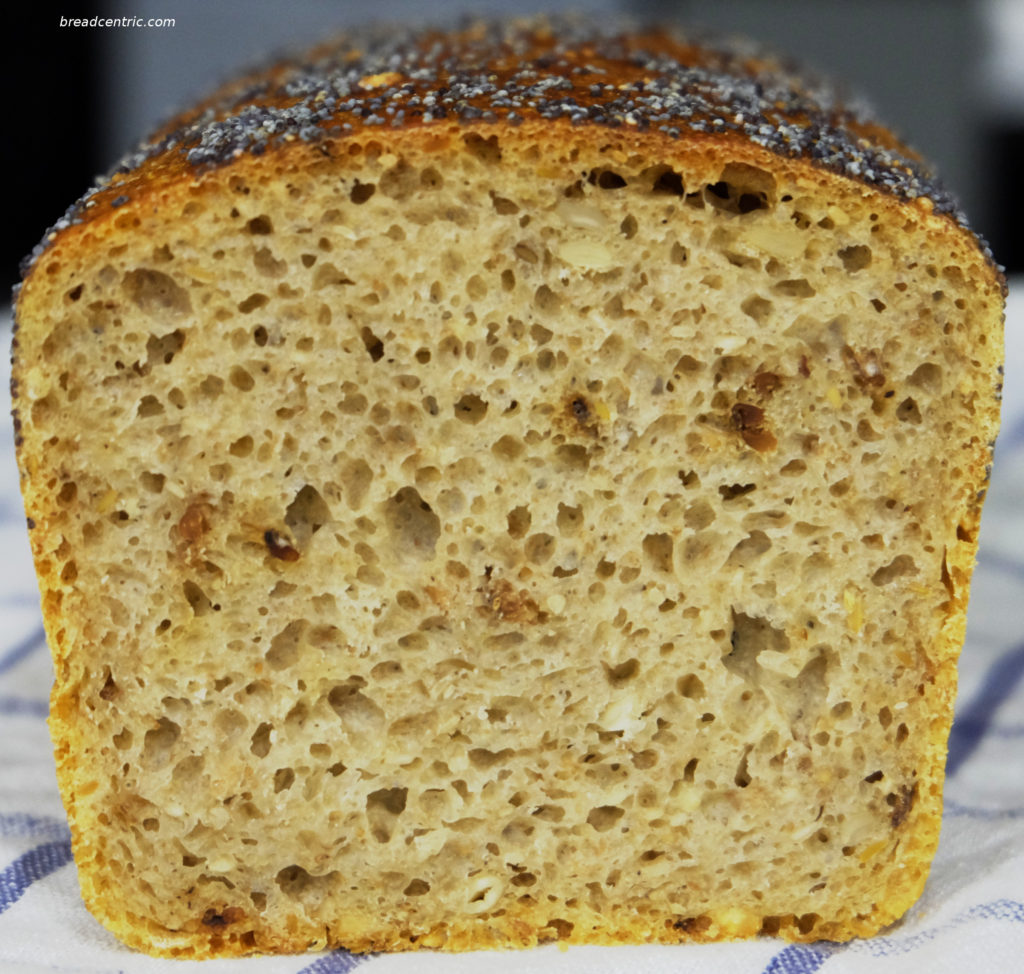 Małe ciemne plamki w miękiszu, które wyglądają, jakby grupa myszy urządziła sobie toaletę z mojej mąki, to obszary, gdzie słód zabarwił zwoje otoczenie.
Z czym można jeść ten chleb? Ze wszystkim. Tylko ostrzegam, że chodzi bardzo gładko, łatwo zjeść od ręki pół bochenka.