It happened again. In the morning I get up, open the bread box – all gone.
Znów to samo. Rano wstaję, otwieram chlebak – pusto.
Wersja polska poniżej.
It was still before the coffee, so I found the whole wheat bread with seeds which turned out to be something completely different. Something was not right when I found out I had to add salt to the seeds. Either way, That's what I made. Since I thought it was that other bread, I just mixed some random seeds to match the quantity from the recipe. The base recipe (for reference) is the five seeds bread from J. Hamelman's "Bread".
Planning
Prepare levain in the morning and leave for 12-16 hours
Prepare seeds in the morning and leave next to the levain
The dough requires two proofings over the time span of two-two and a half hours
Ingredients
This is enough to make a 2 kg loaf, or two smaller ones.
Levain
230 g strong wheat flour
290 g water
50 g mature sourdough (the recipe calls for liquid one, I used what I had, somewhere between liquid and solid)
Seeds
100 g rolled oats
100 g linseed
100 g sunlower seeds
10 g salt
370 g boiling water
Dough
the levain
the seeds
400 g strong wheat flour
280 g whole wheat flour
240 g water – use hand-warm water
20 g salt
5 g instant yeast
Preparation
Mix the levain ingredients, cover with cling film and put aside for 12-16 hours
Mix the seeds and salt, add boiling water, cover with cling film and put aside for 12-16 hours. The harder seeds you use the more important it is to use boiling water. I don't think I had to with my mix, but it did no harm
Mix everything in a mixer or with a spoon in a bowl – it will be rather hard to do manually. The mixer needs about 3 minutes lower speed and another 3 minutes higher speed
Leave covered for 60-90 minutes. I wanted a bigger spring in the oven, so I did 60 minutes. After 45 minutes fold the dough
Shape a loaf and put it into a bowl covered with a floured cloth. Or use a banneton if you have one, but also remember to use flour. I usually put a bowl/basket into a plastic bag so that it doesn't dry out and gets warmer inside
Leave it for 60 minutes to prove. After about 30 minutes turn the oven on. The recipe mentions 240 C with steam. I set mine to 210 C up and down (know your oven) and added water in a roasting tray at the bottom
After 60 minutes proving, before putting your loaf on a baking tray, make sure the bottom is floured enough to not stick to it (a very thin layer is totally enough, I brush it over the base of the loaf). Flip it over, make some cuts with a sharp knife to enable the loaf to expand nicely and put into the oven for 50-55 minutes.
Take it out if it makes a nice hollow sound when knocking on the bottom. Leave on a cooling rack until cold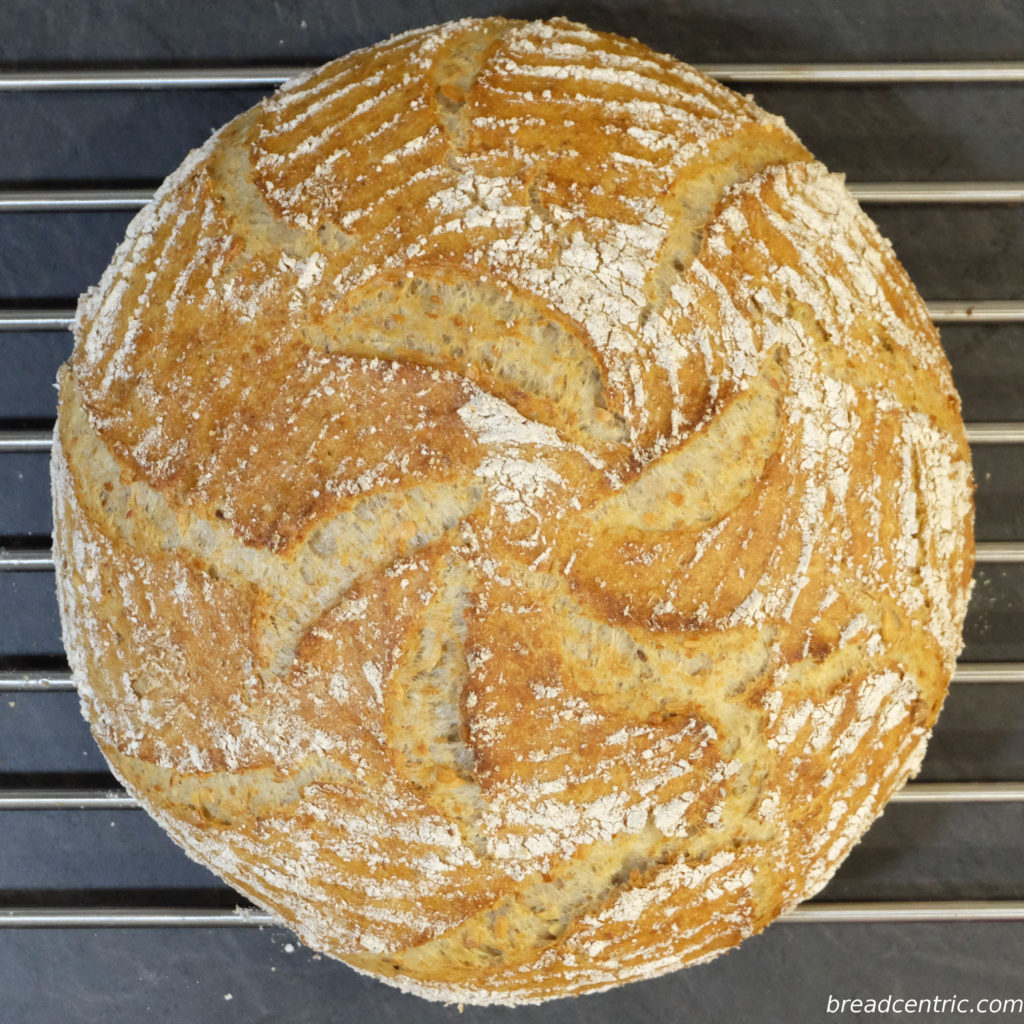 I managed to get a nice spring and not too many excessive cracks. The crust is nice and not too thick. The crumb is underbaked. The recipe includes a ten minutes longer baking time to fix this.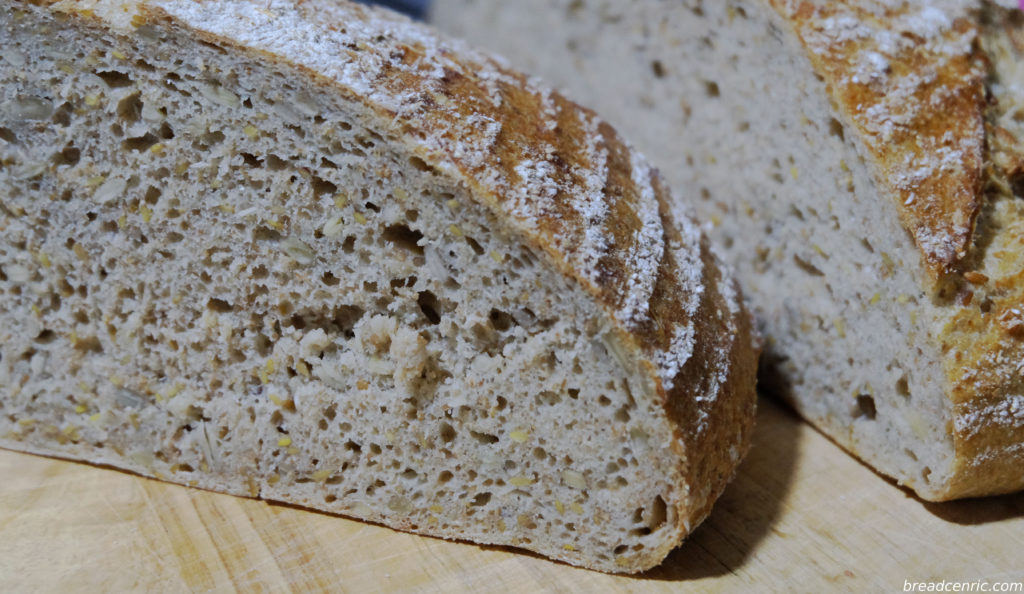 Initially in the oven it went a bit flat so I feared it wouldn't rise well, but it sprung nicely to shape a round dome of the bread goodness. Time to go to bed, breakfast is covered. And supper. And another breakfast.
Oh, the taste is… oaty. But not too much. A very enjoyable sandwich loaf.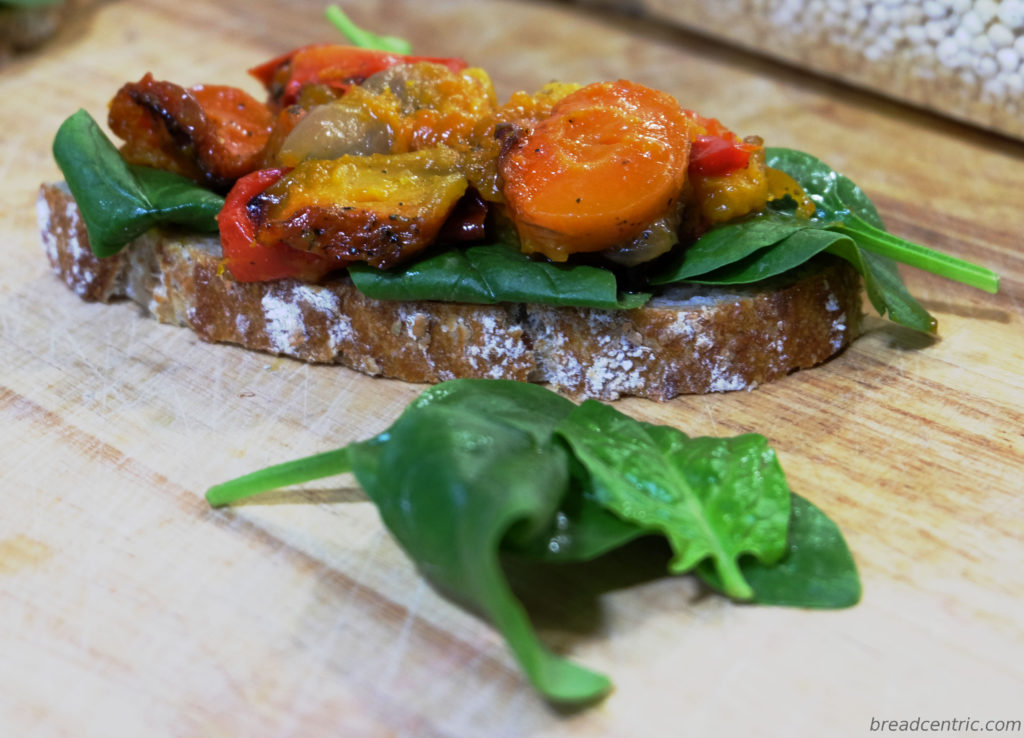 Jeszcze nie wypiłem kawy, więc znalazłem chleb pszenny z ziarnami, który okazał się być całkiem innym. Coś mi nie pasowało, kiedy musiałem dodać soli do ziaren. Tak czy tak, upiekłem. Użyłem innych ziaren niż w oryginale. Bazowałem na chlebie "pięć ziaren" z "Chleba" J. Hamelmana.
Planowanie
Przygotuj zaczyn rano i zostaw na 12-16 godzin
Przygotuj ziarna rano i zostaw na tak długo jak zaczyn
Ciasto wymaga dwóch wyrastań o łącznej długości dwóch-dwóch i pół godziny
Składniki
Porcja wystarczy na jeden dwukilogramowy lub dwa kilogramowe bochenki.
Zaczyn
230 g mąki pszennej chlebowej
290 g wody
50 g dojrzałego zakwasu (przepis podaje, że na być płynny, mój jest dość rzadki i takiego użyłem)
Ziarna
100 g płatków owsianych
100 g siemienia lnianego
100 g ziaren słonecznika
10 g soli
370 g wrzątku
Ciasto
Zaczyn
Ziarna
400 g mąki pszennej chlebowej
280 g mąki pszennej pełnoziarnistej
240 g ciepłej (nie parzącej) wody
20 g soli
5 g drożdży instant
Przygotowanie
Wymieszaj składniki na zaczyn, przykryj folią i odstaw na 12-16 godzin
Wymieszaj ziarna z solą, zalej wrzątkiem, przykryj folią i zostaw na 12-16 godzin. Im twardsze ziarna, tym bardziej istotne jest, żeby użyć wrzątku. Myślę że ja nie musiałem, ale też nie zaszkodzi
Połącz wszystkie składniki mikserem z hakiem do ciasta lub łyżką w misce – ręczne będzie raczej ciężko. Mikser potrzebuje około trzech minut na niższych obrotach i trzech na szybszych
Zostaw pod przykryciem przez 60-90 minut. Ja chciałem, żeby ciasto ładnie ruszyło w piekarniku, więc czekałem 60 minut. Po 45 minutach złóż ciasto
Uformuj bochenek i włóż do kosza lub miski z obmączoną ściereczką. Zazwyczaj kosz/miskę wkładam do reklamówki żeby ciasto nie wyschło i miało cieplej
Zostaw do wyrośnięcia na 60 minut. Po około 30 włącz piekarnik. W przepisie jest 240 stopni z parą. Ja ustawiłem swój na 210 stopni góra-dół (znaj swój piekarnik) i dałem wodę do foremki na spodzie
Po 60 minutach wyrastania, przed wyłożeniem bochenka na tackę do pieczenia, upewnij się, że spód jest dobrze posypany, aby chleb nie przywarł (ja rozprowadzam mąkę szczotką). Wywróć kosz/miskę i wyrzuć chleb na tackę, natnij bochenek, żeby ładnie się rozszedł, i włóż do piekarnika na 50-55 minut
Wyjmij chleb, gdy stukanie w spód daje ładny, głuchy odgłos. Połóż na kratce do ostygnięcia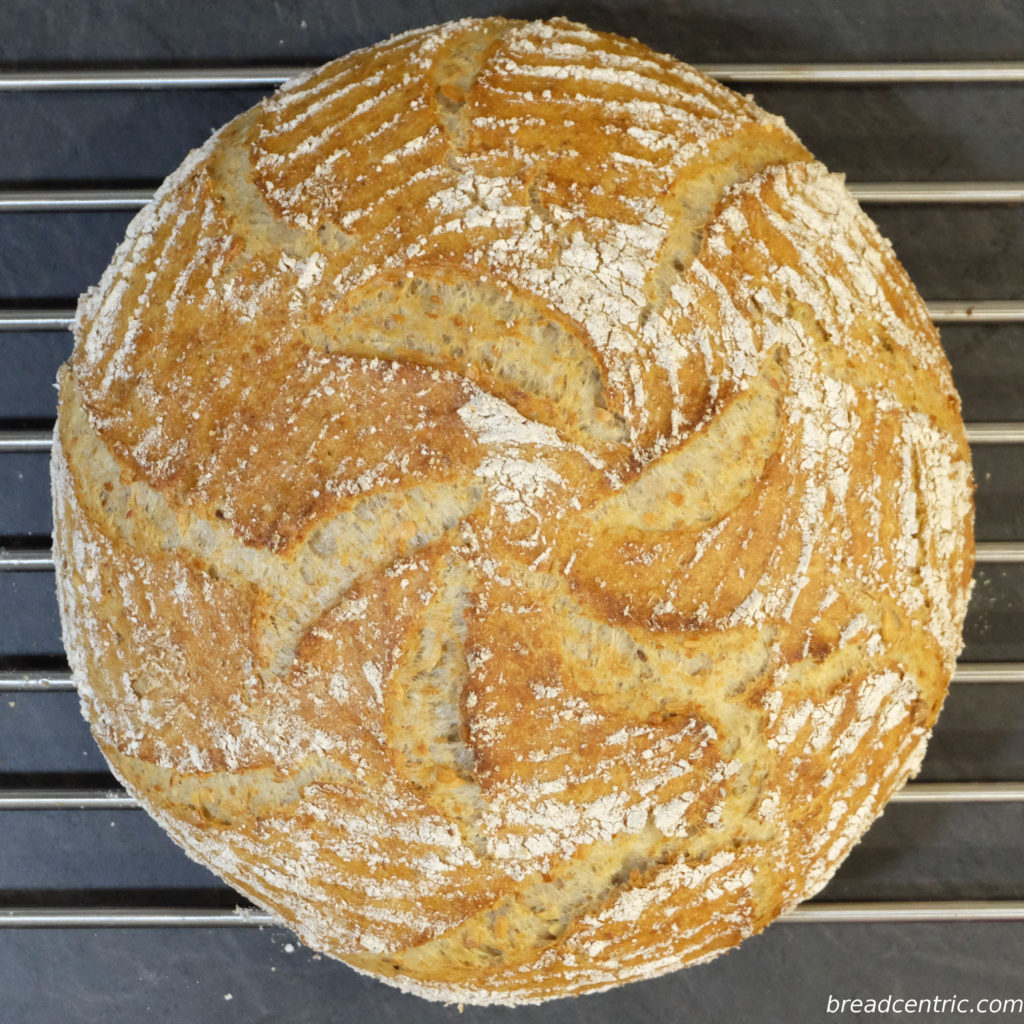 Chleb ładnie się rozrósł i nie popękał nadmiernie. Skórka jest cienka i lekko chrupiąca. Miąższ jest niedopieczony – w przepisie jest już 10 minut więcej pieczenia, aby to skorygować.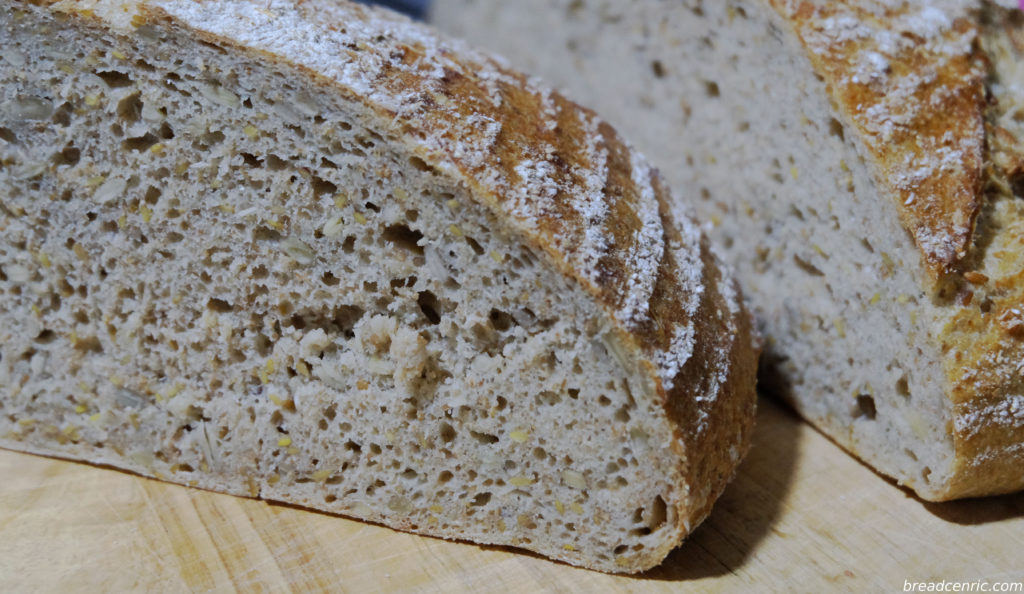 Początkowo ciasto się rozpłaszczyło w piekarniku i bałem się, że nie podniesie się, ale utworzyło ładną kopułę. Czas iść spać, jest co jeść na śniadanie. I kolację i kolejne śniadanie.
A, smak jest… owsiany. Ale nie nadmiernie. Bardzo przyjemny chleb kanapkowy.