Not enough grease just yet. Time for these beauties.
Jeszcze nie dość tłuszczu. Czas na te śliczności.
What would you do if you had some quark in your fridge and a pan full of frying oil to use or dispose of? I know what I would.
I wanted to make these monsters for a while now. I tried once around New Year, but didn't like the recipe. Now I found one that included yeast and seemed more promising. I had to convert it to meaningful values from combination of volumes and package sizes. Also used more flour as it turned out a bit to sticky and runny after initial mixing.
The recipe comes from Doradca Smaku.
Planning
None. Just prepare for frying (I recommend a thermometer in your pan).
You can get quark (Polish fresh white cheese) from a Polish store near you. I used semi-fat
Ingredients
Makes around 30 doughnuts and  34 small balls (I fry the insides of the doughnuts as well)
Preferment
60 g fresh yeast
10 g sugar
300 g milk
200 g plain white wheat flour
Final dough
the preferment
300 g quark (I used semi-fat)
600 g plain white wheat flour (original recipe suggested 400 g, but the dough was too sticky)
100 g melted butter
3 eggs
100 g sugar
Preparation
Turn yeast into crumbles, add sugar, change into a runny mixture (it will soften after about 5 minutes mixing)
Add milk and flour. The mixture should resemble thick cream. Leave to rise (took around 40 minutes in my case)
I recommend that you use a mincer to mince the quark
Mix the quark into the preferment
Add flour, melted butter, eggs, sugar and mix into a ball of dough. Let it double in volume (about 30-40 minutes)
Roll the dough till it gets around 15 mm thick. Cut out doughnuts with holes and place on a dusted surface to proof (first ones will be ready about 10 minutes after you're done with cutting the shapes out). I waited till it felt they were noticeably bigger then before cutting out
In the meantime start heating oil – 170-180 C is what you want
Fry on both sides till lightly brown, then transfer on kitchen paper to soak as much excess fat as possible
Enjoy
They are nicely soft and with mild quark aroma. I dusted them with icing sugar as well.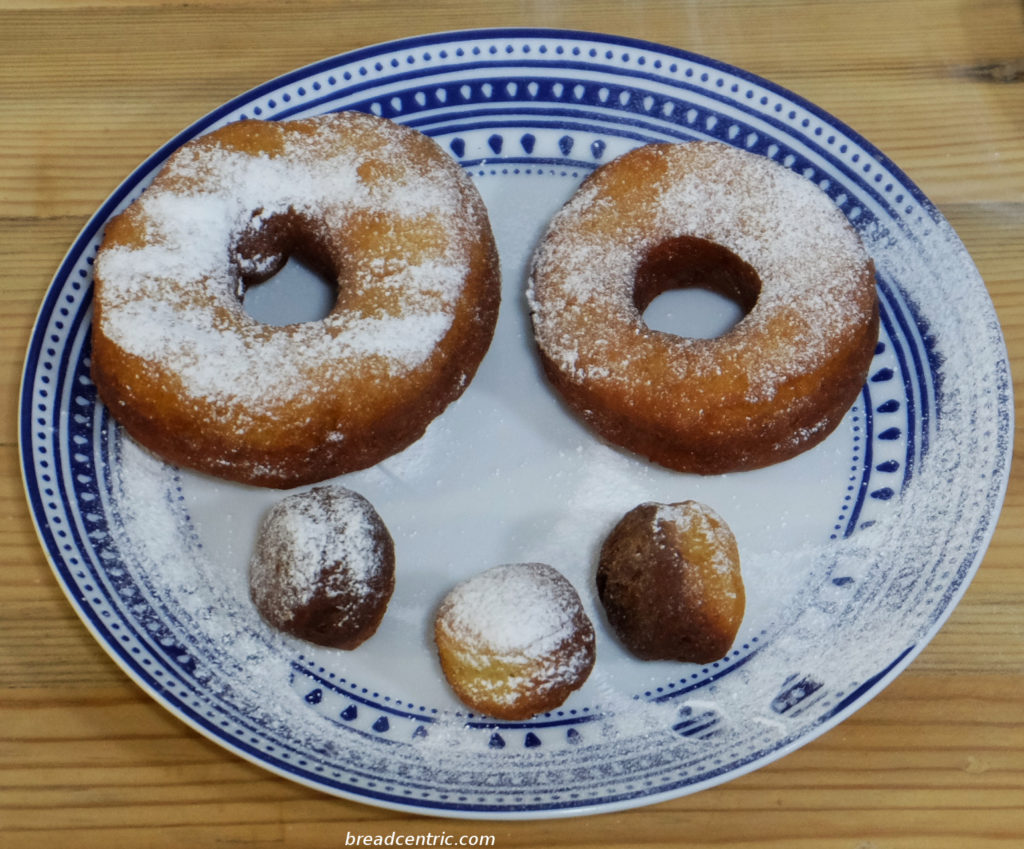 Co byś zrobił/zrobiła, mając trochę twarogu w lodówce i garnek oleju do smażenia do wykorzystania lub wyrzucenia? Ja wiem co bym zrobił.
Oponki za mną chodziły od jakiegoś czasu. Próbowałem już je robić koło Nowego Roku, ale tamten przepis mi nie podszedł. Teraz znalazłem inny, na oponki drożdżowo-serowe, który wydaje się bardziej obiecujący. Musiałem go przekonwertować na konkretne ilości z kombinacji objętości i części opakowań. Musiałem też użyć więcej mąki.
Przepis pochodzi z serwisu Doradca Smaku.
Planowanie
Brak, tylko przygotuj się na smażenie (polecam użycie termometru w garnku z olejem).
Składniki
Wystarczy na około 30 oponek i 34 kulki.
Rozczyn
60 g świeżych drożdży
10 g cukru
300 g mleka
200 g mąki pszennej tortowej
Końcowe ciasto
rozczyn
300 g twarogu (użyłem półtłustego)
600 g mąki pszennej tortowej (w oryginale byłoby 400 g, ale ciasto zbytnio się kleiło)
100 g stopionego masła
3 jajka
100 g cukru
Przygotowanie
Pokrusz drożdże i rozrób z cukrem aż zrobią się lejące
Dodaj mleko i mąkę. Mieszanka powinna wyglądać jak gęsta śmietana. Pozostaw do wyrośnięcia (u mnie zajęło około 40 minut)
Polecam zmielić ser maszynką
Zmieszaj twaróg z rozczynem
Dodaj mąkę, stopione masło, jajka, cukier, po czym wymieszaj do połączenia w kulkę ciasta. Daj mu podwoić objętość (około 30-40 minut)
Rozwałkuj ciasto do około 15 mm grubości. Wytnij oponki i połóż na oprószonej powierzchni do wyrośnięcia (pierwsze będą gotowe jakieś10 minut po zakończeniu wycinania wszystkich. Kontrolowałem na oko, aż urosły zauważalnie, po czym smażyłem
W międzyczasie podgrzej olej do około 170-180 stopni Celsjusza
Smaż na obu stronach aż się lekko zbrązowią, po czym połóż na papierowym ręczniku do odsączenia nadmiaru tłuszczu
Smacznego
Są fajnie miękkie i mają lekki aromat twarogu. Przed jedzeniem posypałem lekko cukrem pudrem.