Today we will learn to drink bread.
Dziś nauczymy się pić chleb.
I first read the recipe three or four years ago and the comments successfully discouraged me from trying – the girl wrote she had a big diet Coke & Mentos experience just by opening it. And a lot of painting in the house. But then two weeks ago a guy on wykop.pl made his own. More than that, someone else provided a video with a recipe that couldn't get much simpler.
With a few tiny alterations like baking my own bread, I made this wonderful live drink.
Note: you are making a live drink with yeast in it. It will be alcoholic. Not much, but a bit. You've been warned.
Note2: You don't need to make the bread. The guy that inspired me bought dark bread at Biedronka (kind of like Lidl or Aldi) and it was fine. It's advisable that the bread has rye and malt in it.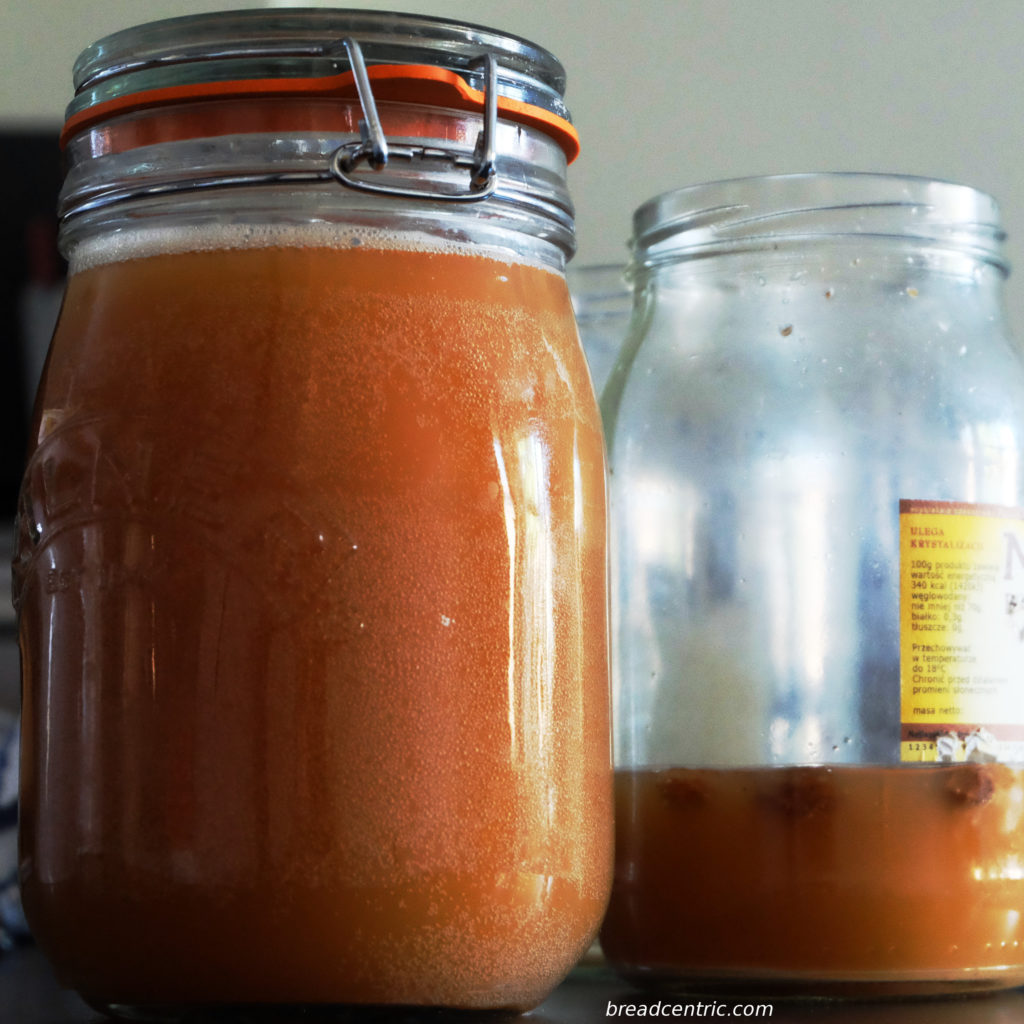 Planning
I made bread and used it, it took about a day: 12 hours soaking the seeds, 12 hours from mixing to baking, then 12 hours resting before slicing. I did not wait for the bread to get hard and old. You can skip this step.
Making kvass takes time, but not much attention. The first steps take about 10 minutes in the evening, then waiting overnight, then putting it in the jars and waiting for two days.
You will need some glass jars, preferably with a glass lid. They need to be clean and have no cracks – we'll be creating some pressure here. You'll also need something to drain it through, like a coffee filter or a cloth (or preferably a gauze from a pharmacy – my impression is that the cloth removes too much carbon dioxide). And two pans, a strainer.
Bread
As a base for this recipe, I used the simple rye bread. I did however add malt to it – I used malted rye grain and barley malt syrup.
Ingredients
Makes three loaves around 1100 g each. For less, you'll need to do the maths. I'm leaving the pretty numbers here.
The soaker
150 g malted rye grain
50 g barley malt syrup
300 g water
The dough
1100 g wholemeal rye flour
1100 g water
350 g rye sourdough
150 g oat flakes
150 g sunflower
10 g caraway seeds
35 g salt
The soaker
Preparation
About 12 hours before baking mix the soaker ingredients and leave covered with cling film so that the water doesn't evaporate
Mix the bread ingredients. They will form a dense, sticky, clay-like dough
Put it into greased baking tins and give it 8-12 hours to rise
Bake in 160 C with a fan or 180 without for 70 minutes. Know your oven. Add steam
Carefully take the loaves out of the pans and return them into the oven for 5-10 more minutes to form a better crust
Leave it to cool down for about 12-24 hours. It is very moist and will leave more crumb on the knife if you don't wait
Kvass
This is the video I used as a recipe source. Only skipped the last step and didn't add lemon juice (it got too sour the first time I made it).
[youtube https://www.youtube.com/watch?v=k1UTJKBMvgc][/youtube]
Now that we've got bread, we'll need two or three slices and can get going. I recommend starting in the evening.
Ingredients
Will make a bit more than a big Kilner jar. I put the rest into a smaller jar and gave it away.
1.5 l water
3 rye bread slices
A couple slices of lemon
A couple raisins (You'll need them twice)
100 g sugar
A teaspoon of dry yeast
Preparation
Boil the water. Take it off the heat
Add the toasts, slices of lemon and a couple washed raisins into the water and cover overnight. In the morning it should have a weird smell
Pour the extract into another pan through a strainer to remove the big things. Add sugar, yeast and mix until they dissolve
Pour into the jars (I needed a big one and a small one), add more washed raisins and close
Leave in a warm place for two days. Over that time you will see it release bubbles of carbon dioxide


Pour it through a coffee filter or a kitchen cloth to remove all the little things


Refrigerate until it's nice and cold
Enjoy
I just don't know why Boris added lemon juice. Probably different taste preferences.
Anyway, I love the fizz on a tongue and the slightly acidic, but quite sweet flavour. It is very refreshing, and possibly tad stronger than I thought it would be. Way better than the one from store.
Pierwszy raz przepis na kwas przeczytałem trzy-cztery lata temu i komentarze pod nim skutecznie mnie zniechęciły. Dziewczyna napisała, że pierwszą butelkę otworzyła w kuchni i ma kuchnię do malowania, a drugą otworzyła w łazience i… ma łazienkę do malowania. Gorzej jak Mentos w dietetycznej Coli. Ale dwa tygodnie temu neilran na wykop.pl zrobił własny kwas. W tym komentarzu AyyLemao dodał link do filmu z przepisem i wydawało się, że łatwiej się już nie da.
Podjąłem się zrobienia kwasu drobnymi modyfikacjami (takimi jak zrobienie własnego chleba), zrobiłem ten żywy napój.
Uwaga: robisz żywy napój z drożdżami. Będzie alkoholowy. Niezbyt wiele, ale troszkę.
Uwaga2: Nie musisz robić chleba. Neilran użył chleba z biedronki i też wyszło ok. Zalecam jednak, żeby chleb miał w sobie żyto i słód.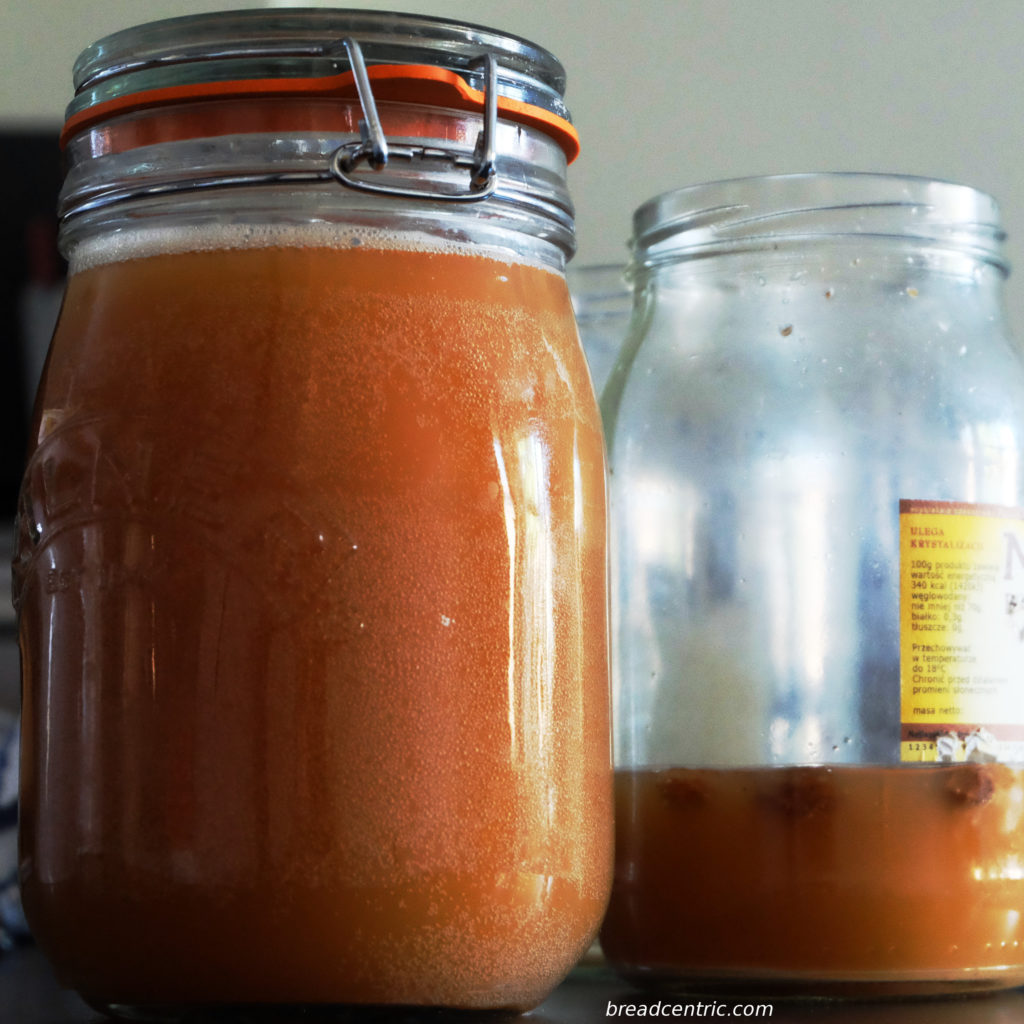 Planowanie
Zrobiłem chleb: 12 godzin moczenia ziarna, około 12 godzin od mieszania do upieczenia i ze 12 godzin leżakowania przed krojeniem. Nie czekałem aż chleb wyschnie. Pieczenie możesz opuścić.
Robienie kwasu zabiera trochę czasu, ale głównie na czekanie. Pierwsze kroki to około 10 minut, wieczorem, potem czekanie przez noc, przelanie do słoików i czekanie przez dwa dni.
Będziesz potrzebować szklanych słoików, pożądana szklana pokrywka. Muszą być czyste i nieuszkodzone – będziemy generować trochę ciśnienia. Będziesz potrzebować też czegoś do filtrowania, np. filtra do kawy lub ścierki (a najlepiej chyba gazę, mam wrażenie że przez ścierkę uszło zbyt dużo gazu z płynu). Jeszcze dwa garczki i sitko.
Chleb
Przepis zrobiłem na podstawie prostego żytniego chleba. Dodałem jednak sporo słodu – użyłem słodowanego ziarna i słodowego syropu z jęczmienia.
Składniki
Wystarczy na trzy bochenki około 1100 g każdy. Aby zrobić mniej, użyj kalkulatora. Tu zostawiam ładne, okrągłe liczby.
Maczanka
150 g słodowanego ziarna żytniego
50 g syropu słodowego z jęczmienia
300 g wody
Ciasto
1100 g pełnoziarnistej mąki żytniej
1100 g wody
350 g zakwasu żytniego
150 g płatków owsianych
150 g słonecznika
10 g kminku
35 g soli
Maczanka
Przygotowanie
Około 12 godzin przed pieczeniem wymieszaj składniki na maczankę i przykryj folią spożywczą
Wymieszaj składniki ciasta, uformują gęste, klejące się, gliniaste ciasto
Nałóż do nasmarowanych foremek do pieczenia i daj mu 8-12 godzin do wyrośnięcia
Piecz w 160 stopniach z wiatrakiem lub 180 bez, przez 70 minut. Znaj swój piekarnik. Przed pieczeniem zaparuj piekarnik
Wyjmij ostrożnie chleb z foremek i włóż znów do piekarnika na 5-10 minut dla lepszej skórki
Pozostaw do ostygnięcia na 12-24 godzin. Jest bardzo wilgotny i może zostawić sporo miękiszu na nożu, jeśli nie poczekasz
Kwas
To jest film, z którego wziąłem przepis. Pominąłem tylko ostatni krok – nie dodałem cytrynowego soku (pierwszy raz dodałem i wyszło zbyt kwaśne).
[youtube https://www.youtube.com/watch?v=k1UTJKBMvgc][/youtube]
Teraz mamy chleb, będziemy potrzebować dwóch – trzech kromek i możemy zacząć. Polecam zacząć wieczorem.
Składniki
To wystarczy na duży słoik ze sprężynką i jeszcze trochę, tych dużych miodowych wychodzi półtora.
1.5 l wody
3 kromki chleba żytniego
Kilka plasterków cebuli cytryny (dzięki nuj-ip)
Kilka rodzynek (będą potrzebne dwukrotnie)
100 g cukru
Łyżeczka drożdży suszonych
Przygotowanie
Zagotuj wodę do wrzenia, zdejmij z ognia
Dodaj do niej tosty, plasterki cytryny i kilka umytych rodzynek. Przykryj na noc. Rano woda powinna mieć ciemny kolor i dziwnie pachnieć
Przelej płyn przez sitko do innego garczka i dodaj cukier i drożdże. Mieszaj aż się rozpuszczą
Nalej do słoików(ja potrzebowałem jednego dużego i jednego małego), dodaj więcej mytych rodzynek i przykryj.
Zostaw w ciepłym miejscu na dwa dni. Przez ten czas będziesz widzieć ja z płynu uwalnia się dwutlenek węgla


Przelej przez filtr do kawy lub ściereczkę żeby odfiltrować wszystkie małe syfki


Schłodź w lodówce aż będzie bardzo zimny
Smacznego

Nie wiem czemu Borys dodał sok z cytryny, może ze względu na preferencje smakowe.

Bardzo mi smakuje, uwielbiam lekkie mrowienie na języku. Smak jest kwaskowaty, ale jednak słodki. Bardzo orzeźwiający napój i trochę mocniejszy niż początkowo myślałem że będzie . O wiele lepszy niż sklepowy.