Yeast water is quite close to sourdough, but instead of flour, the source of wild yeast and food for it comes from fruit. I've been reading about this for a while, but now I'm in Poland with fresh ripe local fruit available and it would be stupid not to try and make it.
Woda drożdżowa jest podobna do zakwasu, ale zamiast mąki, źródłem dzikich drożdży i pożywką dla nich są owoce. Czytałem o tym już od jakiegoś czasu, ale teraz jestem w Polsce, z dostępem do świeżych, lokalnych, dojrzałych owoców, i byłoby głupim nie spróbować jej zrobić.
The basic rule is simple:
take fruit, don't wash it too hard (to not wash off yeast growing on the peel)
throw into a jar
pour water
set aside somewhere warm
stir twice a day for a couple days
Possible hacks:
add raisins as a source of sugar
add honey as a source of sugar
add a tiny bit of sourdough as a source of yeast and lactic bacteria (which would normally not exist in yeast water, I think)
I am aware of those modifications and I will take them into consideration if I become impatient or it doesn't look well.
I have made this post based on my daily updates on Steemit. It is a new way of reaching people that I'm exploring, follow me if you're interested: https://steemit.com/@breadcentric
Day 0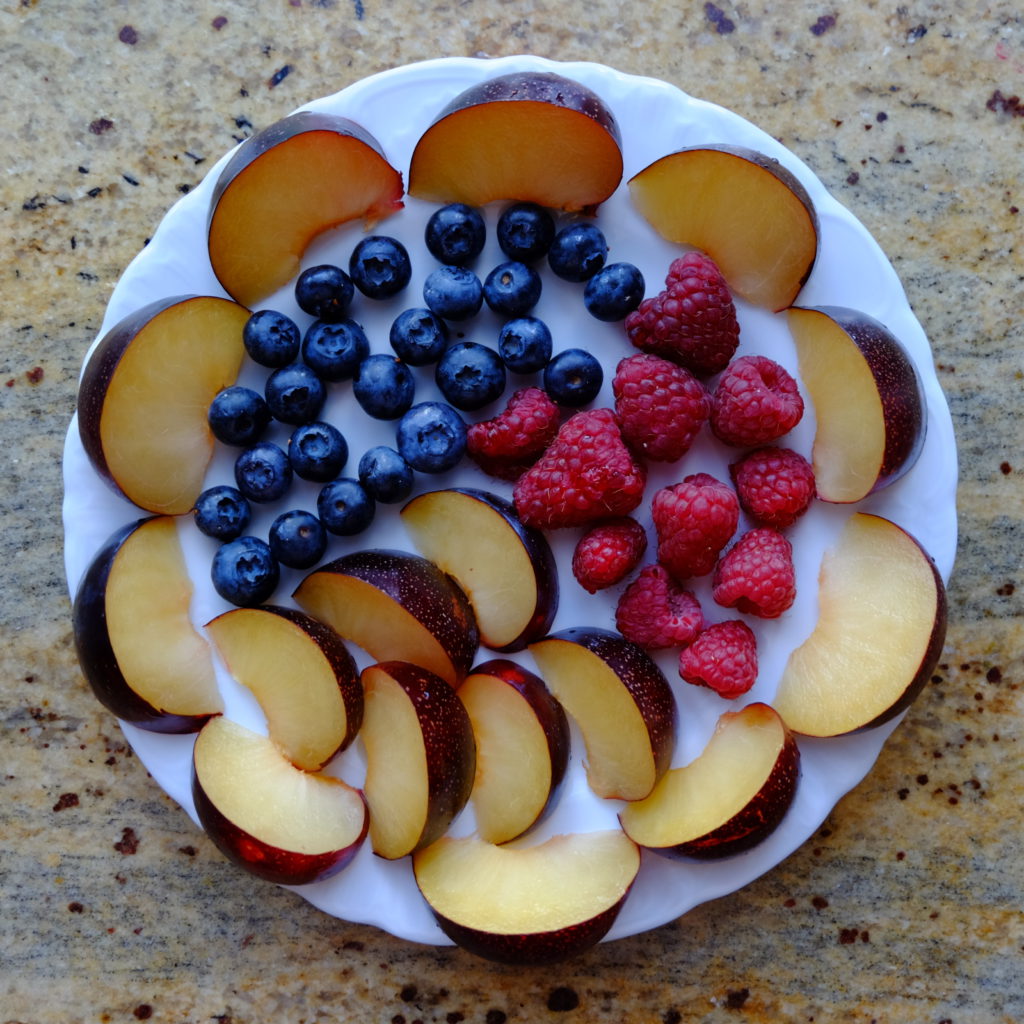 I have taken some plums, raspberries and blackberries and put them in a jar. That's all for today.
Interesting resources (from The Fresh Loaf, the ultimate bread baking resource):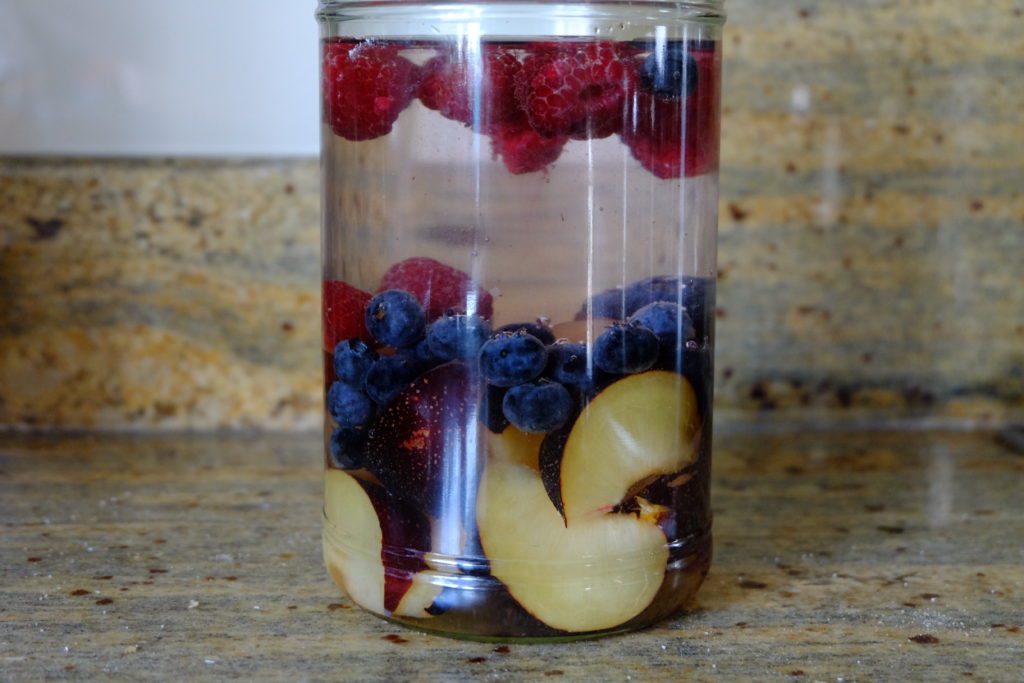 Day 1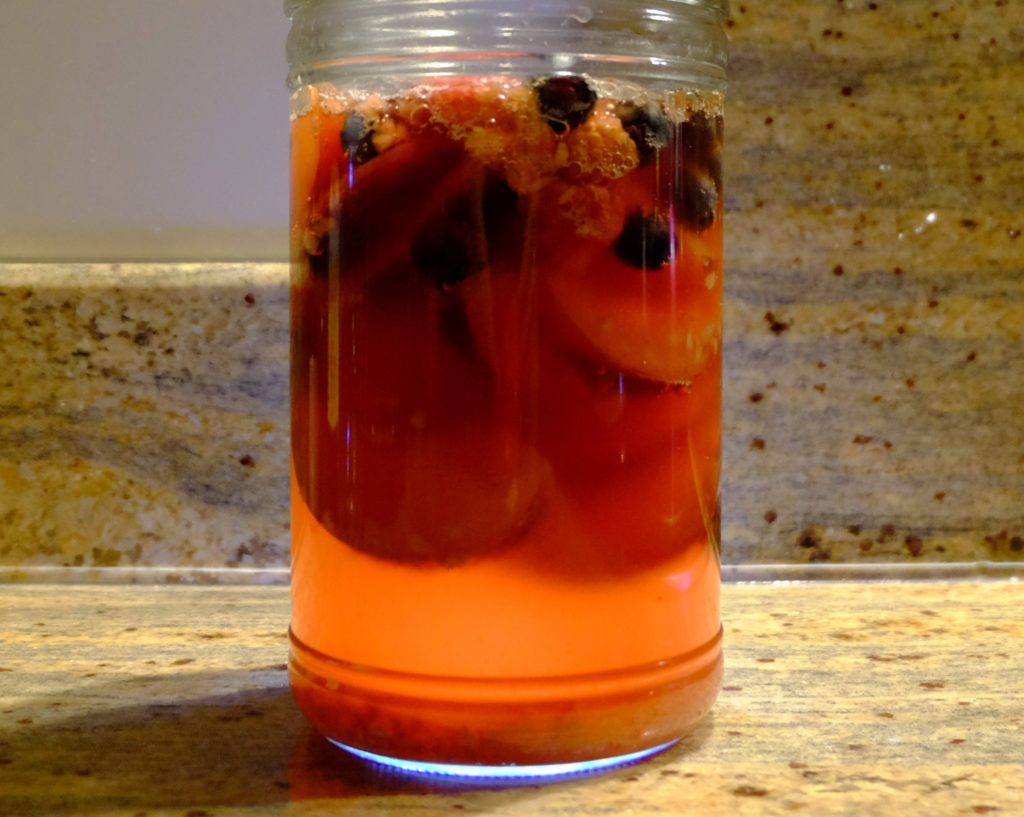 The water is working really well, much better than I expected – I've read stories of people struggling with the start.
It was red in the morning and mildly bubbly. In the evening it got much stronger, I can hear a hiss from the jar.
After stirring, I smelled and tasted the water from the spoon. I could clearly feel the smell and taste of yeast in it.
The fruit continues to decompose in the water. From what I read it should be this way. The sugars dissolve into the water and feed the yeast.
I've read in one of the links from the first post that every recipe can be converted to yeast water by:
adding one more stage in which yeast water is mixed with flour to create a replacement for the yeast input/sourdough (it should be left to work for 12-24 hours)
giving the dough a bit more time to rise.
We'll verify that soon.
Day 2
It's been 48 hours and the water is very active (I think). On one hand I am a bit surprised because people mentioned waiting for even 10 days. On the other hand, I've used ripe fruit and it's really warm. I decided not to feed it, but its smell is getting slightly alcoholic and I'm not so sure any longer. I may change my mind tomorrow.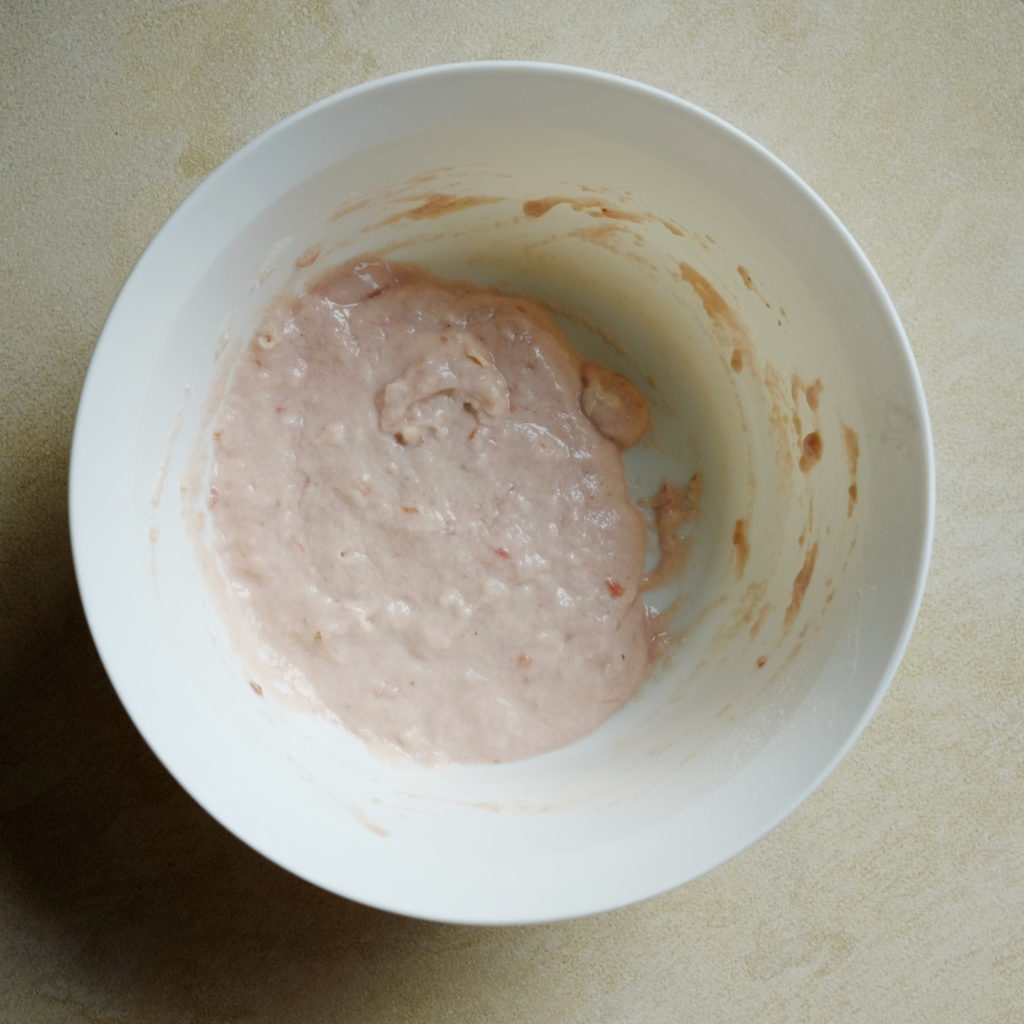 Today I am making a test: I have mixed 45 g strong flour with 55 g yeast water and left it on the worktop. If it is strong enough, I will use it tomorrow to bake something. I'm not sure what recipe to use, but I'm tempted to bake a yeast cake with plums and breadcrumbs. If it works well, I will maybe make some hamburger buns next.
Day 3
First bake did not work. The levain I made yesterday seemed quite strong and active, but I have baked using a recipe not requiring any rising, and this was probably a mistake. My Mom thinks I should throw it away, but it tastes really well… She's probably right.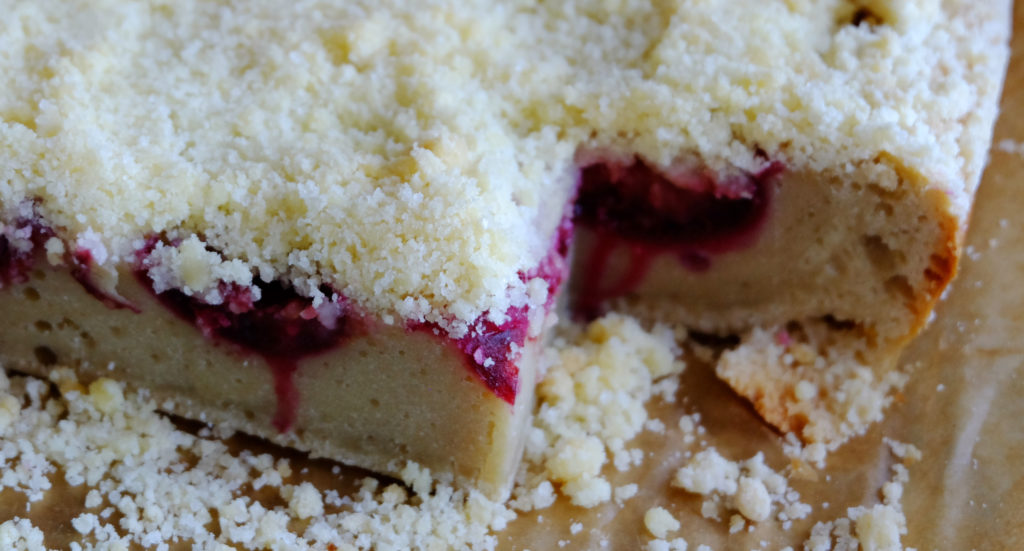 In the morning I have noticed a drop in activity of the yeast water and decided to add a spoon of honey. A couple minutes later I could see a lot of bubbles forming. Fruit flies keep trying to get into the jar. I need to keep the lid on.
I'm not sure what to do with it now. Two options I'm considering are adding even more honey or adding fresh fruit. One thing I know for sure is that I will feed it.
Day 4
Boy is it hot! The coolest room above ground in my Parents' house has the air temperature of 28-29C and I am working from home. I have moved into the basement. 20 C is like paradise, I'm sitting in my Dad's man cave (work in progress) and get to study his St Barbara Miners' Fest beer mug collection and such, accompanied by a single cricket. Have I told you that I admire my Dad? He's incredible.
OK, yeast water. I couldn't make up my mind whether to feed it honey or raspberries, so I did both. Throughout the day it was bubbling happily.
I planned to make some bread using a recipe from The Fresh Loaf, but we got back home too late and I would need to skip the night. I prepared the ingredients and reviewed the recipe, so that I'm not like the usual me, messing things up by ignoring the instructions (recipe source). It should be ok, quite a low hydration and Polish flours instead of British ones. In UK I always need to remember to remove 10% water from the recipe. And I almost always forget when it comes to baking.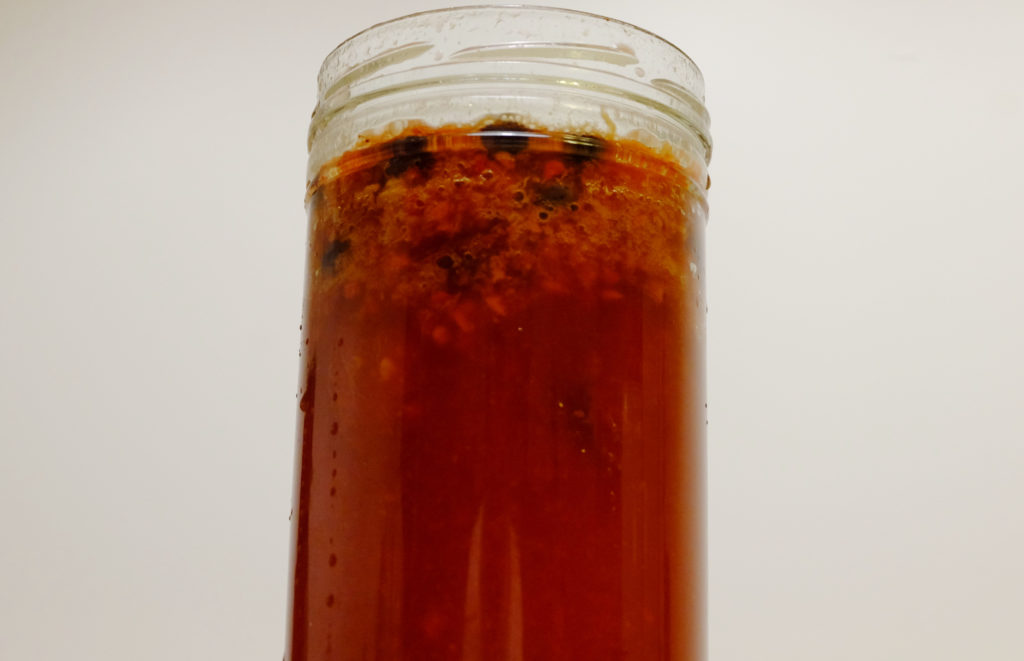 Planning
30 minutes autolyse, 2.5h bulk proof (with stretch and folds, so don't go anywhere), preshape, 20 minutes, shape, 1 hour on the work top, 8 hours in the fridge. Baking for 40 minutes. Together it's about 13 hours. Add 30 minutes manual work.
I used a banneton for a final proof. If you don't have one, use a strainer and a flour-dusted clean kitchen towel.
Ingredients
I have a big basket so I have doubled the quantities, but here they are unchanged.
198 g wheat bread flour (in Poland type 850, in UK strong white)
158 g wheat all purpose flour (in Poland type 390-450 tortowa, in UK plain)
40 g wholemeal wheat flour (in Poland type 1100 or more, in UK wholemeal strong)
8 g salt
266 g yeast water
Preparation
Mix flours in a bowl and add the yeast water. Make sure you incorporate the whole flour, but don't knead just yet
Leave covered with cling film for 30 minutes for autolyse – in very short it is the dough self-kneading. It uses the time for water to bind with glutenin and gliadin and form the gluten mesh. Enzymes activated by water enhance the process and further prepare the dough for proofing
Add salt and knead the dough. I keep a bowl with water next to the bowl with dough and dip my hand every now and then so that the dough doesn't stick. First fold the dough, then pinch it and fold again for a couple minutes
Leave covered with cling film for 50 minutes
Stretch and fold, leave covered with cling film for 50 minutes
Again, stretch and fold, leave covered with cling film for 50 minutes
Preshape the dough. I made a round loaf. Leave for 20 minutes
Shape the dough into a desired shape. In my case a batard. Pop it into a banneton or whatever you proof your bread in. Don't leave it in the open. If you had a quick rising bread, that could work. This one will wait nine more hours before baking. Leave it for one hour on the worktop in the kitchen
Put it in a fridge for eight more hours
Set the oven to 240C. Don't use the fan. Know your oven
Add steam, score the loaf (I usually make a single score along the batard in hope for a nice opening and an ear), put it into the oven
After 15 minutes release the steam and lower the temperature to 230C. Bake for 25-30 more minutes
Transfer the loaf onto a cooling rack until it gets completely cool
So that's the plan. I will need to adjust times as it's slightly too cold in the basement but too warm in the kitchen.
Day 6
I baked the bread. I haven't tried it yet (it will be cooling down overnight), so I will write more about it tomorrow. I started at 7 am and finished at 8:30 pm, so the timing listed in the recipe was correct. The dough was very flexible and I have overdone it during the stretch and folds so it lost some of its structure. It didn't get a lift that I had hoped it would. I liked the pinkish dough.
I have used up almost all of the water and decided to refresh it. I have:
strained all the fruit,
washed the jar,
put the water back in the jar,
added fresh water and new fruit.
I can see some action in the jar one hour later.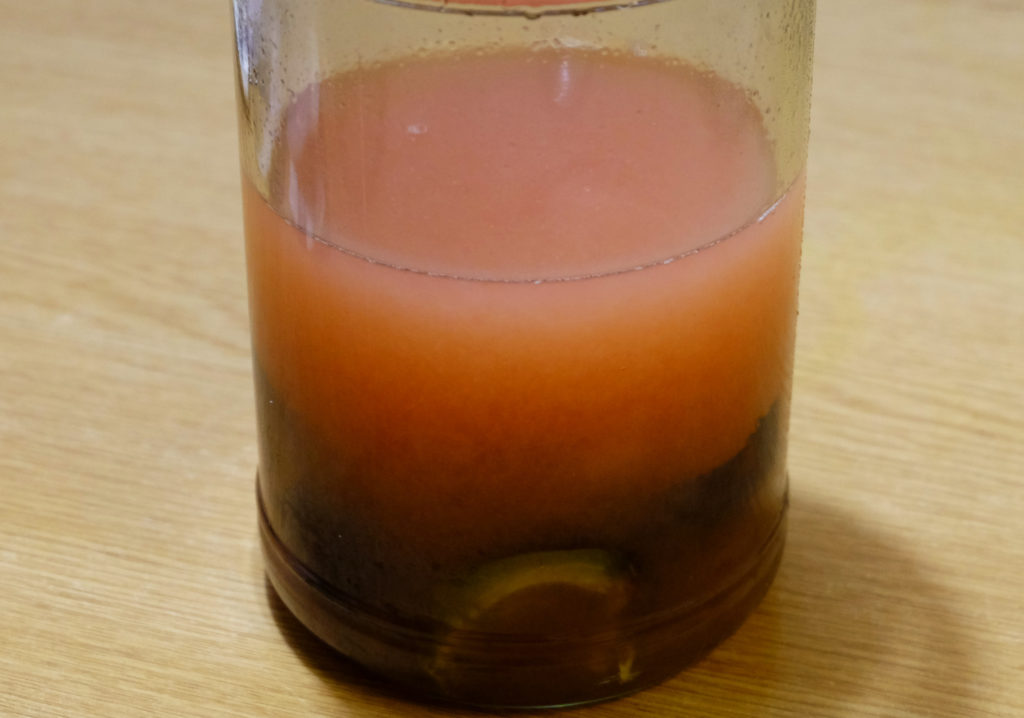 Day 7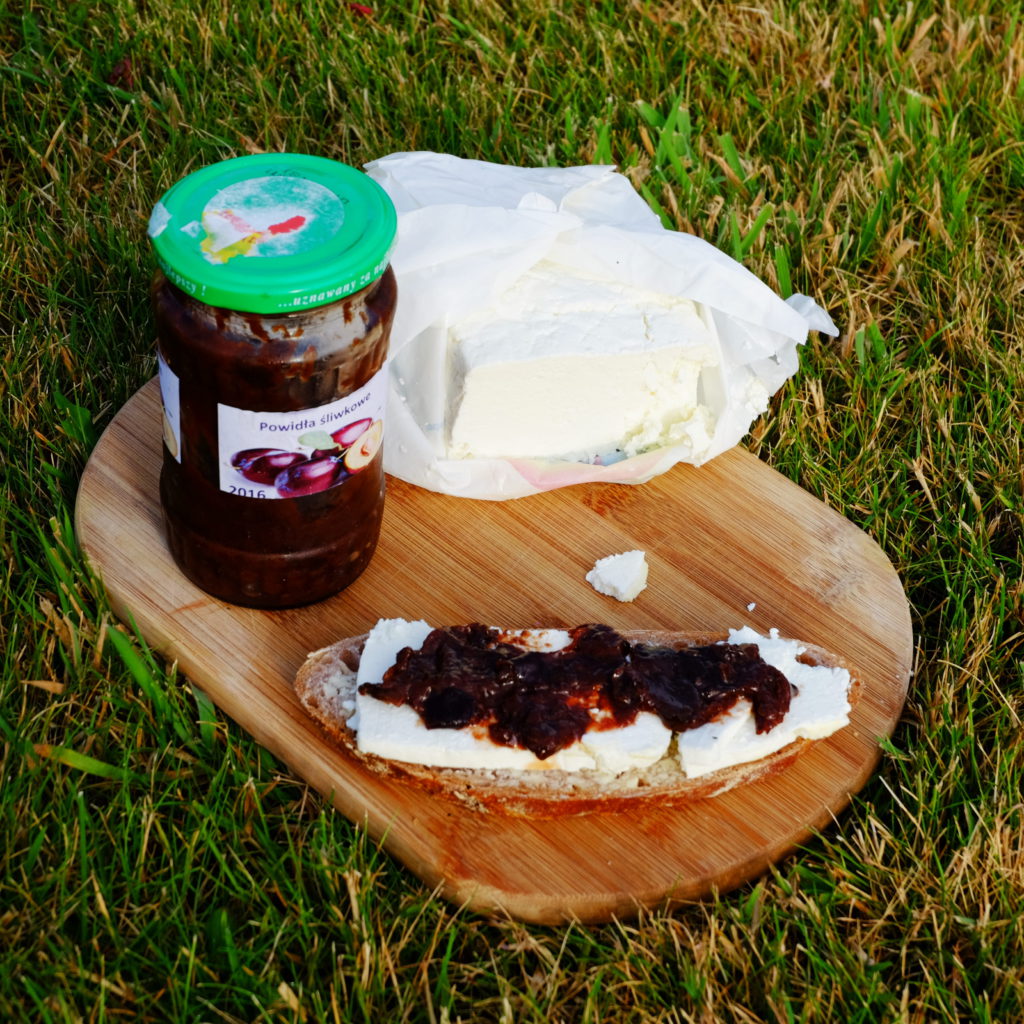 Time to wrap up. Luckily I have something nice to write about.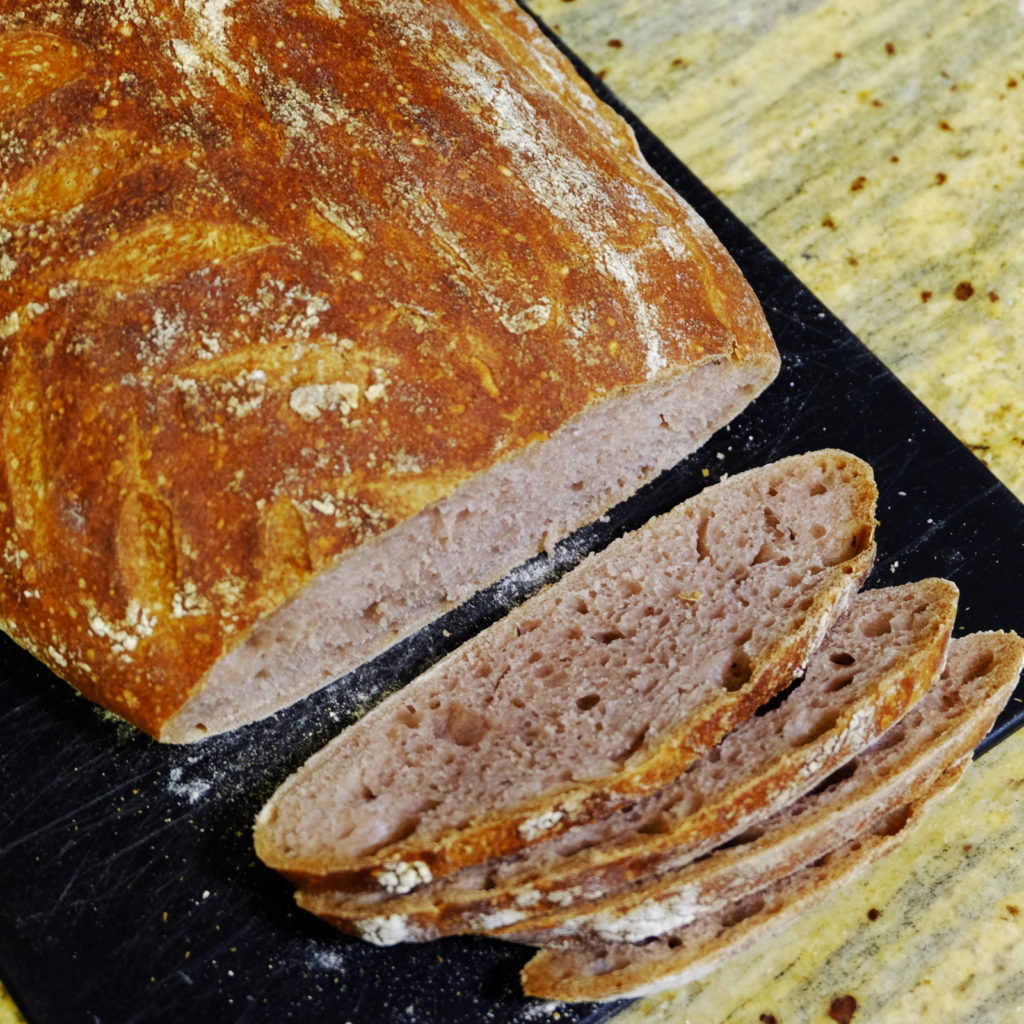 The bread I baked (recipe) turned out nice and interesting. What I really liked:
pinkish dough (mainly grey, but you can see the colour)
a bit of a fruity aroma
not much sourness and not a kind you get from sourdough
the fruit flies get attracted by the loaf – you don't get that with sourdough, do you? 🙂
the crust is thin and crunchy
the crumb is nice and soft
the loaf got just enough lift to have a proper slice, not a saucer type.
It didn't get as much lift as I would like it to, possibly because:
I may have overproofed it, it's very hot and the fridge is struggling; maybe I should have shortened the proofing time
I may have overworked it – a stretch and fold should literally be a couple stretches and folds and that's it; I'm always tempted to do more and could see a point when it was too much and the dough started tearing
The yeast may be still a bit too week and would not give enough of a lift, even if I did everything right
I have put the water in the fridge for now. Maybe I'll try doing something more out of the water, but for now I would call this experiment over.
I did mention there was a cricket in the room where I was working this week. I found him (or he found me):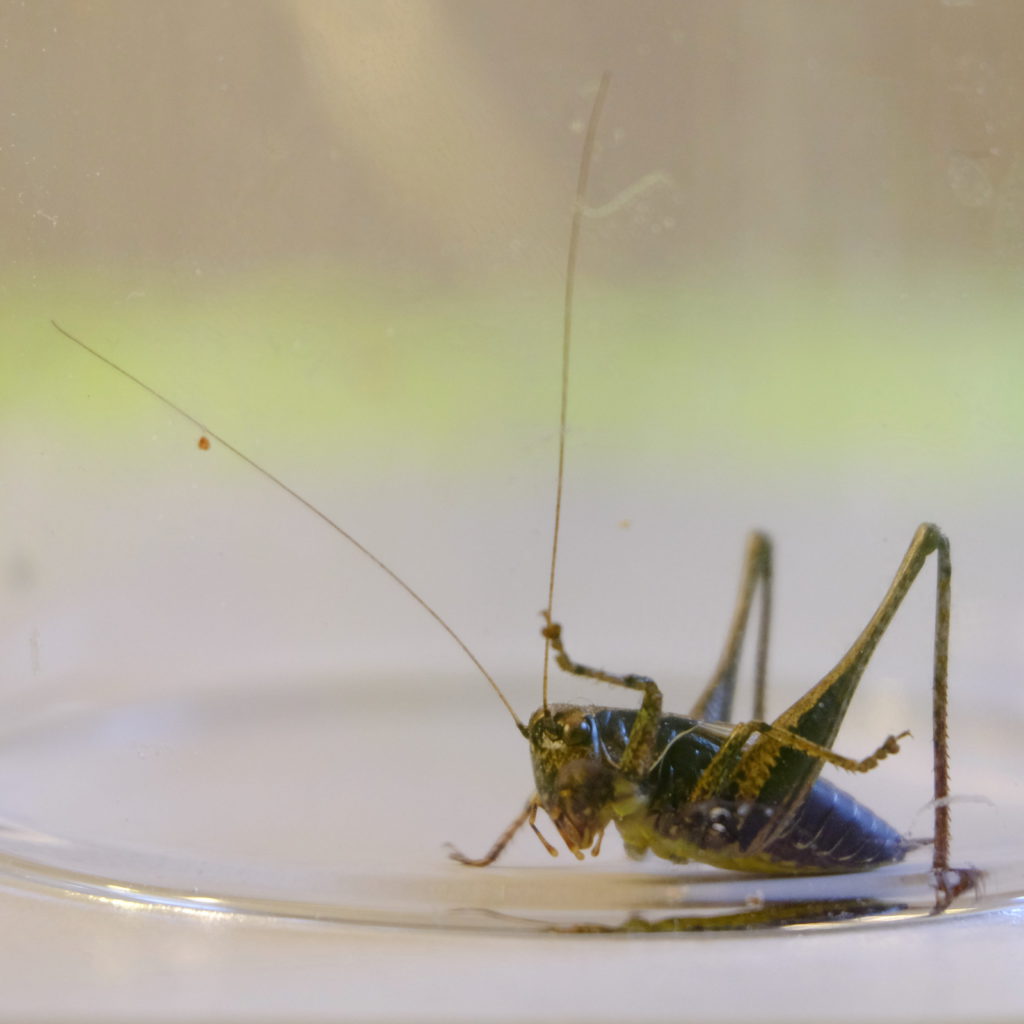 Podstawowa zasada jest prosta:
weź owoce, nie myj ich zbyt intensywnie (aby nie zmyć drożdży ze skórki)
wrzuć do słoika
nalej wody
umieść w ciepłym miejscu
mieszaj dwa razy dziennie przez kilka dni
Możliwe modyfikacje:
dodaj rodzynki jako źródło cukru
dodaj miodu jako źródła cukru
dodaj odrobinkę zakwasu jako źródło drożdży i bakterii mlekowych (których normalnie chyba nie ma w wodzie drożdżowej)
Jestem ich świadom i wezmę je pod uwagę, jeśli będę niecierpliwy lub woda nie będzie wyglądać zbyt dobrze.
Ten wpis utworzyłem na podstawie codziennych aktualizacji na Steemit. To nowa rzecz, którą testuję. Jeśli chcesz, obserwuj mnie: https://steemit.com/@breadcentric
Dzień 0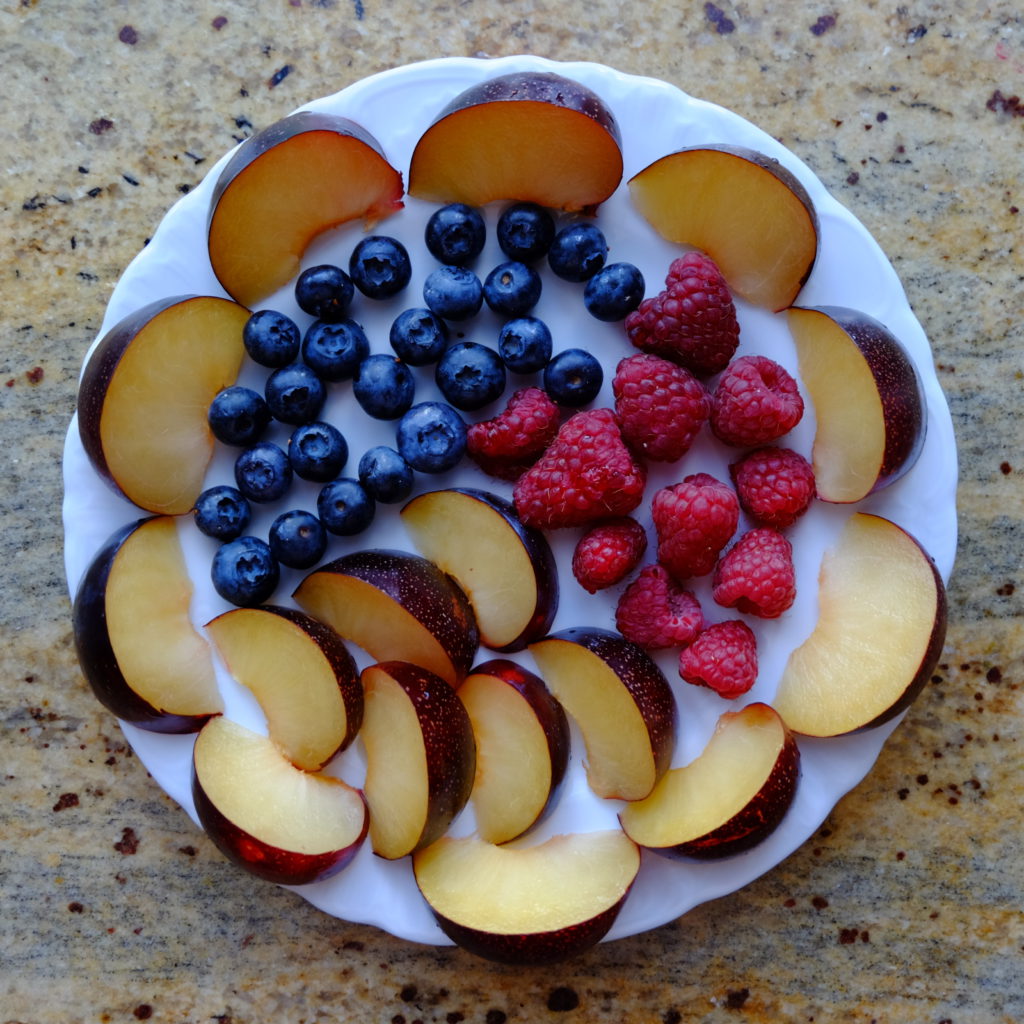 Wziąłem kilka śliwek, malin i borówek i wrzuciłem je do słoika. Na dziś to wszystko.
Interesujące materiały (z The Fresh Loaf, mojego głównego źródła w tematyce chlebowej):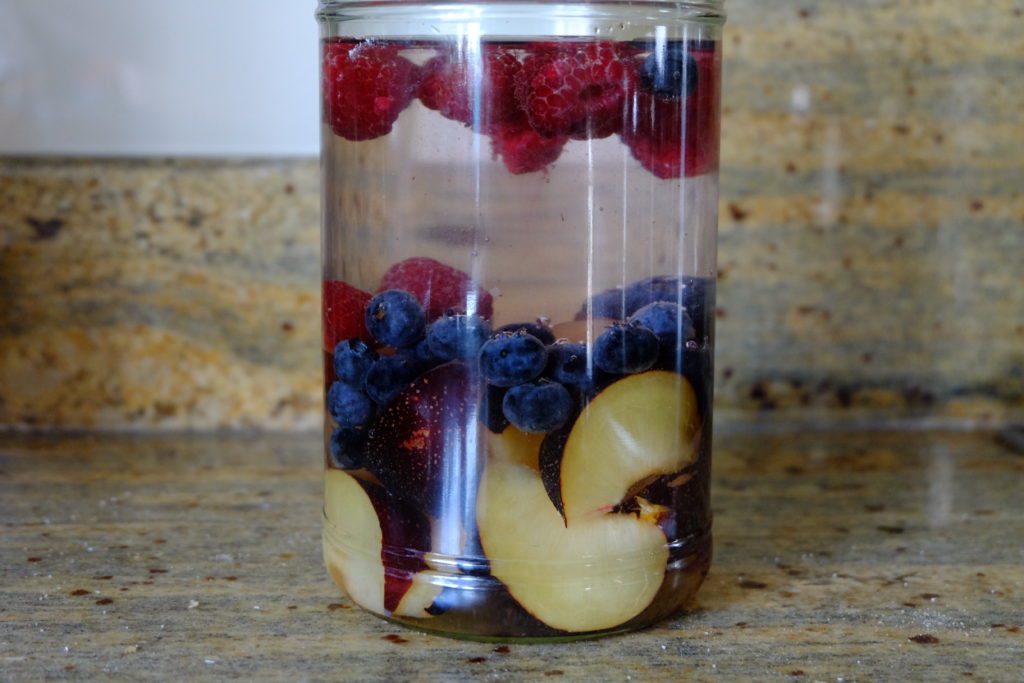 Dzień 1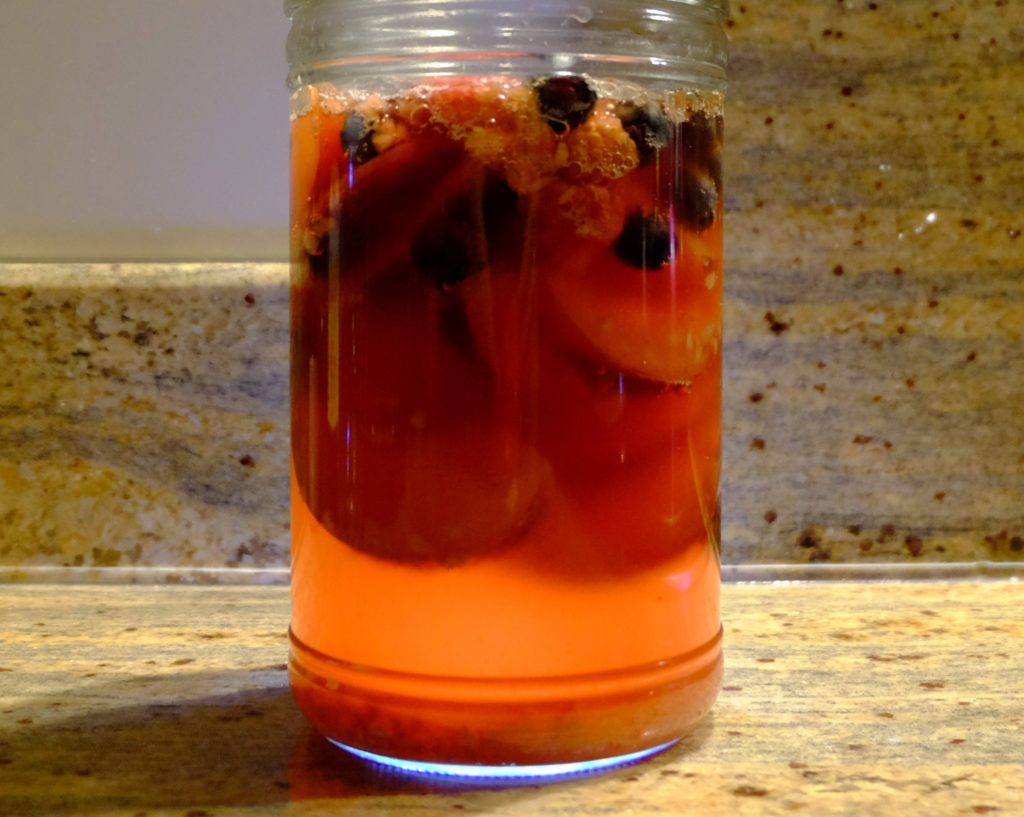 Woda pracuje bardzo dobrze, znacznie lepiej niż się spodziewałem – czytałem historie ludzi, którzy mieli z nią trudności.
Rano była czerwona i lekko bąbelkująca. Wieczorem zrobiła się znacznie mocniejsza, dało się też usłyszeć szum ze słoika.
Po zamieszaniu dało się łatwo wyczuć zapach i smak drożdży na łyżce.
Owoce stopniowo rozkładają się w wodzie. Z tego co czytałem, tak to powinno być. Cukry się rozpuszczają w wodzie i karmią drożdże.
W jednym ze źródeł z pierwszego wpisu wyczytałem, że każdy przepis może być przerobiony na wodę drożdżową poprzez:
dodanie jednego etapu przed robieniem chleba – zamieszaniem wody z mąką, aby powstał substytut drożdży/zakwasu (ta mieszanina powinna poleżeć 12-24h przed użyciem)
danie ciastu trochę więcej czasu do wyrastania.
Wkrótce to zweryfikujemy.
Dzień 2
Minęło 48 godzin i woda jest bardzo aktywna (tak myślę). Z jednej strony jestem trochę zdziwiony, bo ludzie wspominali, że musieli czekać nawet 10 dni. Z drugiej użyłem dojrzałych owoców i jest bardzo ciepło. Postanowiłem jeszcze jej nie karmić, ale zaczyna się robić lekko alkoholowy zapach, więc nie jestem już taki pewien. Jutro mogę zmienić zdanie.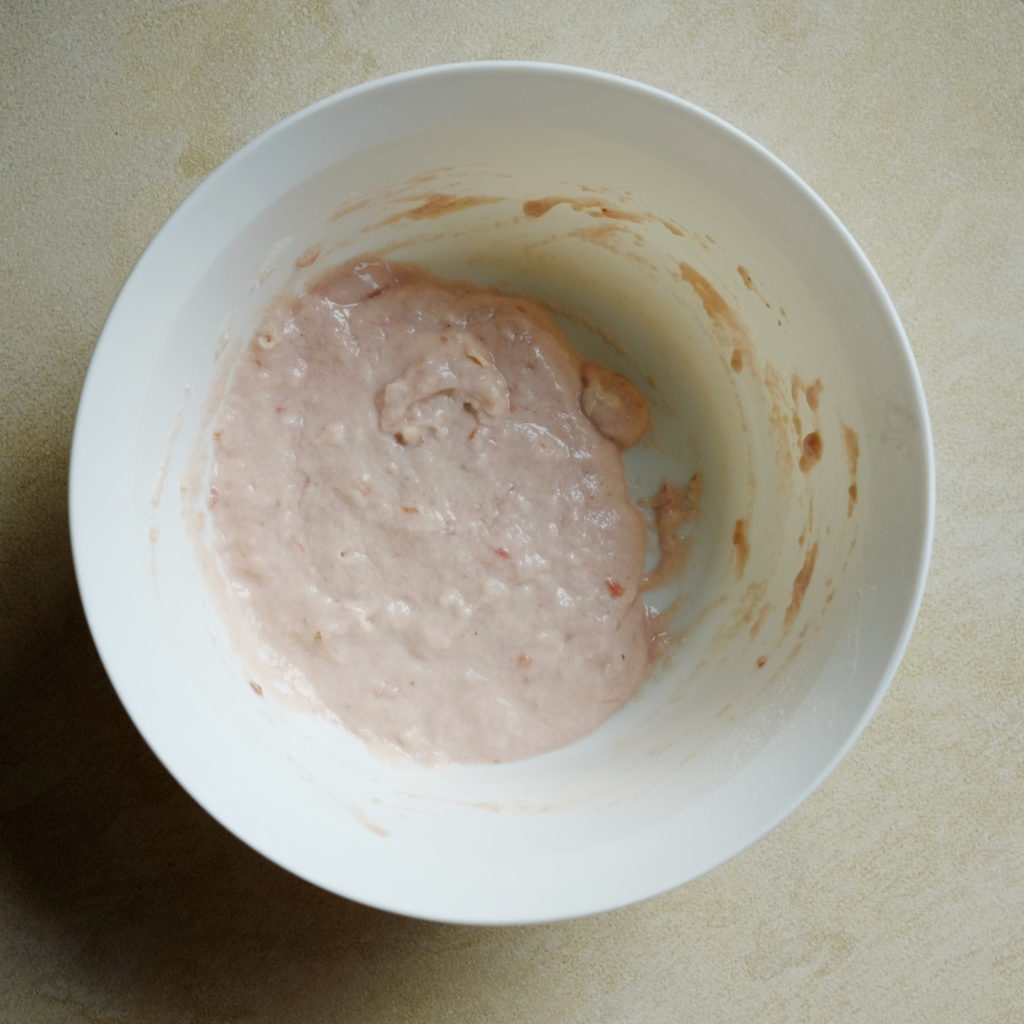 Dziś robię test: zmieszałem 45 g mąki chlebowej z 55 g wody drożdżowej i zostawiłem na blacie. Jeśli będzie wystarczająco silna, jutro coś z niej upiekę. Nie wiem jeszcze co zrobić, ale kusi mnie, żeby upiec ciasto drożdżowe ze śliwkami i kruszonką. Jeśli się uda, może następnie zrobię bułki do burgerów.
Dzień 3
Pierwszy wypiek nieudany. Zaczyn ze wczoraj wydawał się bardzo aktywny i mocny, ale piekłem z przepisu, w którym nie trzeba było wyrastać ciasta i to pewnie był błąd. Moja Mama uważa, że powinienem wyrzucić całą blaszkę ciasta, ale tak dobrze smakuje… Pewnie ma rację.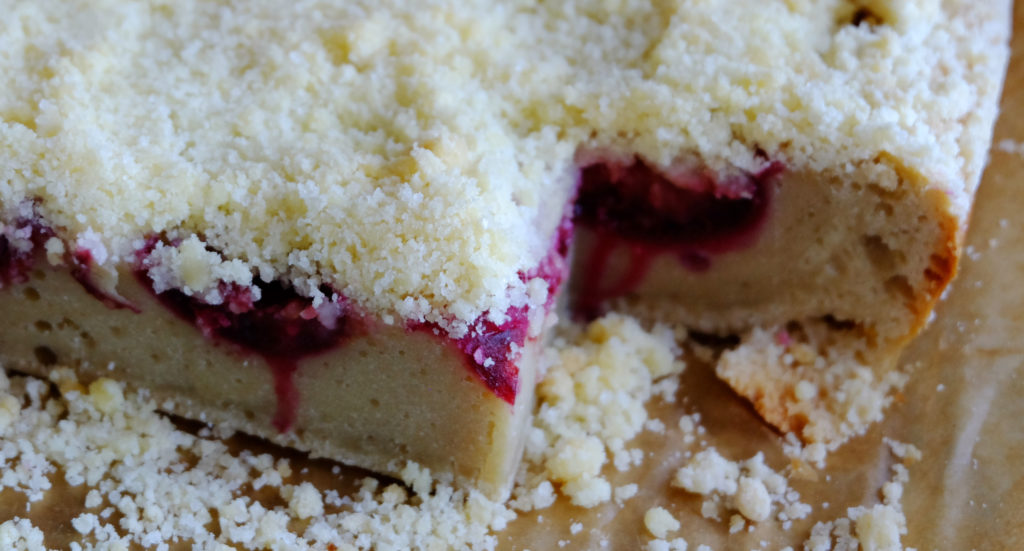 Rano zauważyłem, że woda drożdżowa jest mniej aktywna, więc dodałem do niej łyżeczkę miodu. Kilka minut później już widziałem sporo bąbelków. Owocówki ciągle próbują dostać się do słoika. Muszę dobrze go zamykać.
Nie jestem pewien, co teraz z robić z wodą. Albo dokarmię ją większą ilością miodu, albo dodam świeżych owoców. Jedyne co wiem na pewno, to że ją nakarmię.
Dzień 4
Ale gorąco! Najchłodniejszy pokój nad ziemią w domu Rodziców ma temperaturę 28-39 stopni, a ja pracuję z domu. Przeniosłem się do piwnicy. 20 stopni jest jak w raju, siedzę w Taty skarbnicy, gdzie mogę studiować jego kolekcję kufli barbórkowych i takie tam. Towarzyszy mi jeden chrząszcz. Czy wspominałem że podziwiam mojego Tatę? Jest niesamowity.
OK, woda drożdżowa. Nie mogłem się zdecydować, czy karmić ją miodem czy malinami, więc użyłem obu. Przez cały dzień radośnie bąbelkowała.
Planowałem dziś upiec chleb z przepisu z The Fresh Loaf, ale późno wróciliśmy do domu i musiałbym zarwać noc. Przygotowałem składniki i przeanalizowałem przepis, żeby inaczej niż zwykle nie pogmatwać wszystkiego, ignorując kluczowe instrukcje (źródło przepisu). Wszystko powinno wyjść. Jest dość niska hydracja ciasta, a ja mam do dyspozycji polskie mąki. W Wielkiej Brytanii muszę zazwyczaj użyć 10% mniej wody niż jest w przepisie. I tak prawie zawsze o tym zapominam.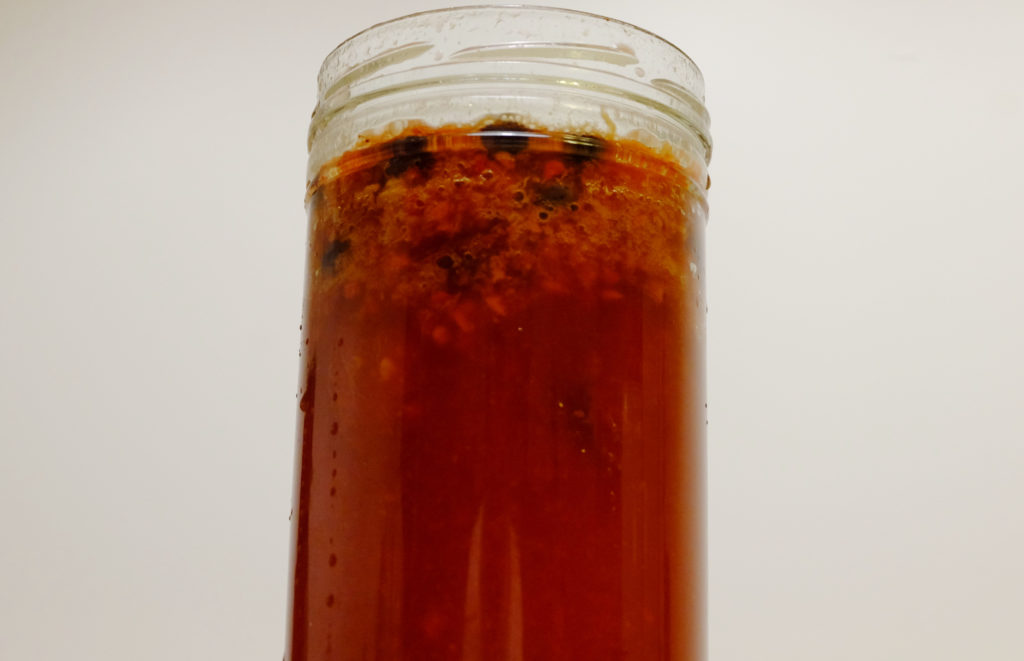 Planowanie
30 minut autolizy, 2.5h wyrastania wstępnego (ze składaniem ciasta, więc nie można o nim zapomnieć na ten czas), wstępne formowanie, 20 minut, formowanie, 1 godzina na blacie, 8 godzin w lodóce. Pieczenie przez 40 minut. Razem 13 godzin. Dodaj 30 minut obróbki.
Użyłem koszyka do wyrastania. Jeśli takiego nie masz, użyj durszlaka z oprószoną czystą ściereczką kuchenną.
Składniki
Ja użyłem podwójnych porcji, bo mam spory koszyk. Poniższe są niezmienione w stosunku do oryginału.
198 g pszennej mąki chlebowej (W Polsce typ 850, w Wielkiej Brytanii strong white)
158 g mąki tortowej (W Polsce typ 390-450 tortowa, w Wielkiej Brytanii plain)
40 g mąki pszennej pełnoziarnistej (W Polsce typ 1100 lub więcej, w Wielkiej Brytanii wholemeal strong)
8 g soli
266 g wody drożdżowej
Przygotowanie
Zmieszaj mąki z wodą drożdżową. Upewnij się, że cała mąka połączyła się z wodą. Jeszcze nie wyrabiaj
Zostaw ciasto przykryte folią spożywczą na 30 minut na autolizę – w skrócie to jest samowyrabianie ciasta. Wykorzystuje czas, aby woda połączyła się z gluteiną i gliadyną w gluten. Enzymy aktywowane przez wodę jeszcze wzmacniają ten proces i przygotowują ciasto do dalszej pracy
Dodaj sól i wyrabiaj ciasto. Ja trzymam miske z wodą obok ciasta i maczam rękę, aby nic się do niej nie kleiło. Najpierw składam ciasto, potem szczypię je i ponownie składam przez kilka minut
Pozostaw pod folią spożywczą na 50 minut
Złóż ciasto, pozostaw pod folią spożywczą na 50 minut
Ponownie złóż ciasto, pozostaw pod folią spożywczą na 50 minut
Wstępnie uformuj ciasto, ja zaokrągliłem. Pozostaw na 20 minut
Uformuj ciasto w ostateczny kształt. W moim przypadku owalny bochenek. Włóż do koszyka czy w czym tam wyrastasz swój chleb. Nie pozostawiaj go na płaskim. Gdyby chleb wyrastał szybko, to mogłoby zadziałać. W tym przypadku będzie czekał na pieczenie jeszcze 9 godzin. Pozostaw go na jedną godzinę na blacie kuchennym
Włóż go do lodówki na jeszcze osiem godzin
Nastaw piekarnik na 240 stopni. Nie używaj konwekcji. Znaj swój piekarnik
Zaparuj piekarnik, natnij bochenek (ja zazwyczaj robię jedno podłóżne nacięcie w nadziei na ładne otwarcie i ucho), włóż do piekarnika
Po 15 minutach wypuść parę i obniż temperaturę do 230 stopni. Piecz przez kolejnych 25-30 minut
Wyjmij chleb na kratkę do ostygnięcia
Oto plan na jutro. Będę musiał dostosować trochę czasy, bo w piwnicy jest troszkę za zimno, a w kuchni za gorąco.
Dzień 6
Upiekłem chleb. Jeszcze go nie spróbowałem (będzie stygnął przez noc), więc więcej o nim napiszę jutro. Zacząłem o 7 i skończyłem o 20:30, więc czasowo dobrze to wyliczyłem. Ciasto było bardzo elastyczne, a ja je zbytnio wyrobiłem przy składaniu, więc utraciło trochę swojej struktury. Nie podniosło się tak bardzo, jak miałem na to nadzieję. Podobało mi się różowawe ciasto
Zużyłem prawie całą wodę, więc postanowiłem ją odświeżyć. W tym celu:
odcedziłem owoce
umyłem słoik
wlałem wodę znów do słoika
dodałem świeżej wody i nowych owoców.
Widzę już jakąś aktywność godzinę od wykonania tej operacji.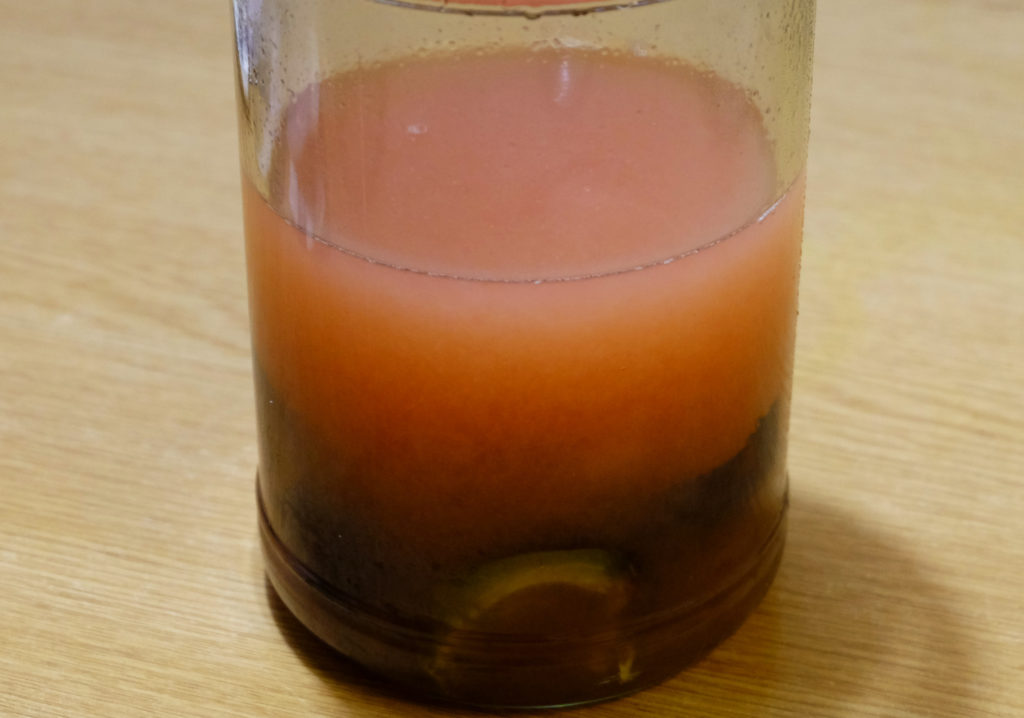 Dzień 7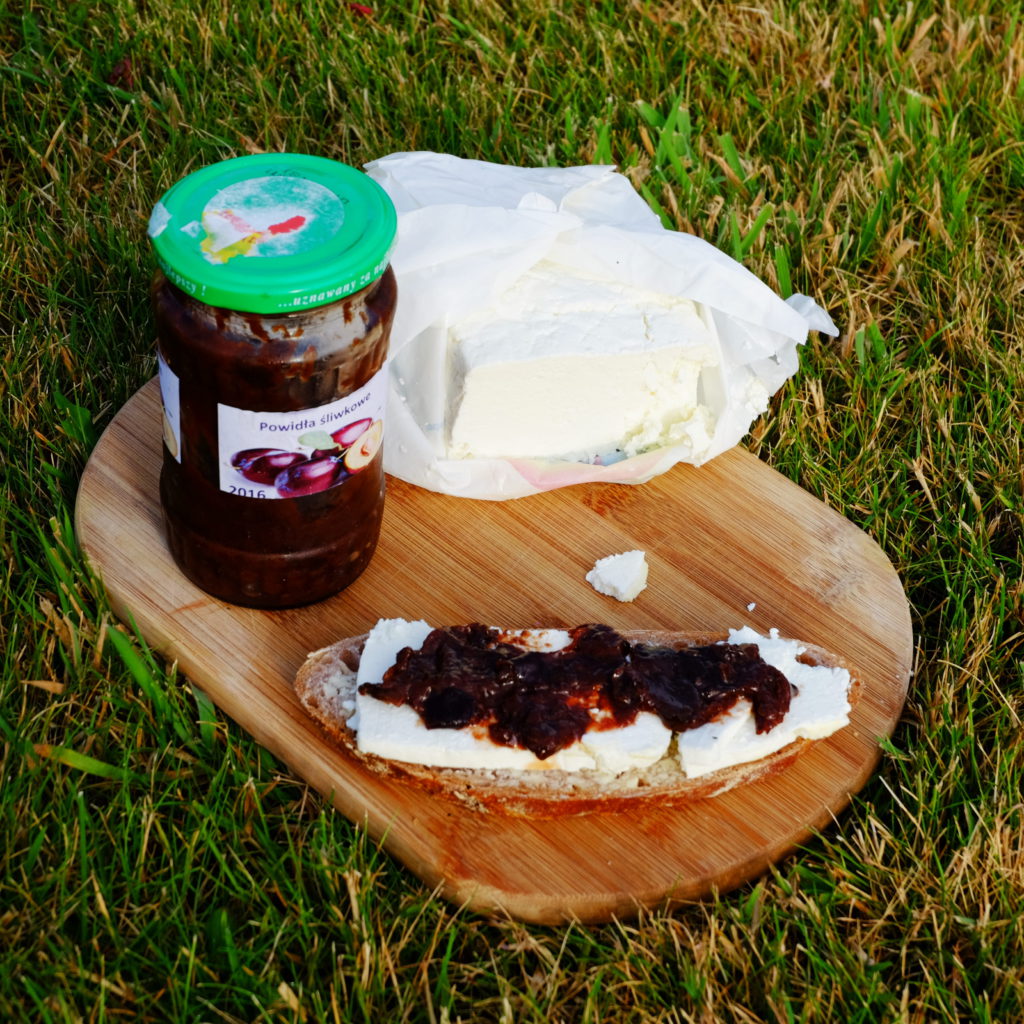 Czas kończyć. Szczęśliwie mam o czym pisać.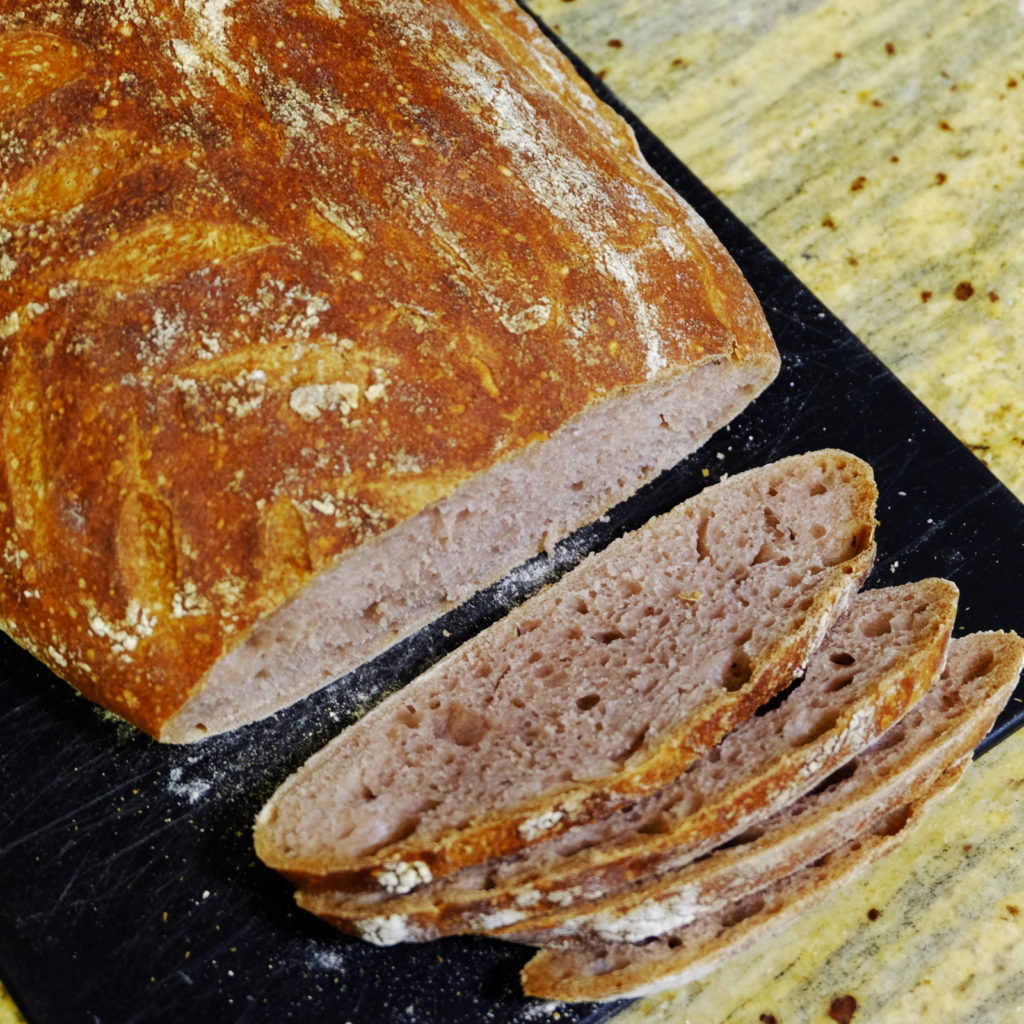 Chleb, który upiekłem (przepis) wyszedł ładny i interesujący. Co mi się spodobało:
różowawe ciasto (miękisz jest głównie szary, ale widać zabarwienie)
leciuteńki owocowy aromat
niezbyt kwaśny w smaku, i nie jest to kwaśność w stylu zakwasu
owocówki się do niego zlatują – tego z zakwasem nie osiągniesz 🙂
skórka jest cienka i chrupiąca
miękisz jest ładny i delikatny
bochenek urósł na tyle, by osiągnąć właściwą kromkę, nie płaskacza.
Nie podniosło go tak bardzo, jakbym chciał, głównie dlatego że:
mógł przerosnąć, jest bardzo gorąco i lodówka ledwo zipie; może powinienem byłem go krócej wyrastać
mogłem nadmiernie wyrobić ciasto – przy rozciąganiu i składaniu powinno się zrobić dosłownie kilka rozciągnięć i złożeń i tyle; mnie zawsze kusi żeby zrobić więcej i zauważyłem moment, gdy już było za dużo, a ciasto zaczęło się drzeć
drożdże mogły być wciąż troszkę za słabe i przez to nie dały rady go podnieść, nawet jeślibym zrobił wszytko dobrze
Póki co wodę umieściłem w lodówce. Może jeszcze spróbuję zrobić coś więcej z wody drożdżowej, ale na razie przyjmijmy, że eksperyment się zakończył.
Wspominałem, że w pokoju w którym pracowałem w tym tygodniu jest świerszcz. Znalazłem go (albo raczej on mnie):