Since it's cold, rainy, and generally Autumn, we're often craving something crunchy.
Jako że zimno, pada i jesień generalnie, to często mamy ochotę coś pochrupać.
Wersja polska poniżej.
Today's recipe was taken from the "Sainsbury's Magazine" (Feb. 2015), with a small change, as we don't necessarily like fennel. The original title was "Fennel and parmesan breadsticks".
The yeast dough is universal and can be used not only for fingers, but also for focaccia, garlic bread or pizza (we use a different one for pizza, our favourite recipe from Jamie Oliver, we'll write about it some other time).
If we don't want to use the whole portion, we can freeze some of the dough and use it some other time. When you take it out of the freezer, give it 2-3 hours and then prepare and bake (you may need more flour for dusting).
Given quantities should be enough for 64 sticks, we ended up a few short.
Ingredients
500 g wheat strong flour, plus some for dusting
7 g isntant yeast
1 teaspoon sugar
2 teaspoon salt
300 ml lukewarm water
50 ml olive oil
50 g grated parmesan (for the topping)
Preparation
In a big bowl, mix flour, salt, yeast and sugar.
In a small bowl mix water and the olive oil, then pour into the big bowl. Mix everything together and then knead for about 10 minutes. You can use a mixer with a dough hook.
Leave kneaded dough to rise in a dusted bowl, covered with a cotton cloth for about an hour, till doubles in volume.
After it's ready , fold the dough, divide in four portions, flatten it with a rolling pin to shape a rectangle, then cut in 16 stripes. We used a pizza knife for this.
Roll each stripe a couple times to make small spirals out of them.
Place the stripes on a baking tray lined with a baking paper and sprinkle with parmesan. You can use other toppings as well, such as sea salt, poppy, cheddar or even fennel.
Topped fingers should be covered with a cloth again and left for about 15 minutes while the oven heats up to 180 C (gas 4).
Bake for approximately 12-18 minutes, checking them from regularly so that they don't burn.
Leave to cool on a rack.
This was delicious.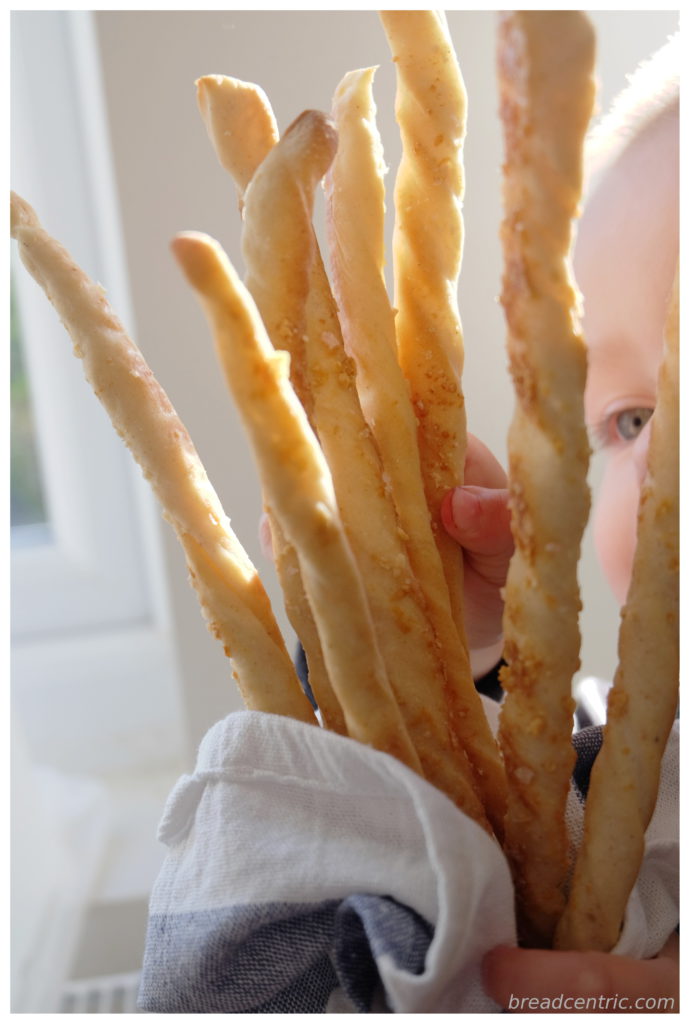 Dzisiejszy przepis został zaczerpnięty z gazetki "Sainsbury's Magazine" (luty 2015 r.), z małą zmianą, ponieważ nie przepadamy za kminkiem. W oryginale "Fennel and parmesan breadsticks".
Uniwersalne ciasto drożdżowe można wykorzystać do paluchów, ale też do focacci, chlebka czosnkowego, czy pizzy (chociaż na pizze mamy inny, ulubiony przepis Jamiego Olivera, ale o tym kiedy indziej).
Jeśli nie chcemy robić paluchów z całej porcji, możemy zamrozić część ciasta i wykorzystać kiedy indziej. Potem wystarczy wyjąć na 2-3 godziny przed pieczeniem (może potrzebować więcej mąki do podsypania).
Według przepisu powinny wyjść 64 paluchy, mi wyszło o kilka mniej.
Składniki
500 g mąki pszennej chlebowej, plus odrobina do podsypania
7 g drożdży suszonych
1 łyżeczka cukru
2 łyżeczki soli
300 ml letniej wody
50 ml oliwy
50 g startego parmezanu (do posypania)
Przygotowanie
W dużej misce mieszamy mąkę, sól, drożdże i cukier.
W małej mieszamy wodę i oliwę, wlewamy do dużej miski. Mieszamy wszystko, a potem wyrabiamy przez około 10 min. Można użyć miksera z hakiem.
Wyrobione ciasto zostawiamy do wyrośnięcia w podsypanej mąką misce przykrytej bawełnianą ściereczką na około godzinę, do podwojenia objętości.
Po tym czasie kilka razy składamy ciasto, dzielimy na cztery części, każdą część wałkujemy na prostokąt i kroimy na 16 pasków. Ja do krojenia używam noża do pizzy.
Następnie zwijamy kilka razy każdy kawałek tak aby uzyskać małe spiralki.
Paski ciasta układamy na blaszce wyłożonej papierem do pieczenia i posypujemy startym parmezanem. Do posypania można użyć swoich ulubionych dodatków jak sól morska, mak, cheddar, a nawet kminek.
Posypane paluchy przykrywamy jeszcze raz ściereczką i zostawiamy na około 15 minut. W tym czasie rozgrzewamy piekarnik do 180 C (gaz 4).
Pieczemy koło 12-18 minut, obserwując żeby się spaliły.
Studzimy na kratce.
Było pyszne.