I don't know what's so special about sourdough precisely, but there is something. It is one of examples of how humans managed to make nature work for him, when they works for nature. It stands in one line with other fermented foods like sauerkraut, żurek, or cucumbers in brine. And beer, wine, cider.
Nie wiem, co dokładnie jest takiego wyjątkowego w zakwasie, ale coś jest. To jeden z przykładów jak człowiek zdołał sprawić, by natura pracowała dla niego, gdy on pracuje dla natury. W tej samej grupie jest też kapusta kiszona, żurek czy ogórki kiszone. I piwo, wino, cydr.
The general idea here is that you breed lactic bacteria and wild yeast, feed them regularly, and they pay back by multiplying and making your dough the way you'd like it to be.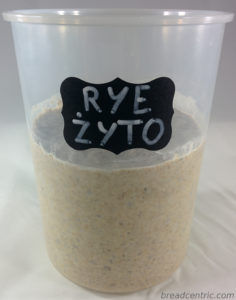 Making sourdough
Mix flour and water, and wait. Repeat. It's as simple as that. We've used same method with wholemeal wheat and wholemeal rye, and brown rice flour. It failed with buckwheat flour. Or maybe it was us who failed – not really important. If you don't know which one to choose, I suggest rye. My impression is that rye sourdough is the most active from what we have.
You'll need a container: a jar is OK, plastic one too, as long as you have a lid. Wash it well. At all times try to keep its walls clean. My Mom (yes, she also bakes bread, and it's only one of her numerous superpowers) had left some sourdough on the walls of her jar, it dried out and mould attacked it. We ended up quickly making a new one. I think I read somewhere that you can recover by intense feeding, but didn't want to run experiments on my family.
Find a time of day, when you will be able to do something repetitively every twelve hours for the consecutive. It can be 8 a.m. and 8 p.m. for instance.
Find somewhere warm. It usually means around 20-25 C. The lowest I heard anyone made their sourdough in was 18 C or so. Hi Marcin!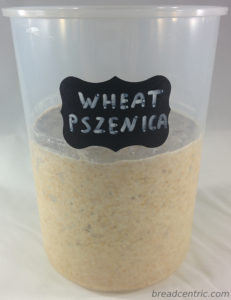 Ingredients
400 g flour of your choice
400 g water
Day 1, day 2: add 50 g of flour and 50 g of water to the jar and mix thoroughly. Leave it somewhere warm for 24 hours.
Day 3, day 4, day 5: add 50 g of flour and water and mix thoroughly, then leave in a warm place for 12 hours and repeat (two feedings a day).
If at any point it fills half of the container, before feeding give it a good stir and discard half of it. Sourdough may grow at a rate you did not expect, escape the container and get messy. Some recommend doing so every time. I didn't.
You can see some action happening quite early, or you may have to wait longer. There is no rule, really. I remember first bubbles on day two. If it looks as if it's not working, or not working quickly enough, give it more time (feed for a couple days more), make sure it's not too cold.
I remember that usually around day three or four the dough could double in volume. Even if it does, don't stop, continue feeding it according to the schedule.
When the sourdough preparation succeeds, it's time to start baking. Whatever recipe you choose (I recommend something simple, like the one below if you're ok with wheat), it might not come out super consistent at first. Your sourdough is still young and needs to stabilise its content of yeast and bacteria. After a month or two you will have a panzerdough, resilient to most things you do wrong, or don't do well. Now make sure you have enough children and grandchildren willing to carry on baking or give it to no one – it's your precious!
You can name your sourdough. Some people do, I haven't (yet). The nicest name I heard of was Claudette. Justin Gellatly from Bread Ahead claimed once that most people in his courses call theirs Bob. I was thinking about a vote for name, but that could make Boaty McBoatface a really nice, serious name. We'll see.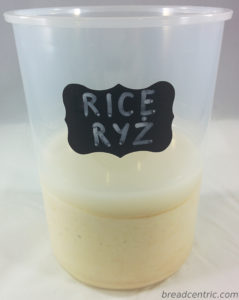 Care, storage
We store our blob in the fridge and feed it usually every week or two, or when there's not much left. Some people keep it on the worktop in the kitchen and feed it frequently, daily or so.
Feeding works just like preparation. Work out what amount of sourdough is fine for your needs and add equal amounts of flour and water to have enough.
Let's say you plan to use 100 g a week. Keep 200 g (to have something to feed after you use the amount you want) and after taking 100 g out add 50 g of flour and 50 g of water, and mix.
Leave it out to get nice and bubbly, and put it back into the fridge when it stops growing.
Remember one rule to follow in life: if it's important, have a backup. That's why we store five boxes of sourdough, not three: two with rye, two with wheat, and one rice flour(because meh). It payed off twice so far. It is possible to dry and freeze your sourdough, but I didn't try it. It will also most probably survive a year or two without feeding, hidden in your fridge. I haven't tried it either, but saw a video of it. I don't see any reason why anyone would lie oh the Internet.
First bread
I was wondering which recipe would be the best to start. Damian, our friend, recently started with a wheat-rye loaf, but I decided to suggest something different. Last year I went to an open day at Bread Ahead in Borough Market and was given a beginner's sourdough cheat sheet. I have never baked using this recipe before, so here it is.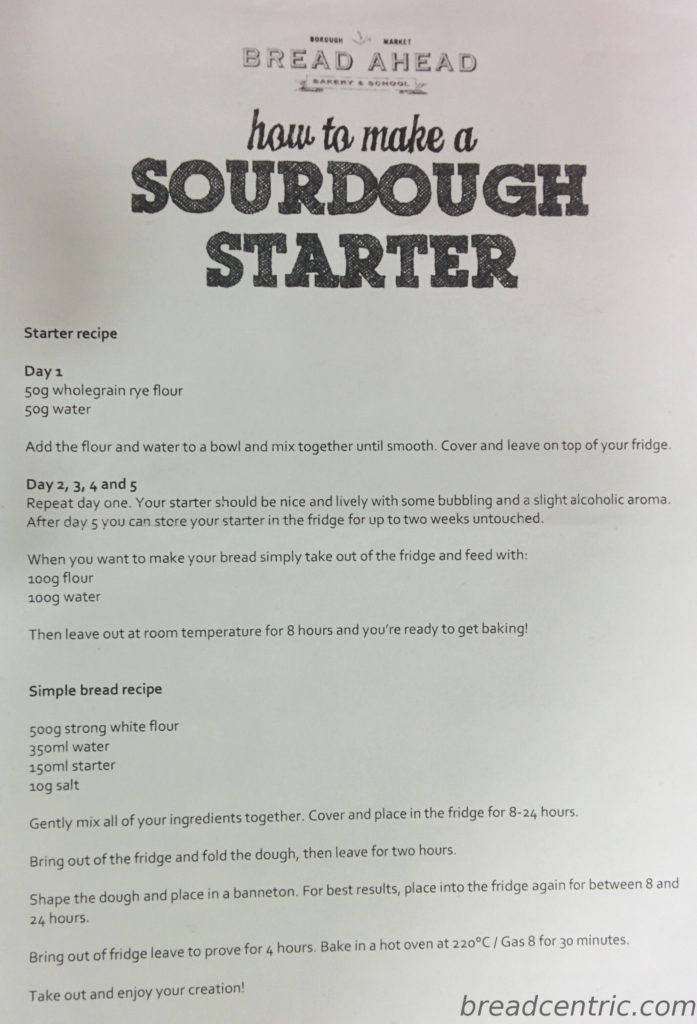 The recipe is very flexible in terms of timing. I started in the morning and had a loaf the following day evening. It could be less if I had a non-working day, but this recipe is supposed to adjust to you, not the other way round.
Just a note: this will likely not work with gluten free starter (although I can't give a reasonable explanation why). Besides, I don't think you make gluten free sourdough to bake gluten rich loaves. I do not know easy gluten free bread recipes, sorry.
Ingredients
500 g strong wheat flour
150 g sourdough
350 g water
10 g salt
Preparation
Mix all ingredients in a bowl, cover and put into a fridge for 8-24 hours (13 hours in our case)
Take it out, fold and leave in the warm for 2 hours
Shape the dough into a loaf and put into a floured banneton. I recommend whole rye flour for flouring, or rice flour. If you don't have a banneton use a bowl with floured clean tea towel in it. Cover and put it into a fridge for 8-24 hours (we did 20 hours and was a bit too much, read below)
Take it out, leave in the warm for four hours. After three and a half,  set your oven to 220 C, without convection (up and down, or down only). It is also recommended to put an oven friendly dish at the bottom of your oven with water in it to introduce steam. It will make the loaf work better in the oven. Some people just throw ice cubes at the bottom. They evaporate gradually releasing the steam without leaking
Flip the banneton to place the loaf on a baking tray. If the dough is sticky, before flipping, I spread a little flour on it. This prevents it from sticking to the tray. Score it with a sharp knife and bake for 30 minutes
Cooling off the bread is a whole process in which the moisture of crumb still escapes softening the crust and stabilising the whole loaf. I do recommend giving it more time on the rack, just cover it with a tea towel.
It sometimes happens, that you have high hopes, and it doesn't work. Especially when you begin your adventure with bread, and when you gain some confidence, it will hit you even more. Do not get discouraged.
The dough stuck to the banneton, and it lost its shape before it detached. Also, I think it was a bit overproofed as the bread went very flat on the tray. Luckily it did rise in the oven, but I would be happier with more expansion.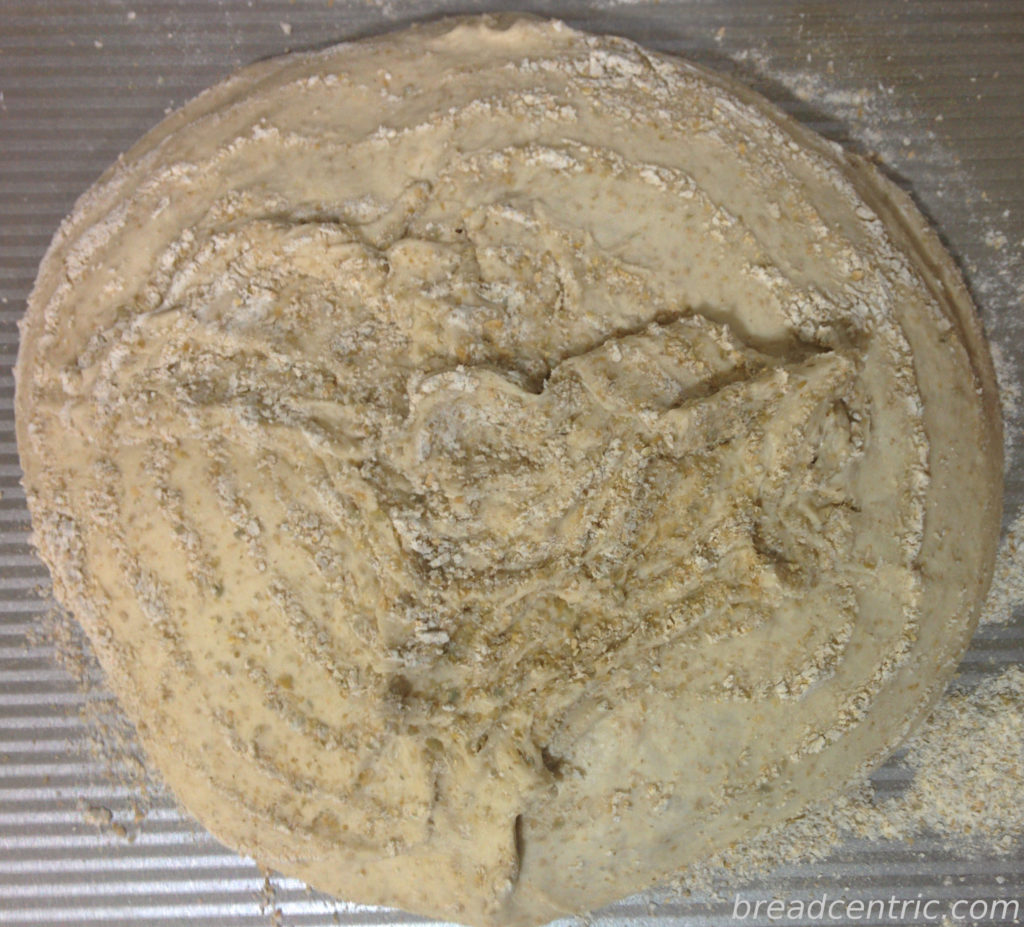 Something seems not to be right with the timing. While the first rising could be longer, the second one was too long. If I were to do it once again now, I would mix it in the morning, then next morning would shape it (early wake up), and then take it out and bake in the evening. And I would use a cloth in the banneton.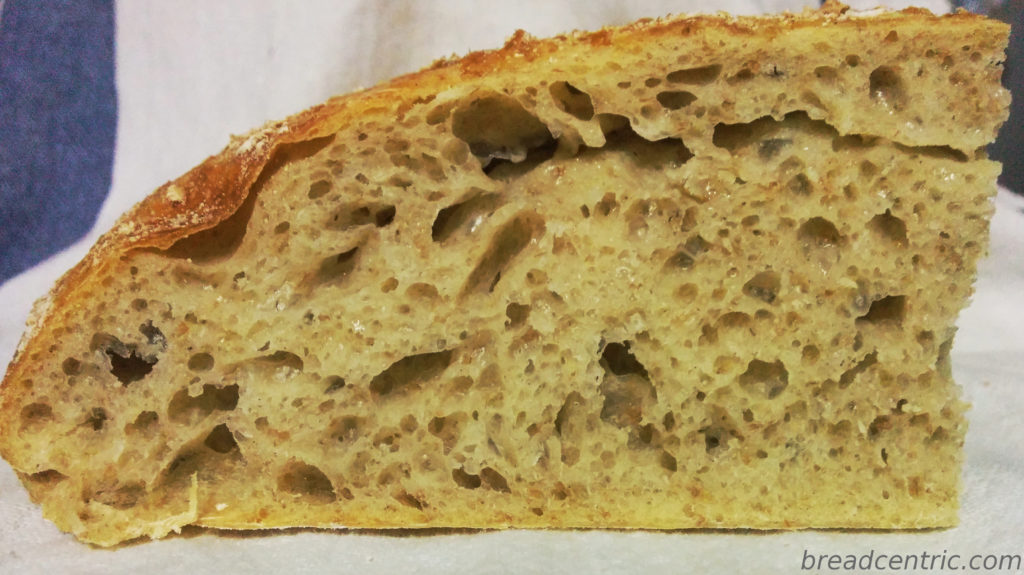 Still, it was a very tasty bread. I would be very happy if my first loaf was like this.
Ogólnie prowadzenie zakwasu polega na tym, że Ty hodujesz bakterie mlekowe i dzikie drożdże, a one się odwdzięczają mnożąc i pracując nad Twoim ciastem.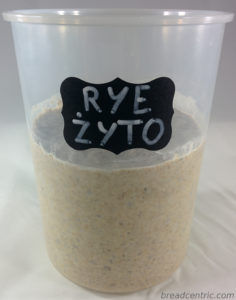 Robienie zakwasu
Zmieszaj mąkę z wodą i czekaj. Powtórz. To prawdziwie jest tak proste.
Użyliśmy poniższej metody z mąką pszenną razową, żytnią razową i z brązowego ryżu. Nie zadziałała tylko z gryczaną. A może to my nie zadziałaliśmy – niezbyt istotne.
Jeśli nie wiesz, której mąki użyć, polecam żytnią razową. Wydaje mi się, że żytni zakwas jest najaktywniejszy z tych, które mamy.
Będziesz potrzebować pojemnika. Słoik jest ok, plastikowy pojemnik też, musi tylko mieć pokrywkę. Dobrze go umyj. Później zawsze staraj się utrzymywać czyste ścianki. Moja Mama (tak, ona też piecze chleb, a to tylko jedna z jej licznych supermocy) kiedyś zostawiła trochę zakwasu na ściankach słoika, ten wysechł i zaatakowała go pleśń. Skończyło się na tym, że szybko zrobiliśmy nowy zakwas. Gdzieś czytałem, że można zwalczyć pleśń przez intensywne karmienie zakwasu, ale nie chciałem eksperymentować na rodzinie.
Znajdź porę dnia, kiedy będziesz móc robić coś i powtarzać co dwanaście godzin przez pięć kolejnych dni. Ja na przykład robiłem o 8:00 i 20:00.
Znajdź ciepłe miejsce w swoim domu. Mam tu na myśli temperaturę około 20-25 stopni. Najniższa temperatura, w jakiej wiem, że ktoś zrobił zakwas to było około 18 stopni. Cześć Marcin!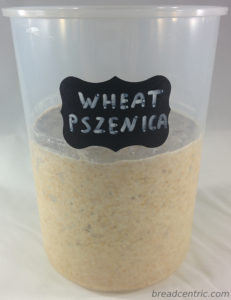 Składniki
Dzień 1, dzień 2: dodaj po 50 g mąki i wody, i dokładnie wymieszaj. Zostaw w ciepłym miejscu na 24 godziny.
Dzień 3, dzień 4, dzień 5: dodaj po 50 g mąki i wody, i dokładnie wymieszaj. Zostaw w ciepłym miejscu na 12 godzin i powtórz (dwa karmienia w ciągu dnia).
Jeśli w zawartość przekroczy połowę objętości pojemnika, przed karmieniem zamieszaj dobrze i wyrzuć połowę. Zakwas może rosnąć nadspodziewanie szybko i uciec z pojemnika, robiąc sporo bałaganu. Niektórzy radzą zawsze wyrzucać połowę, ja tak nie robiłem.
Możesz dość szybko zauważyć aktywność, a możesz musieć trochę poczekać. Nie ma reguły. Ja kojarzę pierwsze bąbelki drugiego dnia. Jeśli wydaje Ci się, że zakwas nie pracuje, lub pracuje zbyt wolno, daj mu więcej czasu (karm go kilka dni więcej), zadbaj też, żeby nie miał zbyt zimno.
Koło dnia trzeciego lub czwartego ciasto potrafiło podwoić swoją objętość między karmieniami. Jeśli tak się zdarzy, nie przestawaj karmić zgodnie z planem.
Gdy przygotowanie zakwasu powiedzie się, czas zacząć piec. Niezależnie od tego, którego użyjesz przepisu (polecam coś prostego, jak ten poniżej, jeśli możesz jeść pszenicę), początkowo rezultaty mogą nie być zbyt spójne. Twój zakwas jest jeszcze młody i musi ustabilizować zawartość drożdży i bakterii. Po miesiącu lub dwóch będziesz mieć pancerny zakwas, odporny na większość Twoich błędów i pomyłek. Upewnij się, że masz wystarczająco dużo potomków, chcących piec, aby im móc go kiedyś przekazać, lub nie daj go nikomu – jest Twój i tylko Twój!
Możesz nadać swojemu zakwasowi imię. Ja (jeszcze) nie nadałem. Najładniejsze imię zakwasu, jakie słyszałem, to Claudette. Justin Gellatly z Bread Ahead powiedział kiedyś, że większość osób na jego kursach nazywa zakwas Bob. Ja myślałem o zorganizowaniu konkursu na imię, ale bałbym się potworka w stylu Boaty McBoatface. Zobaczymy.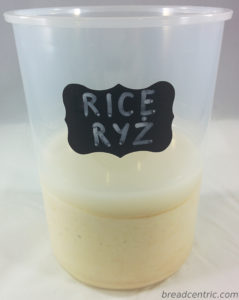 Opieka, przechowanie
My trzymamy swoje ciapy w lodówce i karmimy zwykle co tydzień lub dwa, lub kiedy robi się ich mało. Niektórzy trzymają na blacie kuchennym i karmią częściej, na przykład codziennie.
Karmienie jest podobne do hodowania. Ustal ile zakwasu będziesz potrzebować i dodawaj jednakowe ilości wody i mąki, aby mieć dość.
Powiedzmy że planujesz użyć 100 g tygodniowo. Trzymaj 200 g (żeby był naddatek do dokarmiania), a po wyjęciu tych stu, dodaj 50 g mąki i 50 g wody, i wymieszaj. Zostaw w cieple, aby się pożywił i rozrósł. Schowaj do lodówki, gdy przestanie rosnąć.
Pamiętaj o jednej ważnej regule w życiu: jeśli coś jest ważne, miej kopię zapasową. Ja trzymam pięć pojemników zakwasu, nie trzy: dwa pszenicznego, dwa żytniego i jeden ryżowego(cóż). Już dwa razy się to opłaciło, kiedy dokarmiłem złą mąką. Zakwas można wysuszyć i zamrozić, ale nie próbowałem. Wytrzyma też najprawdopodobniej z rok czy dwa w lodówce bez karmienia. Tego też nie próbowałem, ale widziałem filmik. Nie widzę powodu, żeby ktoś w Internecie kłamał.
Pierwszy chleb
Zastanawiałem się, który przepis będzie najlepszy na początek. Damian, nasz znajomy, ostatnio zaczął od pszenno-żytniego, ale postanowiłem zaproponować coś innego. W zeszłym roku byłem na dniu otwartym w piekarni Bread Ahead w Borough Market, gdzie dostałem ściągawkę dla zaczynających przygodę z zakwasem. Nigdy nie piekłem z tego przepisu, więc teraz jest okazja zacząć.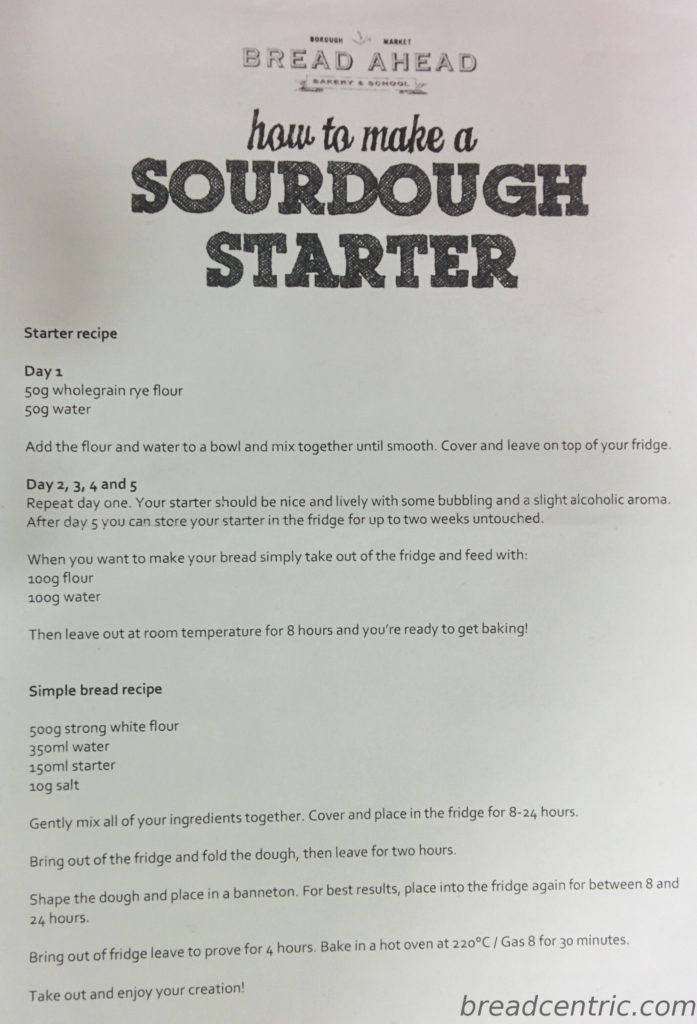 Receptura jest bardzo elastyczna w kwestii planowania pieczenia. Ja zacząłem rano i skończyłem następnego dnia wieczorem. Można trochę przyspieszyć proces, ale piekłem w dni robocze. Ten przepis dopasowuje się do Ciebie, nie na odwrót.
Obawiam się, że chleb nie wyjdzie z zakwasem bezglutenowym (choć nie potrafię tego racjonalnie uzasadnić). Poza tym raczej nie robisz zakwasu bezglutenowego, żeby piec chleb z glutenem. Nie znam łatwych przepisów bezglutenowych, niestety.
Składniki
500 g mąki pszennej chlebowej
150 g zakwasu
350 g wody
10 g soli
Przygotowanie
Wymieszaj wszystkie składniki w misce, przykryj i włóż do lodówki na 8-24 godzin (ja wyjąłem po 13 godzinach)
Wyjmij z lodówki, złóż i pozostaw w cieple na dwie godziny
Uformuj bochenek i włóż do posypanego mąką koszyka do wyrastania. Polecam użyć razowej mąki żytniej, lub ryżowej, do posypywania. Jeśli nie masz kosza, użyj miski i czystej ściereczki kuchennej, i mąki. Mały kosz wiklinowy też się nada. Przykryj i włóż do lodówki na 8-24 godzin (wyjęliśmy po 20 godzinach, to chyba za dużo, przeczytaj komentarz pod przepisem)
Wyjmij z lodówki i zostaw w cieple na cztery godziny. Po trzech i pół włącz piekarnik na 220 stopni, bez termoobiegu (góra i dół, lub sam dół). Polecam też położyć na dnie piekarnika naczynie żaroodporne z wodą, aby zrobić trochę pary. Sprawi ona, że bochenek będzie lepiej pracował w piekarniku. Niektórzy kładą na dno piekarnika kostki lodu, które stopniowo topnieją i parują nie rozlewając
Odwróć kosz i wyrzuć bochenek na tackę do pieczenia. Jeśli ciasto jest lepkie, przed wyjęciem rozprowadź trochę mąki na nim. Dzięki temu ciasto się nie przyklei do tacki. Szybko natnij ostrym nożem i włóż do piekarnika na 30 minut
Stygnięcie chleba to długotrwały proces, w którym wilgoć wychodzi ze środka, zmiękczając skórkę i stabilizując wilgotność całego bochenka. Polecam zostawić go na kratce, pod ściereczką, na dłużej.
Jak to czasem bywa z nieźle zapowiadającymi przepisami, coś nie wyszło. Szczególnie na początku Twojej przygody, to będzie się zdarzać, szczególnie gdy już nabierzesz pewności, uderzy znienacka i ze zdwojoną siłą. Nie zniechęcaj się tym.
Ciasto przykleiło się do kosza i straciło cały kształt zanim zdołałem je odczepić. Trochę też przerosło, bo chleb się dość mocno spłaszczył na blaszce. Na szczęście przy pieczeniu trochę się rozrósł, ale wolałbym więcej.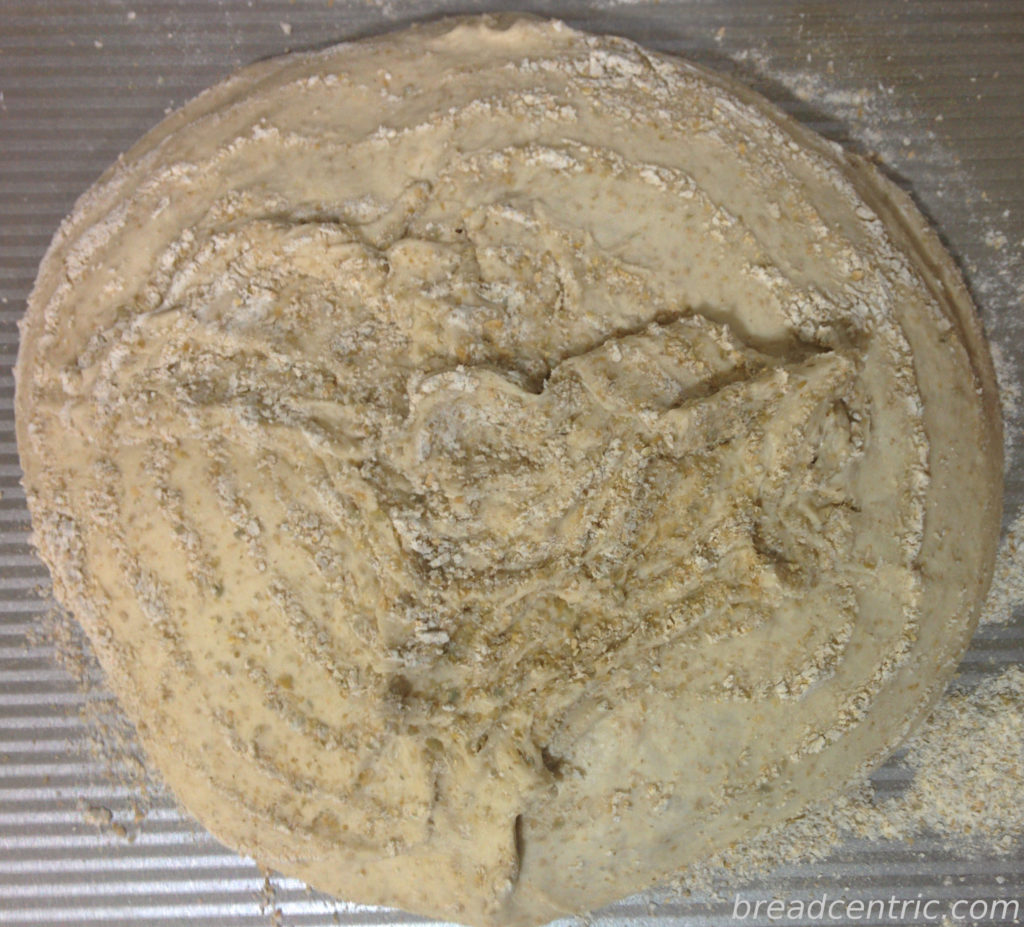 Coś wydaje mi się nie w porządku z czasami dojrzewania w lodówce. O ile ten pierwszy mógłby spokojnie być dłuższy, drugi był przesadzony. Gdybym teraz piekł raz jeszcze, pewnie zamieszałbym rano, następnego ranka uformował (wczesna pobudka) i wieczorem piekł. I użyłbym ściereczki w koszu.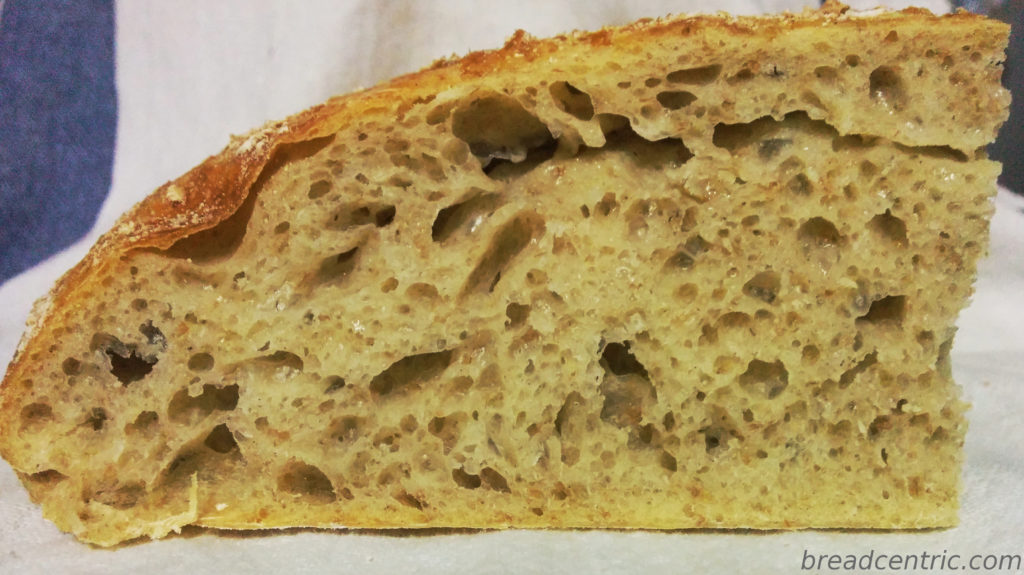 Mimo wszystko, był to bardzo smaczny chleb. Byłbym bardzo szczęśliwy, gdyby mój pierwszy chleb tak smakował i wyglądał.