Every now and then we try to bake something different to an everyday bread. This one attracted me because of obvious links to Silesia region of Poland. I don't even know if it is a proper recipe, but the bread is very tasty.
Co jakiś czas staramy się upiec coś innego niż rzeczy, które piekliśmy dotychczas. Ten przepis mnie skusił oczywistym powiązaniem ze Śląskiem. Nie wiem nawet, czy to jest poprawny przepis, ale chleb jest bardzo smaczny.
If you have your sourdough running, this opens a completely new chapter in your baking. You can use it as it is in breads like the simple rye one, or use it as a base for levain of all forms, for other types of bread. You simply take a little bit and mix it with whatever is needed. In Silesian sourdough, you mix it with strong white wheat flour and leave it for the night (about 12 hours in my case). You will get a nice and bubbly levain, which becomes a base for further work.
What I like about this bread is that I can shape it by hand and rise it in a banneton, then give it a couple scores before baking and simply control in the oven so than it doesn't burn the crust – it occupies the whole oven, so I need to shuffle the loaves for a nice and even bake.
I have unsettled matters with this recipe. I used it for Helenka's birthday and got a beautiful outside, but the crumb collapsed and it was inedible. I had to do it right this time.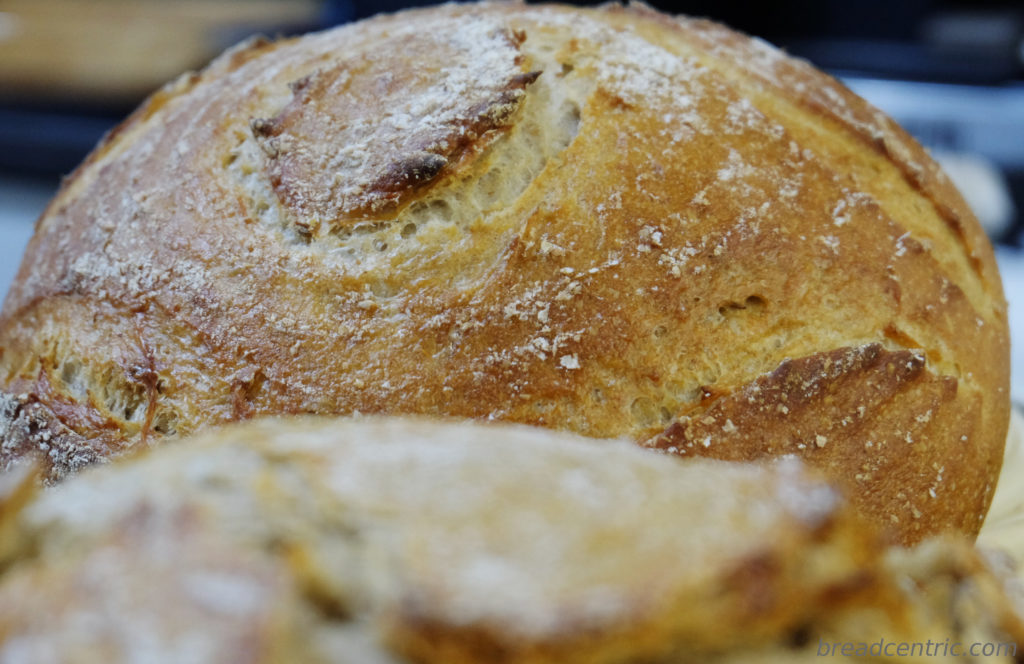 The recipe comes from the Shipton Mill website.
Planning
You need to make the levain in advance, then spend about two hours doing something with the dough, then give it one-two hours to double in size, then shape it, then leave it to rise a bit, then bake in the oven for 40 minutes. Then let it cool, of course.
You'll need a bowl for storing the dough. Oil it so that the dough does not stick too much. You'll also need a banneton, or a bowl with a clean tea towel.
Ingredients
These are amounts for a single 1 kg loaf or two smaller. I usually bake two 1 kg or a one 2 kg loaf. I have a banneton to fit it all inside, it always comes out very impressive.
Levain
75 g strong white wheat flour
75 g water
50 g rye sourdough
Dough
200 g levain
350 g strong white wheat flour
150 g light rye flour
250 g water
10 g salt
1/2 teaspoon caraway seeds (not essential, but recommended)
Preparation
Mix levain in the evening. Leave it for 8-12 hours.
If you are using a wholemeal rye flour based sourdough for the mix, it will not be perfectly smooth and you will notice a lot of bran in it. If you want to avoid it (I most definitely don't), prepare a preliminary starter with similar proportions about 12 hours earlier and use it as the sourdough in levain preparation
Mix all the ingredients together. I've used minimum speed of my mixer and a dough hook for about 5 minutes. Leave it for 10 minutes
Knead for 10-20 seconds, then leave for 30 minutes. Set a timer – you'll reuse it more than once
Knead for 10-20 seconds, then leave for 30 minutes
Stretch and fold, then leave for 30 minutes. Stretch and fold is what it says it is – grab side of the dough, pull, fold over the rest of the dough, press gently in, rotate by 90 degrees, repeat (4-8 times). The dough will resist more with each fold. When it's too hard, just stop
Stretch and fold, then leave until it doubles in size (about two hours in my case)
Shape a loaf. If you want a round one, place the surface from the bowl on a dusted worktop and make sure it doesn't stick to the surface. Grab a side of the dough and fold it into the middle, press it in. Be careful to not make air sockets so that you don't end with big holes in the loaf. Rotate by 30-40 degrees and repeat. Do it until you have a more or less round shape. Next, grab by the sides with both hands and flip it over. Grab by the sides with both hands and and make a rotating motion with a bit of a friction of the dough on the surface to close the shape. Then place it in a basket/bowl for rising seam side up. You can hide it in a plastic bag to give it a warmer environment and prevent the surface from drying out too quickly.

Loaves in bannetons

I used bannetons dusted with rye flour (do not dust with wheat flour, as it will easily get incorporated by the dough and the loaf will stick to the basket). You can use a bowl and a dusted linen or tea towel. You can also simply use a baking tin

How much should you wait? Hard to say. I waited till the dough started sticking out of the basket. It took about 40 minutes for the loaf to rise. In the meantime, we set your oven to 220 C without a fan about 20 minutes before baking, preferably with a top and bottom heating elements. As usual, know your oven.
at the bottom of the oven place a roasting tray that will hold some water
When the oven is ready and so is the loaf, pour some water into the tray. Pop your bread on whatever you want to bake it on, then using a sharp knife score it, so that it can expand in a controlled way. Don't worry if it doesn't work out the first time. I've done a few of these and it still doesn't always work
Pop the loaf into the oven for forty minutes. Observe it. It's better that you put a baking tray above your loaf so that it doesn't form a crust too quickly. Kitchen foil will work as well, as long as you don't put it on the loaf
That's about it. The bread rose nicely, is quite soft and has a pleasant caraway aroma. The original recipe has more caraway in it, but when I followed it for the first time, the whole house smelled with caraway. Don't get me wrong, it was a very enjoyable smell, but was quite overwhelming.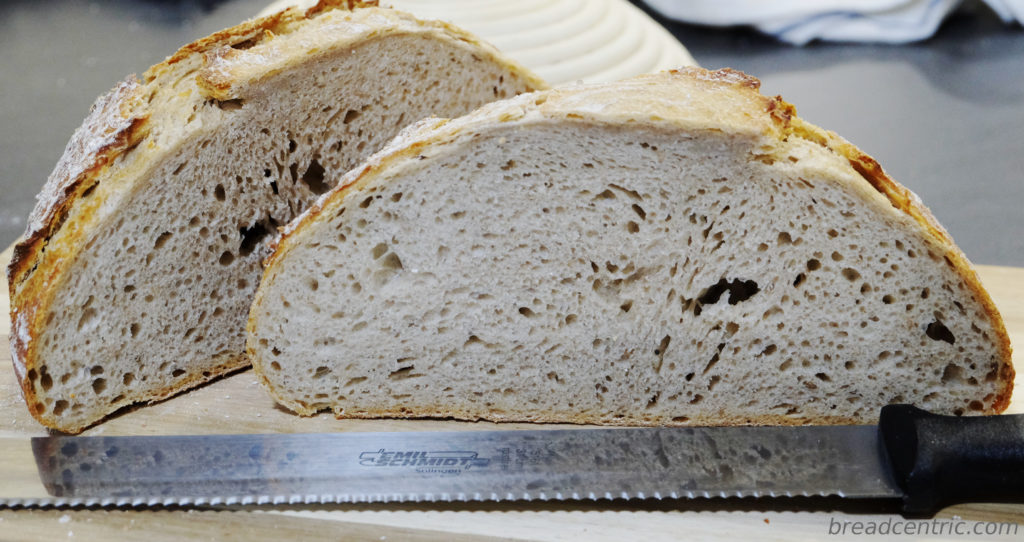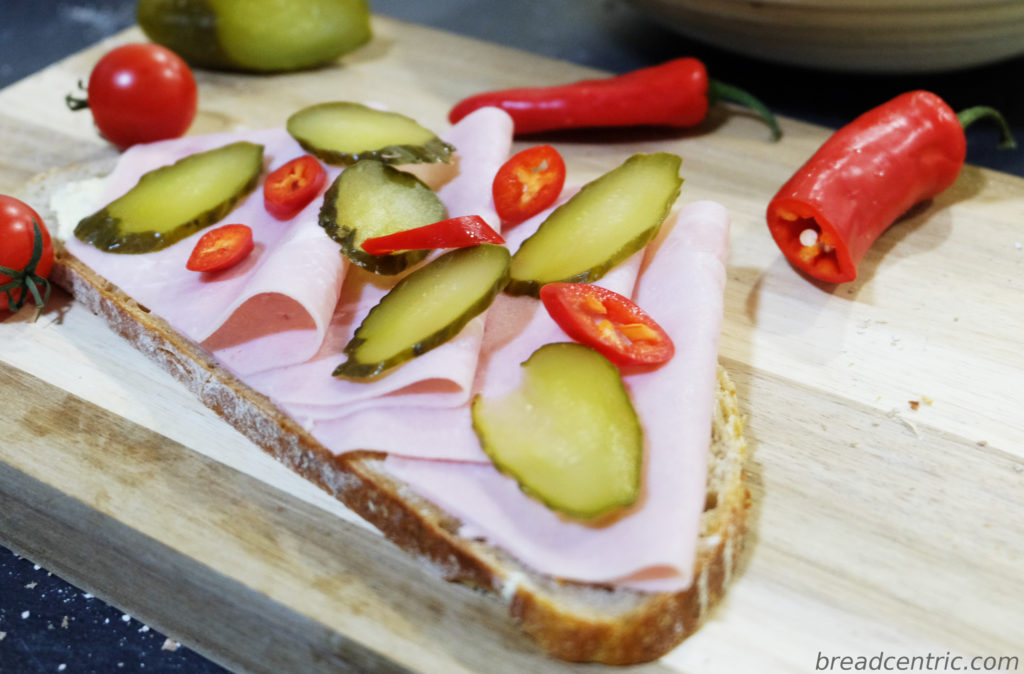 If you are about to order your bannetons right now, or are starting using them, remember to get a proper brush to clean them from the flour. Also, after baking, put them into the oven to let them dry a bit. A dry clean banneton is a happy banneton.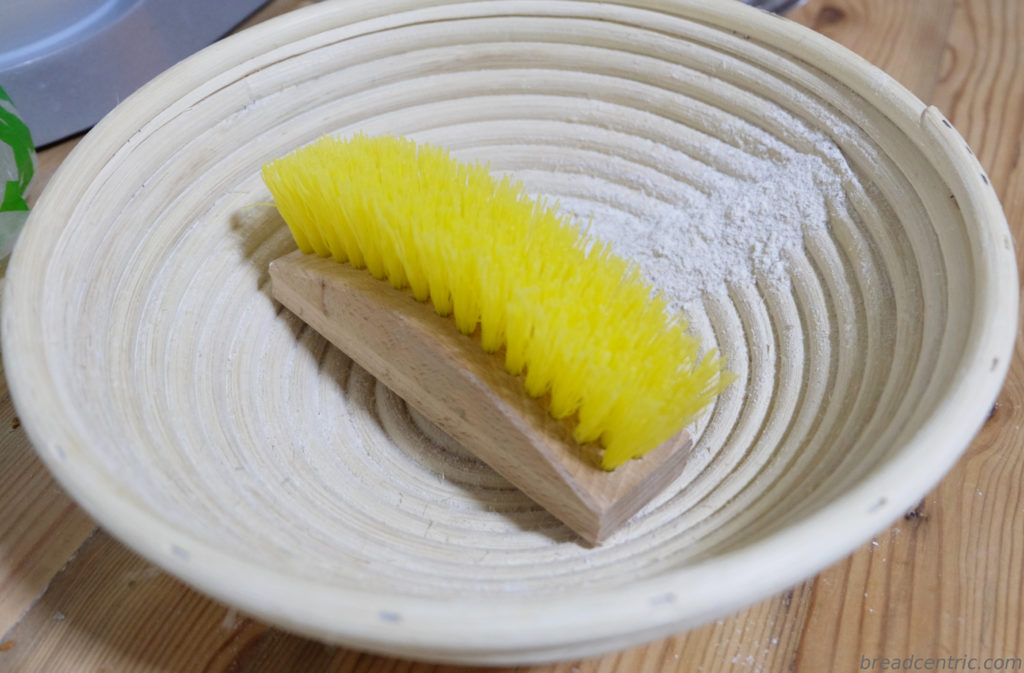 Jeśli już prowadzisz zakwas, daje Ci to multum możliwości i otwiera nowy rozdział w pieczeniu. Możesz go użyć takim, jakim jest, jak w prostym żytnim, a możesz na jego bazie przygotować dowolny zaczyn, na dowolny chleb. Wystarczy że weźmiesz troszkę zakwasu i zamieszasz w takich proporcjach, w jakich jest podane w przepisie. W chlebie śląskim używasz mąki chlebowej i zostawiasz na noc (w moim przypadku 12 godzin). Otrzymasz ładny, bąbelkujący zaczyn, który staje się podstawą dla dalszej pracy.
Bardzo lubię w tym chlebie możliwość formowania ręcznie i wyrastania w koszu, a potem nacinania przed pieczeniem i kontroli, że nie przypali się za szybko w piekarniku. Gdy piekę dwa (tak jak tym razem), zamieniam je dwa-trzy razy półkami.
Mam też do rozliczenia porachunki z tym przepisem. Użyłem go przy okazji Heli urodzin. Upiekł się pięknie, ale w środku całkiem się zapadł i był niejadalny. Tym razem musiałem się poprawić.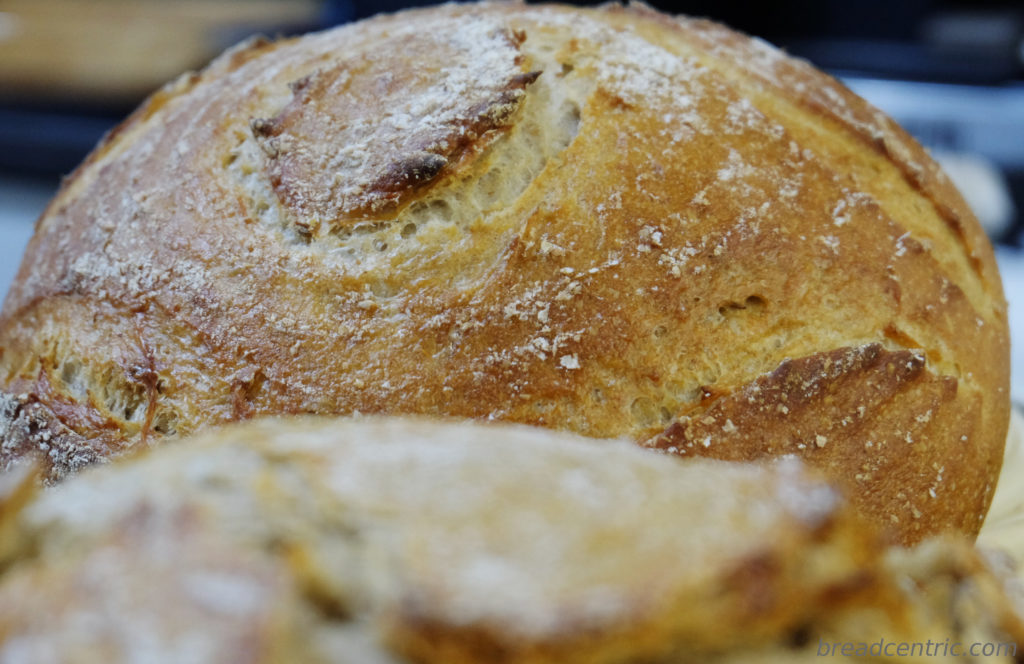 Przepis pochodzi ze strony Shipton Mill.
Planowanie
Musisz przygotować wcześniej zakwas, potem przez około dwie godziny robić coś co chwilę z ciastem, poczekać jedną-dwie godziny aż podwoi objętość, uformować, dać wyrosnąć po czym piec przez 40 minut. I oczywiście dać ostygnąć.
Będziesz potrzebować miski do przechowania ciasta. Posmaruj ją olejem, aby ciasto się nadmiernie nie kleiło. Potrzebny będzie też kosz do wyrastania lub miska z czystą ściereczką.
Składniki
Te ilości wystarczą na kilogramowy chleb, lub dwa mniejsze. Ja zazwyczaj mnożę je przez dwa i piekę dwa kilogramowe lub jeden dwukilowy. Mam kosz do wyrastania na taki duży chleb, zawsze robi wrażenie.
Zaczyn
75 g mąki pszennej chlebowej
75 g wody
50 g żytniego zakwasu
Ciasto
200 g zaczynu
350 g mąki pszennej chlebowej
150 g jasnej mąki żytniej (to jest w Polsce chyba typ 700 lub 750)
250 g wody
10 g soli
1/2 łyżeczki nasion kminku (nieobowiązkowe, ale polecane)
Przygotowanie
Zamieszaj zaczyn wieczorem. Pozostaw na 8-12 godzin.
Jeśli używasz zakwasu na mące pełnoziarnistej, zaczyn nie będzie super gładziutki i będzie zawierał widoczne otręby. Jeśli chcesz tego uniknąć (ja bynajmniej), jeszcze wcześniej przygotuj wstępny zaczyn z podobnymi proporcjami i po około 12 godzinach użyj go jako bazy do zaczynu właściwego
Wymieszaj wszystkie składniki. Ja użyłem najniższej prędkości miksera i haka do ciasta przez około 5 minut. Pozostaw wymieszane ciasto na 10 minut
Wyrabiaj przez 10-20 sekund, po czym zostaw na 30 minut. Ustaw czasownik, użyjesz go więcej niż raz
Wyrabiaj przez 10-20 sekund, po czym zostaw na 30 minut
Złóż ciasto i zostaw na 30 minut.
Składanie (rozciąganie i składanie, z angielskiego stretch and fold) to technika pracy z ciastem. Złap ciasto za brzeg, pociągnij, złóż na resztę ciasta, dociśnij lekko, obróć o 90 stopni, powtórz (4-8 razy). Ciasto z każdym złożeniem będzie stawiać coraz większy opór. Jeśli robi się ciężko, przestań składać
Złóż ciasto i pozostaw, aż podwoi swoją objętość (w naszym przypadku dwie godziny)
Uformuj bochenek. Jeśli chcesz mieć okrągły chleb, połóż ciasto jego wierzchnią częścią na oprószonym mąką blacie i upewnij się, że się nie przykleja do powierzchni. złap za brzeg ciasta i złóż do środka, lekko dociśnij. Przypilnuj przy tym, żeby nie zrobić kieszonki powietrznej, aby nie mieć dużych dziur w chlebie. Obróć o 30-40 stopni i powtórz. Powtarzaj, aż będziesz mieć mniej więcej okrągły kształt. Chwyć ciasto teraz obiema dłońmi za boki i odwróć. Ponownie chwyć je obiema dłońmi i wykonaj kuliste ruchy na blacie tak, by ciasto trochę ocierało o powierzchnię. Spowoduje to zamknięcie kuli. Następnie umieść  w koszu misce sklejoną powierzchnią do góry, aby wyrosło. Możesz schować je do reklamówki, aby miało cieplej i żeby nadmiernie nie wyschło.

Bochenki w koszach

Ja użyłem koszy posypanych żytnią mąką (nie posypuj pszenną, bo łatwo się ona włącza w ciasto i bochenek może się kleić do kosza). Możesz użyć miski i oprószonej ściereczki lub tkaniny lnianej. Możesz też użyć zwyczajnie foremki

Ile trzeba czekać? Trudno powiedzieć. Ja czekałem aż ciasto zaczęło wystawać z kosza. Zajęło to około 40 minut. W międzyczasie, około 20 minut przed pieczeniem, włączyliśmy piekarnik na 220 C bez termoobiegu góra-dół. Jak zwykle, znaj swój piekarnik.
Na spodzie piekarnika umieść brytfankę, do której wlejesz za chwilę wody
Kiedy i piekarnik i chleb są gotowe, wlej do brytfanki  wody. Następnie wyłóż chleb na powierzchnię, na której będziesz piec i ostrym nożem natnij go, aby mógł się rozchodzić w sposób kontrolowany. Nie martw się jeśli za pierwszym razem wyjdzie średnio. Zrobiłem już kilka takich i wciąż nie wychodzi za każdym razem
Włóż bochenek do piekarnika na 40 minut. Obserwuj go. Ja zazwyczaj kładę dodatkową tackę do pieczenia nad chlebem, aby skórka nie uformowała się zbyt szybko. Folia aluminiowa też będzie w porządku, pod warunkiem, że nie położysz jej bezpośrednio na bochenku
To by było na tyle. Chleb ładnie wyrósł, jest dość miękki i ma przyjemny aromat kminkowy. W oryginalnym przepisie było więcej kminku, ale gdy pierwszy raz go upiekłem, cały dom pachniał kminkiem. Żeby nie było, to ładny zapach, ale w tym wypadku była już przesada.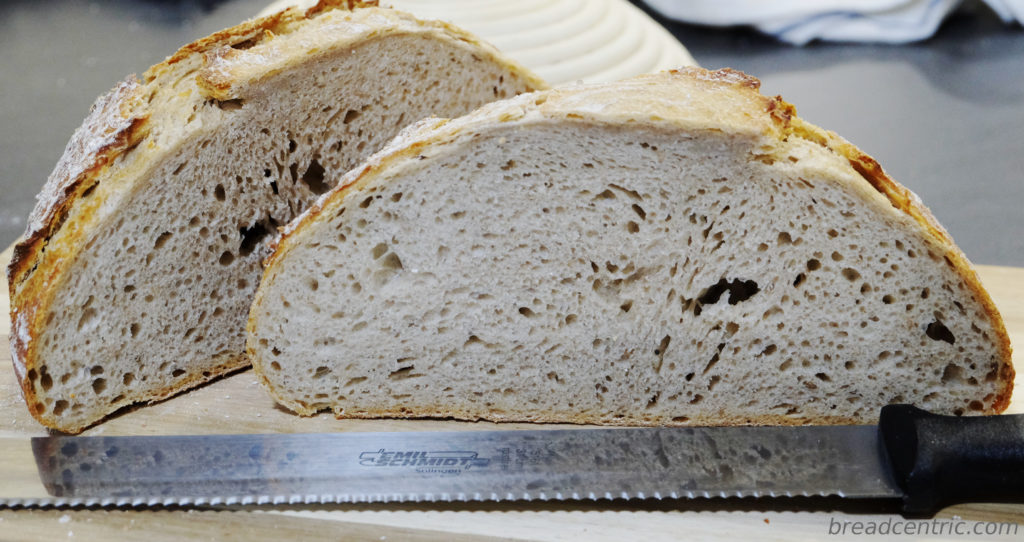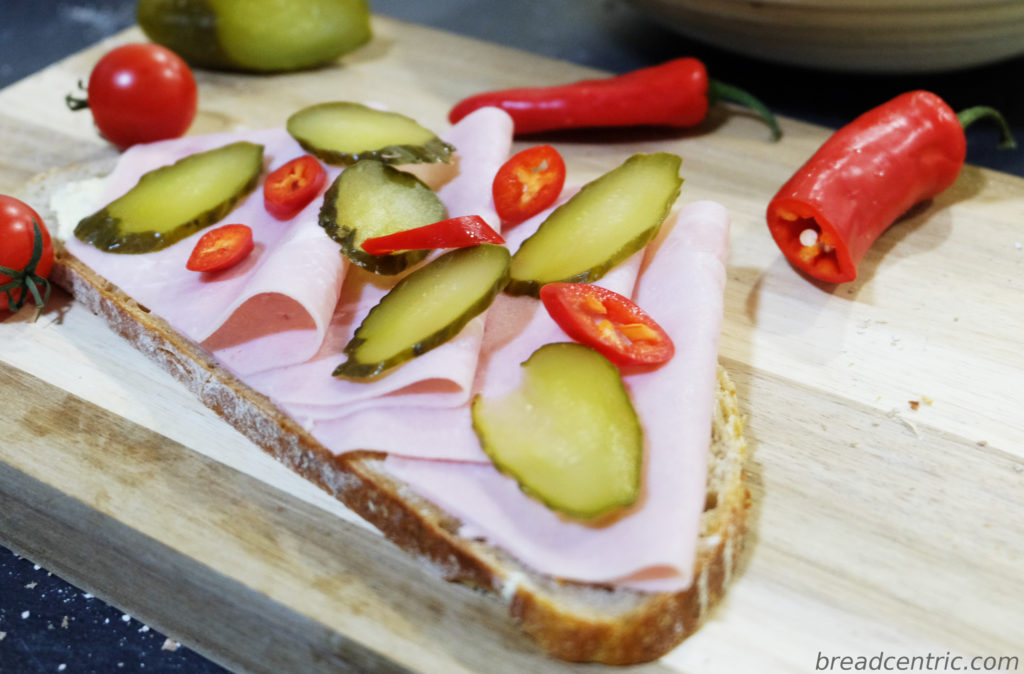 Jeśli chcesz właśnie kupić kosze, lub właśnie z nimi zaczynasz, pamiętaj też zaopatrzyć się w dobrą szczotkę do czyszczenia. Po pieczeniu też zawsze wkładam je do piekarnika, aby nieco je dosuszyć. Suchy i czysty kosz to szczęśliwy kosz.