New Year, New Me! How are you all doing with your new year's resolutions? I'm doing great, so after whole five days of excelling in my efforts it's time for a reward.
Nowy Rok, Nowy Ja! Jak Wam wychodzą noworoczne postanowienia? Mi świetnie, więc po całych pięciu dniach wymiatania przyszedł czas na nagrodę.
These simple buns speak for themselves. Go on, bake them, you deserve it, you awesome you!
The recipe comes from Paul Hollywood's "100 Great Breads" (ISBN 978-1-84403-700-1). I used to use random recipes on the Internet before, but now decided to take on this one and improve it when needed. For now I followed it fully.
I made two versions that Mr Hollywood provided: fully white flour and half&half with wholemeal.
Planning
None. It takes 50 minutes to make.
Ingredients
Enough for about 17 5 cm wide scones.
500 g strong white wheat flour (or 250 g strong white + 250 g strong wholemeal wheat flour)
75 g caster sugar
30 g baking powder
100 g sultanas
2 medium eggs, plus one more whisked for eggwash
75 g soft butter
230 g milk (270 g for wholemeal)
Preparation
Preheat the oven to 220 C (200 C for wholemeal, didn't use fan; may have been too much for my oven, know yours)
Add all ingredients except egwash and sultanas into a bowl and mix them for 2 minutes in the mixer, 5-6 minutes by hand
Incorporate sultanas into the dough and put on a floured surface
Flatten the dough – a bit of an exaggeration, in this phrase, as the author tells to have it 5 cm thick

"Flattened" dough

Us a cookie cutter to cut out scones, brush them with eggwash and put into the fridge for 30 minutes to chill (if you have that much; I kept the for about 15-20 minutes). The wholemeal dough was significantly stickier, I would possible sprinkle some flour on top as well
Brush the top again with eggwash, just don't let it go down the sides so that they rise nicely (which doesn't help my scones)
Bake for 15 minutes (15-20 minutes for wholemeal)
I seem to have given more butter than the recipe called for in the white ones, so they ended with a completely smooth sides.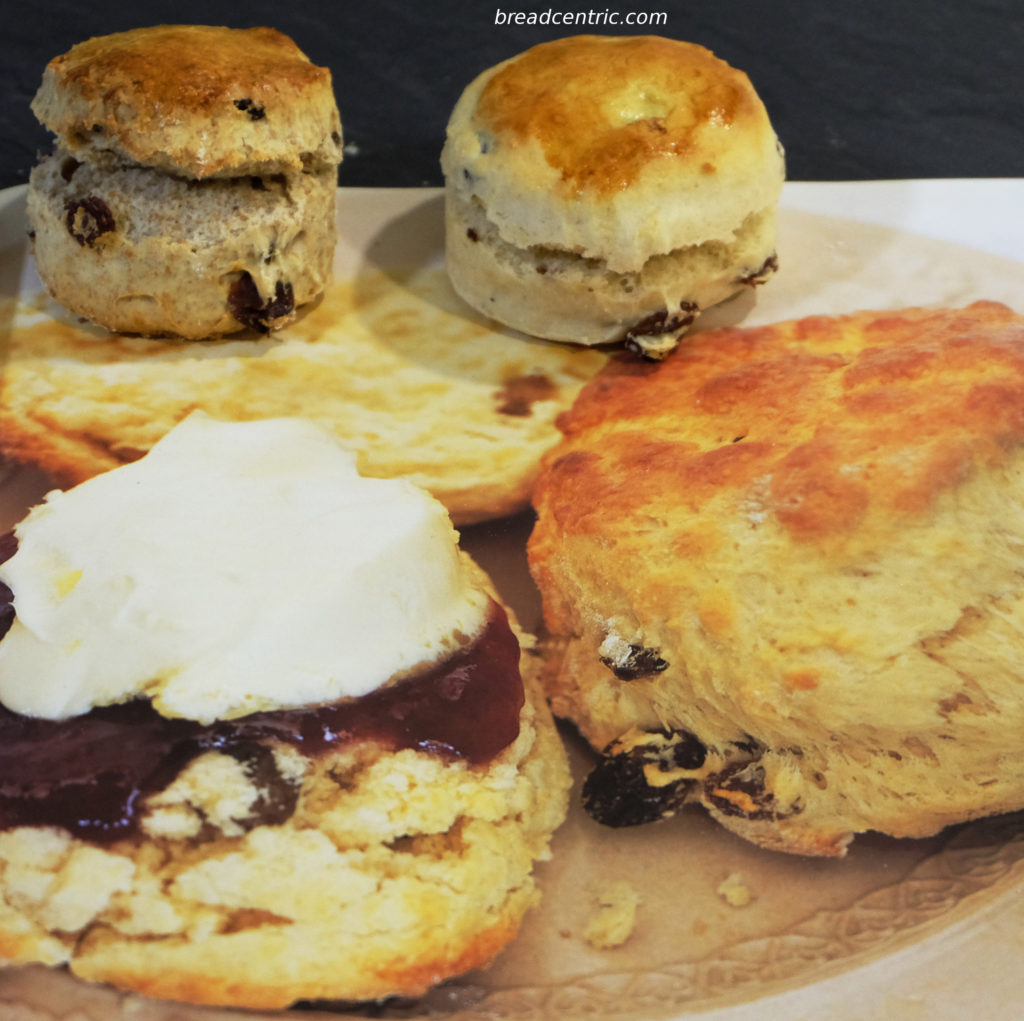 Both types simply cracked around the middle, not sure why. They didn't expand like the ones from a picture. But who cares, they will all be gone in 24 hours.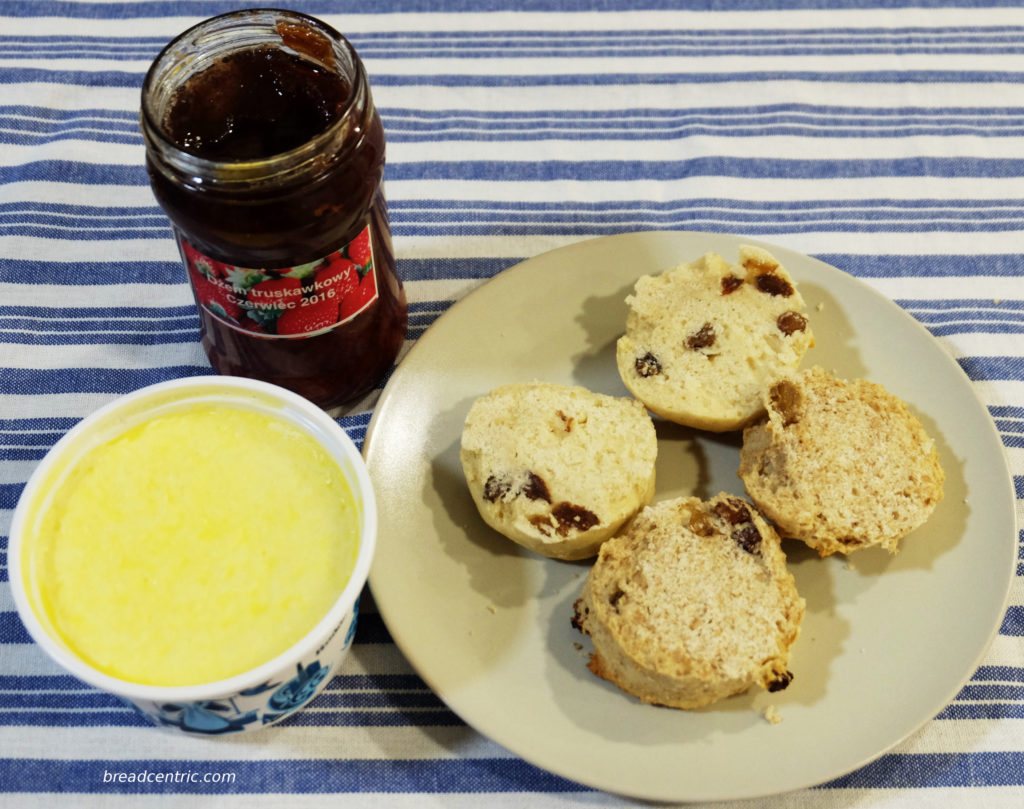 Serving
Serve classically with clotted cream and strawberry jam, or any way you like – butter works well, butter with jam, peanut butter. You can heat them a bit before eating for greater pleasure.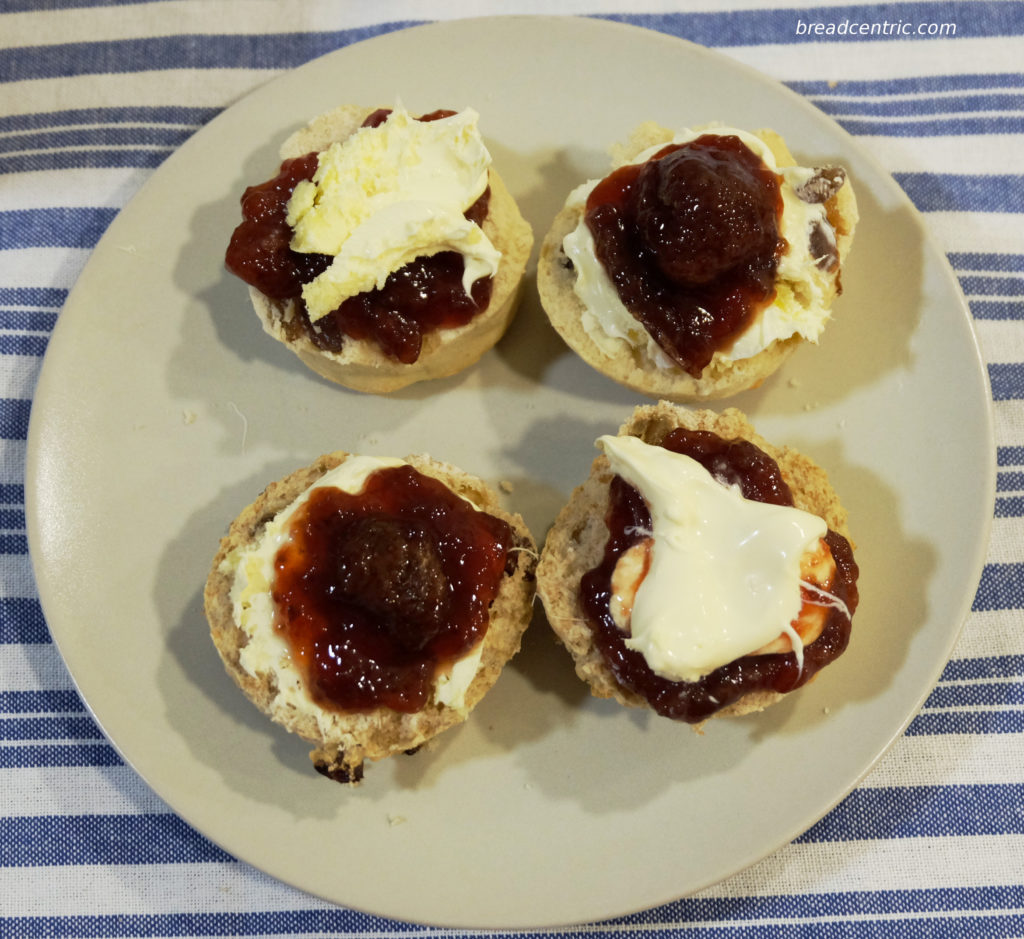 Te proste bułeczki mówią same za siebie. Śmiało, zrób je, zasługujesz na nie, super Ty!
Przepis pochodzi z książki Paula Hollywooda, "100 Great Breads" (ISBN 978-1-84403-700-1, tylko po angielsku). Wcześniej używałem losowych przepisów, znalezionych w Internecie, teraz postanowiłem wykorzystać ten i dopracować go do moich preferencji. Póki co zrobiłem zgodnie z instrukcjami.
Przygotowałem dwie wersje z książki: w pełni na mące chlebowej i pół na pół z pełnoziarnistą.
Planowanie
Brak. Zrobienie zajmuje 50 minut.
Składniki
Wystarczy na około 17 scone'ów o średnicy 5 cm.
500 g mąki pszennej chlebowej (lub 250 g chlebowej + 250 g pełnoziarnistej)
75 g drobnego cukru
30 g proszku do pieczenia
100 g sułtanek
2 średnie jajka, plus jedno zamieszane do smarowania
75 g miękkiego masła
230 g mleka (270 g przy mące pełnoziarnistej)
Przygotowanie
Nastaw piekarnik na 220 stopni (dla pełnoziarnistych 200 stopni; nie używałem termoobiegu; to mogło być trochę za gorąco w moim piekarniku, znaj swój)
Włóż do miski wszystkie składniki poza jajkiem do smarowania i rodzynkami i mieszaj 2 minuty w mikserze lub 5-6 ręcznie

Ciasto z ciemną mąką (po lewej), Ciasto z jasną mąką (po prawej)

Wmieszaj w ciasto rodzynki i wyłóż na posypaną mąką patrzcie l powierzchnię
Rozpłaszcz ciasto (trochę nietrafione określenie, 5 cm to bardzo grubo)

"Spłaszczone" ciasto

Wytnij wykrawaczem bułeczki, posmaruj wierzch jajkiem i włóż do lodówki na 30 minut, aby się nieco schłodziły (jeśli tyle macie, ja trzymałem przez 15-20 minut). Ciasto z mąka pełnoziarnistą dość mocno się kleiło, może warto trochę posypać mąką też po wierzchu
Posmaruj jeszcze raz wierzch jajkiem, tylko pilnuj żeby nie ściekło po bokach, żeby ładnie wyrosły (mi nigdy nie wyrastają jak chcę)
Piecz przez 15 minut (15-20 dla pełnoziarnistych)
Do białych dałem chyba więcej masła niż trzeba, więc boki wyszły gładkie.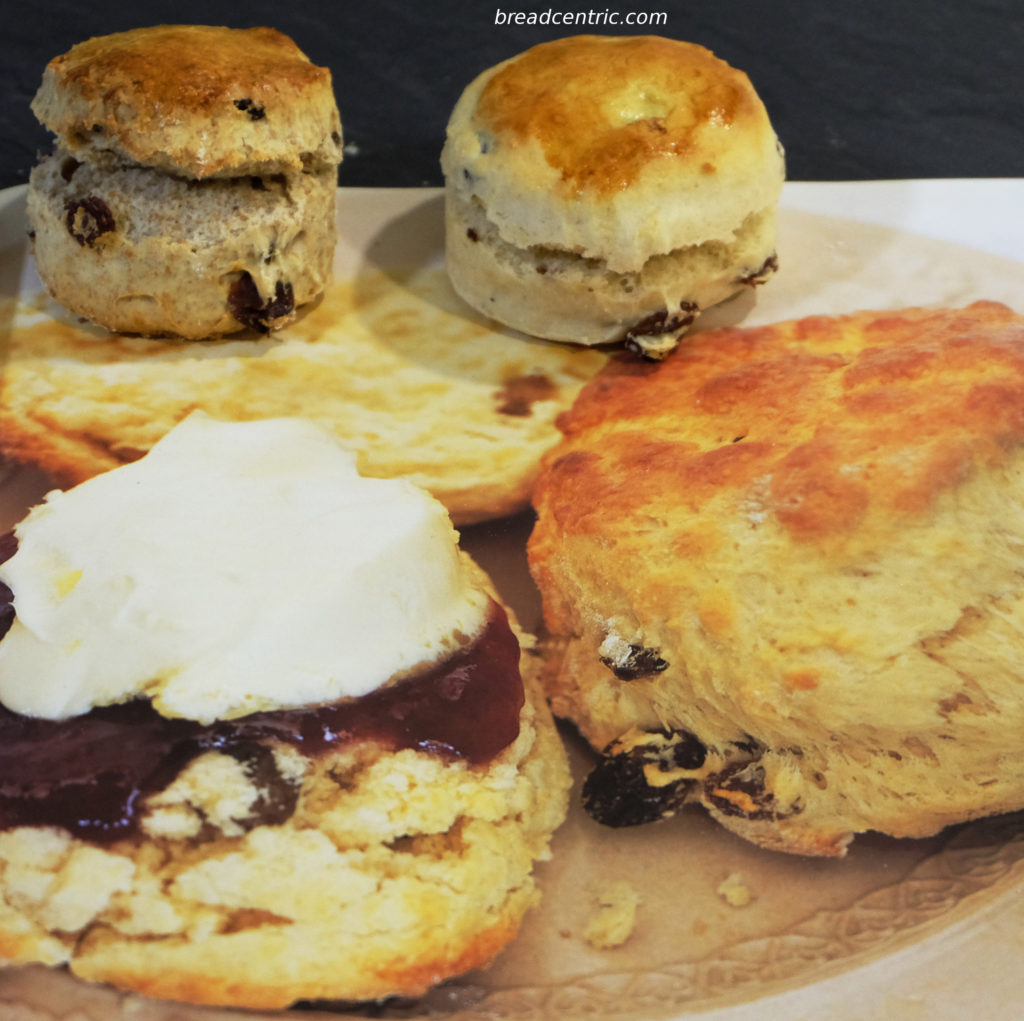 Oba rodzaje zwyczajnie pękły pośrodku zamiast się rozejść jak na zdjęciu, nie jestem pewien czemu. Ale nie jest to zbyt ważne, i tak znikną w 24 godziny.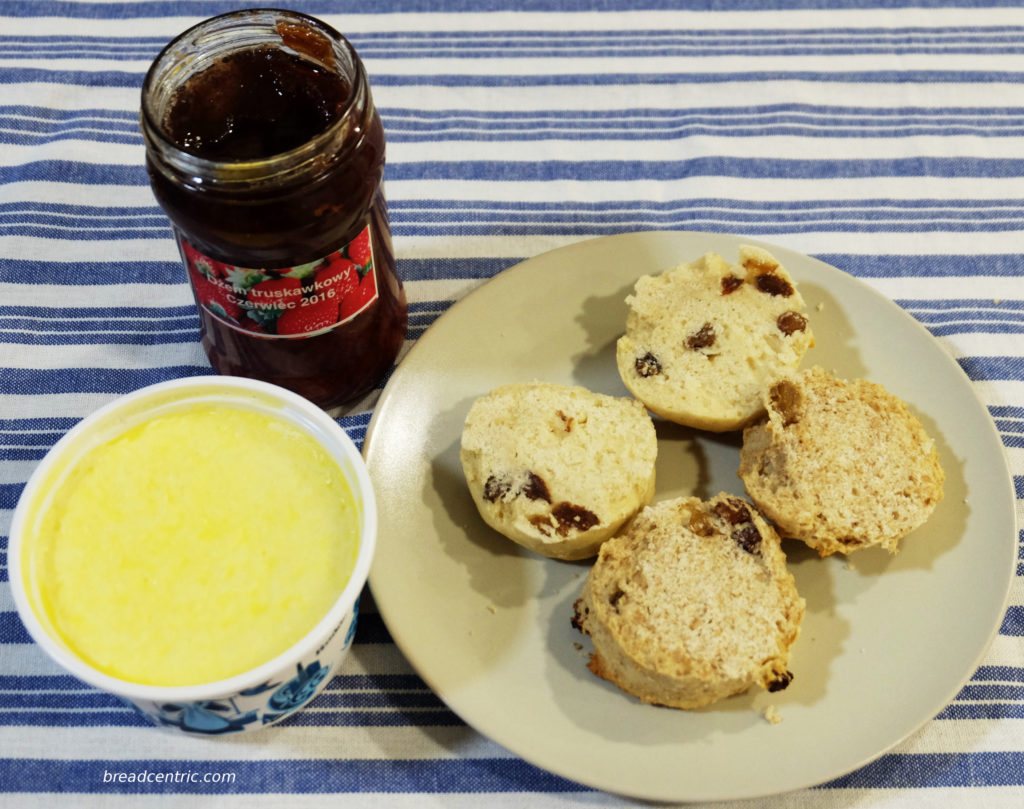 Propozycja podania
Chyba najbardziej znany sposób podania to z clotted cream i truskawkowym dżemem. Clotted cream to taka śmietana, otrzymana przez podgrzanie i ostudzenie pełnego mleka. Wytrąca się takie gęściorne coś, ponad 60% tłuszczu. Można kupić w niektórych sklepach w Polsce, handlujących brytyjską żywnością.
Ale nie jest to konieczne. Z samym masłem, z masłem i dżemem, masłem orzechowym, na sucho, z mlekiem – jak tylko wolisz, byleby Ci smakowało. Przed jedzeniem możesz je nieco podgrzać, będą jeszcze lepsze.