Happy Valentine's Day! I know, it's a bit late, but that's when we baked these wonderful loaves. I would recommend it to all bakers learning to shape the loaves, as it's surprisingly easy to work with.
Szczęśliwego Walentego!. Wiem że to trochę późno, ale właśnie wtedy upiekłem te wspaniałe chleby. Mogę polecić go każdemu, kto uczy się formować bochenki, ciasto jest bowiem zaskakująco przystępne w obróbce.
Perhaps you remember from the challah post that we had a Valentine's Cake Sale at my daughter's school. Last year we made a heart-shaped loaf, this year we decided to try a new recipe and have some fun with stencils.
I'm not very confident about bread decorating and hoped to be able to improve it a bit. I made a heart shaped stencil to try out.
I also decided to go for smaller loaves. Last year I made one. Truth be told, the cake sale is about the sale, as it gives money to add a little extra to our kids' school experience. It may be a day at a theatre, it can be some party. The cause is good and smaller things give more in return 🙂 That's why I used soup bowls for proofing and made four small loaves, plus a bigger one (and even bigger for home).
This recipe has 65% hydration of the dough. This means it is a rather stiff dough. Most breads I make have a higher hydration (up to 100%), but most of them land in the baking tin. I usually struggle with loaves with higher hydration – they stick to the banneton and stuff – so I decided to take an easier one this time.
Source of the recipe is J. Hamelman's "Bread" (Sources).
One interesting observation: J. Hamelman does not include sourdough's content when calculating the hydration. I guess it's simply the way it should be done. Sometimes when I bake Simple rye bread, I need to halve the sourdough content because it may rise too quickly – it means removing 100 g of sourdough from the final dough. I then replace it with equivalent mixture of flour and water. I would expect this to be included in the hydration calculations. Apparently I shouldn't. Not that it changes anything when mixing a 100% hydration dough with a 100% hydration sourdough.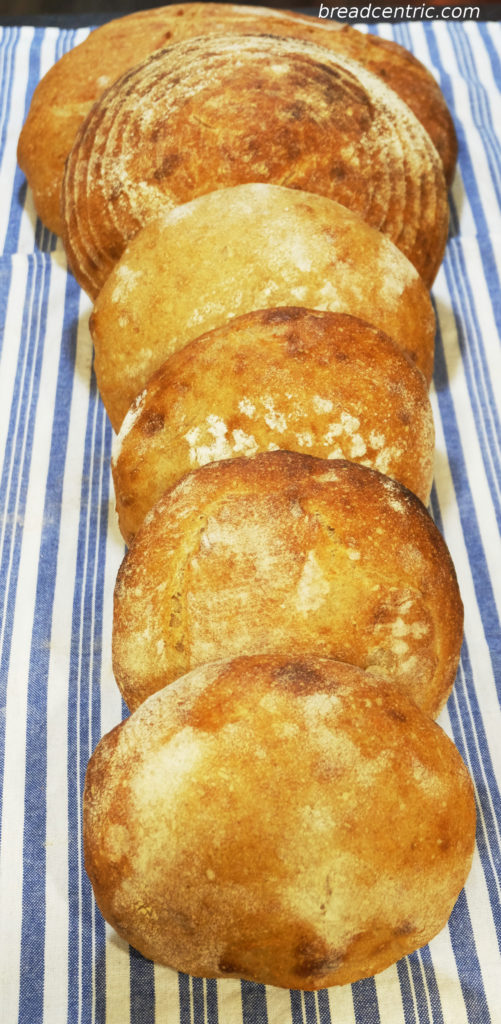 Planning
The bread takes under 20 hours from nothing to ready loaves: 12 hours for the levain, up to one hour autolyze, 2.5 hours proofing, 2.5 hours proofing again, 40-50 minutes baking.
I recommend having some rice flour at home for dusting, as nothing sticks to it. If you use a kitchen towel in the bowl for proofing, it will also be easier to get rid of the excess rice flour and during washing the remains will not form dough strings in water.
Ingredients
Makes 1.5 kg dough, which I usually place in two smaller bannetons or a single bigger one.
Levain
130 g strong white wheat flour
10 g light rye flour
90 g water
30 g stiff sourdough (Mr Hamelman defines it as sourdough with 60% hydration; I usually don't bother, my sourdough is 100% hydration; 30% of his stuff is about 20 g flour and 10 g water, mine's 15 g flour and 15 g water; while it can mean some properties in sourdough aren't boosted as much as he would prefer, It feels that conversion – which means adding more time before making the levain – just to get 30 g of well proportioned starer is simply not worth the effort)
Final dough
730 g strong white wheat flour
40 g light rye flour
500 g water
20 g salt
230 g levain (I use whole 260 g as I don't need a bit to start another levain)
Recipe
Mix the levain and leave covered in room temperature for 12 hours. . If you need more time, add a bit of salt from the final dough to the starter (not more than 4-5 g)
Mix everything apart from the levain and salt in a bowl until it incorporates all the ingredients. Make sure there isn't any flour left at the bottom, it may leave you with white flour spots in the dough. Leave for 20-60 minutes for the autolyze
Sprinkle salt on the surface, then place chunks of levain on it. Finish mixing for about 1.5-2 minutes. The temperature of the dough should be around 24-25 C. Leave for bulk rise for 2.5 hours
If possible, fold after 50 and 100 minutes
Divide the dough in portions, shape it and place in prepared (dusted) bowls. As mentioned I tried proofing in bowls lined with kitchen towels and dusted with rice flour. the result was satisfying. I used about 200 g of dough for a bowl. Leave it to proof for 2-2.5 hours (until they more or less double in volume). The temperature expected is 24-25 C
Bake for 40-45 minutes in 240 C, no fan, with steam. Know your oven. If you are using a stone or a baking dish like iron cast or clay one, make sure you warm them up before placing the dough on the oven
The taste is absolutely lovely, very soft and enjoyable. The crumb is rather light as well.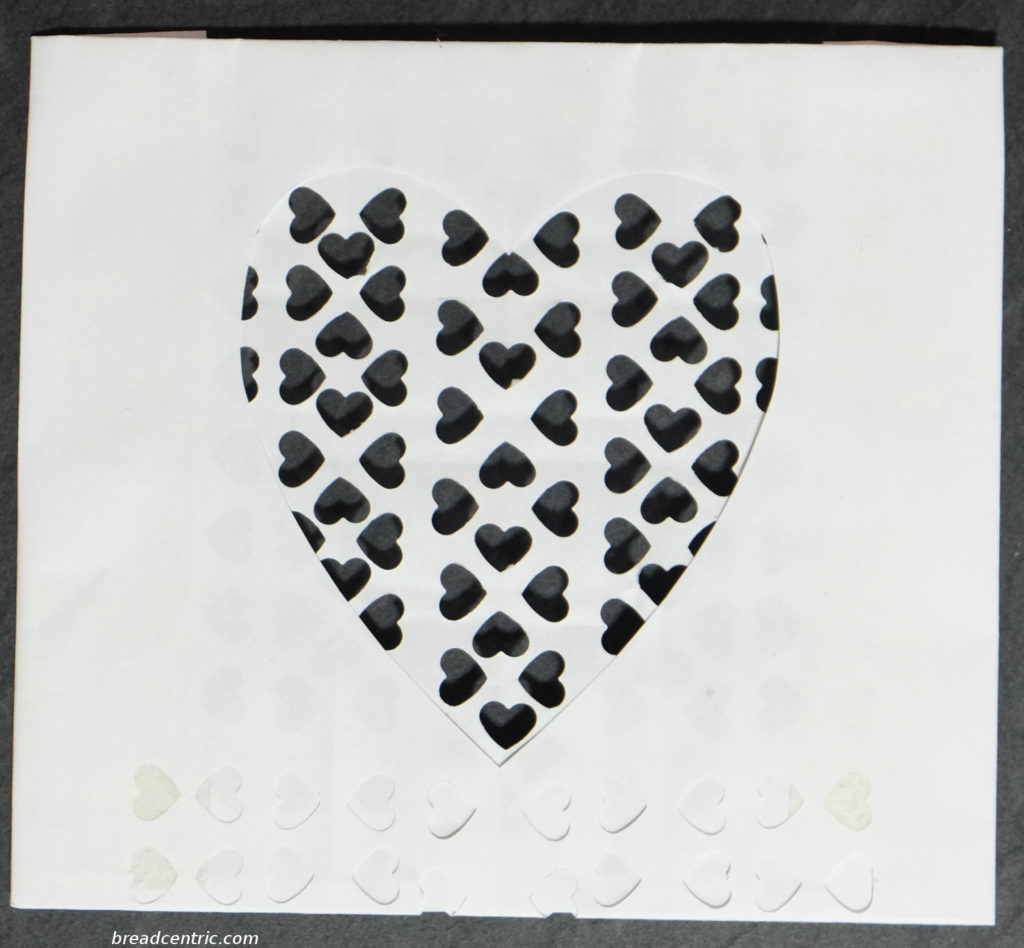 It was fun making this bread, but (as pretty much expected) the patterns weren't visible enough. I also ruined some accidentally. I have some learning to do before I reach the level of Sourough Mania on Instagram:
Pewnie pamiętacie z wpisu o chałce, że w szkole córki mieliśmy walentynkowy kiermasz ciast. Rok temu zrobiliśmy na tę okazję chleb w kształcie serca, zaś w tym postanowiliśmy wypróbować nowy przepis i pobawić się trochę szablonami.
Nie jestem zbyt pewny siebie jeśli chodzi o dekorowanie chleba, więc miałem nadzieję, że to będzie okazja do podszkolenia się. Na spróbę zrobiłem szablon w kształcie serca.
Postanowiłem też zrobić mniejsze bochenki. Rok temu zrobiliśmy jeden. Prawda jest taka, że na kiermaszu chodzi o sprzedanie jak największej ilości rzeczy, bo zebrane pieniądze idą na atrakcje w szkole dla naszych dzieci. Czasem pójdą do teatru, innym razem będzie dyskoteka. Cel jest dobry, a na mniejszych rzeczach można więcej zebrać 🙂 Dlatego też użyłem misek zupowych i zrobiłem cztery malutkie chlebki, do tego jeden większy (i jeszcze większy do domu).
Ciasto w przepisie ma 65% hydracji. To znaczy, że jest raczej sztywne. Większość chlebów, które robię, ma wyższą hydrację (do 100%), ale też większość z nich ląduje w foremce. Zazwyczaj mam kłopoty z chlebami o wysokiej hydracji – kleją się do koszy, rozpłaszczają – więc postawiłem na sztywniejsze ciasto.
Przepis pochodzi z "Chleba" J. Hamelmana (żródła).
Zaobserwowałem jedną interesującą rzecz: J. Hamelman nie uwzględnia zakwasu przy obliczaniu hydracji. Widocznie tak to się robi. Czasem gdy piekę Prosty chleb żytni, muszę dać połowę ilości zakwasu, bo inaczej ciasto może za szybko wyrosnąć. – to oznacza, że usuwam 100 g zakwasu z ciasta. Wtedy uzupełniam je 50 g mąki i 50 g wody. W tym wypadku to nie ma zbyt wielkiego znaczenia, bo i ciasto i zakwas ma hydrację 100%, ale podejrzewam że przy różnicach w nawodnieniu spodziewałbym się, że takie rzeczy byłyby ujęte w obliczeniach.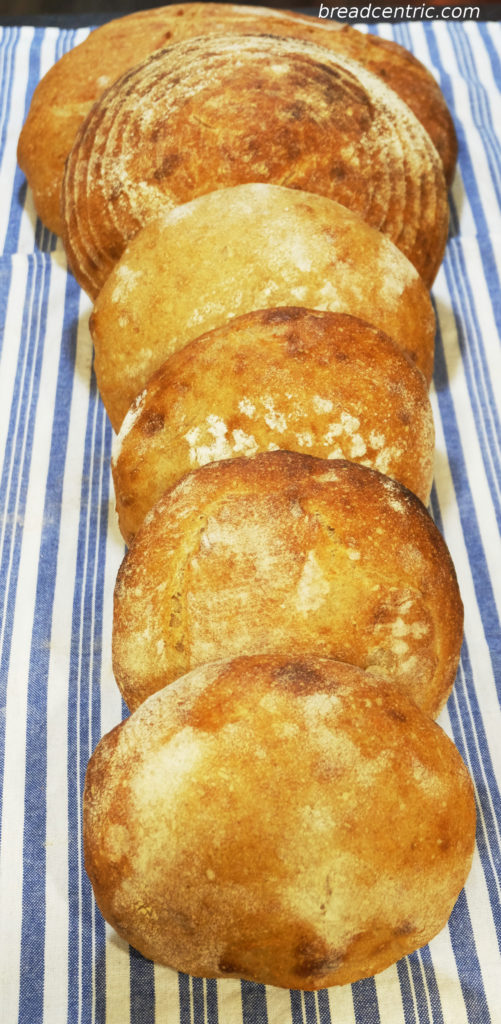 Planowanie
Od niczego do bochenków mija około 20 godzin: 12 godzin zaczyn, do 1 godziny autolizy, 2,5 godziny wyrastania pierwszego, 2,5 godziny wyrastania końcowego, 40-50 minut pieczenia.
Polecam mieć w kuchni trochę mąki ryżowej, nic się do niej nie klei. Jeśli używasz ścierki kuchennej i miski do wyrastania, mąkę ryżową będzie łatwiej wytrzepać z materiału, a podczas prania reszta mąki nie uformuje kluchów ciasta.
Składniki
Wystarczy na 1,5 kg ciasta, co zazwyczaj umieszczam w dwóch koszach lub jednym większym.
Zaczyn
130 g mąki pszennej chlebowej
10 g mąki żytniej jasnej (to jest chyba typ 720 w Polsce, czy tam gdzieś koło tego)
90 g wody
30 g sztywnego zakwasu (Pan Hamelman ma tu na myśli hydrację 60%. Ja zazwyczaj się nie przejmuję i biorę co mam – hydracja 100%. Różnice wagowe w końcowym wyniku są tak niewielkie, że nie chce mi się bawić w przeróbki i czekać aż się zakwas naje jeszcze przed mieszaniem zaczynu)
Końcowe ciasto
730 g mąki pszennej chlebowej
40 g mąki żytniej jasnej
500 g wody
20 g soli
230 g zaczynu (ja użyłem całego 260 g, bo nie potrzebuję tej resztki do prowadzenia kolejnego)
Przygotowanie
Zmieszaj zaczyn i zostaw przykryty w temperaturze pokojowej na 12 godzin. Jeśli potrzebujesz więcej czasu, dodaj troszkę soli z końcowego ciasta do zaczynu (nie więcej niż 4-5 g)
Wymieszaj mąki z wodą ze skłądników na ciasto, aż połączą się w całość. Ani trochę więcej. Upewnij się, że nie została Ci mąka pod ciastem w misce, bo zbryli się i zrobi grudki w cieście. Zostaw na 20-60 minut na autolizę
Wiesz autolizowanego ciasta posyp solą, po czym połóż na to wszystko pokawałkowany zaczyn. Mieszaj przez 1,5-2 minuty (mikserem). Temperatura ciasta powinna wynieść 24-25 stopni. Zostaw do wyrośnięcia na 2,5 godziny (podwojenie objętości)
Składaj ciasto po 50 i 100 minutach
Podziel ciasto na porcje, uformuj bochenki i umieść w przygotowanych, oprószonych mąką koszach/miskach/czymkolwiek. Jak wspominałem, użyłem misek na zupę ze ścierką kuchenną, posypaną mąką ryżową. Do każdej włożyłem około 200 g ciasta. Pozostaw do wyrośnięcia na 2-2,5 godziny (do mniej więcej podwojenia objętości). Temperatura otoczenia powinna wynosić około 24-25 stopni
Piecz przez 40-45 minut w 240 stopniach, bez termoobiegu, z parą. Znaj swój piekarnik. Jeśli używasz kamienia, płyty żeliwnej czy czegoś w tym stylu, upewnij się, że je nagrzejesz przed włożeniem ciasta do piekarnika
Smak tego chleba jest bardzo przyjemny, kanapki wchodzą niebezpiecznie szybko. Skórka jest bardzo fajna, chrupiąca, a miękisz dość delikatny.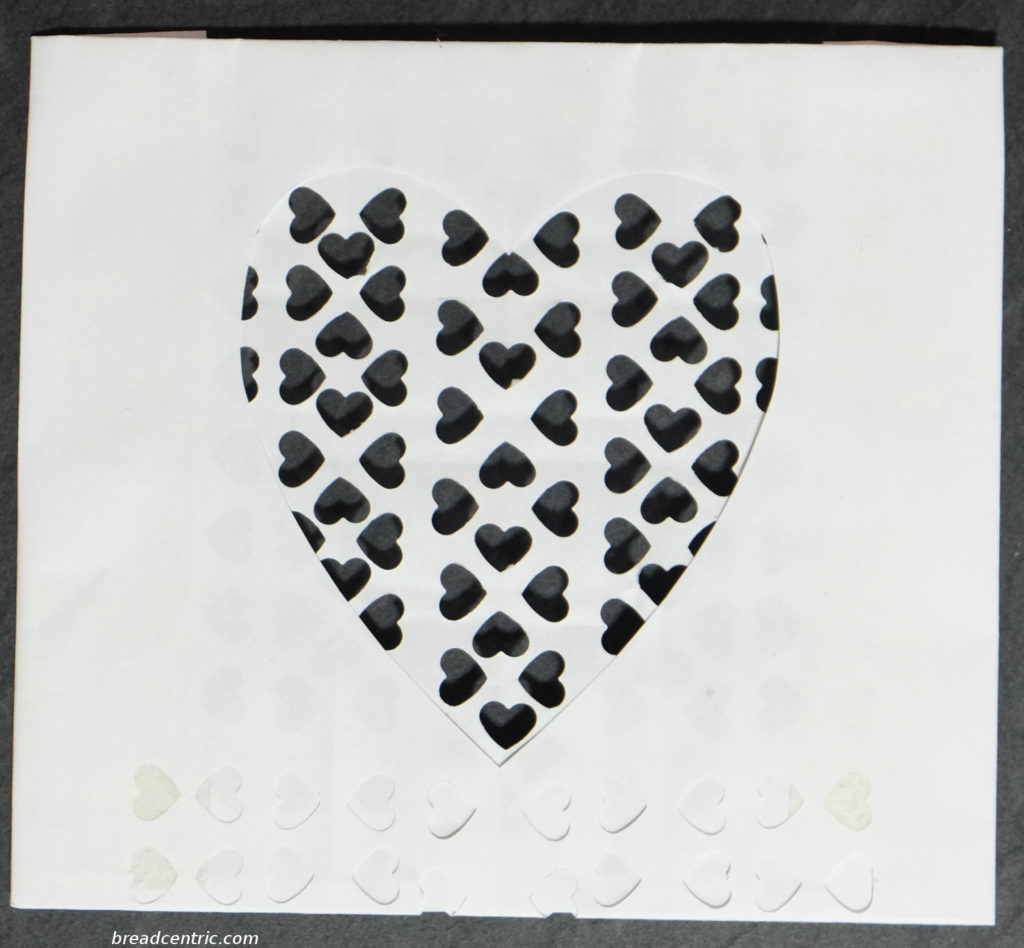 Samo robienie chleba było fajne, ale dekoracja nie wyszła zbyt widocznie. Część z niej też niechcący uszkodziłem. Jeszcze trochę się muszę pouczyć, zanim osiągnę poziom Sourough Mania z Instagramu: