"I want to make sourdough, Daddy!" – what could I say? We have. And then made pizza with it.
"Tato, chcę zrobić zakwas!" – co ja mogłem powiedzieć? Zrobiliśmy. A potem użyliśmy go do pizzy.
Since I have three types of sourdough already, we made the fourth one using strong flour. We followed the steps from Sourdough. Zakwas., but used a smaller jar, half of the quantities listed and discarded most sourdough before feeding. We started on Monday and in Thursday it looked strong enough to use, so I asked Helena what she wanted to make: "Bread, this is a bread sourdough" – "But it's universal Dear, you can also make other things like pizza". Her face lit up. "Bread and pizza, then". She called it Kwiatek (Polish for flower).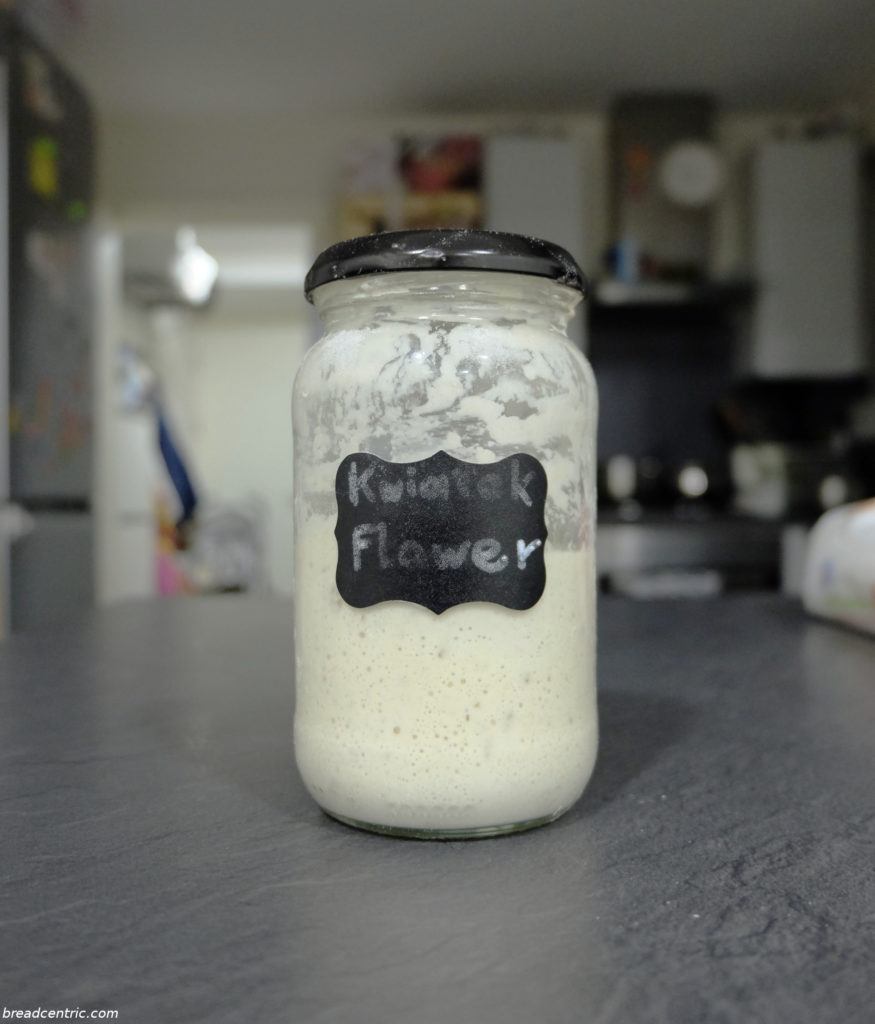 For pizza we used recipe from "Flour Water Yeast Salt" by Ken Forkish (Sources / Źródła). I used strong flour only (which I don't recommend) and skipped stretch and fold completely (I forgot).
Planning
You'll need around thirty hours from start to pizza. Some space in fridge will be needed after you make dough portions.
I used a cast iron baking stone for baking. It's not essential, but the result will be better with some stone. To make sure I don't make the base too big, I prepared baking paper sheets the size of the stone. It also made it easier to transfer pizza onto the stone. Just make sure the dough doesn't stick to the paper. I used a baking tray to transfer the dough on and from the stone.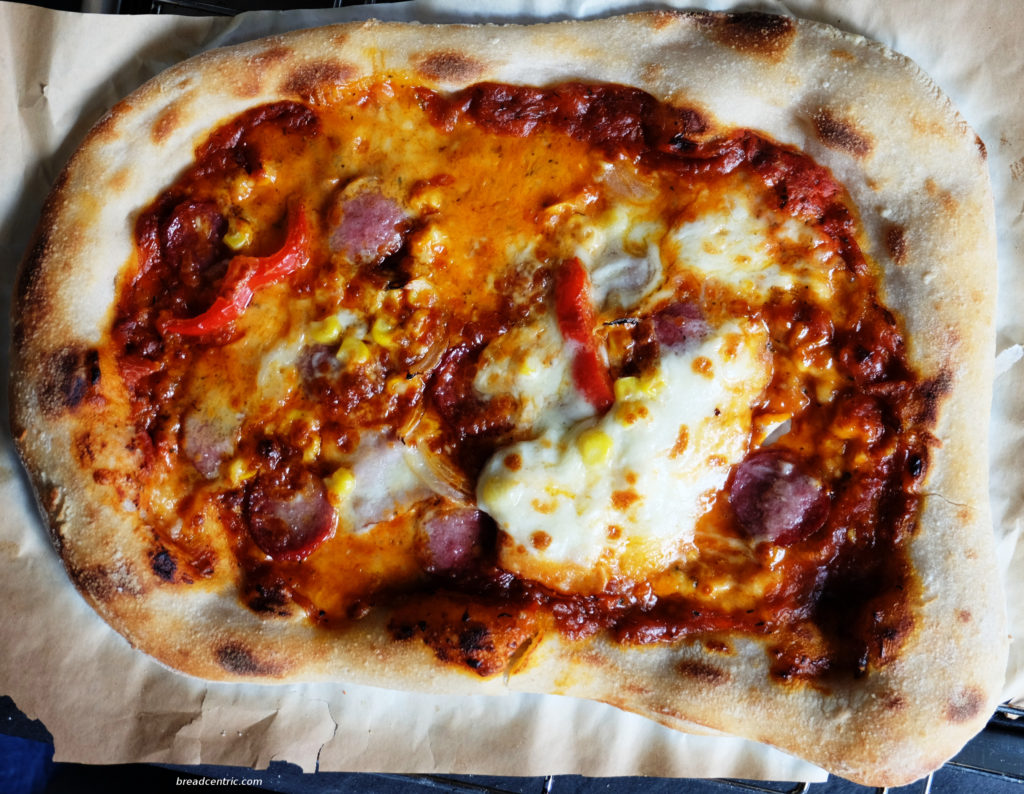 Ingredients
I divided the dough in six and four were more than enough (for two adults and two kids). We could have made three. The rest went into the freezer, and we used it a week later – took it out and and baked when it defrosted.
Levain
20 g sourdough
20 g wholemeal wheat flour
80 g white wheat flour (type 00 preferable, plain should be OK, strong flour will make you a flat bread)
80 g warm water (29-32 C)
Dough
900 g white wheat flour
620 g warm water (32-35 C)
20 g fine sea salt (Gosia thinks it's too much, I think it's OK)
200 g levain
Sauce
It's up to you really. We usually prepare sauce using a tomato passata and some spices like thyme, oregano etc. We simply mix them.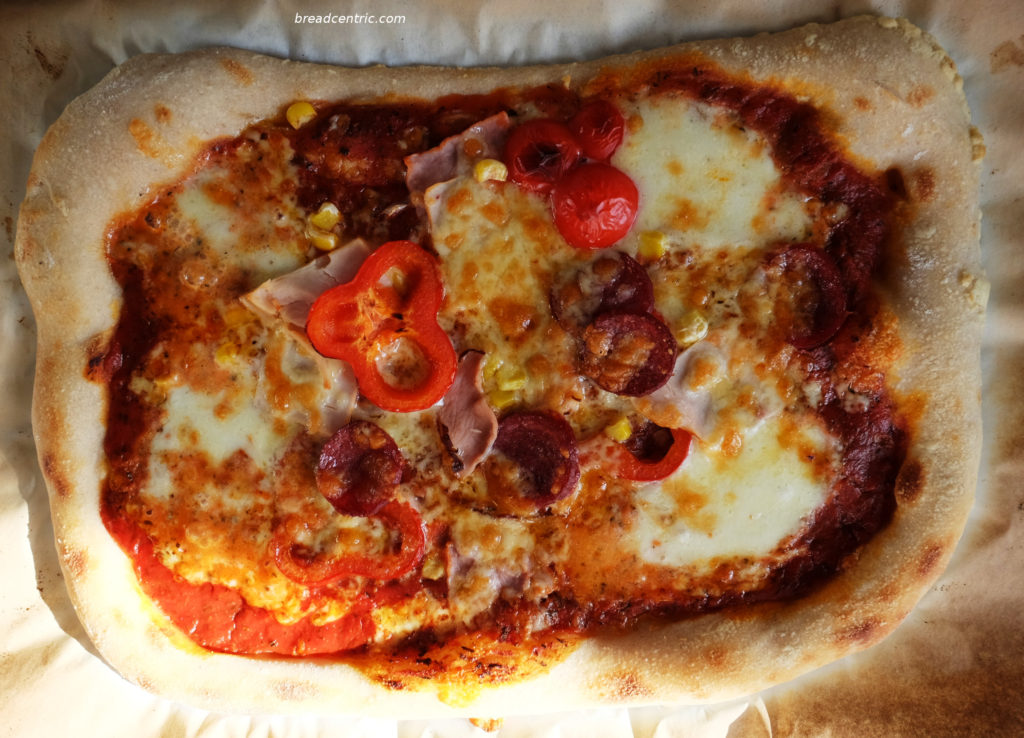 Preparation
Mix the levain and leave in room temperature for 8-10 hours
If you want to do the autolyse, mix flour and water from dough and leave for 20-30 minutes. I mentioned it in Tarzynkowy Bread. Chleb Tarzynkowy.
Mix all dough ingredients by hand or using a mixer (I did)
Leave in room temperature for 12-14 hours (it should double it's size, or even a bit more; I was surprised with so much time, but it did rise this long in my case)
If possible, stretch and fold the dough after 30 and 60 minutes from mixing. I did not, but I used strong flour and this may have more gluten so the structure and behaviour of the dough was as expected
Divide the dough, shape round portions (Mr Forkish recommends not degasing the dough, I didn't really bother), coat them with olive oil or dust with flour to prevent sticking into one portion again. Pop them into your fridge for 5-6 hours (or more, if needed; 5-6 hours is the minimum, and after that they can sit refrigerated for longer)
Heat your oven. If you have a stone, preheat it for about 30-40 minutes. The temperature should be as much as possible. Mr Forkish suggests that you should even use a roast option in the oven (if there is one like that) and to turn it on right before baking for a couple minutes so that the stone gets even hotter. My oven has a maximum setting of 250 C degrees which I set, without fan
I was taking portions out of the fridge one by one. I placed each portion on a floured surface, flattened and made a round shape with the edge thicker than the middle. Then I lifted it and quickly rotated holding by the edge, letting the gravity do its work. The middle was getting thin. To finish shaping, I place the dough on my fists and made sure it expanded even more. Then I placed it on the baking paper and put sauce and toppings on
As previously mentioned, I used strong flour. It gave a nice result, the base was tasty, but it felt like flat bread with toppings. It was quite firm. Next time I'll try Italian 00 flour, or at least plain.
This may be obvious to some, but use a good baking paper. Mine was very bad and it stuck to the pizza. There wasn't an amount of flour that could prevent it.
Mam już trzy rodzaje zakwasu, więc do tego wzięliśmy mąkę chlebową. Stosowaliśmy instrukcje z Sourdough. Zakwas., tylko użyliśmy mniejszy słoik, połowę opisanych porcji i wyrzucaliśmy większość mieszaniny przed karmieniem. Zaczęliśmy w poniedziałek, w czwartek zaś był wystarczająco aktywny, by go użyć, więc zapytałem Helenę, co chciałaby zrobić: "Chleb, to zakwas chlebowy" – "Ale on jest uniwersalny, Skarbie, możesz też z niego zrobić inne rzeczy, takie jak pizza". Jej twarz rozpromieniła się. "To chleb i pizzę". Nazwała go Kwiatek.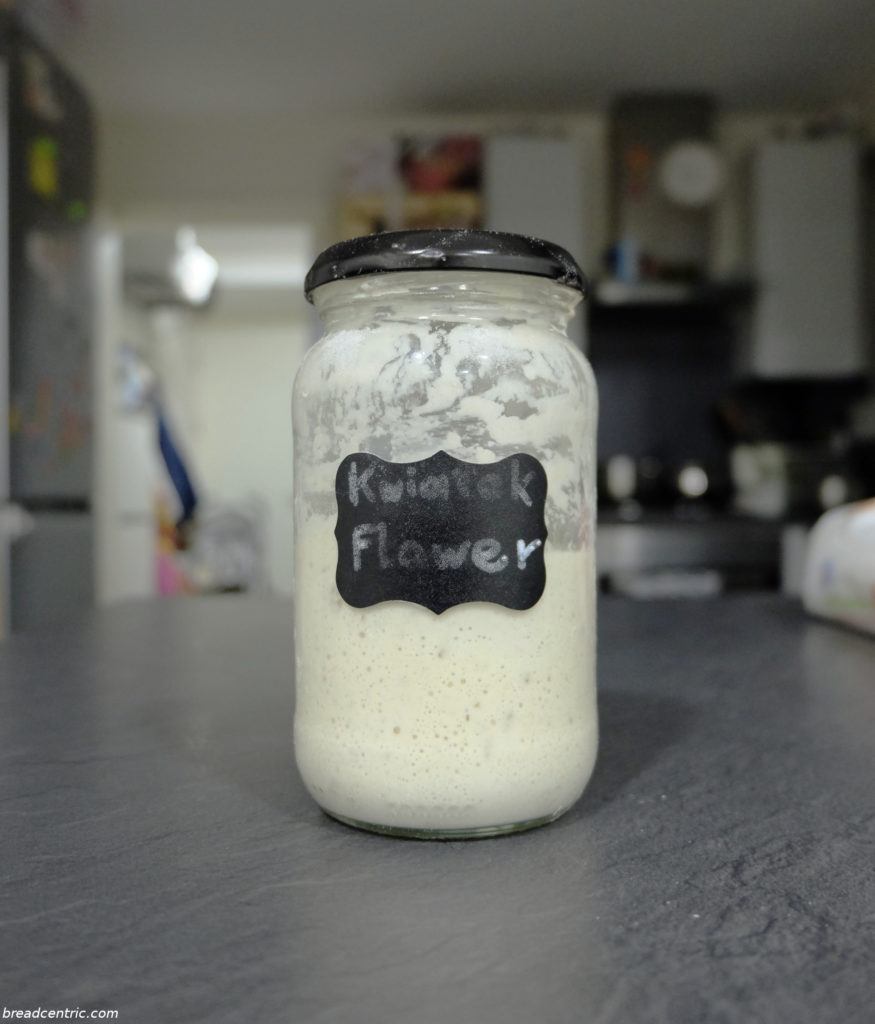 Użyłem przepisu na ciasto z "Mąka Woda Drożdże Sól" Kena Forkisha (Sources / Źródła). Użyłem tylko mąki chlebowej (odradzam) i pominąłem składanie ciasta (zapomniałem).
Planowanie
Potrzeba około trzydziestu godzin od rozpoczęcia do pizzy. Na ostatnie 6 godzin przyda się miejsce w lodówce (na trzymanie porcji ciasta).
Do pieczenia użyłem żeliwnej płyty. Nie jest konieczna, ale rezultaty będą lepsze z czymś takim lub kamieniem. Aby nie zrobić zbyt dużego spodu, Przygotowałem sobie papier do pieczenia z odpowiednim rozmiarem. To też pomogło łatwo przełożyć pizzę na powierzchnię w piekarniku. Tylko upewnij się, że ciasto się nie klei do papieru. Do samego przekładania użyłem tacki do pieczenia.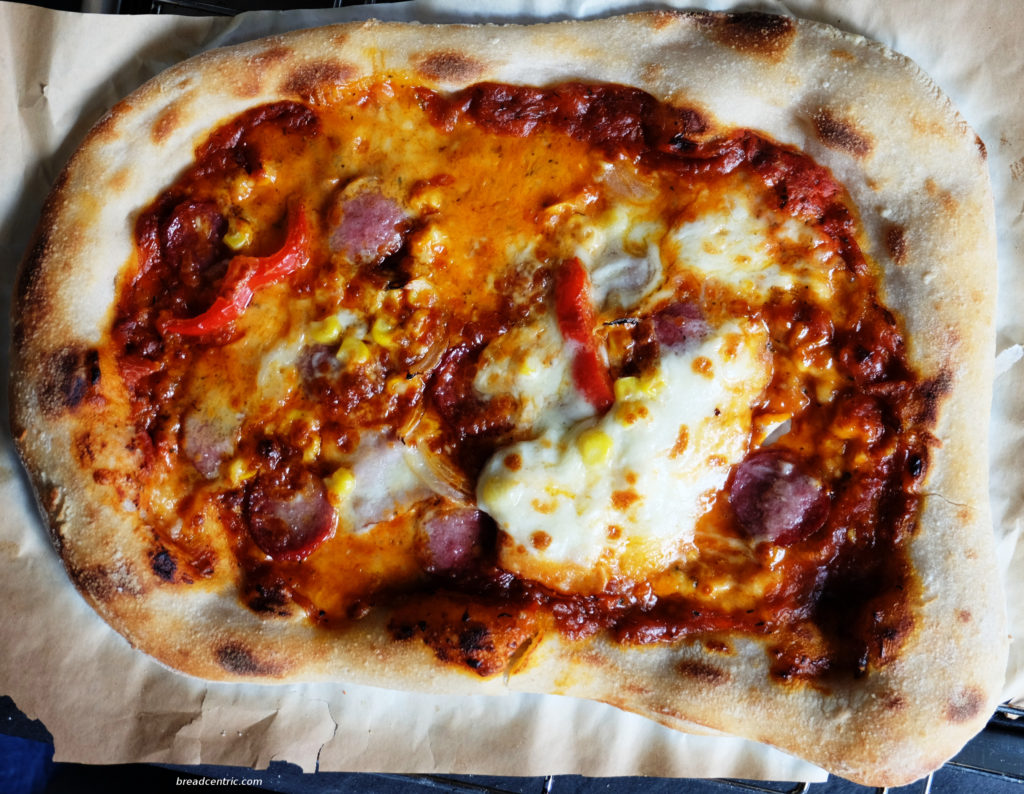 Składniki
Podzieliłem ciasto na sześć porcji, cztery z nich w zupełności nam wystarczyły (dwójka dorosłych i dwójka dzieci). Mogliśmy zrobić trzy pizze. Reszta ciasta wylądowała w zamrażarce, użyliśmy jej tydzień później. Piecz normalnie gdy się rozmrozi.
Zaczyn
20 g zakwasu
20 g pełnoziarnistej mąki pszennej
80 g białej mąki pszennej (preferowana typu 00, tortowa też powinna być OK, chlebowa da płaski chleb)
80 g ciepłej wody (29-32 C)
Ciasto
900 g białej mąki pszennej
620 g ciepłej wody (32-35 C)
20 g drobnej soli morskiej (Gosia myśli, że to za dużo, ja myślę że dobrze)
200 g zaczynu
Sos
To w zasadzie Twoja sprawa. My zazwyczaj mieszamy passatę z przyprawami typu tymianek, oregano etc. Mieszamy i tyle, sos gotowy.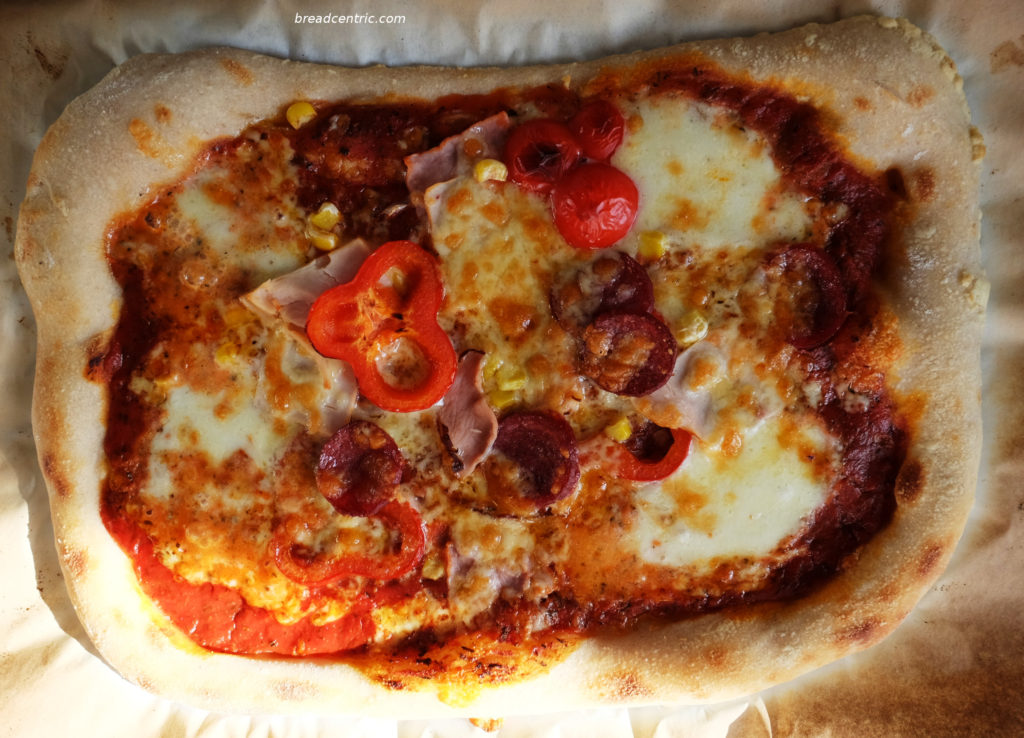 Przygotowanie
Zamieszaj zaczyn i zostaw w temperaturze pokojowej na 8-10 godzin
Jeśli chcesz zastosować autolizę, zmieszaj wodę z mąką i odstaw na 20-30 minut. Pisałem o niej w Tarzynkowy Bread. Chleb Tarzynkowy.
Dodaj pozostałe składniki i wymieszaj ręcznie lub mikserem (jak ja)
Pozostaw w temperaturze pokojowej na 12-14 godzin (powinno podwoić objętość, lub nawet więcej; byłem zaskoczony, że aż tyle czasu, ale rzeczywiście rosło powoli)
Jeśli to możliwe, złóż ciasto po 30 i 60 minutach od mieszania. Ja tego nie zrobiłem, ale używałem mąki chlebowej i ta może mieć w sobie więcej glutenu, więc struktura i zachowanie ciasta było jak opisano w książce
Podziel ciasto, zaokrąglij porcje (Pan Forkish sugeruje nie odgazowywać ciasta, ja na to nie zwracałem uwagi), pokryj je oliwą lub posyp mąką, aby się nie skleiły na nowo. Włóż je do lodówki na 5-6 godzin (lub więcej, jeśli trzeba; 5-6 to minimum, a potem mogą leżeć)
Nagrzej piekarnik. Jeśli masz kamień, nagrzewaj go przez 30-40 minut. Temperatura powinna być możliwie najwyższa. Pan Forkish sugeruje użyć grzałki grillowej przed pieczeniem (jeśli jest) aby dodatkowo dogrzać kamień, a potem wyłączyć tuż przed włożeniem pizzy. Mój piekarnik ma maksymalne ustawienie 250 stopni i z niego skorzystałem, bez wentylatora
Brałem porcje z lodówki pojedynczo. Kładłem porcję na posypanej mąką powierzchni rozpłaszczałem i robiłem wgłębienie w środku, zostawiając krawędź odpowiedniej długości. Następnie podnosiłem ciasto obiema dłońmi za krawędź i obracałem je, dając grawitacji nieco je rozciągnąć. Środek robił się ładnie cienki. Na końcu kształtowania kładłem ciasto na pięściach i pilnowałem, by się rozszerzyło jeszcze bardziej. Następnie kładłem na papierze do pieczenia i kładłem na nim sos i dodatki
Jak wspomniałem, użyłem mąki chlebowej. Rezultat był ładny, spód był smaczny, ale smakowało jak bym jadł chleb z dodatkami. Ciasto mogło by bardziej delikatne. Następnym razem użyję włoskiej mąki typu 00 lub chociaż tortowej.
To też może być oczywiste, ale użyj dobrego papieru do pieczenia. Mój był bardzo kiepski i przykleił się do pizzy. Żadna ilość mąki nie potrafiła temu zapobiec.