I present to you the greatest culinary achievement from Belgium: Luikse wafel. It's not waffles! They are very crunchy and not fluffy at all. We had them as a top up to our breakfast. Awesome!
Przedstawiam Wam największe osiągnięcie kulinarne z Belgii: Luikse wafel. To nie gofry! Są bardzo chrupiące i w ogóle nie pulchne. Zjedliśmy je jako pośniadaniowy bonus. Wyborne!
I got the recipe from Dyniel on Wykop.pl. Have a look at this guy's bread. He's a bad-ass baker.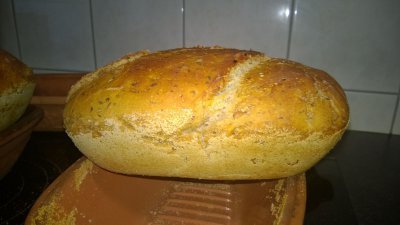 Planning
Make sure you have a spare hour before cooking, or just chill in the freezer, mixing once or twice. That's all.
You'll need a waffle maker.
Ingredients
This was enough to make 12 pieces.
250 g plain flour
200 g melted butter
150 g sugar (that's a lot, I'm fairly confident we could reduce it to 100 g or even less)
3 eggs
1/4 teaspoon baking powder
1/2 tablespoon vanilla pudding (instant powder)
a pinch of salt
Preparation
Melt the butter, but don't burn it. Some use microwave to do it, I did it on a cooker
Mix flour, sugar, baking powder, pudding and salt in a bowl
Open a pod and add the seeds into the bowl
Add eggs and mix the batter
Gradually add butter and mix to get a runny batter
Put it in a fridge for at least one hour to get stiff, kind of like ice-cream. I'm a lazy bastard, so I placed it in a freezer for 20 minutes, mixing it twice in the meantime
Heat up your waffle maker
Place a dollop of batter on the iron and close it to bake. Don't make them rectangular like waffles, it's supposed to be irregular
The recipe suggests there should be no additions, but I'm an ignorant, so I had them with a plum marmalade and also with maple syrup.
WARNING: they are very sweet. I will be trying to make an altered version based on the Dyniel's experiments, replacing sugar with xylitol and white flour with a dark one. Stay tuned!
Wersja polska
Przepis mam od Dyniela z Wykop.pl. Spójrzcie na jego chleb. Ten gość to kozak piekarski.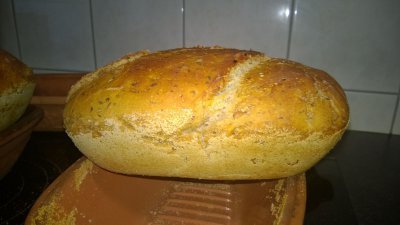 Planowanie
Upewnij się, że masz godzinę przed pieczeniem, lub schłódź w zamrażarce, mieszając raz czy dwa. To wszystko.
Będziesz potrzebować gofrownicy.
Składniki
Tyle nam wystarczyło na 12 sztuk.
250 g mąki tortowej
200 g stopionego masła
150 g cukru (to wiele, jestem przekonany, że można to ograniczyć do 100 g, a nawet mniej)
3 jajka
1/4 łyżeczki proszku do pieczenia
1/2 łyżki budyniu waniliowego
szczypta soli
Przygotowanie
Stop masło, tylko go nie spal. Możesz użyć do tego mikrofalówki, ja skorzystałem z kuchenki
Zmieszaj mąkę, cukier, proszek do pieczenia, budyń i sól w misce
Otwórz laskę wanilii i dodaj do miski same ziarenka
Dodaj jajka i wymieszaj ciasto
Stopniowo dodawaj masło i mieszaj, aby uzyskać ciasto o lejącej się konsystencji
Umieść je w lodówce na minimum godzinę, aż zesztywnieje, mniej więcej do konsystencji lodów. Ja jestem leniwym draniem, więc zostawiłem je w zamrażarce na 20 minut, mieszając w międzyczasie ze dwa razy
Nagrzej gofrownicę
Nałóż na żelazo po kulce ciasta i zamknij do upieczenia. Nie nakładaj do uzyskania prostokąta, one mają być nieregularne
W przepisie jest zasugerowane, że powinny być podawane bez niczego, ale ja jestem ignorantem, więc jadłem je z powidłami śliwkowymi i syropem klonowym.
OSTRZEŻENIE: One są bardzo słodkie. Będę próbował opracować inny przepis w oparciu o eksperymenty Dyniela, zastępując cukier ksylitolem i mąkę tortową jakąś razową. Nie przestrajajcie odbiorników!