We've had a basic soda bread, time to raise the bar a bit. Here is a party version.
Mieliśmy standardowy chleb na sodzie, czas podnieść poprzeczkę. Oto imprezowa wersja.
If you want to make a St. Patrick's Day party, you can bake this loaf. Strong flavours of Cheddar and onion will make a perfect savory snack for your friends. As a small extra, I used red onion which turns green in contact with soda, so this will match the theme.
This bread is based on the basic recipe which I presented on Monday, but is inspired by another recipe , from Paul Hollywod's "100 Great Breads" book (sources). In his book he used baking powder in the recipes, not sure why, but I decided to stick with the one I already tried.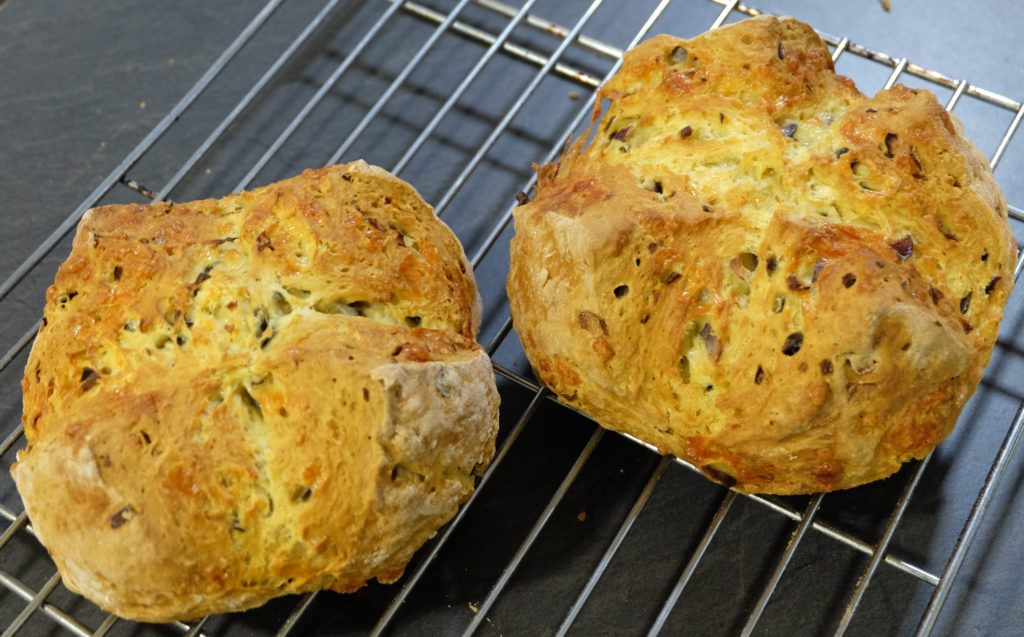 Planning
You need about 10-15 minutes to heat up the oven and prepare the dough while this is happening, then 30 minutes for baking.
You'll need some baking tray and a baking parchment.
Ingredients
I made two smaller loaves.
250 g strong white wheat flour
250 g strong wholemeal wheat flour
10 g bicarbonate of soda
10 g salt
400 g buttermilk
One small finely diced onion (I used red onion)
75 grated cheddar
Preparation
Set your oven to 180-200 C degrees. Know your oven
While it's warming up, mix all dry ingredients of the dough in a bowl
Next start adding the buttermilk and mix it in till the whole flour becomes incorporated. I started with 200 g and gradually added the rest. 400 g was enough for me, but you might need a bit more. Remember to act quick as the reaction between the soda and buttermilk has already started
Add cheese and onion and work them into the dough
Shape two balls out of dough, place on the baking parchment, flatten a bit, make a deep cross score on top and put in the oven. I added a bit of steam
Bake for about 30 minutes
The smell of this thing is incredible! The flavour is mindblowing and not very overwhelming, but still quite strong.
Enjoy your St. Patrick's Day!
Wersja polska
Jeśli chcesz przygotować imprezę z okazji dnia świętego Patryka (lub jakąkolwiek inną), możesz upiec ten bochenek. Intensywne smaki cheddara i cebuli dają świetną wytrawną przekąskę dla Twoich gości. Małym bonusem jest to, że czerwona cebula w kontakcie z sodą zmienia się na zielono, co będzie pasować przynajmniej do irlandzkich zabaw.
Chleb jest stworzony na przepisie podstawowym, który zaprezentowałem w poniedziałek, ale inspirowałem się innym przypisem, z książki Paula Hollywoda "100 Great Breads" (źródła). W książce korzystał on z proszku do pieczenia, nie wiem do końca czemu, ale postanowiłem wykorzystać ten, który już wypróbowałem, na sodzie.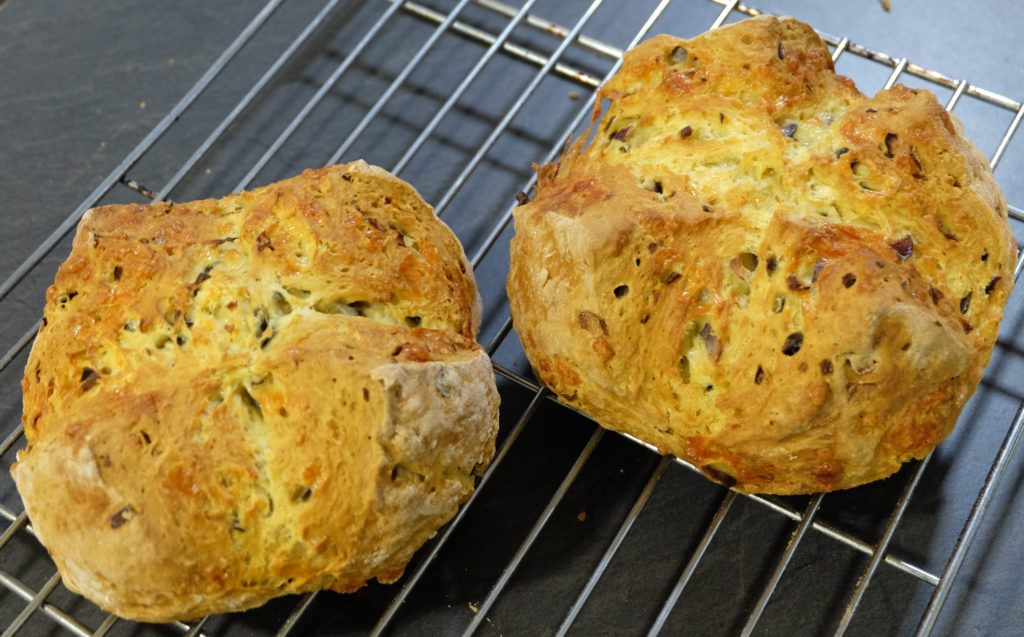 Planowanie
Potrzebujesz około 10-15 minut żeby nagrzać piekarnik i w tym czasie przygotować ciasto. Następnie 30 minut pieczenia.
Przyda się tacka i papier do pieczenia.
Składniki
Zrobiłem dwa mniejsze bochenki.
250 g mąki pszennej chlebowej
250 g mąki pszennej pełnoziarnistej
10 g sody oczyszczonej
10 g soli
400 g maślanki
Jedna mała, drobno posiekana cebula (ja użyłem czerwonej)
75 g startego sera, ja użyłem cheddar
Przygotowanie
Nastaw piekarnik na 180-200 stopni. Znaj swój piekarnik
Gdy nagrzewa się, wymieszaj wszystkie suche składniki ciasta w misce
Następnie zacznij dodawać maślankę i mieszaj ją z ciastem, aż cała mąka się wchłonie. Ja zacząłem od 200 g maślanki i stopniowo dodawałem resztę. Mi wystarczyło 400 g, Tobie mogłoby zabraknąć, więc miej malutki zapach. Pamiętaj działać szybko – w tym momencie odbywa się już reakcja między sodą a maślanką
Dodaj ser cebulę i wmieszaj je w ciasto
Uformuj dwie kule z ciasta, umieść na papierze do pieczenia, rozpłaszcz nieco, wykonaj głębokie nacięcie w kształcie krzyża i umieść w piekarniku. Ja go nieco zaparowałem jeszcze
Piecz przez około 30 minut
Zapach tego bochenka jest niesamowity! Smak zniewala i nie jest zbyt przytłaczający, mimo że intensywny.