This week all my warm thoughts and memories reach out to Ireland about to celebrate St. Patrick's Day on Saturday.
W tym tygodniu wysyłam ciepłe życzenia i sięgam do wspomnień o Irlandii, która w sobotę będzie wspominać dzień Św. Patryka.
It doesn't really matter to me whether St. Patrick's Day is to you a spiritual experience, a political one or just a chance to have a pint or twenty. Or neither. When I think of Ireland, one of my first thoughts is soda bread.
It's strange that I haven't done it before, it's so easy. I've done a yeasted bread with Guinness, but this one is completely different and way easier. I took the recipe from Paul Hollywood's website (sources).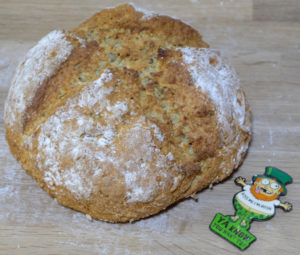 Planning
You need about 10-15 minutes to heat up the oven and prepare the dough while this is happening, then 30 minutes for baking. Seriously, it's so simple.
You'll need some baking tray and a baking parchment.
Ingredients
250 g strong white wheat flour
250 g strong wholemeal wheat flour
10 g bicarbonate of soda
10 g salt
400 g buttermilk
Preparation
Set your oven to 180-200 C degrees. Know your oven
While it's warming up, mix all dry ingredients of the dough in a bowl
Next start adding the buttermilk and mix it in till the whole flour becomes incorporated. I started with 200 g and gradually added the rest. 400 g was enough for me, but you might need a bit more. Remember to act quick as the reaction between the soda and buttermilk has already started
Shape  a ball of dough, place on the baking parchment, flatten a bit, make a deep cross score on top and put in the oven. I added a bit of steam
Bake for about 30 minutes
It's so ridiculously simple to make. It smells like a scone without sugar, the crumb is not very developed, the holes are very small. We ate half of it in 30 minutes from baking. Goes well with jam, ham or spam. We weren't expecting that, but at the same time we know we wouldn't be able to have it more than once in a row, although it is perfect for last minute baking needs.
Enjoy your St. Patrick's Day!
W zasadzie nie ma znaczenia, czy dzień Świętego Patryka jest dla Ciebie wydarzeniem duchowym, politycznym, czy może szansą na wypicie kufla czy tam dwudziestu. Czy może niczym z powyższych. Kiedy myślę o Irlandii, jednym z pierwszych skojarzeń jest chleb na sodzie.
To dość dziwne, że jeszcze nigdy go nie robiłem. Jest taki prosty! Robiłem już drożdżową wersję chleba z Guinnesem, ale ten jest całkiem inny i dużo łatwiejszy. Wziąłem przepis ze strony Paula Hollywooda (źródła).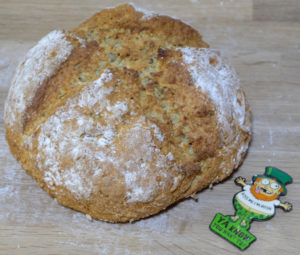 Planowanie
Potrzebujesz około 10-15 minut żeby nagrzać piekarnik i w tym czasie przygotować ciasto. Następnie 30 minut pieczenia. To naprawdę jest tak proste.
Przyda się tacka i papier do pieczenia.
Składniki
250 g mąki pszennej chlebowej
250 g mąki pszennej pełnoziarnistej
10 g sody oczyszczonej
10 g soli
400 g maślanki
Przygotowanie
Nastaw piekarnik na 180-200 stopni. Znaj swój piekarnik
Gdy nagrzewa się, wymieszaj wszystkie suche składniki ciasta w misce
Następnie zacznij dodawać maślankę i mieszaj ją z ciastem, aż cała mąka się wchłonie. Ja zacząłem od 200 g maślanki i stopniowo dodawałem resztę. Mi wystarczyło 400 g, Tobie mogłoby zabraknąć, więc miej malutki zapach. Pamiętaj działać szybko – w tym momencie odbywa się już reakcja między sodą a maślanką
Uformuj kulę ciasta, umieść na papierze do pieczenia, rozpłaszcz nieco, wykonaj głębokie nacięcie w kształcie krzyża i umieść w piekarniku. Ja go nieco zaparowałem jeszcze
Piecz przez około 30 minut
Tak absurdalnie łatwo go wykonać, pachnie jak scone bez cukru, miękisz nie jest zbyt rozwinięty, dziury są maciupeńkie. Połowę bochenka zjedliśmy w 30 minut po zrobieniu. Pasuje do dowolnego dodatku: dżem, szynka, konserwa. Jak wolisz. Nie spodziewaliśmy się, że będzie taki dobry, choć wydaje nam się, że nie moglibyśmy go jeść na okrągło.  Niemniej jednak raz na jakiś czas może nam uratować tyłek
Miłego dnia Świętego Patryka!