We've had baked potatoes last Friday and many weren't eaten. We didn't want them to go to waste.
W piątek zrobiliśmy pieczone ziemniaki, niestety wielu nie zjedliśmy. Nie chcieliśmy, żeby się zmarnowały.
I have heard about potatoes in bread before, usually when reading about the Prądnicki Bread, a traditional type of bread made in the Kraków region of Poland. The nice thing about this loaf is that it will take any baked potatoes. It was delicious with the ones we had, which already weren't too tasty after baking and then reheating.
Looking around for a recipe, I found a bread with potatoes in J. Hamelman's "Bread" (sources) and decided to give it a go. I have underestimated it however: I assumed 1.5 kg of dough is not enough, so I made two portions – I ended up with four large loaves. I haven't expected it to rise that quickly either and I have put too much dough into too small bannettons. Yeast is way more powerful than sourdough.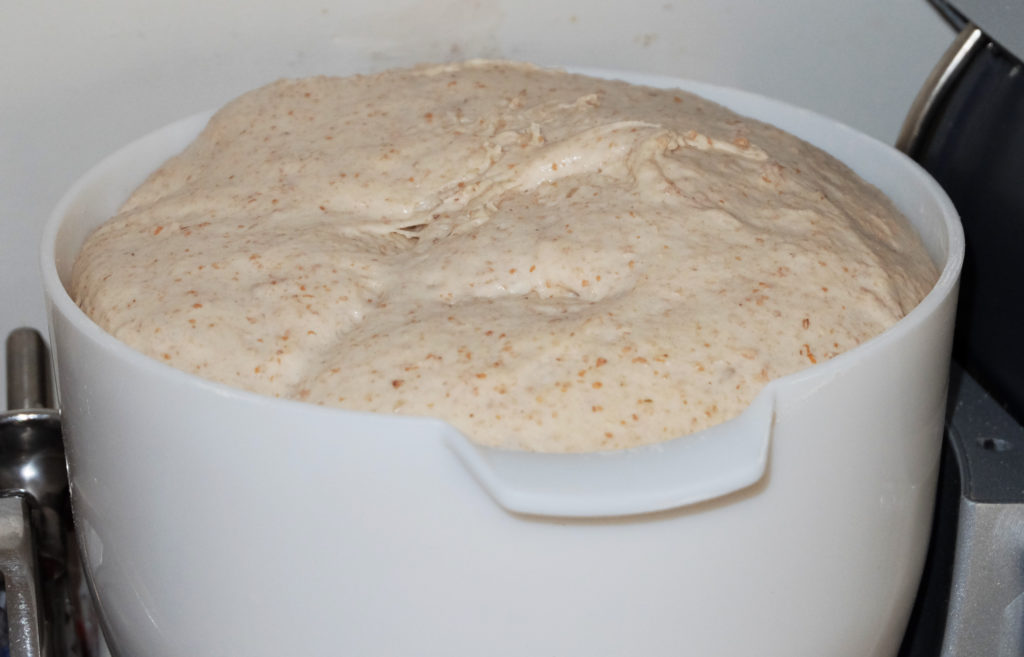 This recipe uses a levain called Pâte Fermentée, which could be simply called an old dough. It includes all the main ingredients of the dough (flour, yeast, water, salt), but is made earlier and left to mature. If you bake regularly, you can leave some dough aside for the next levain. I'm not sure what difference it makes compared to poolish or biga. I will have to educate myself on this.
Planning
The levain takes 12-16 hours to mature, then mixing the dough, bulk proof for 1.5 hours, shaping, 1-2 hours final rise and 40 minutes baking. Of course, you need baked potatoes.
You will need something to rise the bread in. It will rise significantly. If you made sourdough breads before, if you used X grams of dough for a final rise in your banneton/basket/bowl/colander, in this case use X/2, or at most 2*X/3 grams.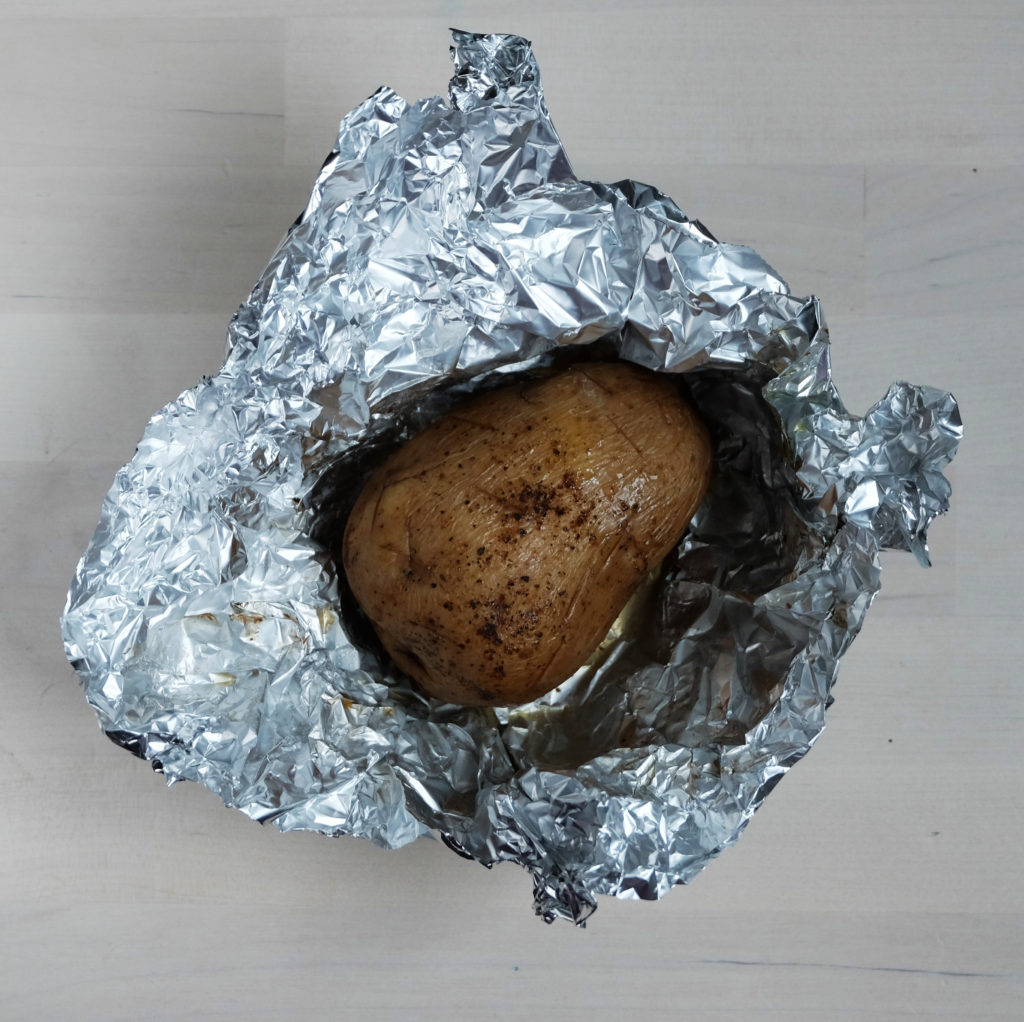 Ingredients
Makes two big or three smaller loaves. Remember, the dough rises by much. I recommend using two 1 kg bannetons for this amount of dough.
Levain
270 g strong white wheat flour
180 g water
10 g salt
Final dough
500 g strong white wheat flour
140 g wholemeal wheat flour
380 g water
10 g salt
10 g fresh yeast or 4 g instant yeast
230 g baked potatoes, with peels, diced
all the levain
Preparation
Mix the levain ingredients and leave them aside for 12-16 hours (it can be a bit of dough from previous making, left to mature)
Mix all ingredients except the levain on lower speed of your mixer and while the dough is combining gradually add the levain bit by bit. Finish by mixing for about 3 minutes on a higher speed.
Leave the dough to proof for 1.5 hours. After 30-40 minutes do a single stretch and fold
Divide the dough and shape the loaves. Place them in dusted baskets for the final rise
Leave the dough for 1-2 hours. I left mines for 2 hours, I think I should have left them for 1 hour
Heat up your oven to 230 C degrees, top+bottom. Know your oven. If you plan to bake on a stone or in some baking dish, heat it up with the oven
Score the loaves and put them in the oven for about 40 minutes. Keep observing it, if the crust starts catching colour quickly, reduce the temperature to 210 C degrees. It will be ready when it makes a hollow sound when tapped on the bottom
The bread got a nice crust in our glass baking dish, and it was very soft and moist inside. It lasted for five days before fully surrendering to a hungry bunch of omnivores. No traces of going bad. Got slightly dry on crumb surfaces, but still nice and soft inside.
I highly recommend it.
O ziemniakach w chlebie słyszałem już w kontekście Chleba Prądnickiego. Ten, który robiłem jest o tyle fajny, że można do niego dać jakiekolwiek pieczone ziemniaki. Te, których użyłem, nie były już smaczne po upieczeniu i odgrzaniu.
Szukając przepisu natrafiłem na jeden w "Chlebie" J. Hamelmana (źródła) i postanowiłem z niego skorzystać. Trochę jednak go nie doceniłem: przyjąłem 1,5 kg za małą ilość ciasta i zrobiłem podwójną ilość – otrzymałem cztery duże bochenki. Nie spodziewałem się że aż tak urośnie i włożyłem też za dużo ciasta do zbyt małych koszy. Drożdże jednak są dużo mocniejsze od zakwasu.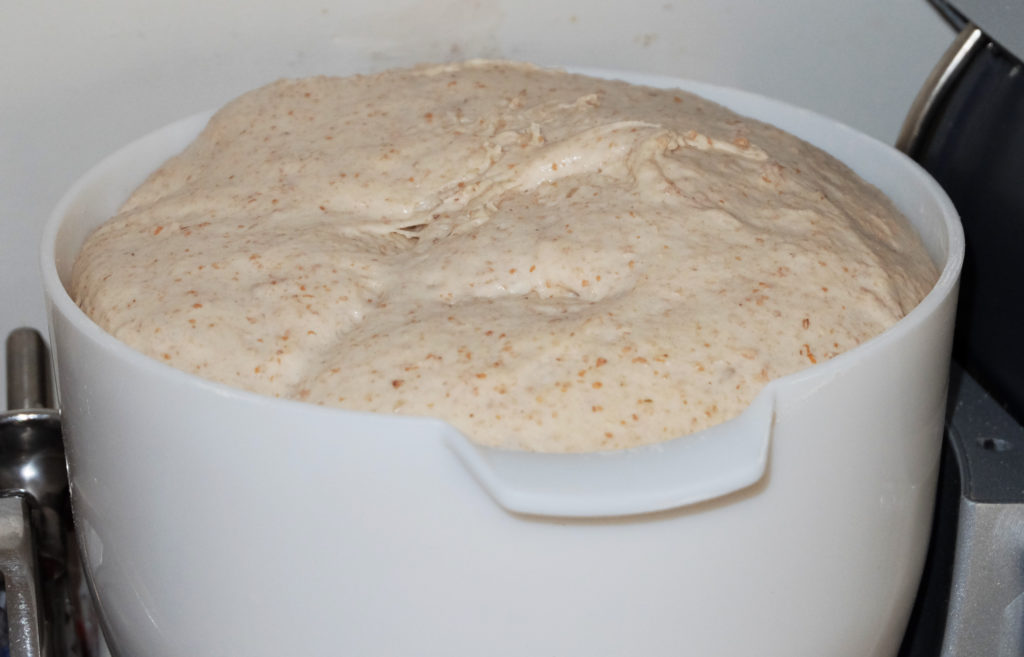 Jako zaczyn jest użyte Pâte Fermentée, czyli zwyczajnie stare ciasto. Zawiera wszystkie podstawowe składniki (mąkę, drożdże, wodę, sól), ale jest zrobione wcześniej i pozostawione do przerośnięcia. Jeśli pieczesz regularnie możesz sobie odłożyć trochę z poprzedniego przygotowania i wykorzystać to, żeby nie robić znowu zaczynu. Nie jestem pewien, jaka jest różnica między użyciem Pâte Fermentée, poolish czy bigi. Muszę się douczyć w tym temacie.
Planowanie
Zaczyn dojrzewa 12-16 godzin, potem mieszanie ciasta, pierwsze wyrastanie 1,5 godziny, 1-2 godziny końcowego wyrastania i 40 minut pieczenia. Oczywiście potrzebujesz pieczonych ziemniaków.
Będziesz potrzebować czegoś do wyrastania chleba. Urośnie bardzo. Jeśli masz już doświadczenie z chlebami na zakwasie, jeśli to w czym wyrastasz przyjmuje normalnie X gramów ciasta do wyrośnięcia, w tym wypadku daj X/2 lub 2*X/3.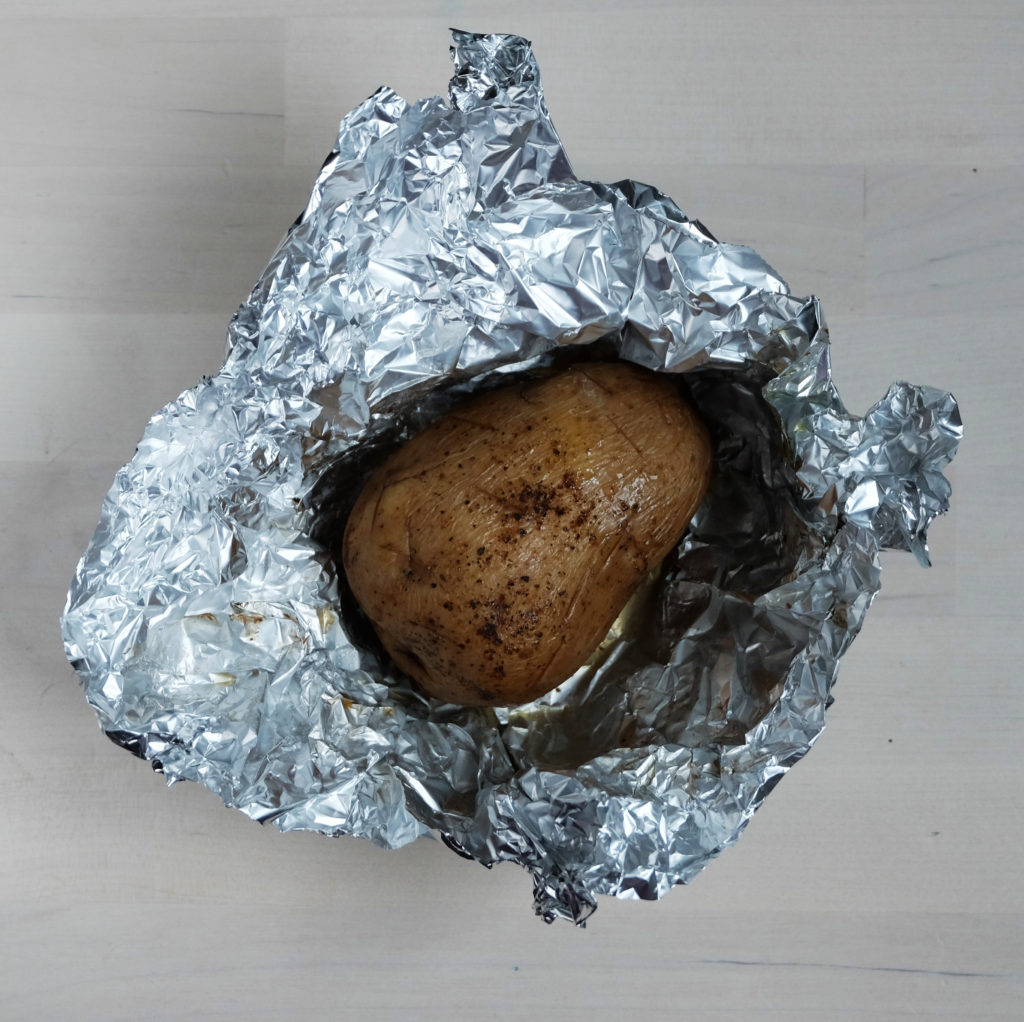 Składniki
Wystarcza na dwa duże lub trzy mniejsze bochenki. Pamiętaj, ciasto bardzo wyrasta. Polecam użyć dwóch koszy o nominalnej pojemności 1 kilogram ciasta.
Zaczyn
270 g mąki pszennej chlebowej
180 g wody
10 g soli
Ciasto końcowe
500 g mąki pszennej chlebowej
140 g pełnoziarnistej mąki chlebowej
380 g wody
10 g soli
10 g drożdży świeżych lub 4 g drożdży instant
230 g pieczonych ziemniaków ze skórką, pokrojonych w kostkę
zaczyn
Pzygotowanie
Zamieszaj składniki na zaczyn i pozostaw na boku na 12-16 godzin (może być trochę ciasta z poprzedniego pieczenia, pozostawionego do przerośnięcia)
Włóż do misy miksera wszystkie składniki poza zaczynem i uruchom na niższej prędkości z użyciem haka do ciasta. Podczas gdy ciasto się łączy w jedno, stopniowo dodawaj zaczyn, łyżka po łyżce. Następnie mieszaj przez około 3 minuty na wyższej prędkości
Pozostaw do wyrośnięcia na 1,5 godziny. Po 30-40 minutach jednorazowo wykonaj rozciąganie i składanie
Podziel ciasto i uformuj bochenki. Umieść je w oprószonych mąką koszach na końcowe wyrastanie
Pozostaw ciasto na 1-2 godziny. Ja zostawiłem na dwie, a chyba powinienem byłem raczej na jedną
Nagrzej piekarnik do 230 stopni, grzanie góra+dół. Znaj swój piekarnik. Jeśli planujesz piec na kamieniu lub w jakimś naczyniu, nagrzej je w piekarniku.
Natnij bochenki i umieść w piekarniku na około 40 minut. Obserwuj je, jeśli skórka zacznie się rumienić zbyt szybko, obniż temperaturę do 210 stopni. Chleb będzie gotowy, gdy puknięty w spód wyda głuchy odgłos
Chleb uzyskał ładną skórkę w naczyniu żaroodpornym, w środku zaś był bardzo delikatny i wilgotny. Wytrzymał pięć dni zanim resztki poległy w starciu z gromadką wszystkożerców. Nie miał nawet śladów zepsucia. Pod koniec nieco przysychał na brzegach, ale w środku wciąż był dobry.
Gorąco polecam.