I was looking for a simple bread and I found this one: flour, water, salt.
Szukałem prostego chleba i znalazłem ten: mąka, woda, sól.
I know, I have not mentioned a starter, but frankly, starter is water and flour, so it would be flour, water, salt, flour, water.
The recipe comes from "How To Make Bread" by Emmanuel Hadjiandreou (sources). He has more books and I need to get them. I love his approach to recipes: he's very detailed, shows a lot of pictures, and the recipes are for a single loaf. A perfect book for home baking.
It's quite handy as I've been feeding some starter and keeping it on the counter top,  so one step in preparation less. If you aren't doing so, just prepare some starter – take a teaspoon of your sourdough (about 5 g) and add 35 g strong flour and 35 g water.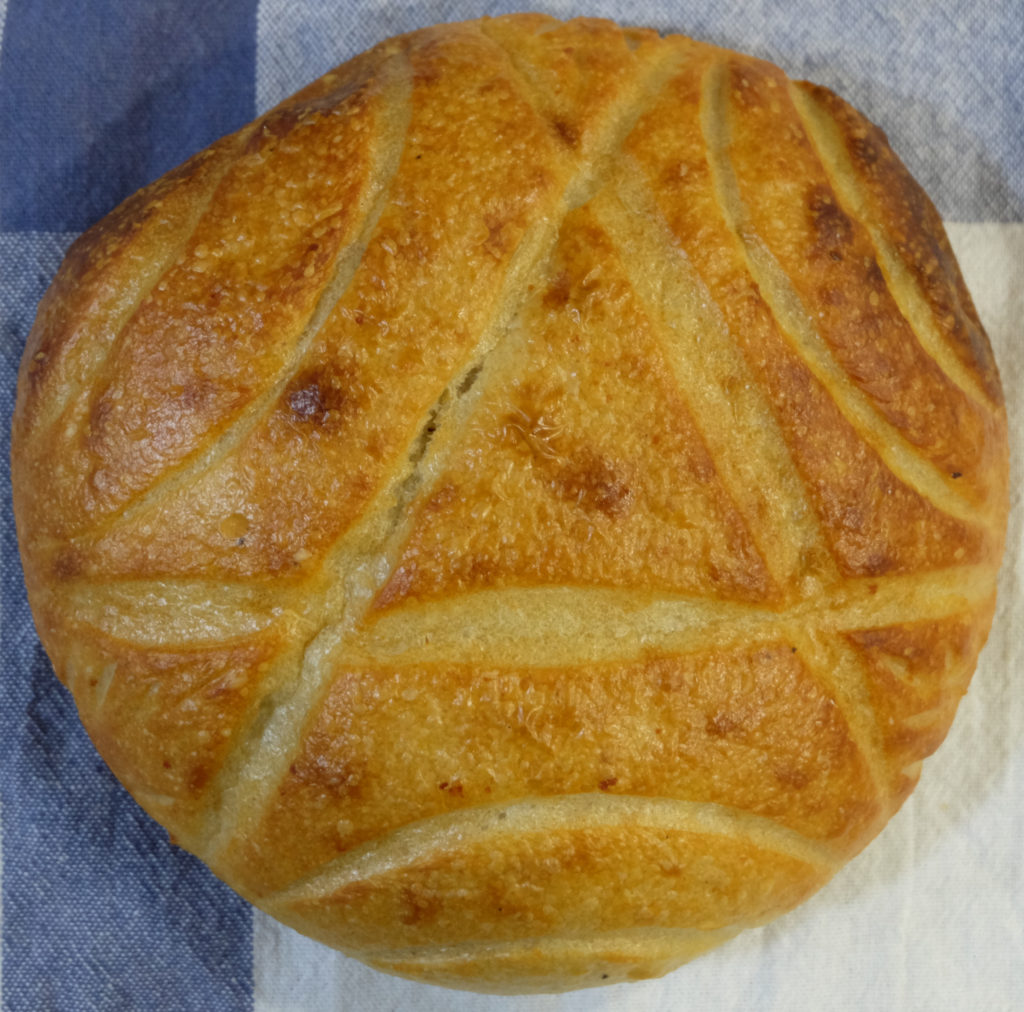 Planning
If you need to prepare a starter beforehand then about 12 hours extra (it can be longer), then mixing and first stretches: 40 minutes, bulk rise 1 hour, shaping, final rise: 3-6 hours (I left mine for four), baking for 40 minutes.
You'll need two bowls (a bigger one and a smaller one) if you follow the author's method or a mixer if you do it like me. You will need something to proof the shaped loaf in. It can be a bowl with a dusted kitchen towel or a banneton if you have one.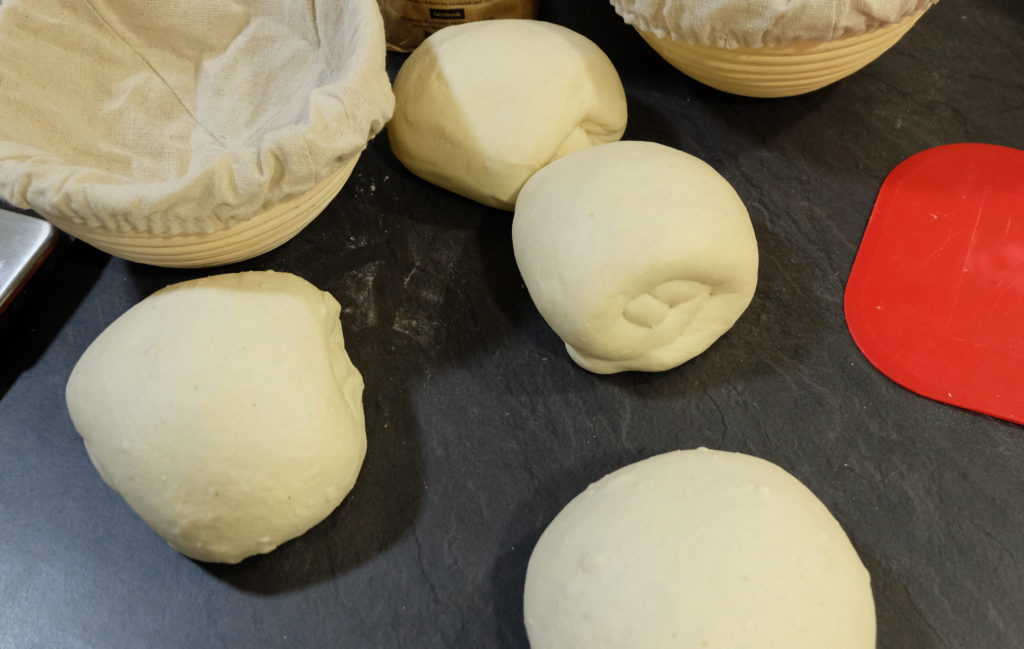 Ingredients
Makes a 400 g loaf.
Preparation
If you need to make a starter, take a teaspoon of your sourdough (about 5 g) and add 35 g strong flour and 35 g water. Leave for at least 12 hours
Put the starter and water in a bigger bowl and stir them together (if you are using a mixer with a dough hook, just put everything in its bowl)
Put the flour and salt in a smaller bowl and mix them up
Add the dry stuff to wet stuff and mix it into a dough, make sure it's well mixed (about 3-4 minutes with a mixer)
Cover the big bowl with a small bowl and leave for 10 minutes
Stretch and fold: make your hands wet, pinch the dough on one side, stretch it a bit and cover over the top, rotate the bowl by 90 degrees. Repeat this eight times
Repeat steps 5 and 6 four times (there should be four 10 minutes long waits followed by a stretch and fold)
Cover the bowl and leave it for 1 hour
Take the dough onto a lightly floured surface, degas it and shape a loaf. Put it in a proofing basket/bowl with a dusted teatowel
Leave it to rise for 3-6 hours. It should double in size and when pressing a finger against the dough, it should slowly come back out
Set you oven to 220 C, preferably upper and lower heating element. Rather don't use fan assisted baking. Know your oven
Take the bread out of the basked, score a nice pattern and bake with steam for 40 minutes
After 15 minutes release the steam
The bread should make a hollow sound when tapped on the bottom
The dough is very pleasant to work with and not too sticky. The bread is tasty and filling. One thing that I realised however is that it is very similar to Wheat sourdough bread. It feels that I am beginning to repeat myself and maybe I should start looking for some less simple breads to try.
Wiem, we wstępie pominąłem zaczyn, ale skoro to woda i mąka, wychodzi na jedno 🙂
Przepis pochodzi z "How To Make Bread" Emmanuela Hadjiandreou (sources). Autor napisał więcej książek, które chciałbym mieć. Bardzo lubię tego podejście do przepisów: bardzo szczegółowe, dużo obrazków, ilości składników na jeden bochenek. Idealna książka dla domowego piekarza.
Fajnie się złożyło, bo ostatnio prowadzę płynny zakwas na białej mące, karmię go regularnie i trzymam poza lodówką – to zmniejsza przygotowania o jeden krok. Jeśli nie posiadasz gotowego zaczynu, weź łyżeczkę zakwasu z lodówki (około 5 g) i dodaj 35 g mąki chlebowej oraz 35 g wody.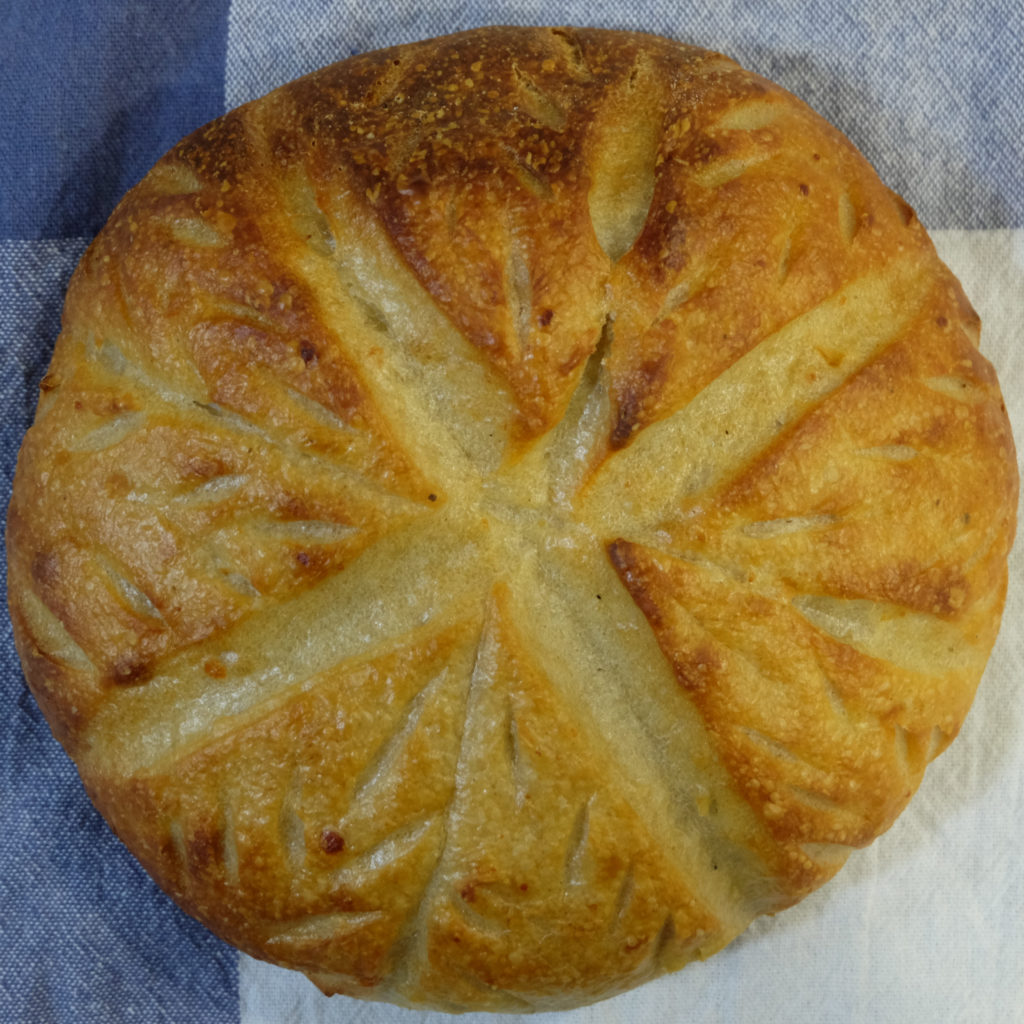 Planowanie
Jeśli musisz przygotować zaczyn to najpierw około 12 godzin (można dłużej), mieszanie i pierwsze składanie: 40 minut, wyrastanie godzinę, formowanie, końcowe wyrastania 3-6 godzin (u mnie cztery), pieczenie 40 minut.
Przydadzą się dwie miski (większa i mniejsza) jeśli robisz tak jak autor, lub robot kuchenny jeśli robisz tak jak ja. Potrzebne jest coś do wyrastania chleba, na przykład miska ze ściereczką oprószoną mąką lub koszyk do wyrastania chleba, jeśli taki masz.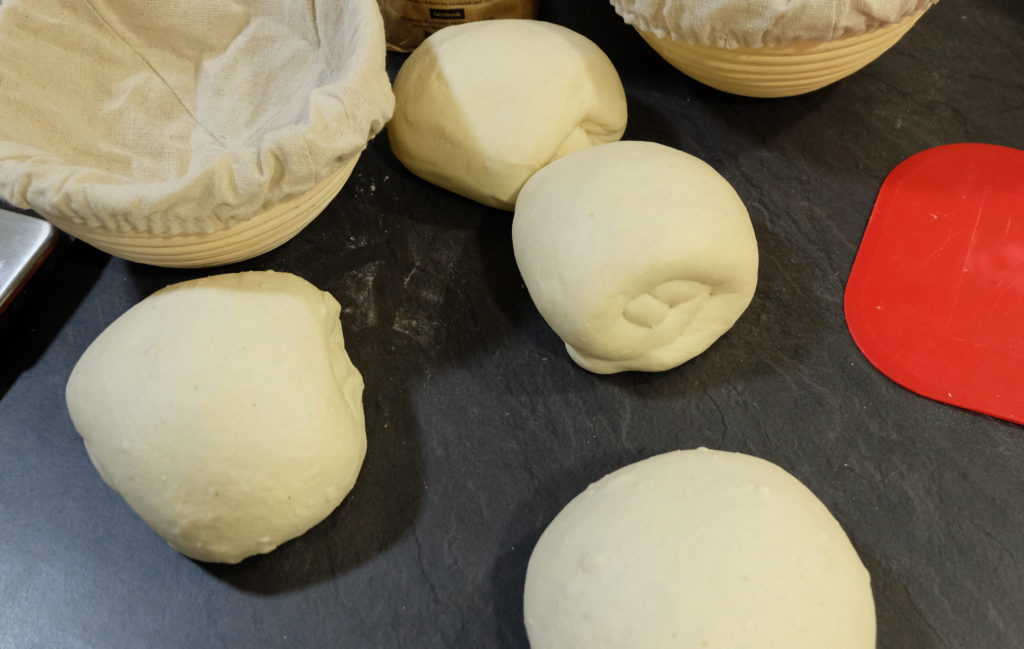 Składniki
Daje bochenek 400 g
 Przygotowanie
Jeśli musisz zrobić zaczyn, weź łyżeczkę zakwasu (około 5 g) i dodaj 35 g mąki chlebowej i 35 g wody. Pozostaw na minimum 12 godzin
Umieść zaczyn i wodę w większej miseczce i zamieszaj (jeśli używasz miksera z hakiem do ciasta, wkładaj wszystkie składniki do jego miski)
Wsyp mąkę i sól do małej miski i połącz ze sobą
Dodaj suche do mokrego i wyrób ciasto. Upewnij się, że dobrze się wymieszało (około 3-4 minuty w mikserze)
Przykryj dużą miskę tą małą i pozostaw na 10 minut
Złóż ciasto: nawilż dłonie, chwyć ciasto z brzegu, rozciągnij i nałóż na środek, obróć o 90 stopni. Zrób tak w sumie osiem razy
Powtórz kroki 5 i 6 cztery razy (cztery przerwy 10 minut, a po każdej składanie)
Przykryj miskę i pozostaw na 1 godzinę
Wyłóż ciasto na lekko oprószoną mąką powierzchnię, odgazuj i uformuj bochenek. Umieść go w koszyku do wyrastania, czy czego tam używasz do wyrastania
Pozostaw do wyrośnięcia na 3-6 godzin. Bochenek powinien podwoić objętość, a po naciśnięciu palcem, ciasto powinno powoli powrócić do pierwotnej formy
Nastaw piekarnik na 220 stopni, preferowana górna i dolna grzałka. Raczej nie korzystaj z termoobiegu. Znaj swój piekarnik
Wyjmij chleb z kosza, natnij jakiś wzorek i piecz z parą przez 40 minut
Po 15 minutach wypuść parę
Po 40 minutach chleb postukany w spód powinien wydać głuchy dźwięk
Z ciastem pracuje się bardzo przyjemnie, nie klei się zbytnio. Chleb jest smaczny i sycący. W pewnym momencie uświadomiłem sobie, że jest to przepis bardzo podobny do Chleba pszennego na podmłodzie. Mam wrażenie, że zaczynam się powtarzać. Muszę chyba poszukać czegoś ciekawszego.