​It doesn't happen very often that we prepare dumplings, mainly because kids aren't very keen to eat them. There are two occasions however that we never skip. One of them is today.
Nieczęsto robimy pierogi, głównie dlatego, że dzieci nie jedzą ich zbyt chętnie. Są jednak dwie okazje, kiedy musimy ulepić kilka. Jedną z nich mamy dziś.
Dumplings are a pretty global food. But while you can find them pretty much anywhere, they will be prepared in many ways.
Polish ones are usually involve some filling and dough made using wheat flour, water and salt, sometimes with the egg and butter.
The filling may be sweet like fruit or cheese or savoury, like potatoes, sauerkraut, cheese (again), meet, wild mushroom etc. There are places specialising in dumplings which can give you a headache when choosing your food.
The traditional time of year to have pierogi is Christmas. We usually make some with potatoes, some with sauerkraut and wild mushroom, and small ones called uszka (pron. ooshkah, small ears) which are smaller and shaped differently, and served with a clear beetroot soup called barszcz (pron. bahrshtch).
Apart from Christmas, my family also makes pierogi on the Epiphany day (called Three Kings day in Poland). It is holiday in Poland and catholic believers go to church, where they take some blessed chalk, which they use to mark their door as a sign of blessing. Sometimes they also get some incense and amber, which they burn in the house as well. I'm not sure what the reason is for making pierogi, though I recall something about money stick to your hand like the dough sticks 🙂
Apart from kids approach, another reason for not making them regularly is that it is time consuming. And Gosia hates sticking them together, that's why she usually prepares the filling and I make the dough and combine the two.
Two years ago I found a perfect recipe on a Polish website zajadam.pl. The dough is very pleasant in handling and sticks very well when closing the dumpling.
For completeness, I'm also providing a recipe for filling for ruskie pierogi (Russian dumpling), consisting of a Polish quark cheese, potatoes and onion
Planning
None. Just prepare the filling (this will involve cooking the potatoes, mashing them and letting them cool down a little), then make the dough and get to it.
You'll only need a round dough cutter (can be a glass), a rolling pin and some worktop.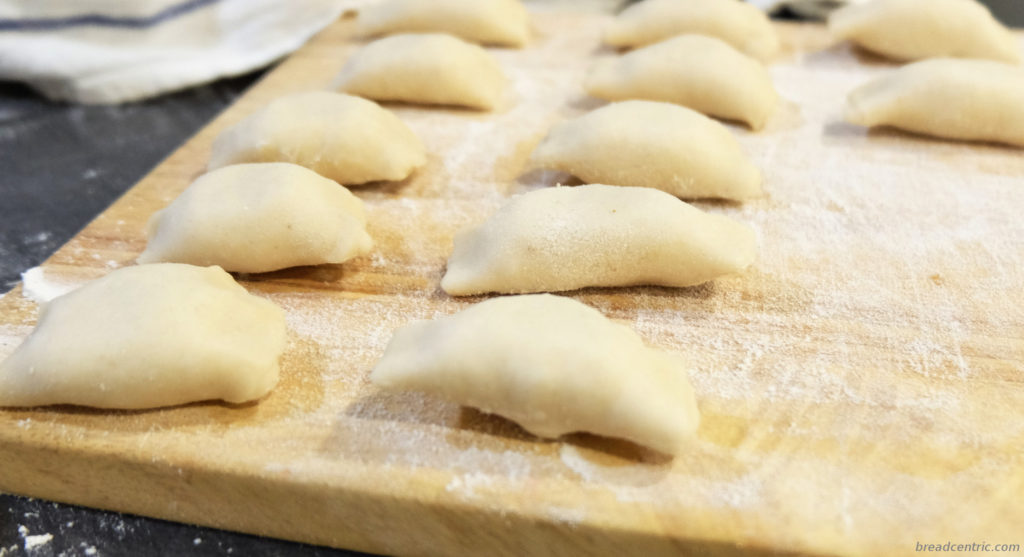 Ingredients
Dough
Should be enough for about 40 dumplings
350 g plain wheat flour, plus some for dusting
160-185 g warm water (Ula reminded me in the comment, that various flours can absorb different amounts of water. That is why I updated the lower limit)
1 egg
7-8 g butter
7-8 g salt
Filling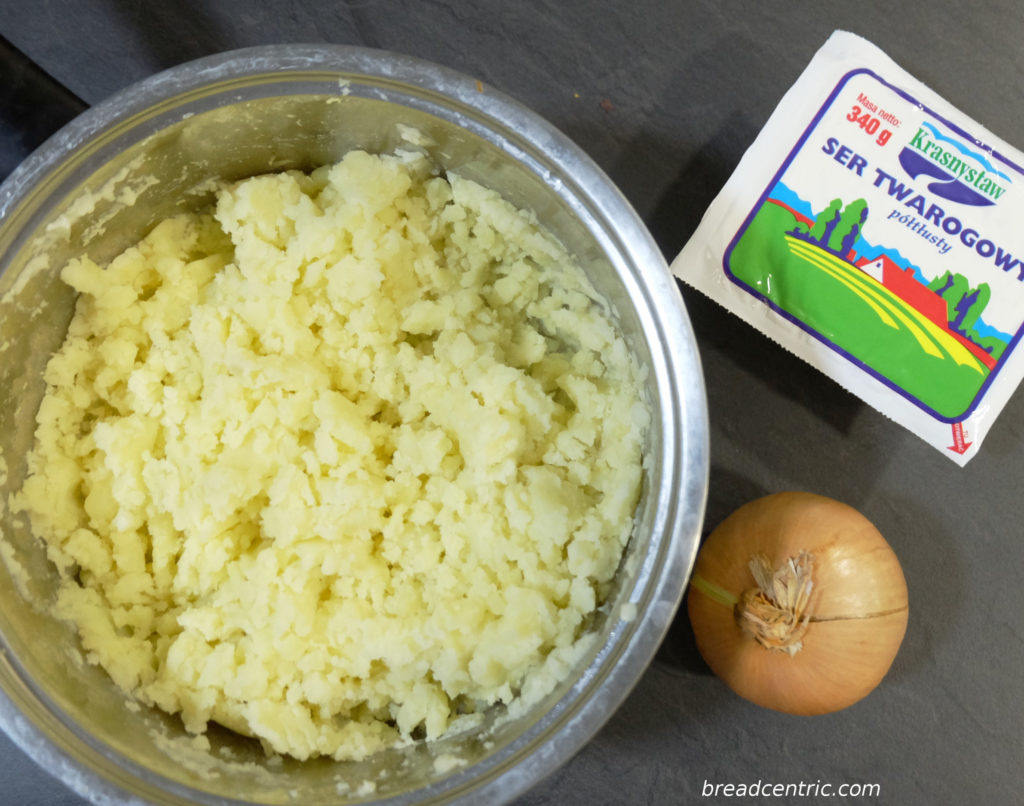 1 kg potatoes (it turns out we had around two, so the proportions are not that critical here; we still have half of the filling left for more)
1 packaging of Polish quark cheese (available at your closest Polish store) – usually it's somewhere between 250 and 400 g
1 big onion
1 tablespoon butter (clarified recommended, but not essential)
salt-n-pepa
[youtube https://www.youtube.com/watch?v=vCadcBR95oU][/youtube]
Preparation
Cook the potatoes in a salted water, then strain and mash them, let them cool down a bit
Dice the onion finely and fry it on the butter. It should become soft and shiny
Add onion and cheese to the potatoes and mix them well. Add salt and pepper to taste. How much cheese should there be? You will not get two identical opinions from two different cooks. If you get 400g, what you can do is use 300g and mix the remaining bit with vanilla extract and sugar. Boom! You've got a second filling. In the end, it should be tasty for you, you'll work it out the second time you make them
Mix all the dough ingredients – start with 160 g of water and gradually add more if you feel you need to. In most cases 170-175 will be enough. It needs to be stretchy and can be slightly sticky (you'll use flour for dusting anyway, so there will be no problem with this)
Put water in a pan on medium heat. Add a pinch of salt and maybe a bit of vegetable oil
Roll the dough to 2-3 milimeters thickness
Cut out circles

Cut out dough

Put some filling on each circle, then join the opposite edges. Improve the join by pinching the edges. Put the dumpling on a dusted tray/board
[youtube https://youtu.be/1perGVdkLCc][/youtube]
Put the dumplings into a boiling water and mix it
When they start to float, take them out and put into a cold water. Then strain them
You can eat straight away or cool them down and reheat at a later time. We like them fried. It adds colour and crunchiness.
For storing, put them in a bowl with a bit of vegetable oil, mix a little do that they get coated in the oil and don't stick to each other, and keep in the fridge. You can also freeze them. We usually reheat them on a frying pan.
Try getting your kids involved, maybe they will also like making them. It's like Play-Doh, only edible.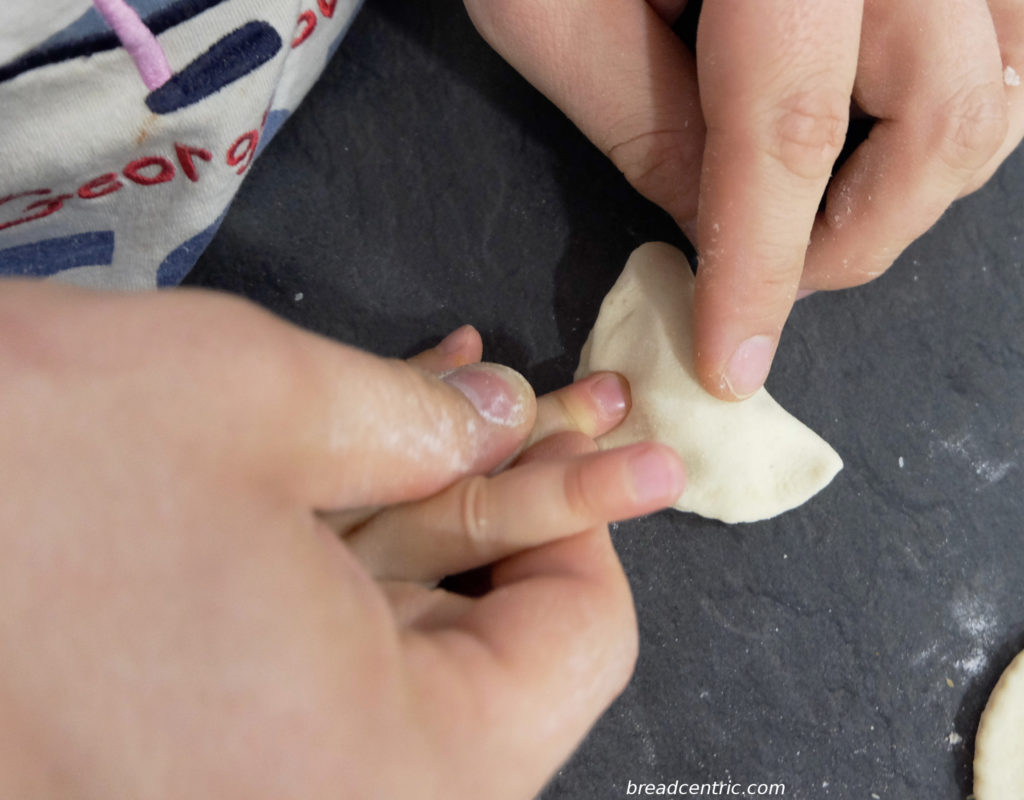 Poza standardowym Bożym Narodzeniem, w mojej rodzinie lepi się pierogi w Trzech Króli. Nie wiem nawet dobrze czemu, choć kojarzę stwierdzenie "żeby pieniądze się lepiły do ręki" 🙂 przyczyny przyczynami, skupmy się na pierogach.
Poza nastawieniem dzieci, problemem w regularnym szykowaniu jest czasochłonność. Zazwyczaj jest tak, że Gosia szykuje farsz (na oko), a ja lepię.
Dwa lata temu znalazłem przepis na ciasto, którego się nieustannie trzymam, z serwisu zajadam.pl. Ciasto jest bardzo przyjemne w obróbce, doskonale się lepi.
Podaję również przepis na farsz na ruskie, choć pewnie wiesz lepiej ode mnie, co lubisz.
Planowanie
Brak. Najpierw przygotuj farsz (musisz ugotować ziemniaki i trochę je ostudzić), potem zrób ciasto i do roboty.
Będziesz potrzebować wykrawacz okrągły (szklanka też przejdzie), wałek i blat.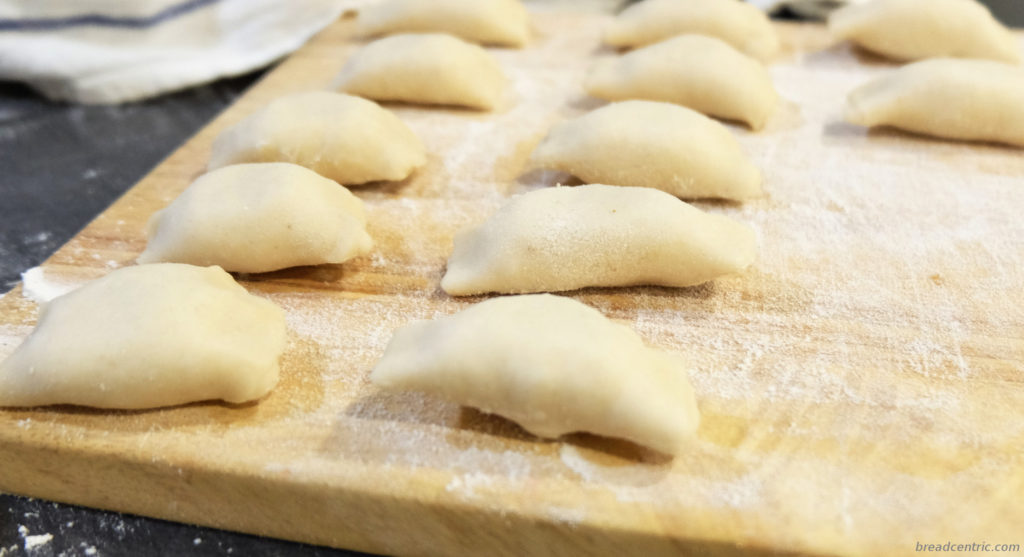 Składniki
Powinno wystarczyć na około 40 pierogów.
Farsz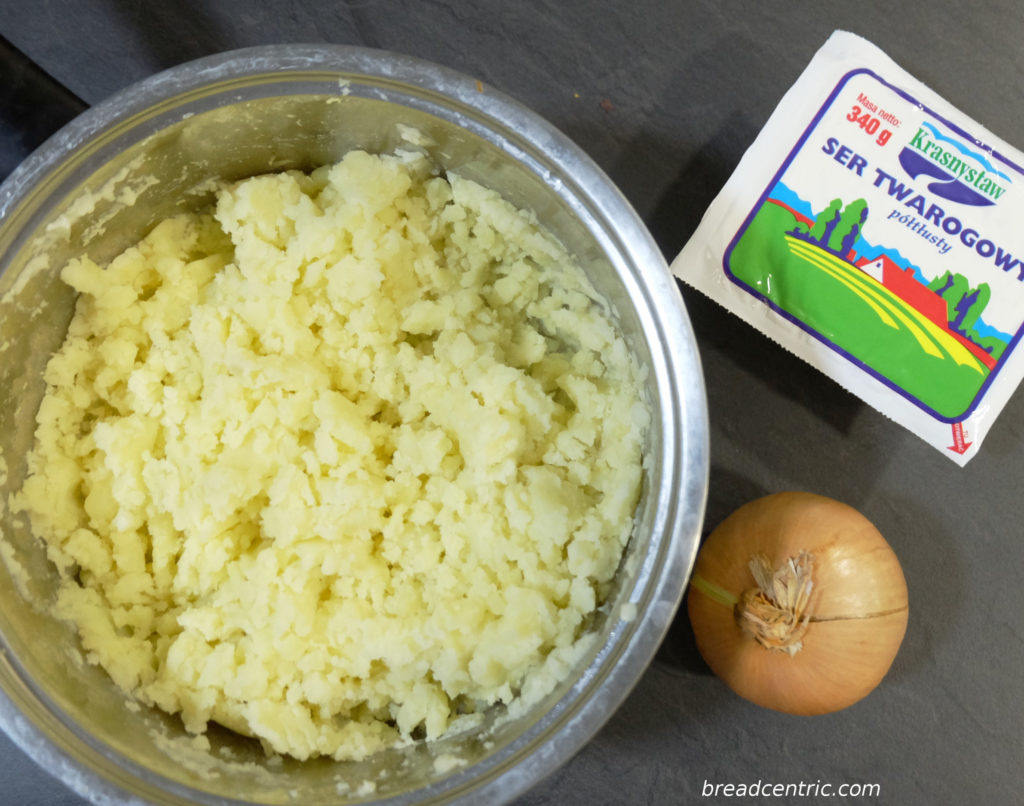 Około 1 kg ziemniaków (okazało się, że mieliśmy dwa, co pokazuje, jak umowną kwestią są te proporcje; zostało nam pół garnka farszu na dalsze lepienie)
Jedna kostka sera białego
Jedna duża cebula
Jedna łyżka masła, może być klarowane
Ciasto
350 g mąki tortowej, plus trochę do podsypania
160-185 g ciepłej wody (Ula uświadomiła mi w komentarzu, że różne rodzaje mąki wchłoną różne ilości wody, dlatego zmniejszyłem dolną wartość)
1 jajko
7-8 g masła
7-8 g soli
Przygotowanie
Ugotuj ziemniaki w osolonej wodzie, potem odcedź, ugnieć i odstaw do ostygnięcia
Posiekaj drobno cebulę i zeszklij na maśle
Połącz ziemniaki, ser i cebulę, dopraw solą i pieprzem do smaku
Wymieszaj wszystkie składniki na ciasto. Zacznij od 160 g mąki i stopniowo dodawaj, jeśli uznasz, że jest jej zbyt mało. W większości przypadków nie przekroczysz 175 g. Musi być bardzo elastyczne, może być lekko klejące (podsypiesz mąką i nie będzie problemu)
Nastaw wodę do w garnku. Pamiętaj posolić. Możesz dodać trochę oleju
Rozwałkuj na grubość około dwóch-trzech milimetrów
Wytnij kółka z ciasta

Wycięte ciasto

Na każde kółko nałóż farsz, po czym połącz ze sobą krawędzie. Popraw złączenie szczypiąc je za pomocą palców. Gotowe połóż na oprószonej mąką desce/tacy
[youtube https://youtu.be/1perGVdkLCc][/youtube]
Pierogi wrzuć do gotującej się wody i zamieszaj
Gdy pierogi wypłyną na powierzchnię, są gotowe. Wyjmij je i wrzuć do zimnej wody. Następnie odcedź
Możesz jeść od razu lub wystudzić i podgrzać kiedy indziej. My lubimy smażone. To dodaje im koloru i chrupkości.
Przy wkładaniu do miski dodajemy trochę oleju, aby pierogi się nie skleiły. Zazwyczaj robimy też więcej i część zamrażamy – takie pokryte olejem nieźle się potem odsmaża.
Spróbujcie zachęcić dzieci, żeby również trochę spróbowały ulepić. Mogą się przy tym dobrze bawić.