It's been a while since I baked a wheat only bread. And it's nice when someone give's me a reason to make something I haven't done for a while.
Minęło już trochę odkąd ostatni raz upiekłem chleb wyłącznie pszenny. I miło, gdy ktoś daje mi powód, abym zrobił coś, czego nie robiłem od dawna.
Remember Kwiatek, Helena's sourdough? After it was made we used it to also make bread. The special thing about Kwiatek is that (it has a name and) it's made purely using strong wheat flour. When you have a wholemeal flour sourdough, getting it completely clean takes time, and if we decide not to wait, we get a bit darker bread. Maybe it's only in my head, but I do notice that the result is different. Now we've got a bit of strong flour sourdough which we can use straight away. We used it to make wheat bread from Piotr Kucharski's book "Chleb. Domowa piekarnia" (sources).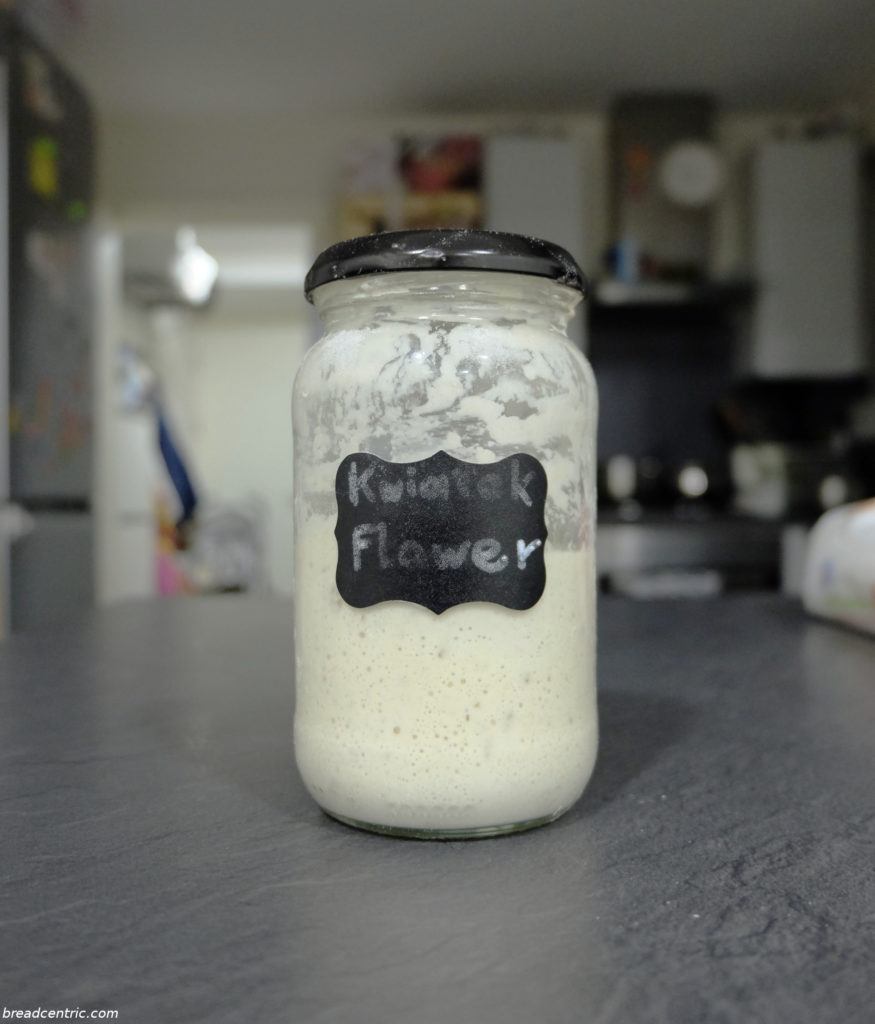 It worked really well for the kids – you get a 60% hydration dough which is quite stiff and easy to handle. Even Antoni was able to shape his own loaf.
Planning
This bread takes long time to bulk proof, so I recommend making the levain in the morning (8-12 hours), doing the bulk proof overnight (8-12 hours), then in the morning shaping (3-4 hours) and baking (45-50 minutes).
I recommend rice flour for dusting whatever you proof your loaves in, as nothing sticks to it (and it's also very light in colour).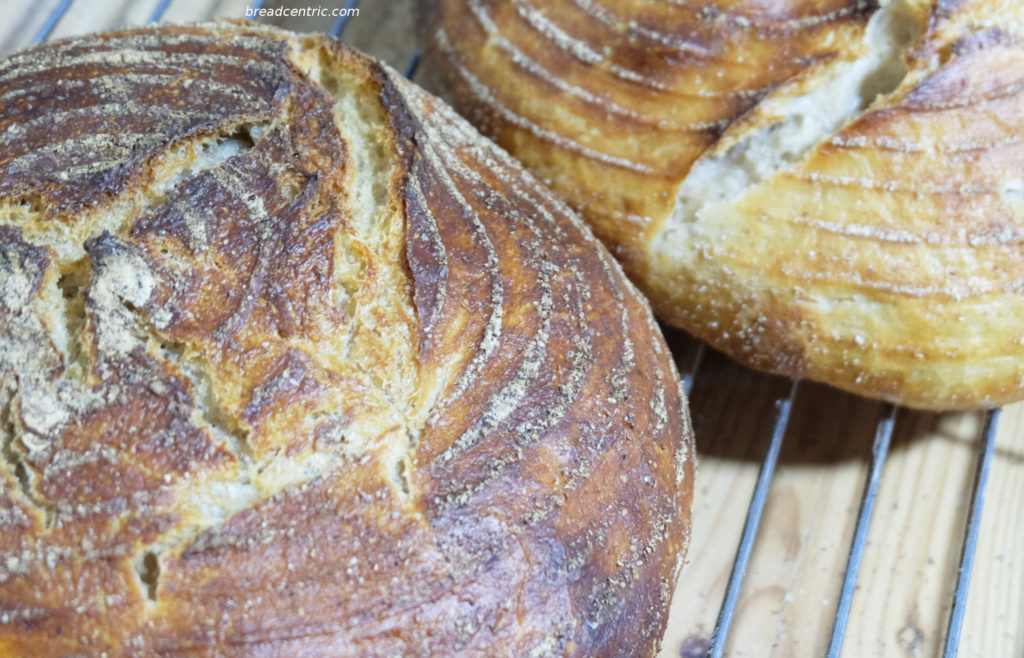 Ingredients
 Levain
120 g sourdough
500 g strong white wheat flour
400 g water
The dough
Preparation
If you store your sourdough in the fridge, take it out and let it warm up for an hour or so
Mix all ingredients to make the levain and leave them for 8-12 hours to become slightly sour in smell and bubbly.
Mix all bread ingredients. I used a mixer for about 4 minutes on low speed, pretty much just for the ingredients to combine.
Leave it covered with kitchen foil, in room temperature, for 8-12 hours. In my case overnight
If possible, do a stretch and fold after about two hours
Divide the dough and shape loaves. I made two round ones and placed them in heavily dusted bannetons. Leave them covered for 3-4 hours in room temperature. I placed the baskets in plastic bags. If you want, you can put the loaves in bannetons seam side down, then you can skip scoring before baking as the loaves will open quite randomly (as mines did)
If you are using a stone or a cast iron pot to bake your bread, put it in the oven some an hour before baking and set the oven to 220 degrees Celsius. If you bake on a regular baking tray, 30 minutes will be enough. Do not use a fan for baking the bread (or lower the temperature by some 20 degrees and monitor it). Know your oven
Make steam in your oven, score the loaves and get baking. Bake for 45-50 minutes
Baked loaves give a hollow sound when knocked on the bottom. If you are not sure, give your loaf additional 5-10 minutes
The bread is absolutely moreish. Very tasty, very soft, very enjoyable. I do recommend you try it. If you don't have a strong flour sourdough, just take a teaspoon of whatever you have, 50 grams of water and 40 grams of strong flour, and after 8-12 hours add more water and flour in same proportions. It will still have some bran in it, but it will be just fine. If you want to have a very clean sourdough, discard most of the new mixture every day and fill with the amounts of flour and water mentioned above. It will take 2-3 days to make it completely clean.

Serving suggestion below comes from the head baker of the day, Helena: Cheddar sandwich.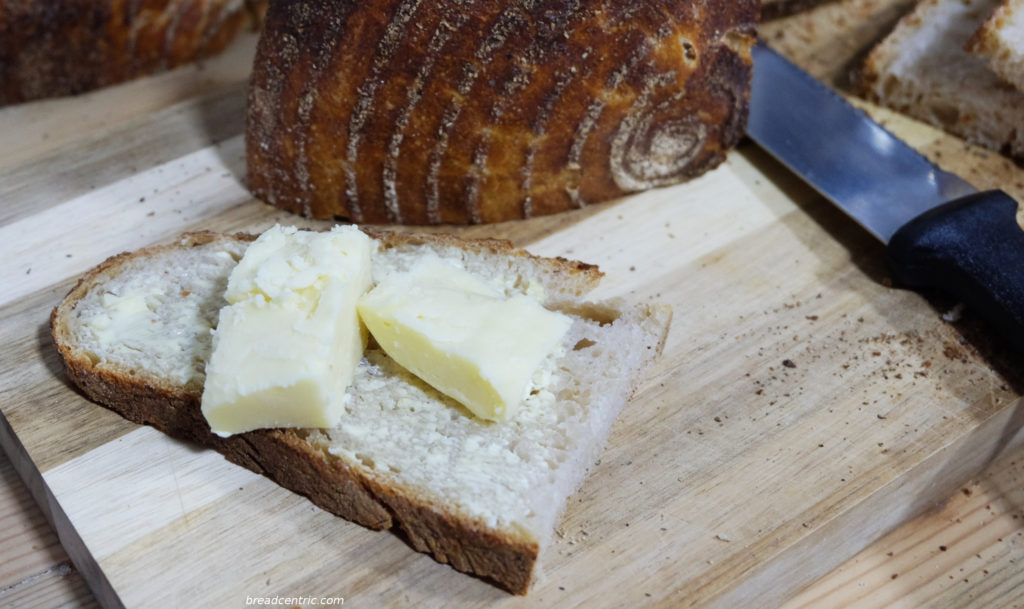 Pamiętacie Kwiatek, Heleny zakwas? Gdy go zrobiliśmy, upiekliśmy z niego również chleb. Wyróżnia się on od pozostałych naszych zakwasów tym, że (ma imię i ) jest zrobiony wyłącznie z mąki chlebowej, bez pełnoziarnistej. Kiedy używasz mąki pełnoziarnistej, zakwas ciężko "wyczyścić" z otrąb, a jeśli zrobi się to tylko trochę, otręby widać w chlebie. Może to tylko urojenie w mojej głowie, ale ja widzę różnicę. Teraz gdy mamy biały zakwas, możemy go użyć od razu. Wykorzystaliśmy przepis na chleb pszenny z książki "Chleb. Domowa piekarnia" Piotra Kucharskiego (źródła).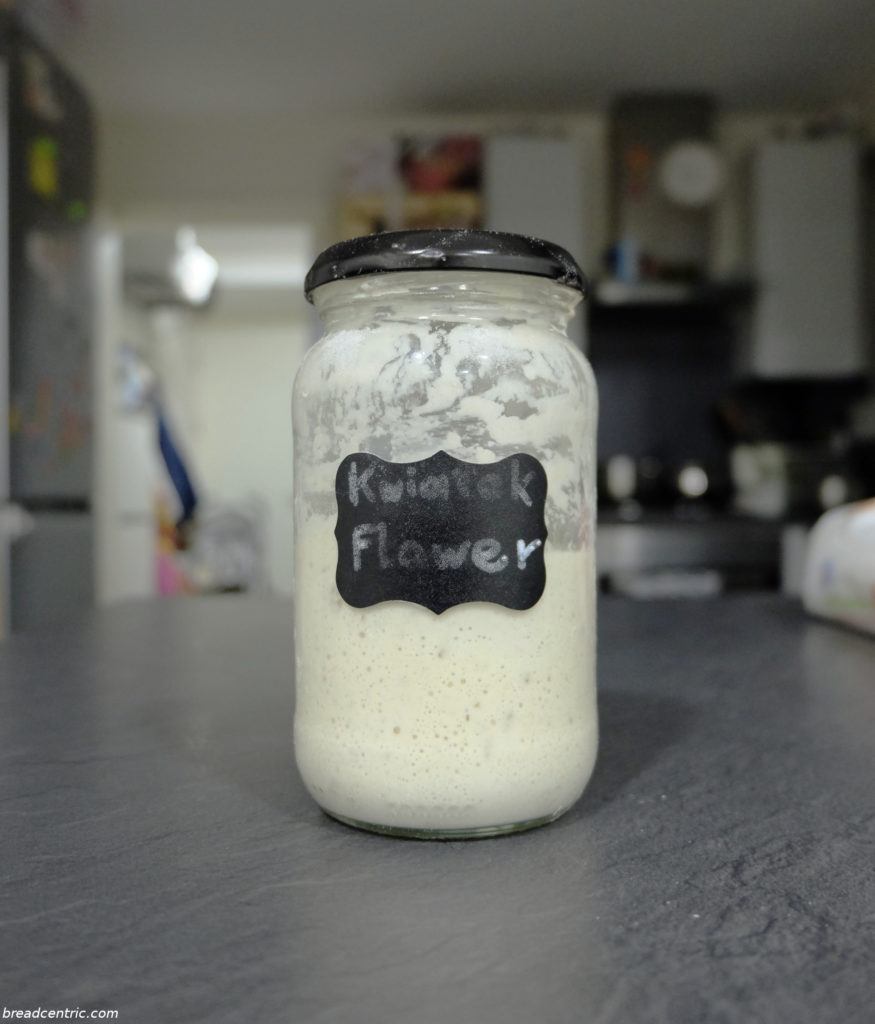 Chleb udał się dzieciom bardzo – ciasto o hydracji 60% można dość łatwo obrabiać i kształtować. Nawet Antoś uformował bochenek.
Planowanie
Chleb zabiera trochę czasu, nawet trochę dużo, więc polecam go rozłożyć tak, by rano zrobić zaczyn (8-12 godzin), pierwsze wyrastanie w nocy (8-12 godzin), rano uformować(3-4 godziny), i w południe piec (45-50 minut).
Polecam mąkę ryżową do posypania tego, w czym będziesz wyrastał uformowane bochenki. Nic do niej się nie klei (i jest jasna, więc w koszu da fajne jasne paski na bochenku).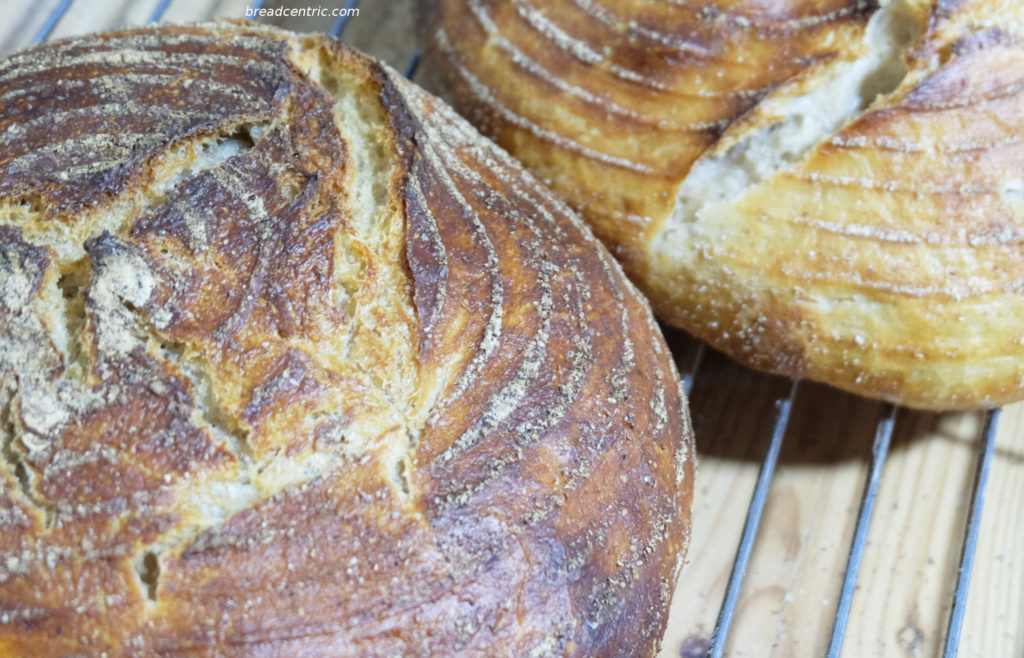 Składniki
Zaczyn
120 g zakwasu (polecam jasny, bez mąki pełnoziarnistej)
500 g mąki pszennej chlebowej
400 g wody
Ciasto
Przygotowanie
Jeśli trzymasz zakwas w lodówce, wyjmij go na godzinę, aby się ogrzał
Połącz wszystkie składniki na zaczyn i pozostaw w temperaturze pokojowej na 8-12 godzin, aby uzyskać kwaskowaty zapach mikstury z bąblami
Połącz wszystkie składniki na chleb. Ja mieszałem mikserem przez około 4 minuty na niskiej prędkości, właściwie tylko do połączenia składników
Pozostaw przykryte folią kuchenną, w temperaturze pokojowej, na 8-12 godzin (w moim przypadku na noc)
Jeśli możliwe, po około dwóch godzinach złóż ciasto
Podziel ciasto i uformuj bochenki. Ja zrobiłem dwa okrągłe i umieściłem je w oprószonych mąką koszach. Pozostaw je przykryte (na przykład w torebce foliowej) na 3-4 godziny w temperaturze pokojowej. Ja zrobiłem dwa okrągłe.  Jeśli chcesz, możesz włożyć ciasto szwem do dołu i pominąć nacinanie przed pieczeniem – bochenki wtedy rozejdą się dość losowo podczas pieczenia, dając ładny efekt
Jeśli korzystasz z kamienia lub garnka żeliwnego, włóż go do piekarnika na godzinę przed pieczeniem i ustaw piekarnik na 220 stopni. Jeśli pieczesz normalnie na tacce lub w foremce, 30 minut wystarczy do nagrzania piekarnika. Nie używaj konwekcji do pieczenia chleba (lub obniż temperaturę o jakieś 20 stopni i monitoruj na bieżąco. Znaj swój piekarnik
Zaparuj piekarnik, natnij bochenki i zacznij piec. Piecz przez 45-50 minut
Upieczony chleb wydaje głuchy odgłos przy pukaniu w spód. Jeśli nie masz pewności, daj mu jeszcze 5-10 minut
Chlebowi nie można się oprzeć. Bardzo smaczny, z delikatnym miękiszem. Bardzo polecam ten przepis. Jeśli nie masz jasnego zakwasu, weź łyżeczkę tego, który masz, dodaj 50 g wody i 40 g mąki chlebowej, a po 8-12 godzinach dodaj więcej wody i mąki w tych samych proporcjach. W takim zakwasie będzie trochę otrąb, ale to będzie ok. Jeśli chcesz mieć bardzo czysty zakwas, wyrzucaj jego większość i dokarmiaj codziennie lub dwa razy dziennie. Po 2-3 dniach będzie całkiem czysty.

Propozycja podania od głównego piekarza dnia, Heleny: kanapka z Cheddarem.