Szybkie i łatwe bułki na śniadanie lub kolacje.  Miekke w środku, lekko maślane i dzięki dodatkowi mąki pełnoziarnistej i żytniej dośc tresciwe.
These rolls are quick and simple, good for breakfast or supper. Soft inside, slightly buttery, and filling thanks to the added wholemeal and rye flours.
In the original recipe they are called the three seeds rolls, as three grains where used. We've run out of the spelt one, so we used wholemeal wheat instead.
I recommend the page from which I took this recipe. I value them as a resource, everything I have tried so far was brilliant. That's where we took the white wheat-rye sourdough bread from, delicious.
Planning
You'll need just a bit more than two hours. It takes one hour for the dough to rise, then shaping, 30 minutes final proofing. I recommend you turn the oven on right after shaping the rolls.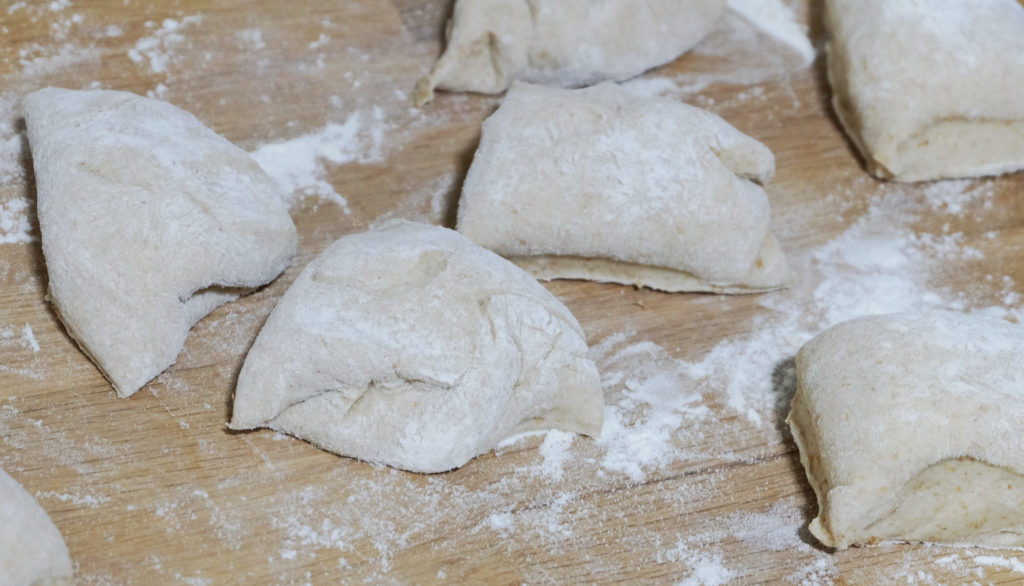 Ingredients
This is enough to make eight small rolls.
20 g fresh or 10 g dried yeast
1 teaspoon sugar
350 g plain white wheat flour
100 g wholemeal wheat flour
75 g light rye flour
1 teaspoon salt
60 g melted butter
300 g warm water
Preparation
If you're using fresh yeast, mix it with sugar until they dissolve. If you're using dry ones just like me, add them to flour together with sugar
Mix all types of flour with salt, add melted butter and yeast
Add warm water and knead the dough (mixer with a dough hook requires 5 minutes, by hand – 7-8 minutes). By the end of kneading the dough should still slightly stick to your hands
Transfer the dough into an oil-coated bowl, cover with cling film and leave in a warm place to rise for an hour or until it doubles in volume
Divide the dough into eight roughly equal portions, form eight balls, flatten them slightly and put on a baking tray lined with baking parchment. Leave them to rise for about 30 minutes or until they grow significantly
Set your oven to about 200 C degrees. Know your oven
It's that simple, really. In our case the crust has formed a bit too quickly and the crumb still kept growing so all rolls have a crack at the base. Next time we'll use some steam when baking to avoid it. Steam makes the baked surface more flexible in the first phase of baking. After 15 minutes it would have to be removed.
W oryginalnym przepisie nazwano je bułki trzy ziarna, ponieważ wykorzystano trzy rodzaje mąk, ale ja z braku mąki orkiszowej użyłam pełnozarnistej pszennej.
Polecam też tą stronę z przepisami, wszystkie przepisy, które wypróbowałam są świetne. Z niej mam przepis na chleb jasny z ziarnami na żytnim zakwasie, pyszny.
Planowanie
Potrzebujemy nieco więcej niż dwie godziny.  Mniej więcej godzinę wyrasta ciasto,  formujemy bułki, 30 minut czekamy aż wyrosną i pieczenie 30 minut.  Polecam włączyć piekarnik zaraz po uformowaniu bułek.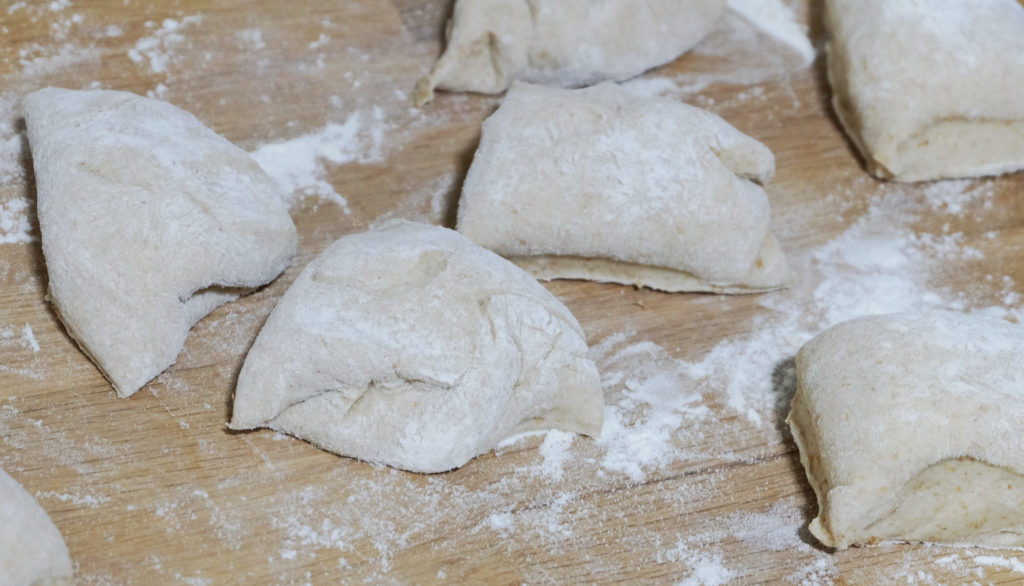 Składniki
Z ciasta wyjdzie 8 małych bułek.
20 g świeżych drożdży lub 10 g drożdży suchych
1 łyżeczka cukru
350 g mąki pszennej luksusowej typ 550 (plain)
100 g mąki pszennej typ 2000 (wholemeal)
75 g mąki żytniej typ 720 (light rye)
1 łyżeczka soli
60 g rozpuszczonego masła
300 g letniej wody
Przygotowanie
Ze świeżych drożdży robimy zaczyn, więc drożdże pokrusz do miseczki i dodaj cukier. Dokładnie wymieszaj do rozpuszczenia się drożdży. Jeśli tak jak ja  używasz drożdży suchych, dodaj je od razu do mąki wraz z cukrem

Wszystkie rodzaje mąk połącz z solą, dodaj rozpuszczone masło oraz rozpuszczone drożdże

Dodaj letnią wodę i zagnieść ciasto (mikserem z hakiem chl

ebowym ok. 5 minut, ręcznie ok. 7-8 minut). Pod koniec wyrabiania ciasto powinno wciąż delikatnie lepić się do dłoni

Ciasto przełóż do miski wysmarowanej olejem, przykryj szczelnie np. folią spożywczą i pozostaw w ciepłym miejscu do wyrośnięcia na ok. 1 godzinę, lub do podwojenia objętości

Wyrośnięte ciasto podziel na 8 części, uformuj 8 kulek, lekko spłaszcz i ułóż je na blaszce do pieczenia wyłożonej papierem do pieczenia.  Przykryj ściereczką i zostaw do wyrośnięcia na ok. 30 minut lub do czasu, gdy wyraźnie urosną

Włącz piekarnik na ok 200 stopni
Tak prosto, serio. W naszym przypadku skórka spiekła się trochę zbyt szybko, a miękisz jeszcze się rozrastał, więc wszystkie bułki mają pęknięcie przy podstawie. Następnym razem dodamy trochę pary do pieczenia, aby tego uniknąć. Para sprawia, że skórka jest bardziej elastyczna w pierwszej fazie pieczenia. Po około 15 minutach trzeba ją wypuścić z piekarnika.