Making bread can be time consuming. While the real bread-bread just requires the time, we keep looking for nice ideas for something faster and snacky. These flatbreads are one of the recipes we stumbled upon.
Robienie chleba może być czasochłonne. Choć prawdziwy chleb-chleb zwyczajnie potrzebuje tego czasu, my nie ustajemy w poszukiwaniu czegoś szybkiego, bardziej przekąskowego. Te chlebki to jeden z przepisów, które znaleźliśmy.

Oh Jamie, I'm really disappointed. Remember your previous magazine? You placed those mouthwatering burgers on the front cover. Beautiful buns. I couldn't stop smiling: you finally baked some serious buns. I went to the recipe and checked the ingredients: there was a ready bun in the list. Seriously?
I know, bread isn't really Jamie's cup of tea. That's why I'm glad he at least placed a recipe for these flatbreads in the current issue (#75, sources).
Planning
Just defrost the spinach if it's not fresh. 30-40 minutes proofing, very little baking.
You'll need a frying pan for baking. Actually, is it baking if it's on a frying pan?
Ingredients
Makes twelve breads.
50 g frozen spinach
15 g fresh herbs (we used granulated garlic and wild garlic, so not the freshest ever)
500 g strong wheat flour
1 tsp salt
250 g warm milk (we used water)
1 tsp runny honey
7 g dried active yeast
30 g melted unsalted butter, plus extra for serving
75 g natural yogurt
Preparation
Defrost the spinach and squeeze it in a paper towel to remove excess water. Mix it with chopped herbs and set aside
Combine milk, yeast and honey in a jug and let it start bubbling
Combine flour with salt in a bowl
Add melted butter, yogurt and herbs into it and mix well. Make a well in the middle of the flour and pour the wet stuff in. Combine it all into a dough, then knead for about 5 minutes
Oil some bowl and put the dough in it. Cover with cling film an put in a warm place for 30-40 minutes to rise
Put a frying pan on a medium heat
Turn the dough onto a floured surface, divide into 12 portions. Round them into nice balls
Bake them on the frying pan. I could fit two on mine. They should be baked for about 2 minutes on each side. They will puff slightly and turn golden-brown.
Before serving wrap them in a kitchen foil and keep them in a warm oven (I set mine to 60-70 C)
Jamie suggests brushing the flatbreads with melted butter, sprinkling with salt and some herbs. I would also suggest serving them only warm and fresh, as the day after they aren't too good anymore. You can warm them but it will not be the same thing any longer.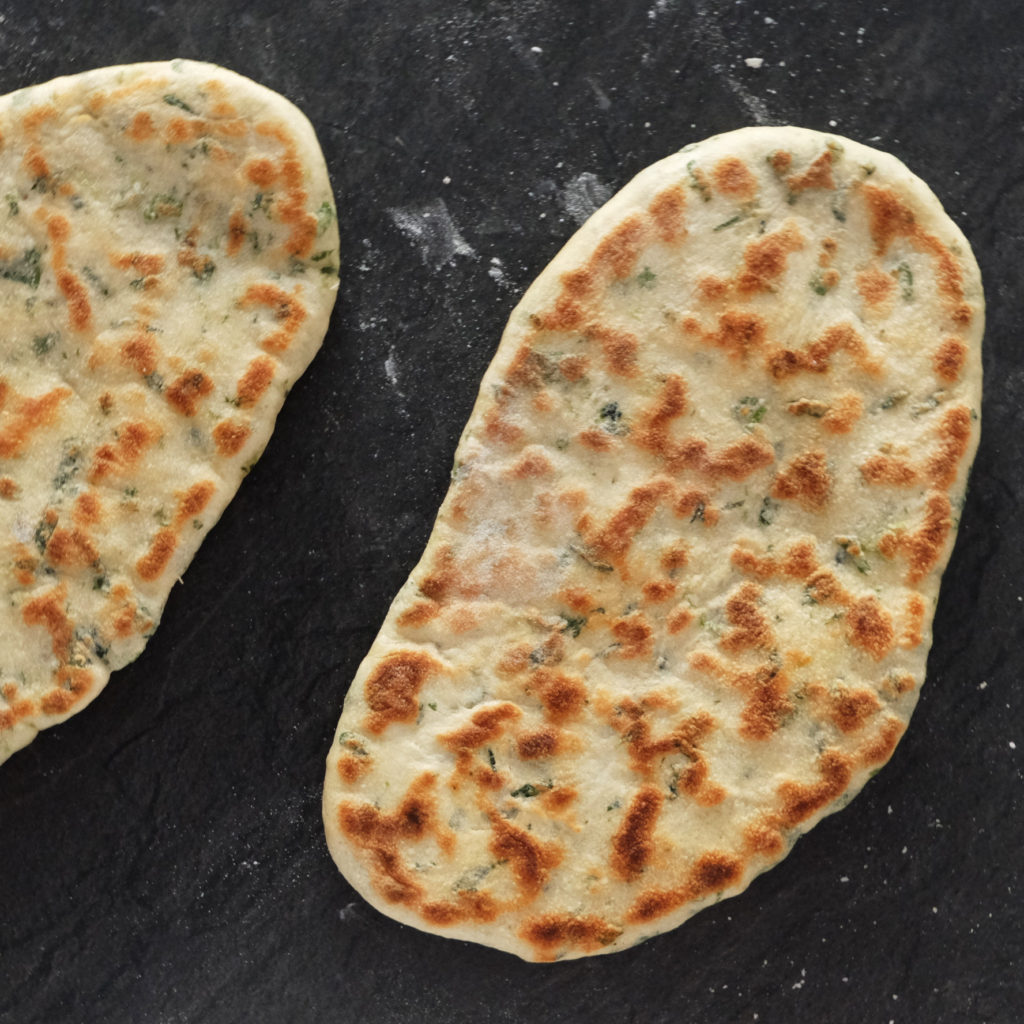 Kids loved it. Antoni demanded I give him a piece that is almost too hot for holding. He's not the vacuum type of a meal eater, but he did eat two.
One way I thought about serving them is to make strips out of them and have one or two dips aside. Could be a nice snack for a party.
Ach ten Jamie, jestem bardzo zawiedziony. W poprzednim numerze swojego magazynu w UK na okładce umieścił takie burgery, że ślinka cieknie. Przepiękne bułki. Nie mogłem uwierzyć: w końcu zrobiłeś dobre pieczywo. Otwieram stronę z przepisami: bułka na liście składników. Serio?
Wiem, chleb to nie działka Jamiego. Dlatego cieszę się, że tym razem przynajmniej dał przepis na te podpłomyki (numer 75, UK; źródła).
Planowanie
Musisz rozmrozić szpinak, jeśli nie jest świeży. 30-40 minut wyrastania bardzo mało pieczenia.
Będziesz potrzebować też patelni do pieczenia. Tak właściwie jeśli używasz patelni, czy to jest nadal pieczenie czy już smażenie?
Składniki
Na dwanaście chlebków.
50 g mrożonego szpinaku
15 g świeżych ziół (my użyliśmy akurat granulowanego czosnku i czosnku niedźwiedziego, więc niezbyt świeżo)
500 g mąki pszennej chlebowej
1 łyżeczka soli
250 g ciepłego mleka (my nie mieliśmy, więc użyliśmy wody)
1 łyżeczka płynnego miodu
7 g suszonych drożdży
30 g stopionego masła, i jeszcze troszkę do podania
75 g naturalnego jogurtu
Przygotowanie
Rozmroź szpinak i wyciśnij w papierowy ręcznik, aby usunąć nadmiar wody. Wymieszaj go z rozdrobnionymi ziołami i odłóż na bok
Połącz mleko, drożdże i miód w pojemniku i odstaw aby zaczęły bąbelkować
Zmieszaj mąkę i sól w misce
Dodaj stopione masło, jogurt i zioła, wymieszaj dobrze. Zrób nieckę w środku mąki i wlej mokrą mieszankę. Połącz wszystko w ciasto, po czym wyrabiaj przez około 5 minut
Natłuść miskę i włóż do niej ciasto. Przykryj folią spożywczą i umieść w ciepłym miejscu do wyrośnięcia na 30-40 minut
Umieść patelnię na średnim ogniu
Wyłóż ciasto na oprószoną mąką powierzchnię, podziel na 12 porcji i zaokrąglij je w ładne kulki
Piecz na patelni. Ja robiłem dwa na raz. Powinny piec się na każdej stronie przez około 2 minuty. Trochę urosną i będą złotawo-brązowawe
Przed podaniem możesz utrzymać ich ciepłotę przez zawinięcie w folię aluminiową i włożenie do piekarnika ustawionego na jakieś 60-70 stopni
Jamie poleca posmarować chlebki stopionym masłem, posypanie solą i ziołami. Ja dodam tylko sugestię, że warto je podawać tylko ciepłe i świeże, bo dzień po zrobieniu szału już nie robią. Możesz je podgrzać, ale to już nie będzie to samo.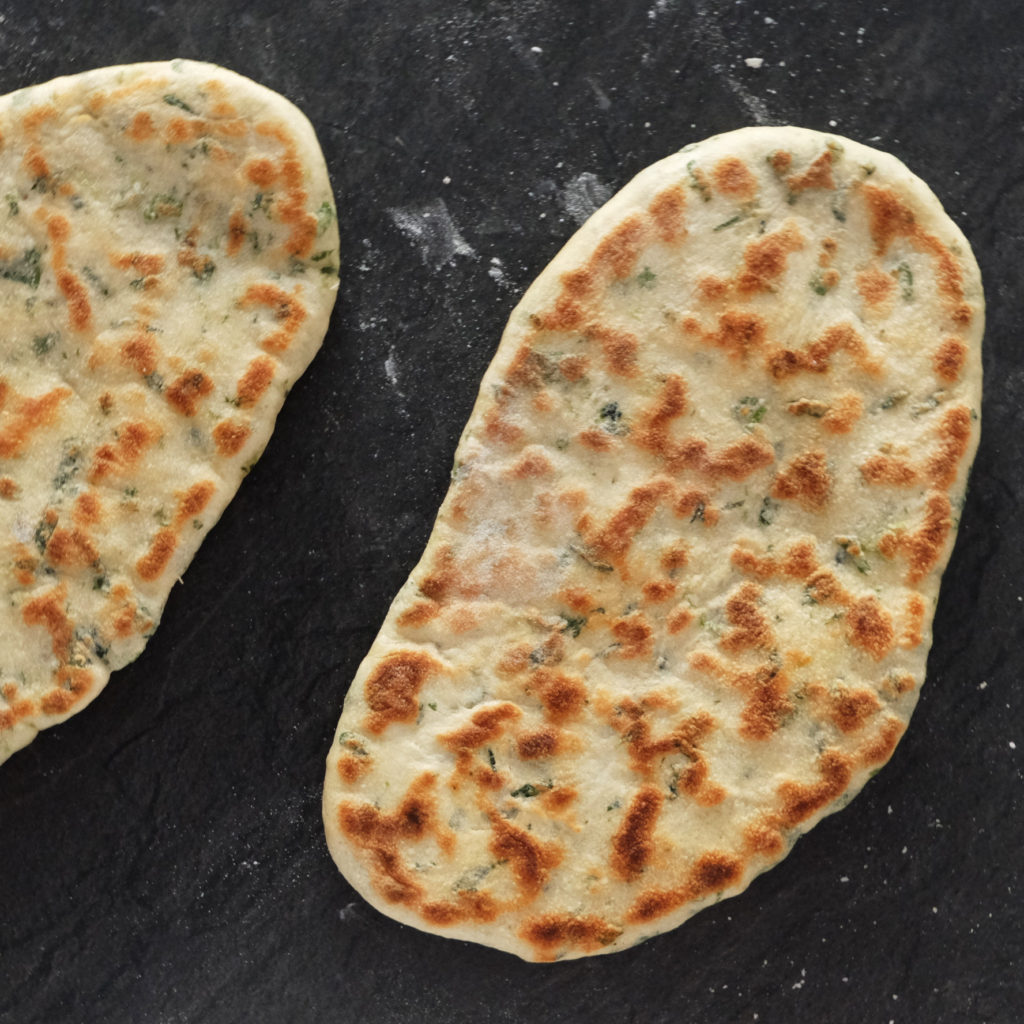 Dzieci je uwielbiały. Antek domagał się ich bardzo ciepłych, prawie parzących. Mimo że nie jest zbytnim jeśnikiem, zjadł dwa.
Możliwą opcją podania jest pokrojenie ich na paseczki i położenie jednego-dwóch sosów do maczania. Mogłoby być niezłą przekąską na imprezę.