This bake was a bit unexpected and I improvised, but it turned out a keeper. I used excess raisin yeast water when I was refreshing it and made some delicious breakfast rolls.
Ten wypiek był dość niespodziewany i musiałem improwizować, ale wyszło coś wartego zachowania. Użyłem nadmiaru wody drożdżowej na rodzynkach, gdy ją odświeżałem, i przygotowałem pyszne bułeczki śniadaniowe.
I made very simple assumptions: yeast water in levain, strong flour only, about 65% hydration, about 2% salt. I needed a levain obviously, and did a couple stretch and folds of the dough. Here it is.
Planning
Prepare levain and leave it for 12-16 hours. Mix the dough, bulk proof about 2 hours, then dividing and shaping (about 15 minutes), finally 1-1.5h final proof and 15 minutes baking.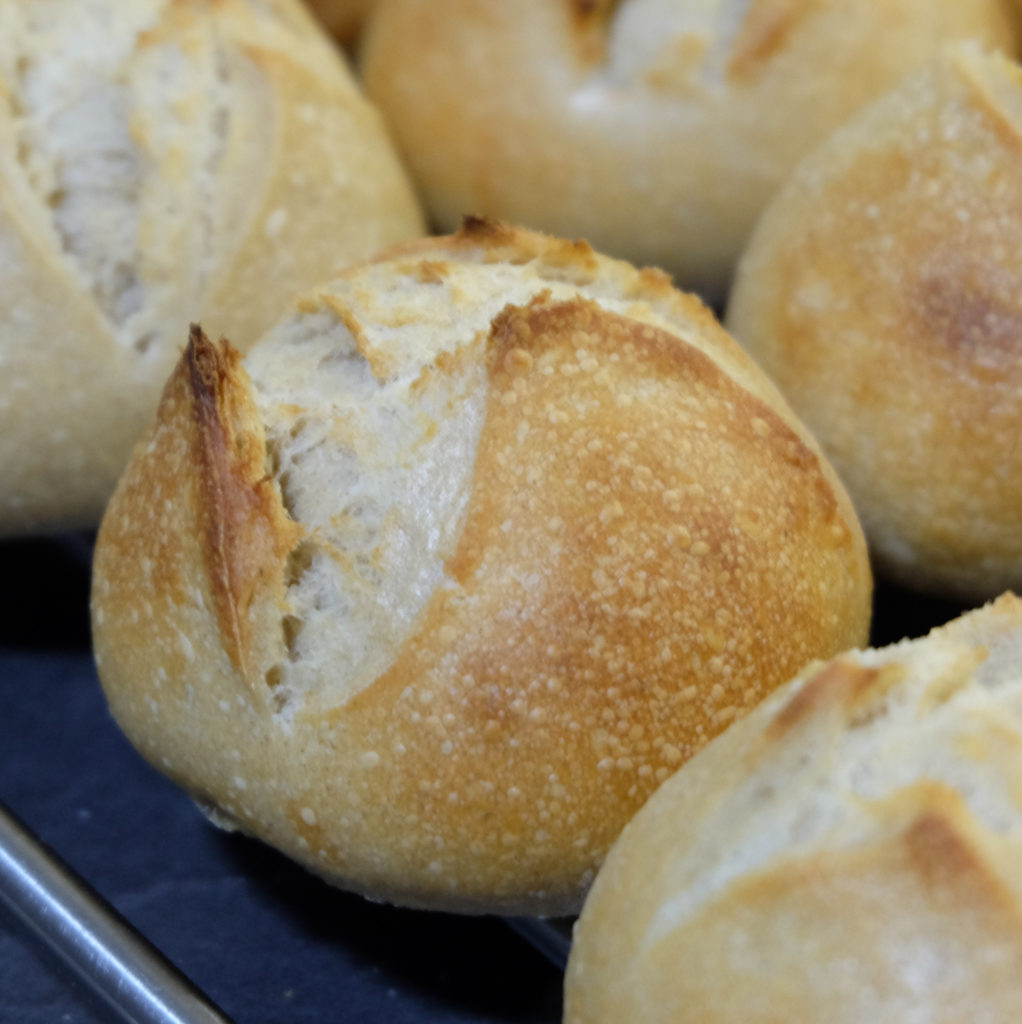 Ingredients
Makes about 15 rather small rolls.
Levain
200 g strong white wheat flour
250 g yeast water
Final dough
450 g levain
350 g strong white wheat flour
50 g light rye flour
14 g salt
Preparation
Mix the levain and leave it covered to get active for 12-16 hours
Mix the final dough with all ingredients. I used a kitchen robot with a dough hook, it was mixed on medium speed for 3-4 minutes
Leave it covered for two hours
Do the stretch and fold after 15, 30 and 45 minutes
Divide the dough into 15 portions, each having 75-80 g
Round each portion by wrapping it in your hand (it should touch your palm), then surrounding it with a a thumb and little finger. While those two fingers are touching the worktop surface, perform a circular motion  on the surface. The rolls will become nice and round
Leave them covered for 60-90 minutes to rise
Set your oven to 200 C degrees. Know your oven
Just before putting them into the oven, brush each roll with water and then score it with a knife
They came out quite small and soft with crunchy crust. Very tasty, but not too filling. Next time I'll try using more rye flour.
I guess I need to create more of my own recipes.
Poczyniłem proste założenia: woda drożdżowa w zaczynie, tylko jasna mąka, około 65% hydracji, około 2% soli. Potrzebny jest zaczyn, a ciasto będzie wymagać kilku rozciągań i składań. Oto przepis.
Planowanie
Przygotuj zaczyn i zostaw na 12-16 godzin. Zamieszaj ciasto, wyrastaj wstępnie przez 2 godziny, podziel i uformuj (około 15 minut), potem 1-1,5 godziny końcowego wyrastania i piecz 15 minut.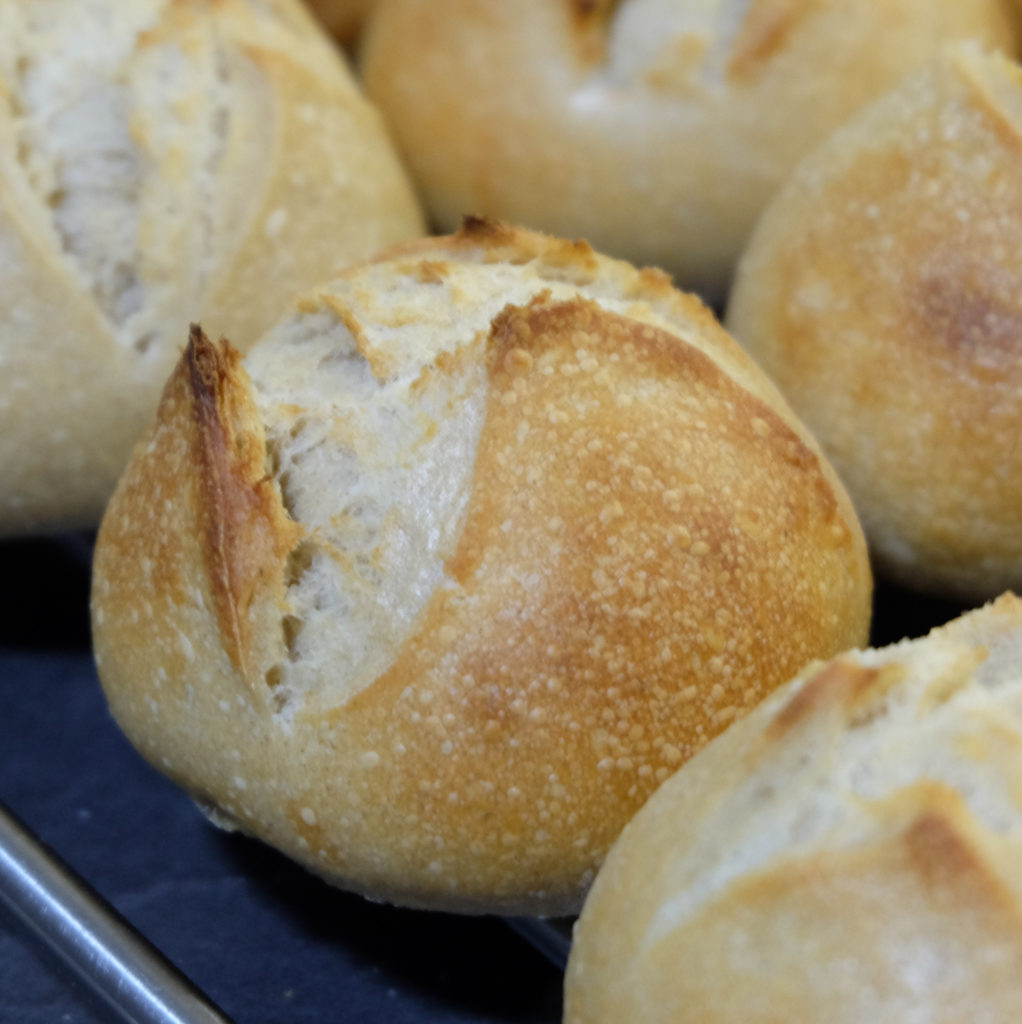 Składniki
Wystarcza na 15 maławych bułeczek.
Zaczyn
200 g mąki chlebowej pszennej typ około 750
250 g wody drożdżowej
Ciasto końcowe
450 g zaczynu
350 gmąki chlebowej pszennej typ około 750
50 g mąki chlebowej żytniej typ około 720
14 g soli
Przygotowanie
Zamieszaj zaczyn i zostaw przykryty na 12-16 godzin do zaktywizowania
Zamieszaj końcowe ciasto ze wszystkimi składnikami. Ja użyłem miksera z hakiem do ciasta, który wyrabiał je na średniej prędkości przez 3-4 minuty
Pozostaw pod przykryciem na dwie godziny
Wykonaj rozciąganie i składanie po 15, 30 oraz 45 minutach
Podziel ciasto na 15 porcji po 75-80 g każda
Zaokrąglij każdą porcję otaczając ją dłonią (ciasto powinno dotykać wnętrza dłoni) i obejmując ją kciukiem i małym palcem. Gdy oba te palce dotykają powierzchni roboczej, wykonaj kolisty ruch na niej. Ciasto się ładnie zaokrągli i uzyska gładką skórkę
Pozostaw pod przykryciem na 60-90 minut do wyrośnięcia
Nastaw piekarnik na 200 stopni. Znaj swój piekarnik.
Przed włożeniem do piekarnika, posmaruj każdą bułkę wodą i natnij nożem
Wyszły małe i delikatne, z chrupiącą skórką. Bardzo smaczne, ale niezbyt sycące. Następnym razem spróbuję więcej mąki żytniej.
Chyba muszę zacząć tworzyć więcej moich własnych przepisów.