I couldn't resist when I saw this product in a store: a mix of ingredients a baking tin and instructions. Time for a review!
Nie mogłem się oprzeć, gdy zobaczyłem ten produkt w sklepie: mieszanka składników, foremka i przepis. Czas na ocenę!
I found it in Maja Polish store in London. £2.49 for a small wooden tin with a bag of ingredients. The packaging with recipe was all in Polish, but there was a leaflet in English with a lot of information. Just no one thought about translating the recipe as well, so I'm filling in the gap.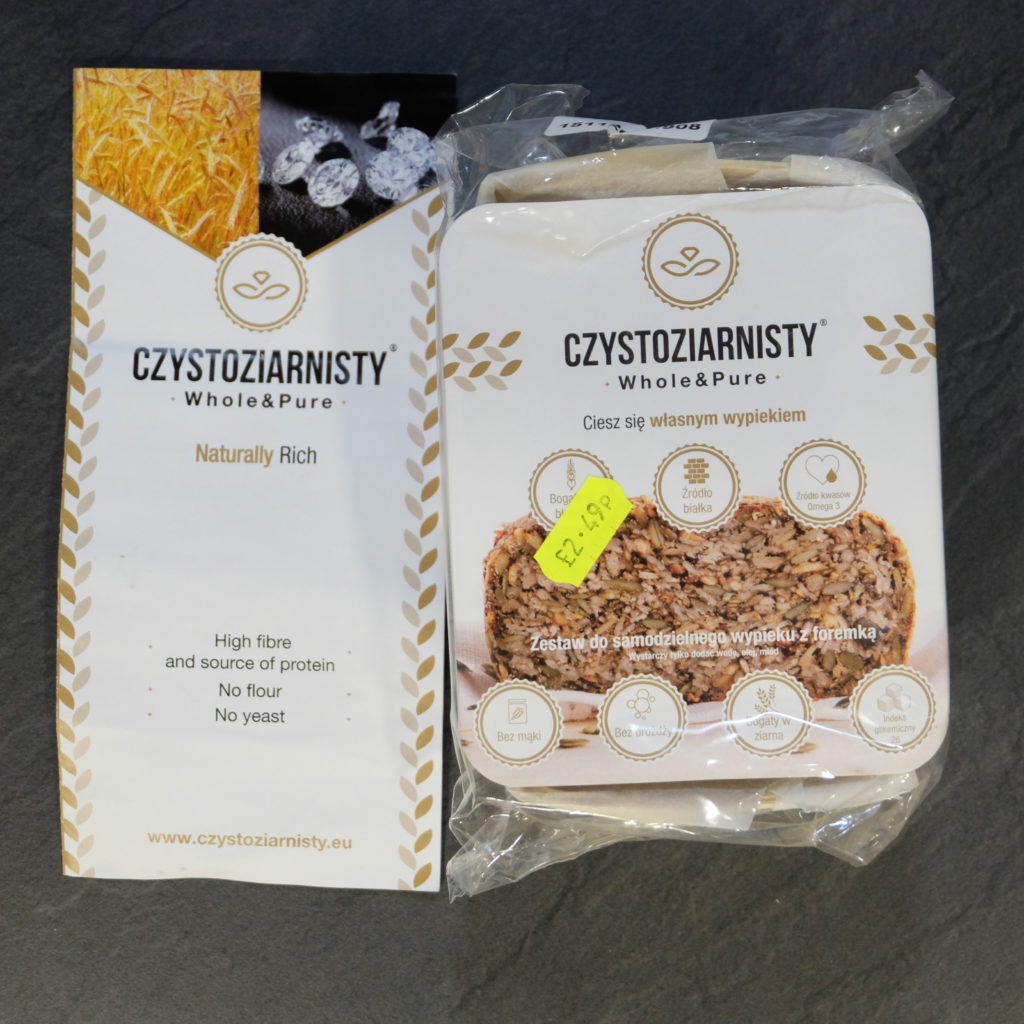 The ingredients are mainly seeds, some of them puffed. Included are oats, soy, sunflower, linseed, rye, pumpkin, spelt and sesame. There is fibre, which I'm pretty sure is psyllium husks (we use it in the gluten free recipes like the Gluten free burger buns). They have added some spice as well, but I couldn't tell what it was.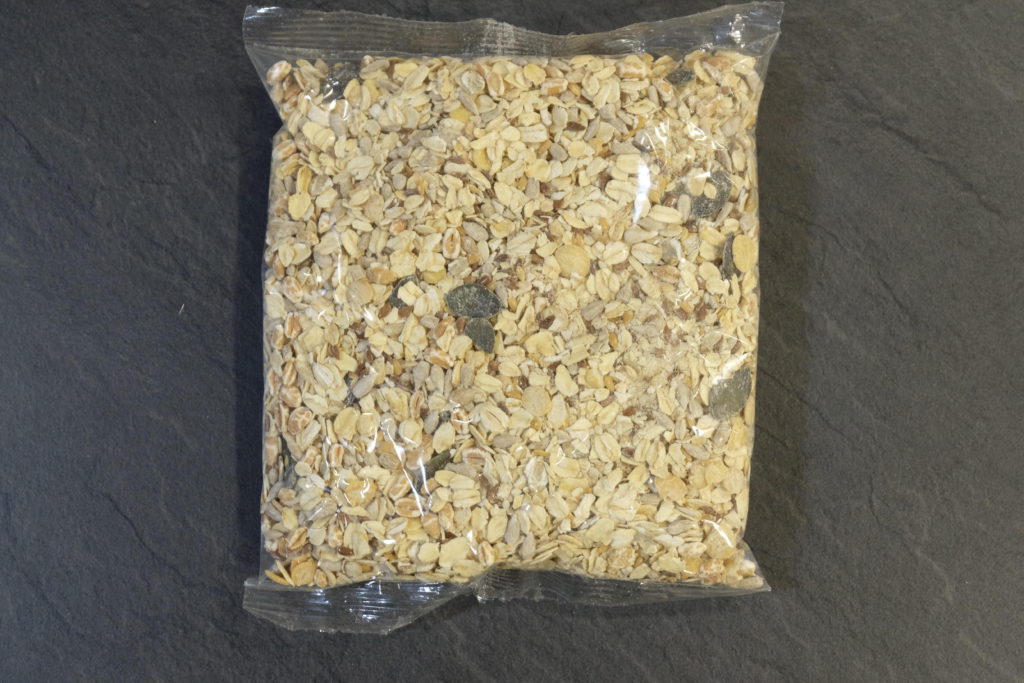 The recipe states a couple extras should be added when mixing. There is no leavening agent expected, it's supposed to be a seedy brick.
Manufacturers' website: http://czystoziarnisty.eu/en/
Planning
The loaf needs to sit for two hours before baking (I'm assuming this is to let the moisture get distributed across the whole of the mixture evenly), then 70 minutes baking. You'll also have to wait for at least 5 hours before slicing.
Ingredients
250 g box content
230 g water
50 g pumpkin seeds, or other seeds or fruit, as you prefer
20 g vegetable oil
20 g honey
6 g salt
Preparation
Put all ingredients in a bowl and mix until they roughly come together. Leave for 5 minutes

Preparation

Set the oven to 190 C and bake for 70 minutes
Let it cool down for at least 5 hours (until it is completely cool)
There's also a warning to not keep it in a plastic bag, I'm guessing this is to prevent more moisture from building up which would in turn cause it to fall apart.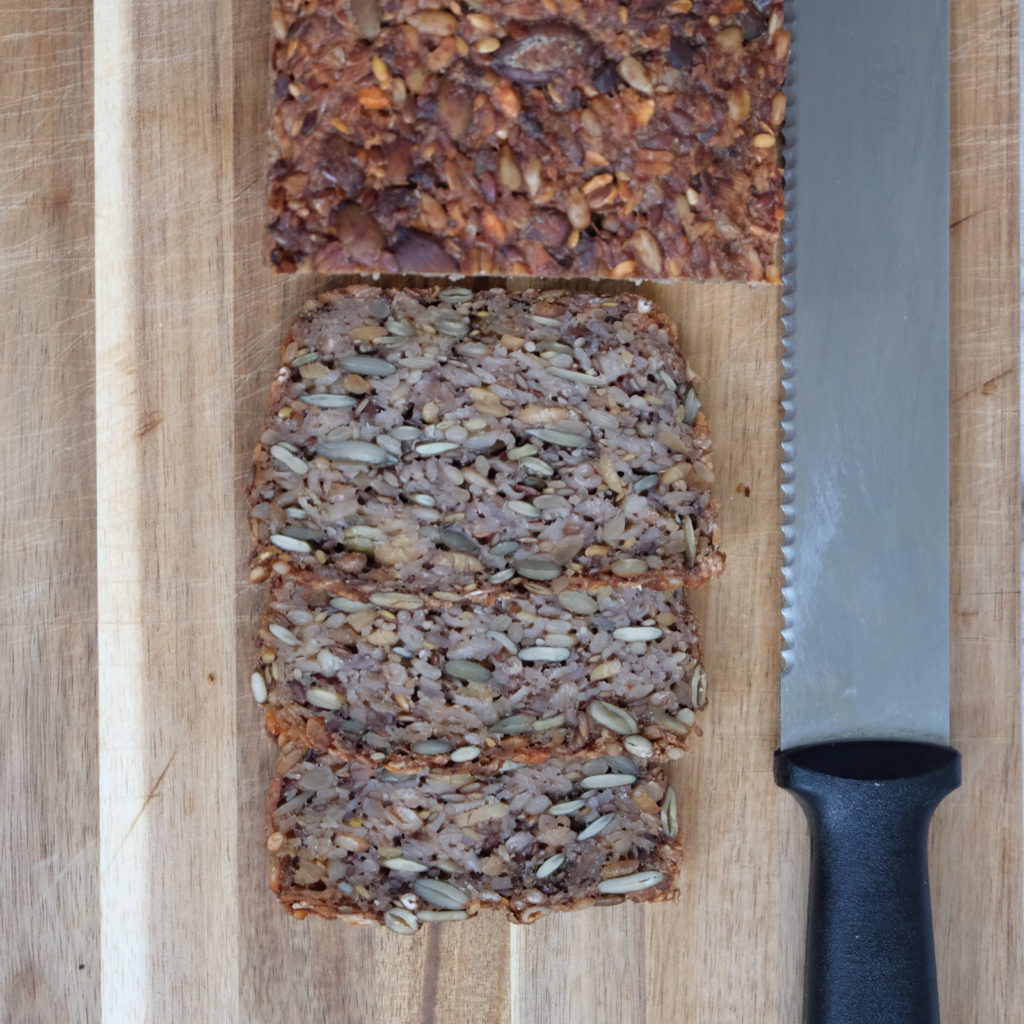 Simple, isn't it? The bread can be easily sliced. It's not very flexible, but isn't very crumbly either.
I like the bread's flavour, it's quite mild, but the spice adds to it. I still don't know what it is. I would recommend adding some raisins or other dried fruit to make it more interesting, but it's ok even on its own.
I took it to work and people liked it (but still preferred what we bake 😉 ).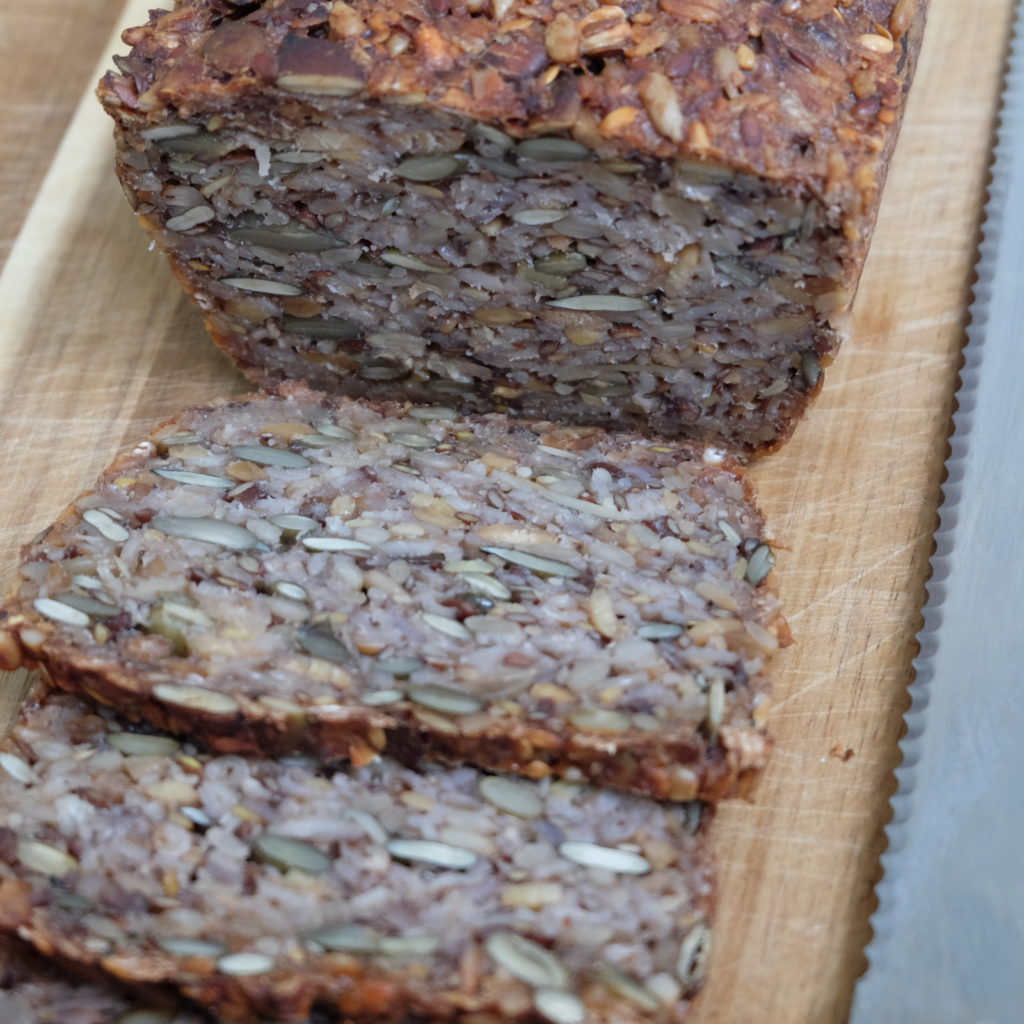 If you have never baked bread and would like something easy, this is one of the things I would recommend trying. It was really easy to make.
Wersja polska
Produkt ten znalazłem w Mai, polskim sklepie w Londynie. Za £2,49 dostaje się paczuszkę z foremką, częścią składników i przepisem.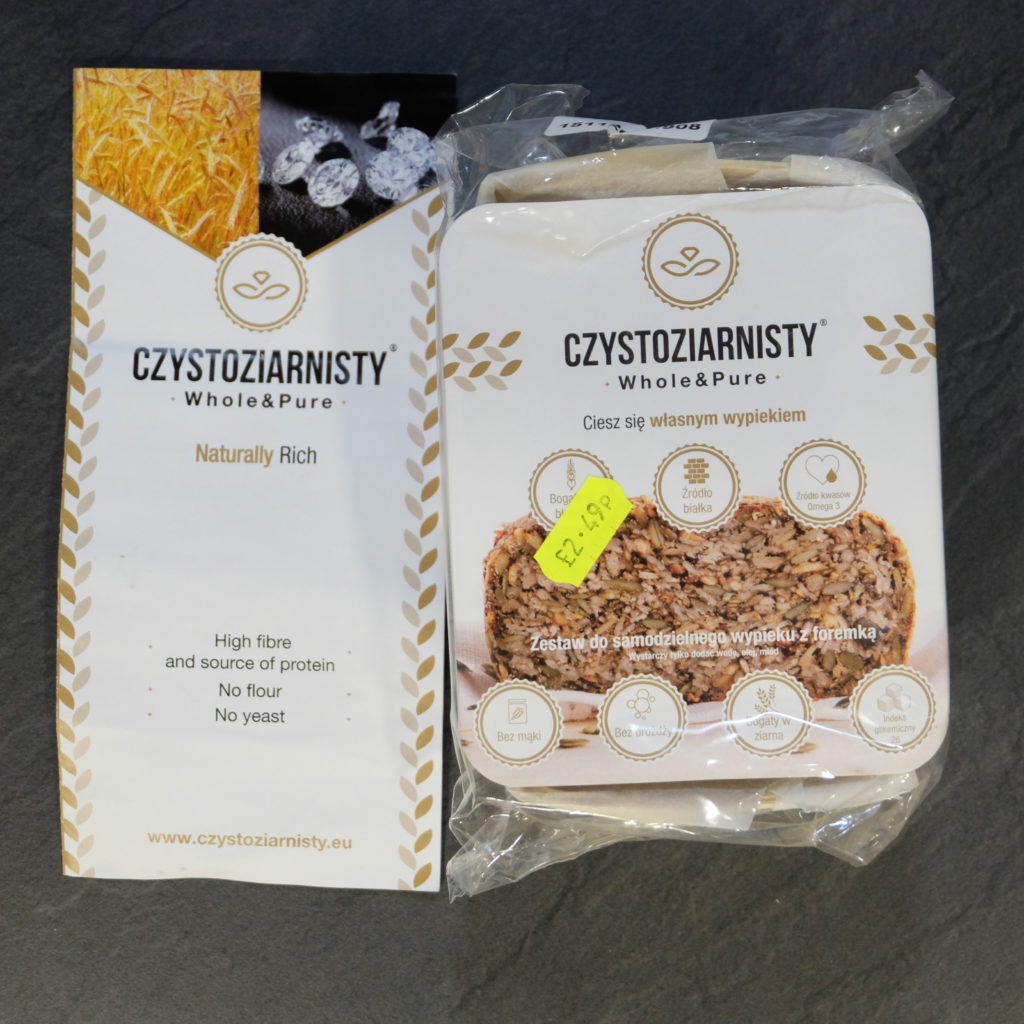 W składzie są głównie ziarna, część z nich preparowana: owies, soja, słonecznik, len, żyto, dynia, orkisz i sezam. Jest też błonnik, stawiam na to, że to babka płesznik (my z niej korzystamy przy wypiekach bezglutenowych, takich jak Bezglutenowe bułki do burgerów). Dodali też jakąś przyprawę, ale nie wiem co to.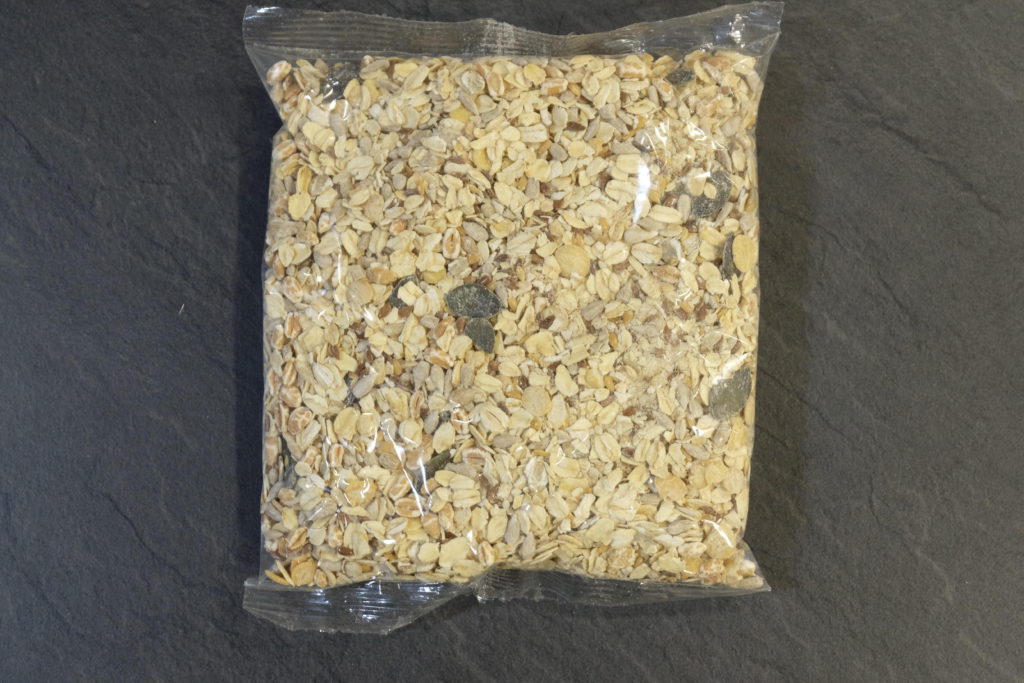 W przepisie jest informacja, żeby dodać jeszcze kilka składników. Nie ma żadnych drożdży, to ma być gęsta, ziarnista cegiełka.
Strona producenta: http://czystoziarnisty.eu/pl/
Planowanie
Chleb należy pozostawić na dwie godziny po zmieszaniu (pewnie żeby wilgoć się równomiernie rozłożyła), następnie piecze się przez 70 minut. Trzeba też odczekać minimum 5 godzin przed krojeniem.
Składniki
250 g mieszanki z torebki
230 g wody
50 g ziaren dyni, albo innych ziaren lub owoców, tak jak wolisz
20 g oleju roślinnego
20 g miodu
6 g soli
Przygotowanie
Umieść wszystkie składniki w misce i wymieszaj aż się ze sobą połączą. Pozostaw na 5 minut

Przygotowywanie

Nastaw piekarnik na 190 stopni i piecz przez 70 minut
Daj chlebowi ostygnąć minimum 5 godzin przed krojeniem
Na opakowaniu jest też ostrzeżenie, żeby chleba nie trzymać w torebce plastikowej. Podejrzewam że to po to, żeby nie nawilgł bardziej i żeby wtedy się nie rozpadł.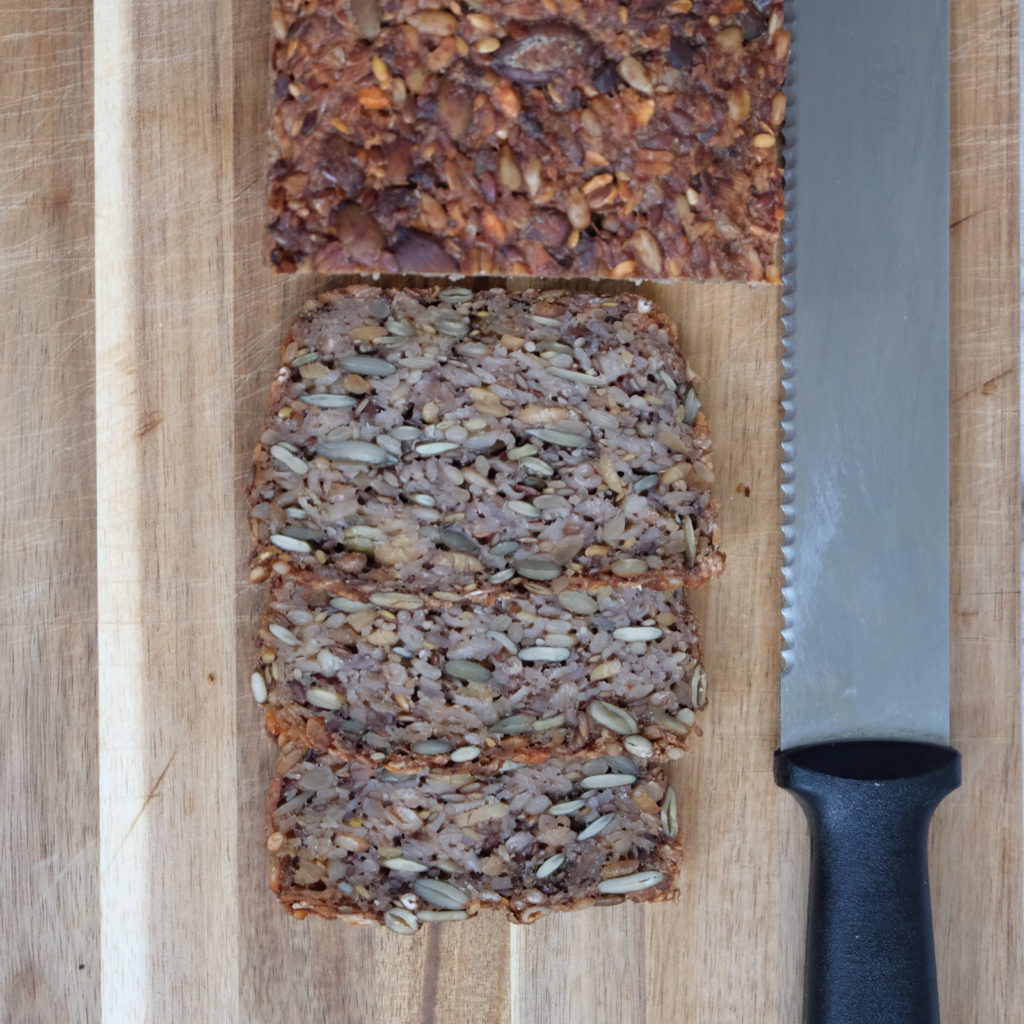 Prosty przepis, nie? Chleb łatwo się kroi. Nie jest zbyt elastyczny, ale też nie kruszy się.
Smak mi odpowiadał. Jest raczej łagodny, ale przyprawa trochę go urozmaica. Wciąż nie wiem co w niej jest. Polecam dodać trochę rodzynek lub innych suszonych owoców, aby był jeszcze ciekawszy, ale nie jest to niezbędne.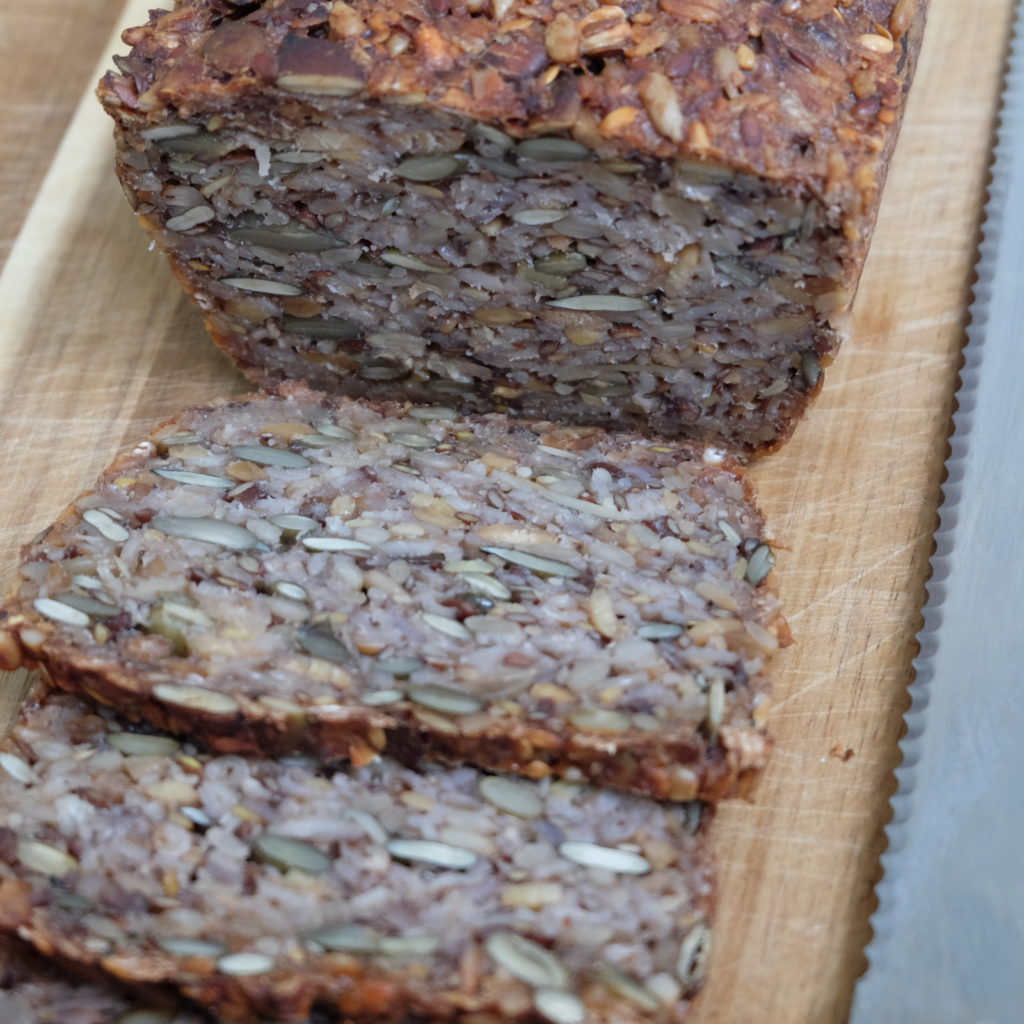 Zabrałem go do pracy i smakował ludziom (ale wciąż woleli te nasze 😉 ).
Jeśli jeszcze nigdy nie zdarzyło Ci się piec chleba i chcesz czegoś prostego, zdecydowanie polecam.