Today I'm providing one of the recipes that we worked out on our own. It's one of those "I wonder if this works" attempts, and one of few that actually have worked. It is very simple and many people like it.
Dziś przedstawiam jeden z przepisów, które opracowaliśmy samodzielnie. To jedno z podejść typu "ciekawe czy to się uda" i jedno z nielicznych, które się udały. Jest bardzo prosty i wiele osób go lubi.
Wersja polska poniżej.
In fact, it is also easier to make than the one listed in the sourdough post. That said, rye is a specific cereal and I preferred to provide a first recipe that involves a proper dough.
Rye contains less gluten, and when you mix it with water, it looks like clay – it is not stretchy or springy, it sticks like crazy. In short it is far from what most would expect in their first baking experience.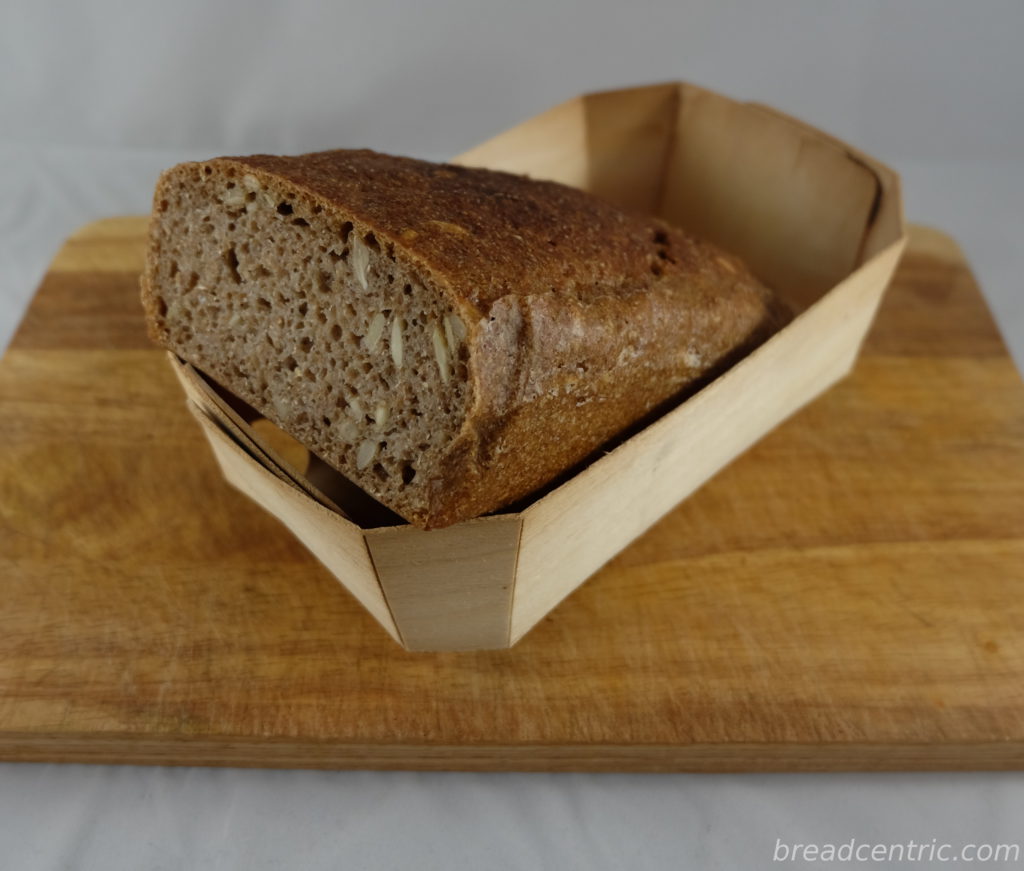 Without proper handling the outcome of baking can become what Poles call zakalec and is considered to be a spoiled bake. As far as I read (and tried), sourdough limits the impact of amylase's activity thanks to increased acidity provided by lactic bacteria, so the result of using sourdough is better then when the one of using yeast only.
Planning
Prepare starter at least eight hours before making the bread. UPDATE: One word of explanation – you can skip making the starter if you have enough of sourdough. We prepare it mainly because we would need to store about 800 g to bake as much bread as we usually do. To prepare 660 g of starter we need 120 g of starter, but even 60 g (and more time) would be enough.
Prepare a baking tin. Make sure it's properly greased, we damaged a couple tins when we didn't and had problems getting the bread out. It's really that sticky. Use butter rather than oil, liquid fat almost never worked for us. If not sure, use baking paper.
We use the red loaf tins from Ikea which can easily fit all of this dough and use it as a proofing gauge. When we insert the dough, it takes up about half of the tin. The loaf is ready to bake when the dough rises to full volume. These tins are not available any longer, but just checked and they fit 1.9 l (= 1.9 kg) of water. Measure yours and scale the recipe accordingly.
You will need to wait between four and eight hours before you bake. It almost never takes longer. Almost.
Ingredients
Starter
90 g whole rye flour
90 g water
40 g rye starter
Dough
400 g whole rye flour (or light rye flour, see options below)
220 g starter
400 g water
12 g salt
50 g rolled oats
50 g sunflower seeds
Preparation
Prepare starter by mixing all its ingredients in a bowl. Cover with cling film and put aside for at least eight hours
When the starter is ready, mix all ingredients together. You will have a very dense clay as the outcome. Make sure it's all mixed thoroughly
Put the dough into a prepared tin. Use wet hand or spatula to make the surface smooth. Cover with cling film and put aside until it's ready, usually about 6-8 hours. It's ready when the dough fills up the whole tin, or when it stops rising
We bake the bread in 150-160C with convection, for about 70 minutes. You know your oven, observe and adjust
The bread comes out quite dense and moist. Using a blunt knife for cutting guarantees it will tear.
The taste is quite subtle and goes well with anything. If you prefer more of a flavour in it, add a spoon of caraway seeds or a handful of dried cranberries (better without sugar), or some pumpkin mash with rosemary (two-the branches at most). In the last case reduce the hydration. I would suggest removing as much water as you add the mash.

The amount of water in the recipe is quite important. The more water the more delicate the crumb, but also more prone to tearing. The main modification to this recipe that we did was reducing hydration to current state. If you want to try however, add 50 g of water. The dough will also be less dense and easier to handle.
Options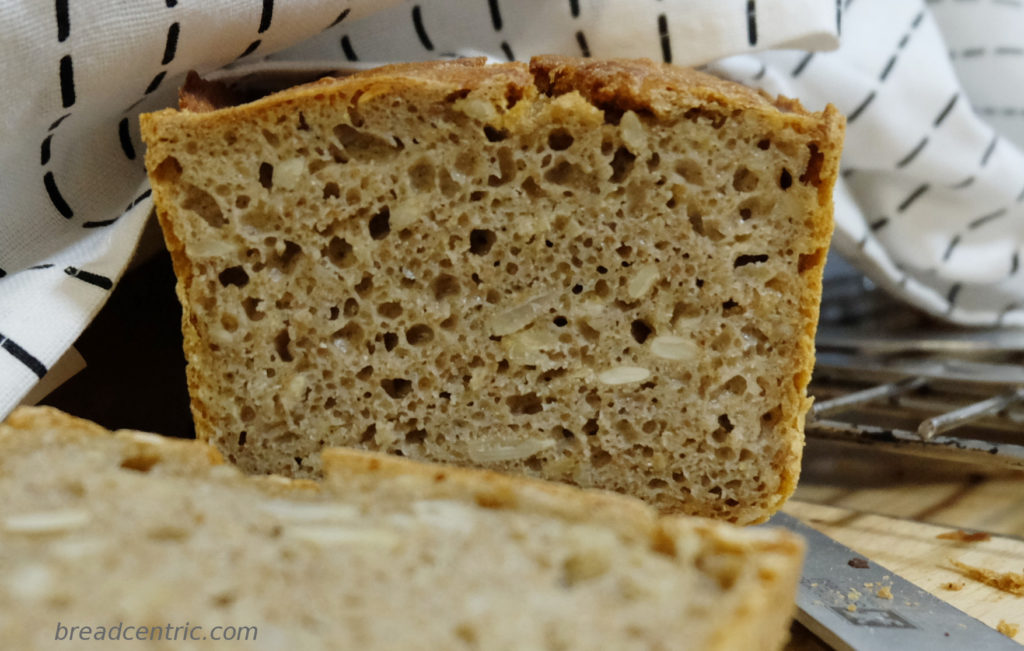 Recently we replaced whole rye flour in the dough with a light rye flour. The result was significantly lighter, though still quite moist and intense in taste. A pleasant experiment.
W zasadzie łatwiej go zrobić niż chleb z wpisu o zakwasie. Żyto jednak jest specyficznym zbożem i jako pierwszy wolałem zaproponować przepis z bardziej standardowym ciastem.
Żyto zawiera mniej glutenu, do tego śluzuje. To sprawia, że ciasto wygląda jak glina – nie jest rozciągliwe ani sprężyste, klei się jak głupie. Krótko mówiąc, nie jest to coś, czego bym oczekiwał po moim pierwszym pieczeniu chleba.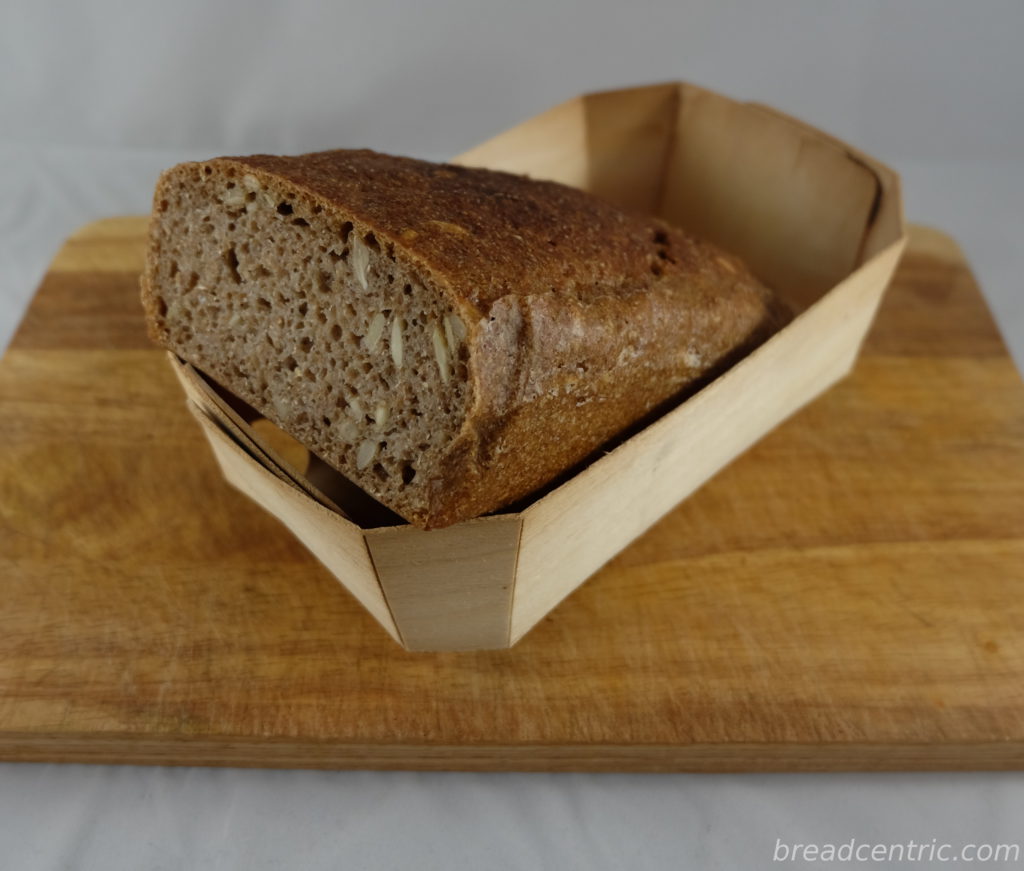 Bez właściwego traktowania z pieczenia może wyjść zakalec. Z różnych źródeł (i doświadczenia) wiem, że aktywność amylazy jest ograniczona przez zakwaszenie ciasta, które następuje wskutek działania bakterii mlekowych, więc końcowy rezultat z zakwasem jest lepszy niż przy korzystaniu wyłącznie z drożdży.
Planowanie
Przygotuj zaczyn minimum osiem godzin przed mieszaniem ciasta. AKTUALIZACJA: Słowo wyjaśnienia – nie musisz robić zaczynu. Jeśli masz dość zakwasu. My przygotowujemy go głównie dlatego, że musielibyśmy trzymać koło 800 g zakwasu, żeby zawsze nam starczyło. Aby przygotować 660 g zakwasu potrzebujemy 120 g zakwasu, ale nawet 60 g (i więcej czasu) wystarczy.
Przygotuj foremkę na chleb. Upewnij się, że jest dobrze natłuszczona. Nasze foremki najbardziej ucierpiały przy tym chlebie, gdy nie posmarowaliśmy dobrze i siłowaliśmy się z wyciąganiem bochenka. Serio aż tak się klei. Używaj raczej masła, oleje nie sprawdzały się. Jeśli masz wątpliwości, użyj papieru do pieczenia.
Używamy czerwonych foremek z Ikei, ilości w składnikach są wymierzone do nich, dzięki czemu możemy ich użyć do oceny wyrośnięcia ciasta. Kiedy wypełniamy, ciasto zajmuje około połowę objętości, a gdy zajmuje całe miejsce, chleb jest gotowy do pieczenia. Te foremki nie są już dostępne (przynajmniej w UK), ale sprawdziłem i mieszczą 1.9 l (=1.9 kg) wody. Zmierz swoje i przeskaluj przepis.
Wyrastanie trwa od czterech do ośmiu godzin, zanim możesz zacząć piec.
Składniki
Zaczyn
90 g mąki żytniej razowej
90 g wody
40 g zakwasu żytniego
Ciasto
400 g mąki żytniej razowej (lub żytniej chlebowej, zobacz wersje alternatywne poniżej)
220 g zaczynu
400 g wody
12 g soli
50 g płatków owsianych
50 g ziaren słonecznika
Przygotowanie
Przygotuj zaczyn mieszając wszystkie jego składniki. Przykryj folią spożywczą i odłóż na minimum osiem godzin
Gdy już będzie gotowy, zmieszaj wszystkie składniki ciasta. Będzie ono wyglądać jak gęsta glina. Zadbaj, żeby wszystkie składniki były dobrze wymieszane
Włóż ciasto do przygotowanej foremki. Przykryj folią i odłóż do wyrośnięcia, zazwyczaj 6-8 godzin. Chleb jest gotowy do pieczenia gdy ciasto wypełni całą foremkę, lub gdy przestanie rosnąć
Pieczemy w 150-160 stopniach z termoobiegiem, przez około 70 minut
Chleb jest dość gęsty i wilgotny. Krojenie go tępym nożem gwarantuje, że się porwie.
Smak jest dość subtelny i pasuje do wszystkiego. Jeśli chcesz wyciągnąć z niego więcej aromaty, dodaj łyżeczkę kminku lub garść żurawiny. Albo trochę puree z dyni i ze trzy gałązki posiekanego rozmarynu, tylko zmniejsz ilość wody, zabierz nawet tyle wody ile dajesz dyni.

Ilość wody w przepisie jest dość istotna. Im więcej wody, tym chleb delikatniejszy, ale też łatwiej się rwie. My od początku w zasadzie redukowaliśmy jej ilość w stosunku do mąki. Jeśli jednak chcesz spróbować, dodaj 50 g wody. Na pewno ciasto będzie mniej gęste i łatwiejsze do obróbki.
Wersje alternatywne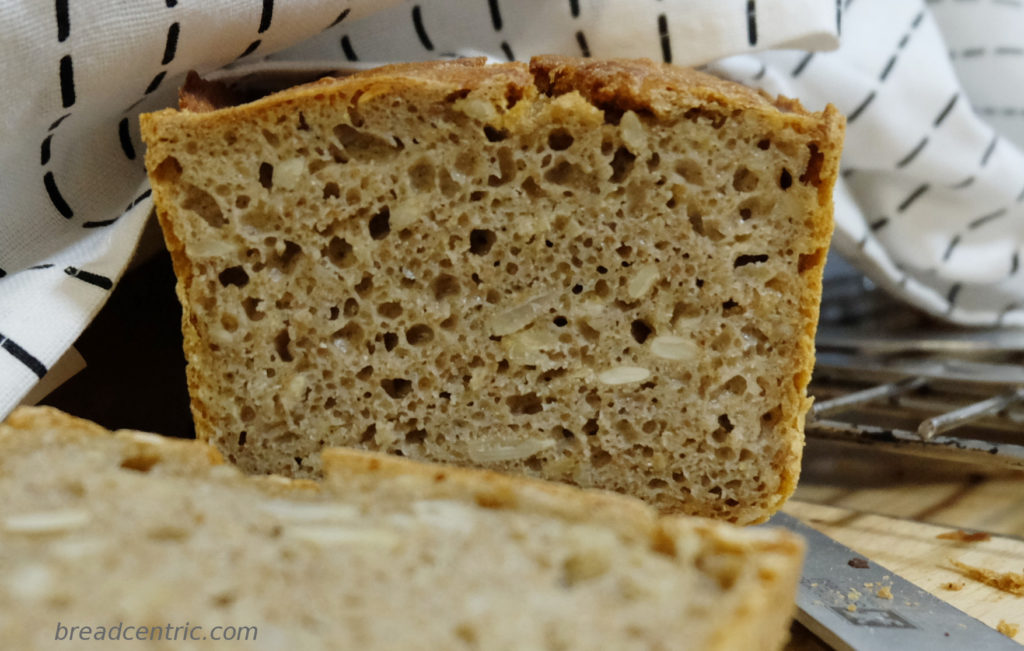 Ostatnio zastąpiliśmy mąkę pełnoziarnistą mąką jasną, chlebową. Efekt był znacznie lżejszy, choć wciąż dość wilgotny i o intensywnym aromacie. Przyjemny eksperyment.