Every now and then you have too much bread. It would be a pity to waste it, and it may be slightly too old to eat with sandwiches already. Here's what you can do with it.
Czasem zdarzy się, że masz zbyt dużo chleba. Szkoda byłoby go zmarnować, a może być już troszkę za stary, żeby zrobić z niego kanapkę. Oto co możesz z nim zrobić.
This is a page in active development. I will be throwing in ideas when I get them.
Croutons in salad
Dice the bread and put it in a roasting pan. Add some seeds (I like pumpkin and sunflower the best), sprinkle salt, add one splash of oil, mix and roast in the oven till it gets nice and crunchy.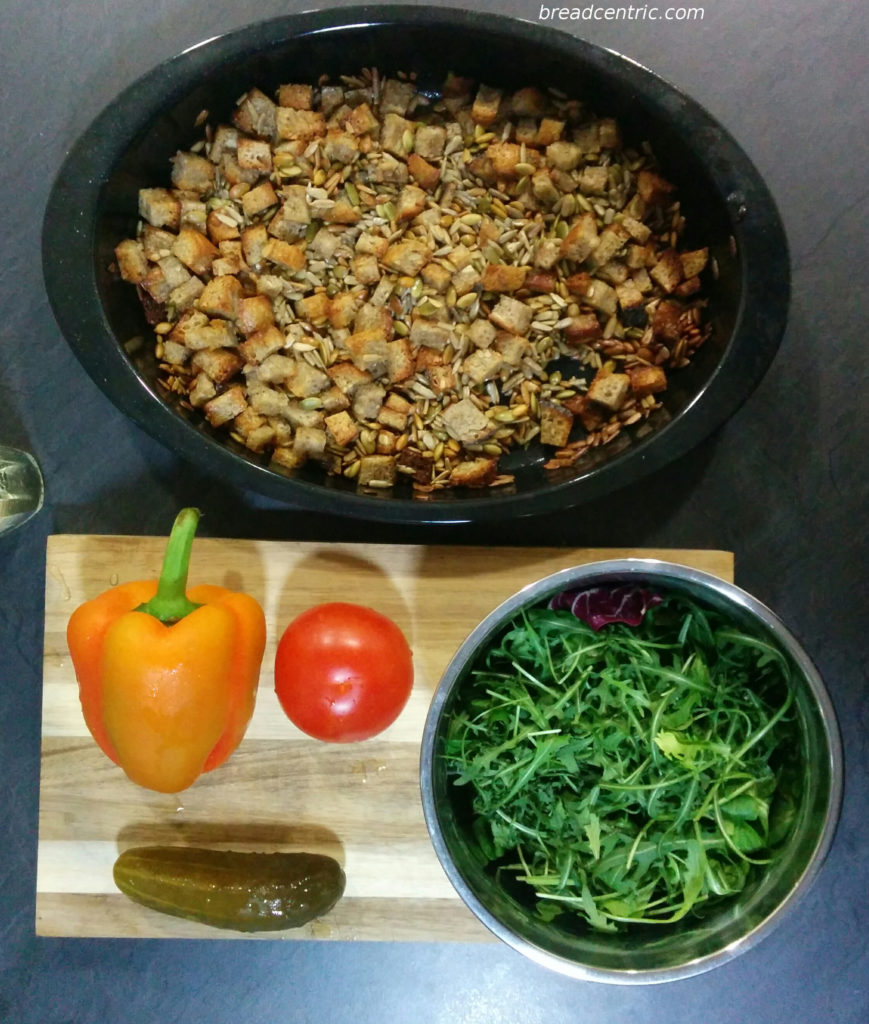 Get a lot of salad, add some pepper, tomatoes, cucumbers in brine, put the croutons on top and enjoy, add some dressing (I used whole mustard, apple vinegar and maple syrup).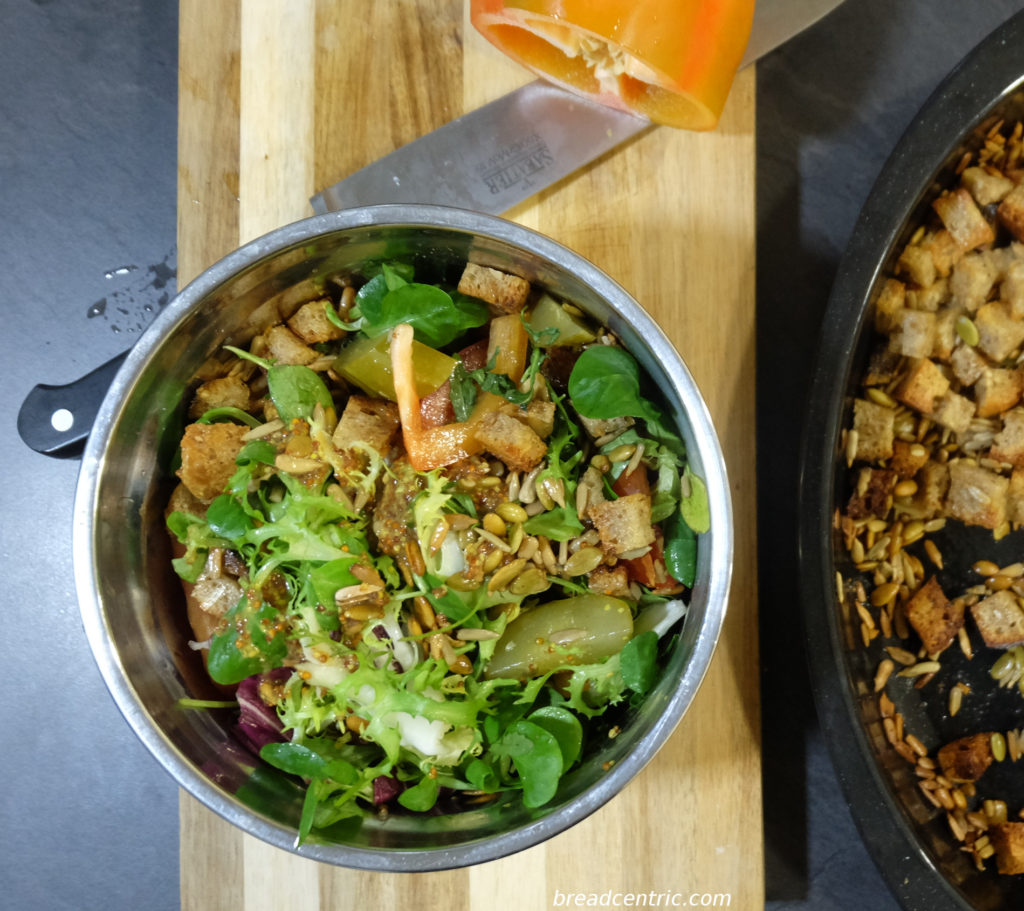 Bread crumbs
If you have a mincer, or at least a grater, slice the bread up, let it get completely dry and make bread crumbs. You can use it to thicken a sauce, to do a fish/pork chop breading, or, if in deep gastro crisis, mix it up with egg and a bit of milk, add salt and pepper, and fry like some meat.
Having more than one type of bread in your bread crumbs will add a slight variation to the outcome.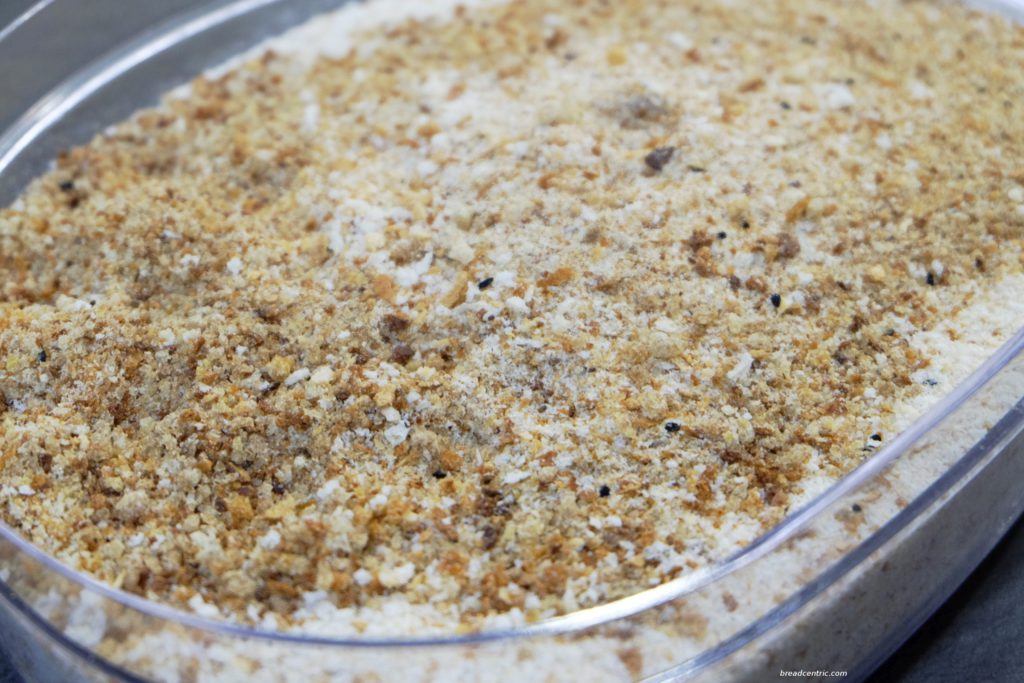 Kvass
If you get some old rye bread, preferably with malted grains, you can use it to make Kvass. See the recipe.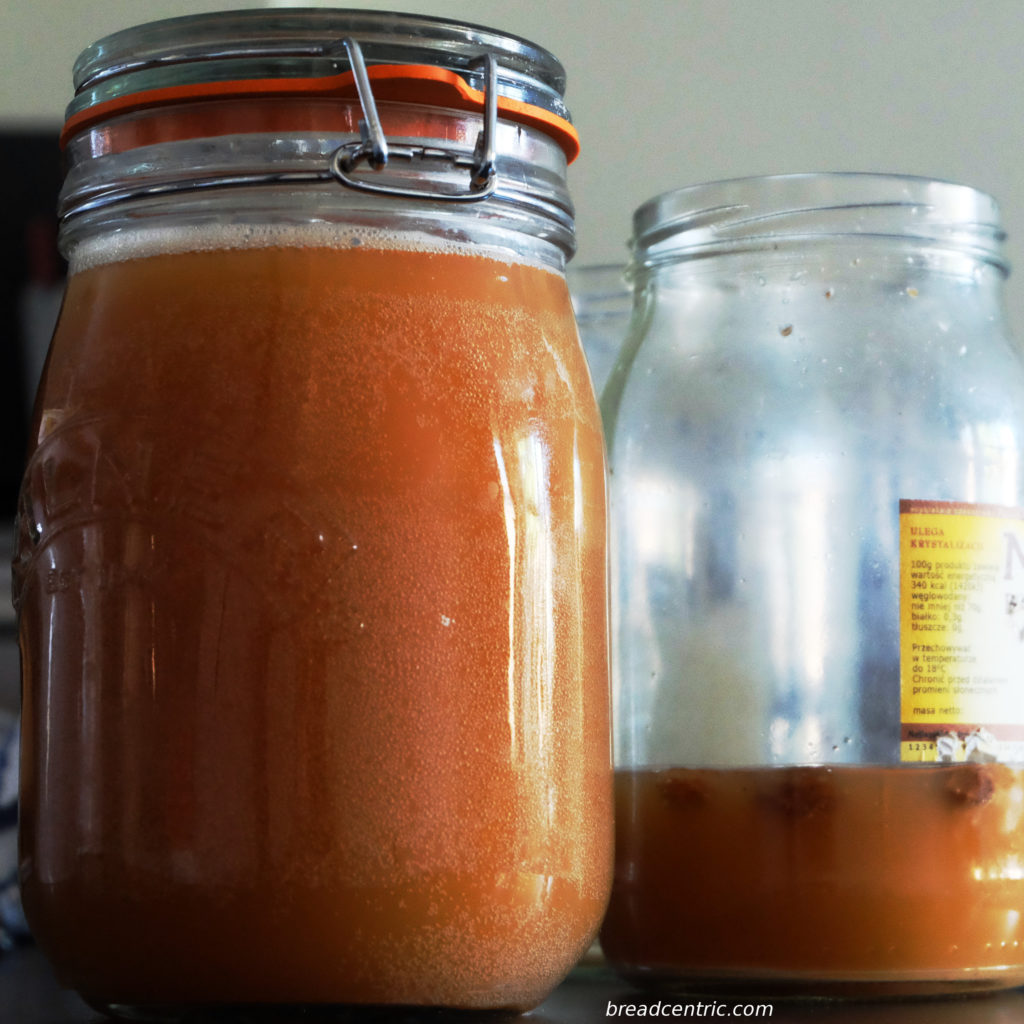 Bramboraky
These Czech pancakes are a quick and easy recipe. Just dip the old bread in water and add all the ingredients. See the bramboraky recipe.
Ta strona jest rozwijana na bieżąco. Będę dodawał tu pomysły, gdy tylko się pojawią.
Grzanki w sałatce
Pokrój chleb w kostkę i wrzuć do brytfanki. Dodaj trochę ziaren (my lubimy szczególnie dynię i słonecznik), posyp solą, daj chlust oleju, wymieszaj i upraż w piekarniku aż zrobią się fajnie chrupiące.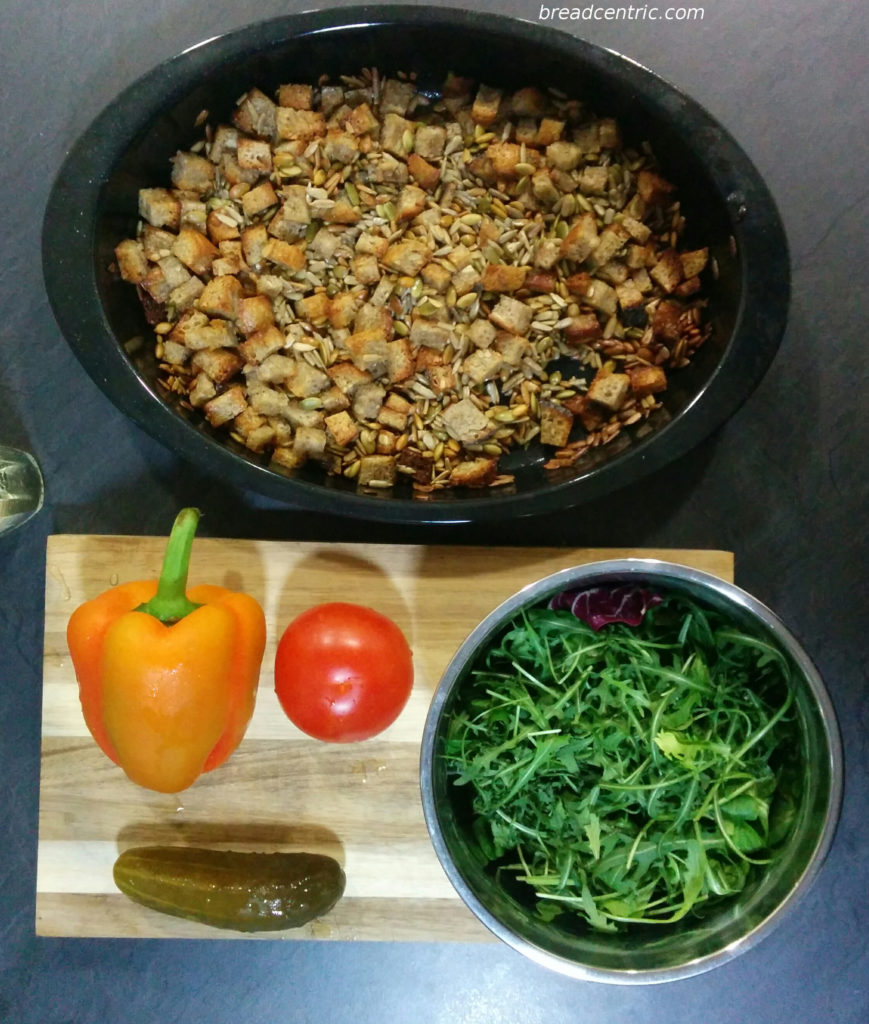 Weź dużo sałaty, trochę papryki, pomidorów, ogórka kiszonego, dodaj grzanki z ziarnami, zrób dressing (ja użyłem musztardy francuskiej, octu jabłkowego i syropu klonowego).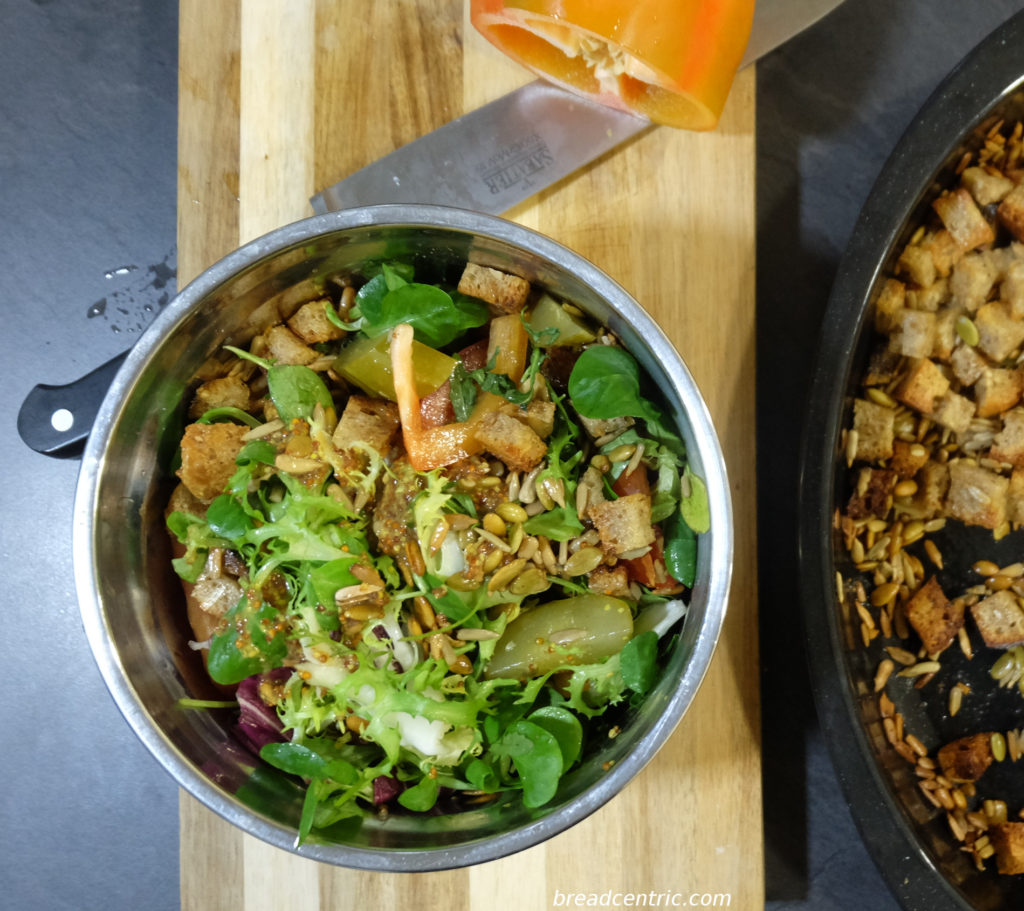 Bułka tarta
Jeśli masz maszynkę do mięsa, lub chociaż tarkę, pokrój chleb, daj mu wyschnąć i zrób bułkę tartą. Możesz nią zagęścić sos, opanierować rybę lub schaboszczaka, lub jeśli masz ostrą gastrofazę, zmieszać z jajkiem i dodać odrobinkę mleka, soli i pieprzu, po czym usmażyć jak kotlet.
Więcej niż jeden rodzaj pieczywa w bułce tartej urozmaici końcowy rezultat panierowania.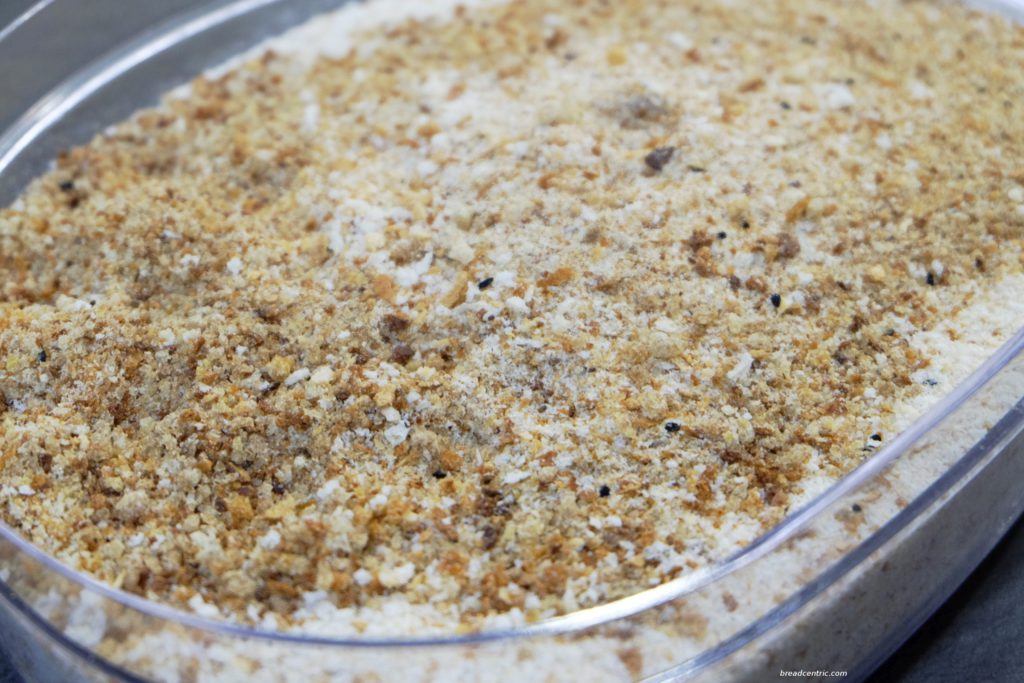 Kwas chlebowy
Jeśli masz trochę starego chleba, najlepiej ze słodem, możesz zrobić kwas chlebowy. Zobacz przepis.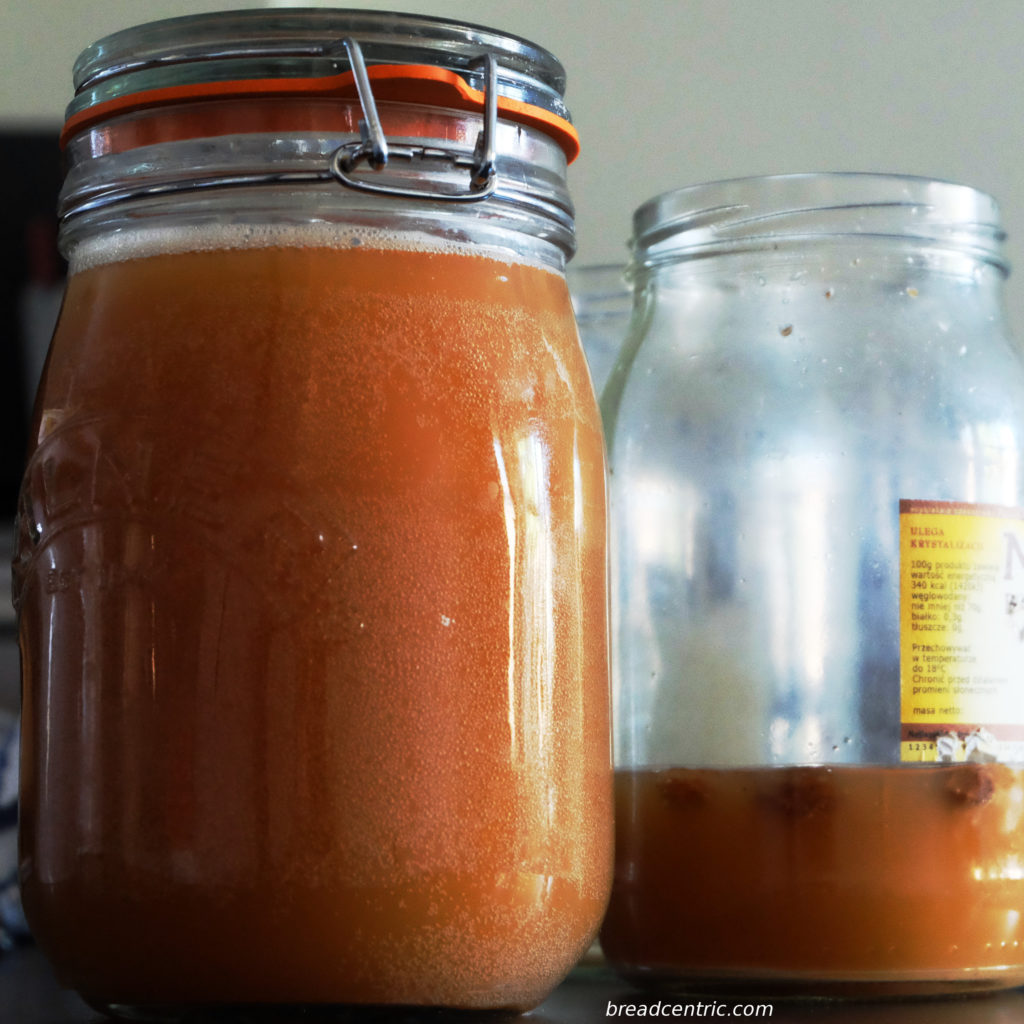 Bramboraky
Te czeskie placuszki są proste i szybkie w wykonaniu. Zwyczajnie zamocz stary chleb w wodzie i dodaj wszystkie składniki. Zobacz przepis na bramboraky.
Na Wykopie pod linkiem do tego wpisu posypało się wiele ciekawych pomysłów. Oczywiście dodaję je do listy do wypróbowania i opisania.