Why on Earth would someone be crazy enough to choose bread as a hobby?
Do you have a hobby? What is it? Do you show it to others or do you hide it? I used to have many hobbies and I sucked at most of them, or got average at most. Except for computers, where I managed to get acceptable, but now it's my job, not my hobby.
And now bread. Why?
The beginning
We were making bread long before it became my hobby. I was fascinated by it for the first time long before I baked anything, when I watched this:


I can watch this over and over again.
Gosia has always been excellent with cooking and I didn't really cook at all. She got some sourdough from our neighbour and started baking with me helping when needed and nothing more. This was enough to get our parents, sisters, aunts and cousins to bake their bread. Next, we moved and quickly got back to baking. And then something magical happened.
Source: Reaction Gifs
I took a loaf to work, just to share. It was a usual simple thing: some bread, some butter. It was gone in some 5 minutes and someone asked if we could bake one for them (IT'S ALL YOUR FAULT, KARL).
It may not sound to extraordinary, but my confidence level skyrocketed. You see, confidence wasn't really my strong point. Anyway, we baked one loaf, then another, then different type. I can tell you: you know you're doing something well when you bring a loaf of bread to share in the office and you don't even need to let anyone know because you only need to clean up the remaining crumbs few minutes later.
Giving your head a rest
I'm a software developer. My work day is focused around converting coffee to code while making a sponge out of my brain. I need to think from a number of different perspectives at the same time. I need holiday as often as possible, and my brain goes in the Bieszczady mountain every single time I make bread.
Short release cycle
I'm not used to short term projects. Most things I do take time to complete, are an ongoing thing, or are required to last and cannot be repeated quickly.
When I make bread, I measure everything, follow the recipe, observe, take feedback, adapt, repeat, improve, learn more. My whole requirements document fits into two-three pages. This is a change of approach that lets me relax a bit.
Learning
The nice thing about bread is that it is simple to make and infinite to improve. You decide how far you want to go with it. You want a bread in one hour? Boom, soda bread. You want a fancy bread in three-four days? Lithuanian bread. You want a challenge? Make something gluten free, or a sculpture, or a Dożynki bread.
Making things
If you like making things, bread is perfect for you. Well, it is for me, so it must be for everyone. EVERYONE.
I don't get to make many things nowadays. A couple things for the garden, some home improvements, furniture assembly. With bread, I can bash away and still have space to make even more. Need to do a lot of practise? Prepare two or three servings, you'll have more to give away.
Meeting People
There's this awkward moment every now and then when I would like to get to know someone, but I'm a bit afraid. Our son, Antoni, recognises someone from the distance, runs towards them and stops two meters away only to realise he's too shy to approach them.
The bread gives me the comfort zone to do the extra step. You share bread and may be surprised what they share with you. You may share with your favourite baristas
…and learn that one of them plays the base guitar in an awesome band.
[youtube https://youtu.be/M7sAMnQtLlI ]
You may share with your favorite foodtruckers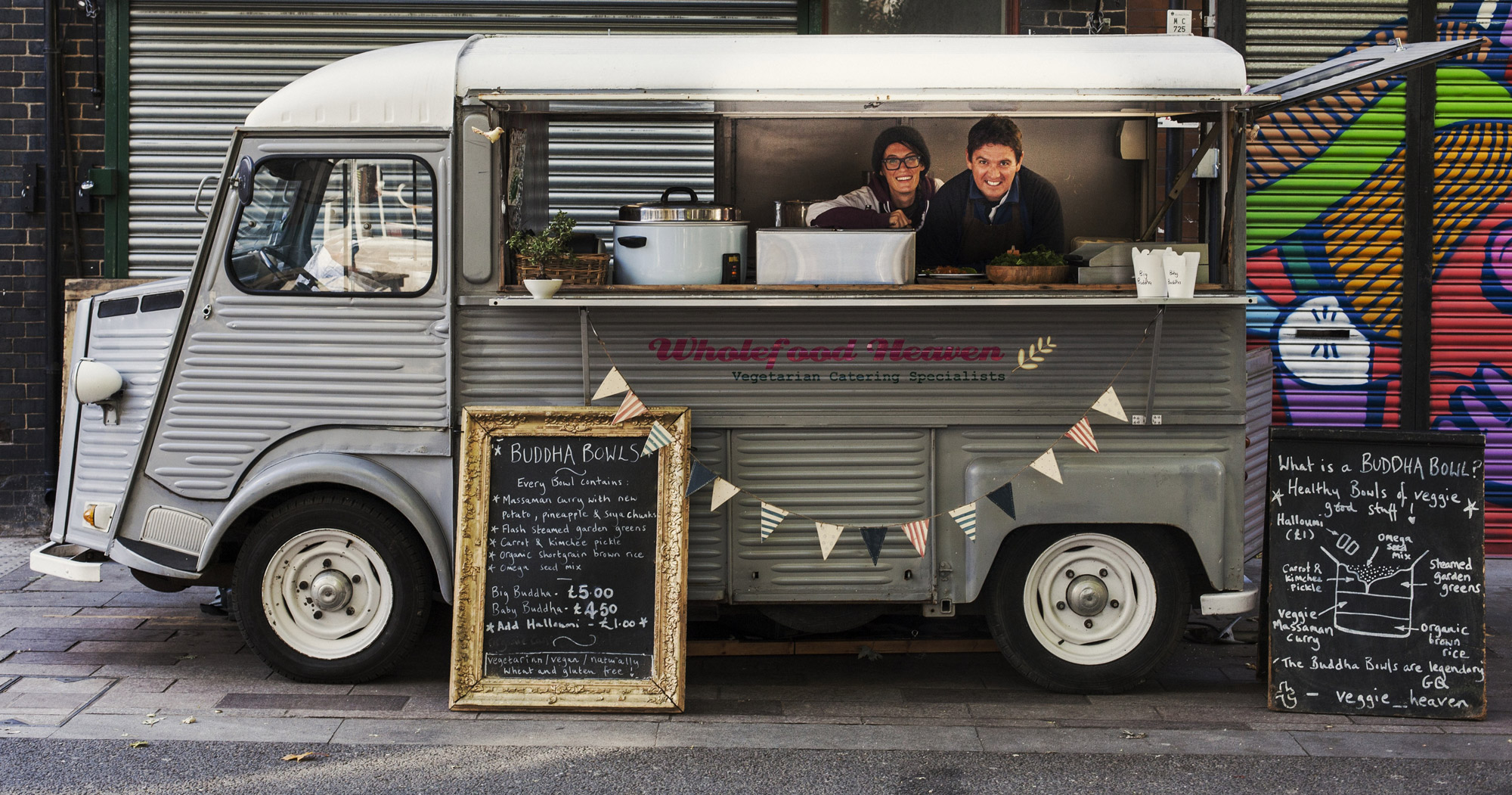 …and get the friendliest smile and awesome food in return 🙂
At my previous job we had and an interesting guy joining. It turned out he volunteered at the Better Health Bakery on weekends. This was his way to reward himself for a good week of work. I can totally understand that.
Oh, forgot to mention: after you start baking, half of people you meet turn out to be professional bakers, or pastry chefs, or cooks. You can recognise they like their work when you see the spark in their eyes when they talk about some details with you.
The challenge
Remember the confidence stuff I mentioned? It gets even harder when you go to the people and compare your bread against theirs. The first time is the worst – you don't know what to expect. I remember how scared I was before this:
[youtube https://www.youtube.com/watch?v=NHj-0NPP-L4 ]
Apologies for the quality, this was recorded with a poorly shaped baguette.
But then it can only get better. I was second in the competition 🙂
And in the end it's not about the challenge, it's about finding the like-minded people and sharing the passion with someone who shares back. Baking is an idea worth spreading (badum tssss).
Spreading the love
Now it's my kids who want to bake with us. But not only them – there is a number of people I already heard from who started baking inspired by what I do. It is very flattering.
One thing I always admire in my Parents is the knack for tinkering and making. Based on my Sisters and me, I can confirm this gets inherited. And now I can see this in our kids. Helena did some sewing recently, tries cooking and is a girl with a plan, Antoni is fixed on cleaning and cooking so far. I look at them and can only say it's all worth doing to see how it all returns to you in their actions.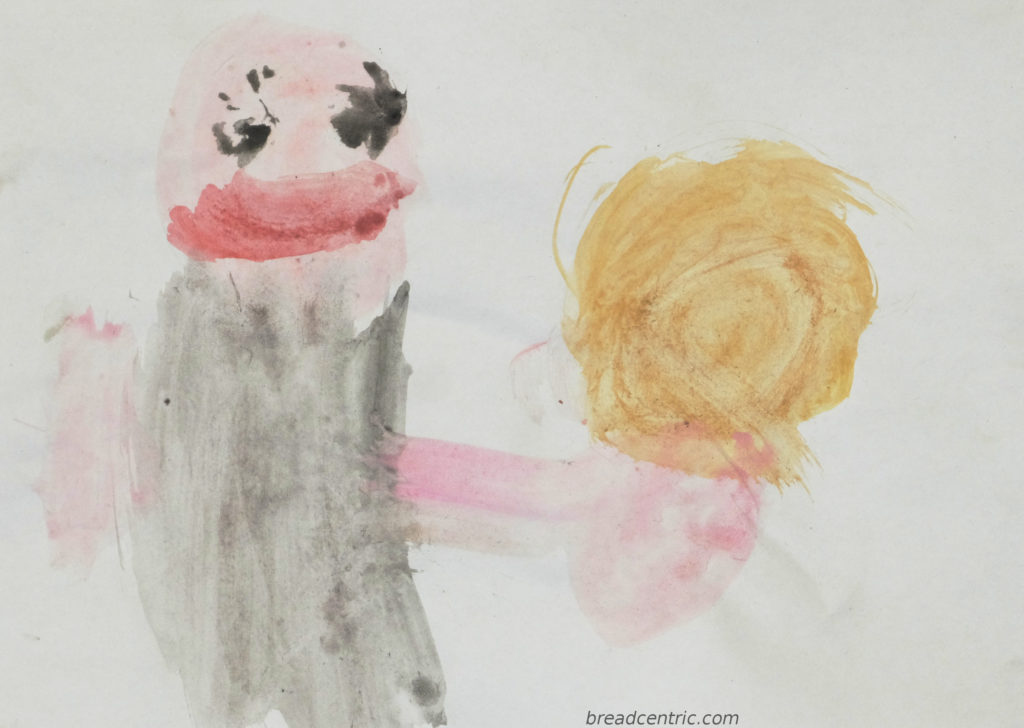 The feedback
Finally, you are the reason why I enjoy baking so much. And then sharing it. You come with questions, comments, challenges. I see the likes, the views, the clicks. You give me the energy to carry on, and I can tell you, it takes a lot of energy to bake and write about it.
What about you? Do you bake? Why?
Czy masz hobby? Jakie? Chwalisz się nim, czy może je ukrywasz? Ja miałem różne hobby, przy czym zazwyczaj byłem mierny lub najlepiej przeciętny. Wyjątkiem były komputery, w których byłem niezły, ale mój zawód już nie jest moim hobby. Jeśliby był, gdzie byłaby granica między pracą a domem?
Teraz piekę chleb. Czemu?
Początek
Piekliśmy na długo przed tym, gdy stało się to moim hobby, ale samo zajęcie zafascynowało mnie po raz pierwszy jeszcze zanim cokolwiek upiekłem:
Mogę to oglądać w kółko.
Gosia zawsze była wybitna w gotowaniu, a ja w zasadzie nie gotowałem wcale. Dostaliśmy trochę zakwasu od sąsiadki i zaczęliśmy piec – znaczy się ja jedynie pomagałem, gdy to było konieczne i nic ponad to. Tyle wystarczyło, żeby nasi rodzice, siostry, ciocie i kuzynki zaczęli piec. Po przeprowadzce szybko wróciliśmy do pieczenia. I stało się coś niezwykłego.
Źródło: Reaction Gifs
Wziąłem do pracy bochenek, żeby się podzielić. Prosta rzecz: trochę chleba, trochę masła. Zniknął w 5 minut, a ktoś zapytał, czy nie moglibyśmy upiec czegoś dla niego. Niby nic wyjątkowego, ale dodało mi bardzo dużo pewności siebie. Widzisz, nie jestem zbyt pewnym siebie misiem. W każdym razie upiekliśmy jeden, potem drugi, potem inny rodzaj. Powiem Ci że łatwo poznać, że robisz coś dobrze, kiedy wystawisz w pracy pokrojony chleb i nawet nie musisz dawać wszystkim znać, bo już trzeba posprzątać okruszki.
Co mi daje chleb?
Odpoczynek dla głowy
Jestem programistą. Mój dzień pracy polega na przemienianiu kawy w kod przez robienie gąbki z mózgu. Muszę na bieżąco analizować problemy, oceniając je jednocześnie z wielu perspektyw. Potrzebuję przerwy tak często, jak to tylko możliwe, a mój mózg podczas robienia chleba wyjeżdża w Bieszczady.
Krótki cykl pracy
Nie jestem przyzwyczajony do krótkich projektów. Większość rzeczy, które robię, zajmuje czas, aby je ukończyć, nieustannie działają lub mają działać, i nie mogą być szybko powtórzone.
Kiedy robię chleb, mierzę wszystko, wykonuję przepis, obserwuję, przyjmuję oceny i opinie, dostosowuję, poprawiam, rozwijam, uczę się. Cały opis wymagań mieści się na dwóch-trzech stronach.
Nauka
Fajne w chlebie jest to, że jest prosty do zrobienia, a ulepszeniom nie ma końca. Ty decydujesz jak daleko chcesz pójść z pieczeniem. Chcesz chleb w godzinę? Proszę: chleb na sodzie. Chcesz fikuśny chleb w trzy-cztery dni? Chleb litewski. Chcesz wyzwań? Zrób coś bezglutenowego, lub rzeźbę, lub chleb dożynkowy.
Robienie
Jeśli lubisz tworzyć, chleb jest dla Ciebie idealny. Jest dla mnie, więc musi być dla wszystkich. WSZYSTKICH.
Nie mam zbyt wielu okazji, by tworzyć. Coś w ogrodzie, kilka usprawnień w domu, montaż mebli. Z chlebem jest wygodnie – mogę piec ile wlezie, a i tak będę mógł zrobić więcej. Jeśli wyjdzie za dużo, będę miał więcej do rozdania.
Spotykanie ludzi
Od czasu do czasu znajduję się w tej niezręcznej sytuacji, kiedy chciałbym z kimś się lepiej zapoznać, ale boję się. Nasz syn Antoni rozpoznaje kogoś z odległości, biegnie do nich i zatrzymuje się dwa metry od osoby, wstydząc się podejść bliżej. Chleb daje mi strefę komfortu, żeby zrobić ten dodatkowy krok. Dzielisz się chlebem, a to, czym oni podzielą się z Tobą, może Cię zaskoczyć. Możesz wręczyć trochę swoim ulubionym baristom
So we hatched today! New digs in Fortune Park Giddy. Up.

A photo posted by Giddy Up Coffee (@giddyupcoffee) on
…i dowiedzieć się, że jeden z nich gra na basie w kapitalnym zespole.
[youtube https://youtu.be/M7sAMnQtLlI ]
Możesz podzielić się z właścicielami ulubionego foodtrucka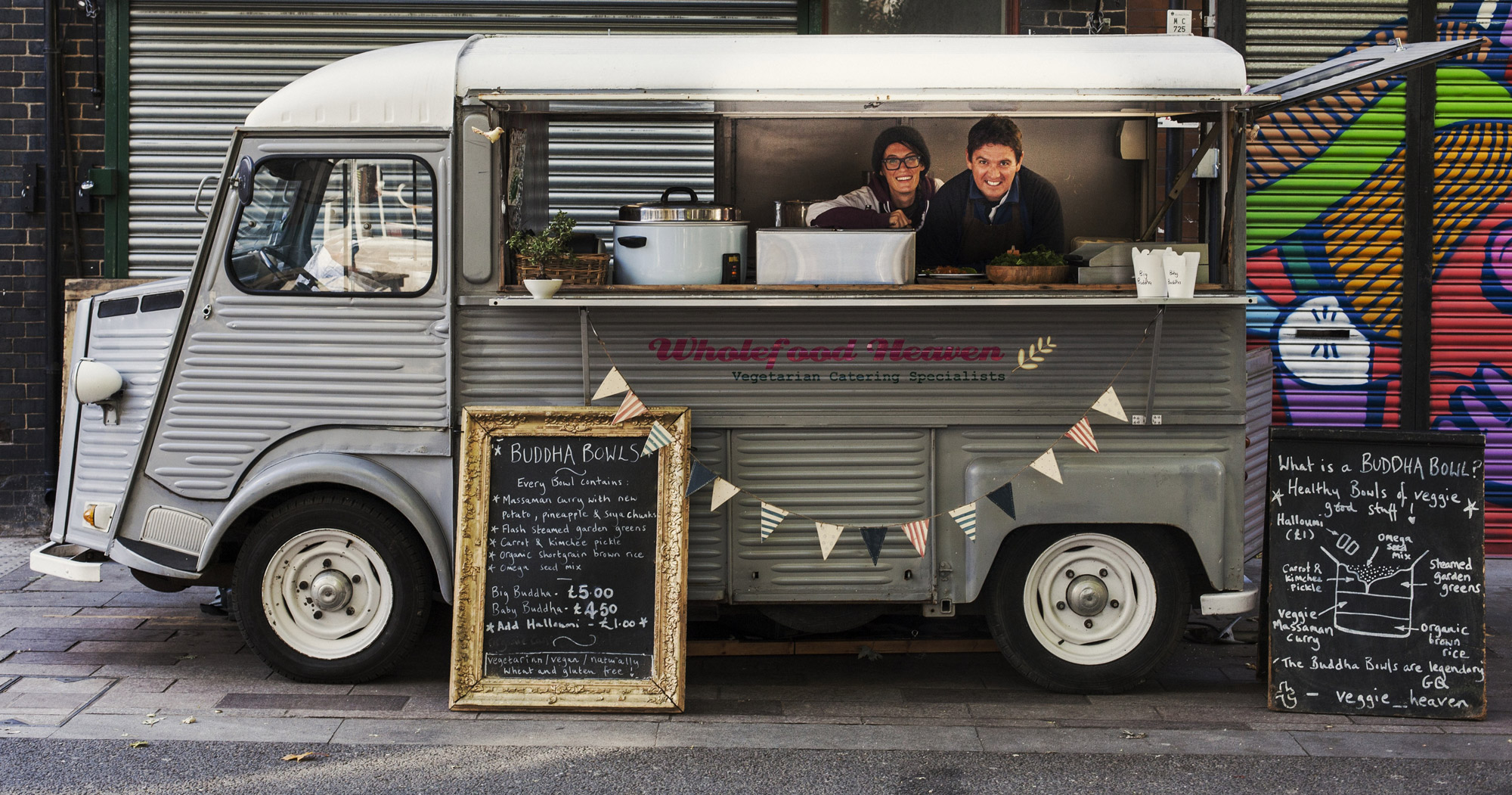 …i otrzymać w zamian przyjacielski uśmiech i doskonałe jedzenie 🙂
W przedniej firmie dołączył do nas sympatyczny gość. Okazało się, że jest wolontariuszem w Better Health Bakery. To jego nagroda dla siebie za udany tydzień. W zupełności to rozumiem.
Zapomniałem wspomnieć: gdy zaczniesz piec, połowa ludzi, których poznasz, okaże się być profesjonalnymi piekarzami, cukiernikami lub kucharzami. Łatwo rozpoznać, że lubią swoją pracę, po błysku w oku, kiedy opowiadają o jakimś szczególe.
Wyzwanie
Wspominałem o braku pewności siebie. Pójście do innych osób i porównanie swojego chleba z nimi sporo mnie kosztowało. Pierwszy raz jest najtrudniejszy – nie wiesz czego się spodziewać. Pamiętam jak się bałem przed tą opinią:
[youtube https://www.youtube.com/watch?v=NHj-0NPP-L4 ]
Przepraszam za jakość, nagranie zostało wykonane źle uformowaną bagietką.
Ale potem jest już z górki. Zająłem drugie miejsce 🙂
Nagle się okazuje, że nie chodzi o wyzwanie, tylko spotkanie ludzi myślących podobnie, dzielenie się pasją z kimś kto to odwzajemnia.
Dzielenie się pasją
Teraz nasze dzieci chcą piec z nami. Ale nie tylko – już kilka osób zaczęło piec, zainspirowanych naszym hobby. To bardzo nam schlebia.
Jedną z umiejętności, którą podziwiam w moich Rodzicach, jest ich smykałka do majsterkowania i tworzenia. Patrząc na moje siostry i na mnie stwierdzam, że to jest dziedziczne. Helena ostatnio coś uszyła ("Patrz Mamo, nie pokujałam się"), próbuje gotować i jest dziewczynką z planem, podczas gdy Antek jest póki co zafiksowany na sprzątanie i gotowanie. Patrzę na nich i mogę tylko powiedzieć, że warto dużo robić, żeby zobaczyć, jak oni nas naśladują.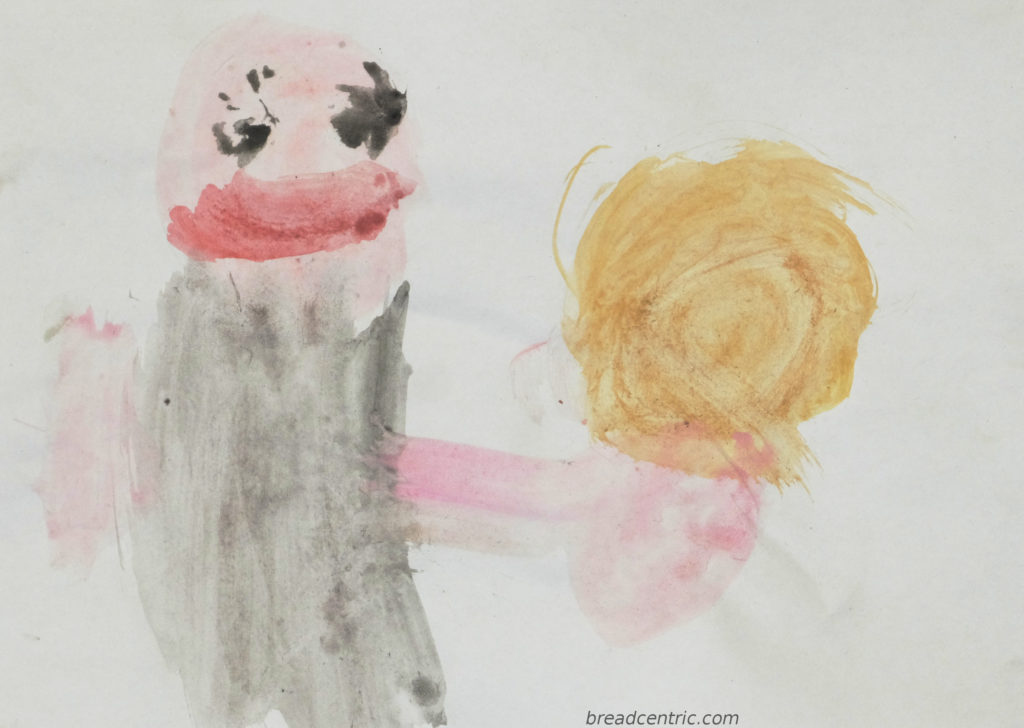 Opinie
I na końcu Ty. Ty jesteś przyczyną, dla której lubię tak bardzo piec. A potem się dzielić. Dostajemy pytania, komentarze, wyzwania. Widzę polubienia, wyświetlenia, kliknięcia. To daje mi energię, by kontynuować, a mogę zapewnić, że pieczenie i pisanie o tym jest bardzo energochłonne.
A Ty? Pieczesz? Dlaczego?