Going to Poland for Christmas meant I had a chance to see how my yeast water was doing and then bake with my new recipe.
Wyjazd do Polski na Święta umożliwił mi sprawdzenie, jak ma się moja woda drożdżowa, a potem upiec na niej z użyciem mojego nowego przepisu.
After I have made and tested my yeast water, I put it in the fridge and left it behind for four months. I was curious what would happen to it.
First opening and reviving
There was a light thump when opening and a significantly yeasty smell. No bad smells, no mold. The summer fruit mash in the jar was not the most attractive view ever.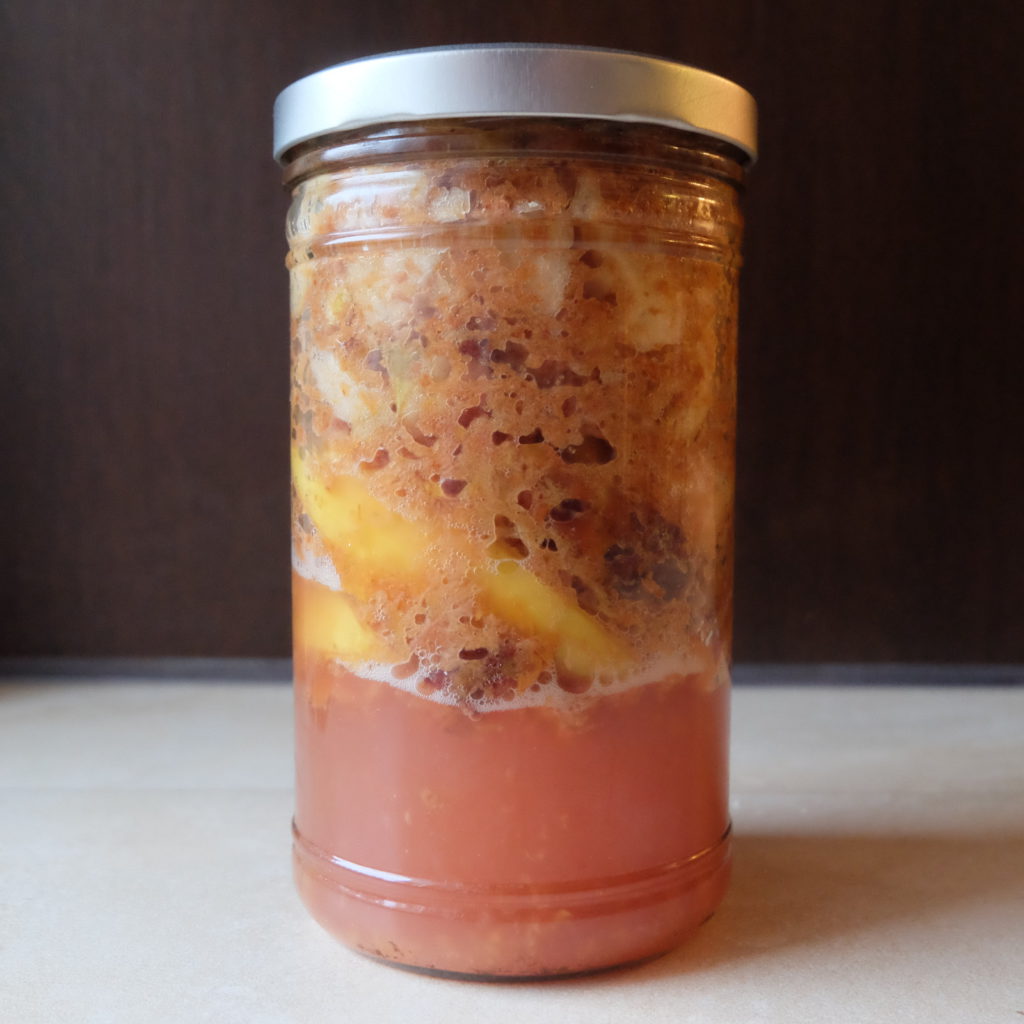 I fed it with an apple and left it for the night. In the morning it was very active. I released the carbon dioxide and got even more in the evening.
I took 160 g water and mixed it with 160 g strong flour to make a levain. I have put the rest on a strainer, washed the jar, poured just the water back into the jar, diced an apple into it and filled it with water. It looked much better.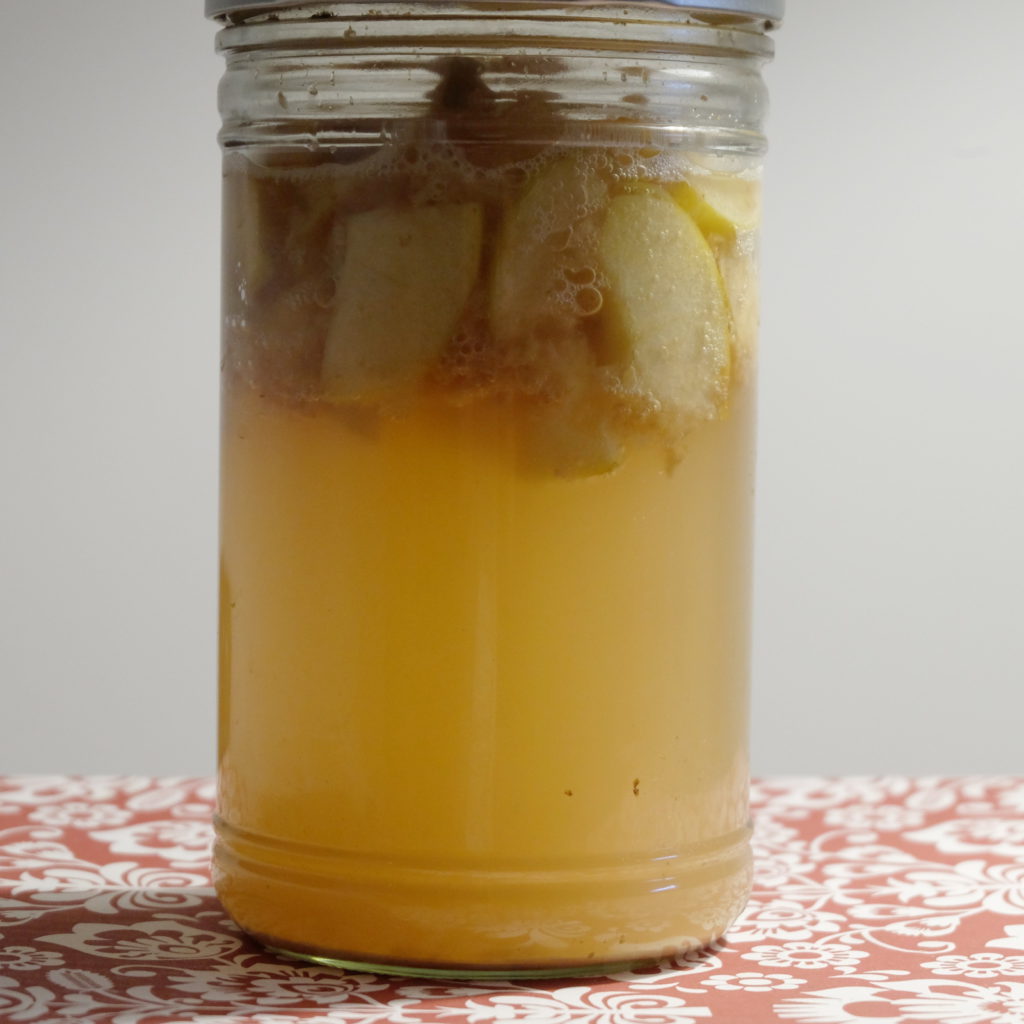 How to make the recipe
I decided to plan a new recipe. My first assumptions:
65-67 % hydration – not very moist, but enough to make a flexible dough with moderately open crumb
20 % rye flour
2 % salt
add some wholemeal wheat flour
I could not find the wholemeal wheat flour so I removed it from the plan.
Now it's down to maths. Let's say we want 650 g of dough:
65% hydration and 2% salt means that 167% flour weight = 650 g
this means flour weight is 390 g
20% rye flour is 80 g
80% wheat flour is 310
2% salt is 8 g
65% water is 250 g
Ingredients
Makes a 600 g loaf
Levain
160 g strong white wheat flour
160 g yeast water
Final dough
320 g levain
150 g strong white wheat flour (I gave 250 g which was wrong)
80 g light rye flour
8 g salt
100 g normal water
Preparation
Mix levain ingredients and leave for 14-20 hours
Mix all ingredients together and leave for bulk proof for two hours in a warm place. After 20, 40 and 60 minutes do a quick stretch and fold
Shape the bread and place in a basket for a final rise until it doubles in volume, about 1-2 hours (90 minutes in my case)
Set the oven to 200 C degrees 30 minutes before baking. I used a fan assisted program
Score and bake for 40-45 minutes
Leave it to cool
I was surprised how rapidly that bread rose. I don't remember such activity back in the Summer.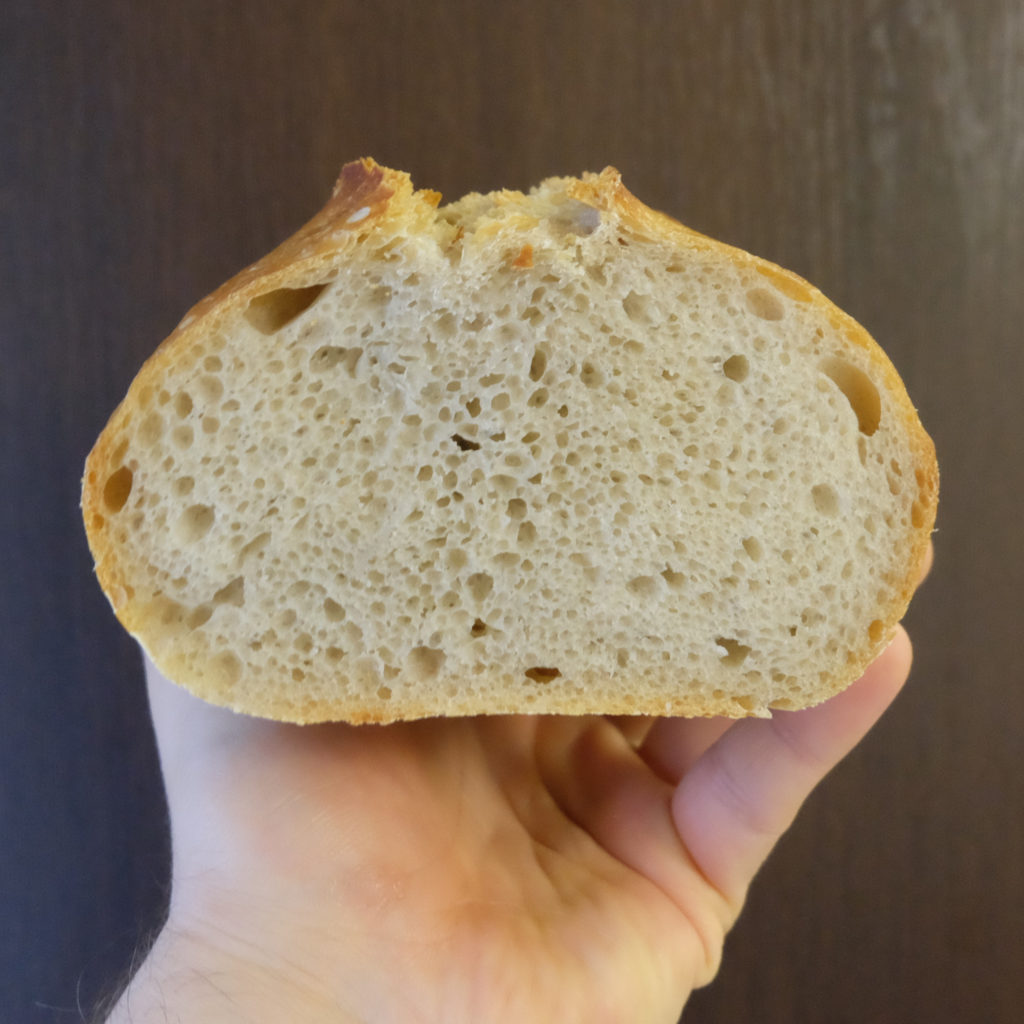 Final result: This is a perfect bread. The recipe is not even close to revolutionary, but the bread just disappeared in one sitting.
This recipe was initially published on my "metablog" on Steemit, in two parts. Follow me over there to see my tries and mistakes, drafts and other, unrelated stuff.
Po tym jak zrobiłem i wypróbowałem moją wodę drożdżową, umieściłem ją w lodówce i pozostawiłem na cztery miesiące. Ciekaw byłem, co się z nią stało
Pierwsze otwarcie i ożywienie
Ciśnienie w słoiku było nieznacznie podwyższone, a zapach był wyraźnie drożdżowy. Żadnego smrodu, żadnej pleśni. Ciapa z owoców letnich nie była najseksowniejsza na świecie.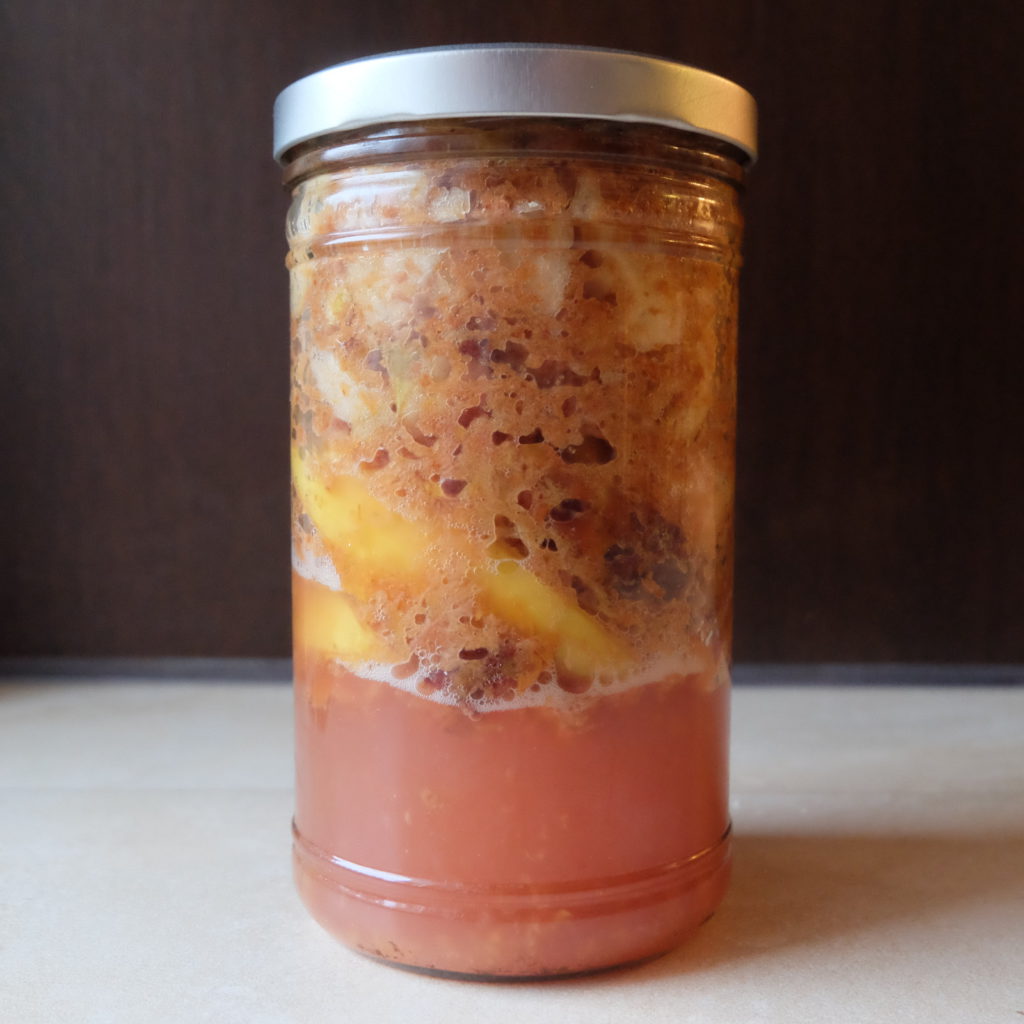 Wkroiłem jabłko i zostawiłem na noc. Rano woda była bardzo aktywna. Wypuściłem dwutlenek węgla, a wieczorem było go jeszcze więcej.
Wziąłem 160 g wody i zmieszałem z 160 g mąki chlebowej typ 850 na zaczyn. Resztę wody drożdżowej odcedziłem, umyłem słoik, przelałem do niego, dodałem nowe jabłko i uzupełniłem wodę. Od razu wyglądało lepiej.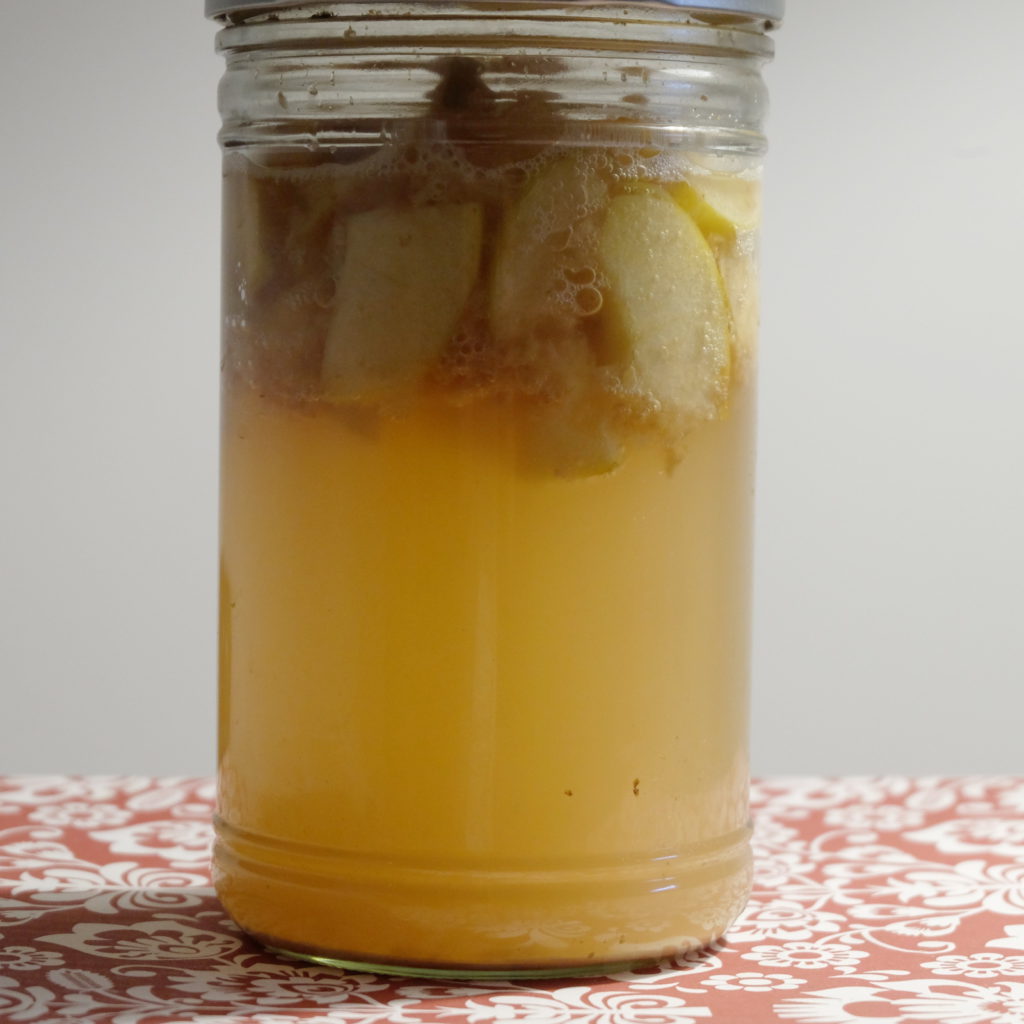 Jak opracować przepis
Postanowiłem przygotować przepis. Moje pierwsze założenia:
65-67 % hydracji – nie za mokre, ale dość żeby otrzymać fajne, elastyczne ciasto
20 % mąki żytniej
2 % soli
trochę mąki pełnoziarnistej
Nie znalazłem tej ostatniej w domu, więc usunąłem ją z przepisu.
Teraz czas na matematykę. Powiedzmy, że chcę 650 g ciasta:
65% hydracji i 2% soli oznacza, że 167% wagi mąki = 650 g
to znaczy, że masa mąki to 390 g
20% mąki żytniej to 80 g
80% mąki pszennej to 310
2% soli to 8 g
65% wody to 250 g
Ilość zaczynu zgaduję. Użyta ilość była w porządku, gdyby tak nie było, musiałbym dostosować. Tak czy tak, użyłem 160 g mąki i 160 g wody drożdżowej, więc reszta mąki i wody (już zwykłej) idzie do właściwego ciasta.
Moja żona zawsze powtarza: nie piecz gdy masz okres. Dodałbym: … lub kiedy się przeziębisz. Pomyliłem się i dałem 100 g więcej mąki pszennej. Otrzymałem ciasto z 53 % hydracji, 15 % żyta i 1,5% soli. Ładnie urósł, ale było zbyt dużo ciasta oraz nie był dostatecznie słony, więc pewnie go poprawię.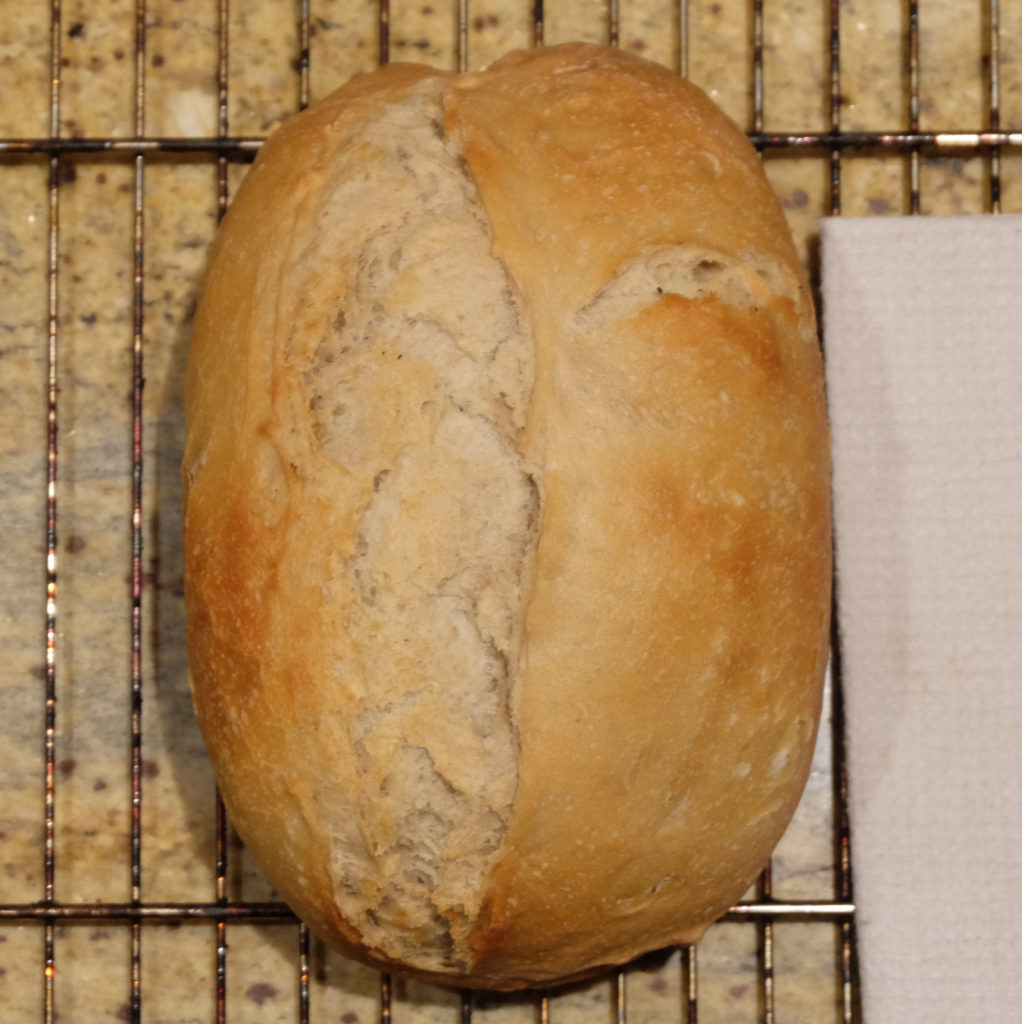 Składniki
Na 600 g chleba
Zaczyn
160 g mąki chlebowej typ 850
160 g wody drożdżowej
Ciasto właściwe
320 g zaczynu
150 g mąki chlebowej typ 850
80 g mąki żytniej typ 720
8 g soli
100 g zwykłej wody
Przygotowanie
Zrób zaczyn z mąki i wody i pozostaw na 14-20 godzin
Wymieszaj wszystkie składniki na ciasto, wyrób trochę i pozostaw do wyrastania na dwie godziny w ciepłym miejscu. Po 20, 40 i 60 minutach rozciągnij i złóż ciasto
Uformuj bochenek i umieść w koszyku do wyrastania aż podwoi objętość, na 1-2 godziny (u mnie 90 minut)
Ustaw piekarnik na 200 stopni na 30 minut przed pieczeniem. Używałem programu z konwekcją
Natnij i piecz przez 40-45 minut
Pozostaw do ostygnięcia
Byłem zaskoczony szybkości rozrostu chleba. Nie pamiętałem takiej aktywności w lecie.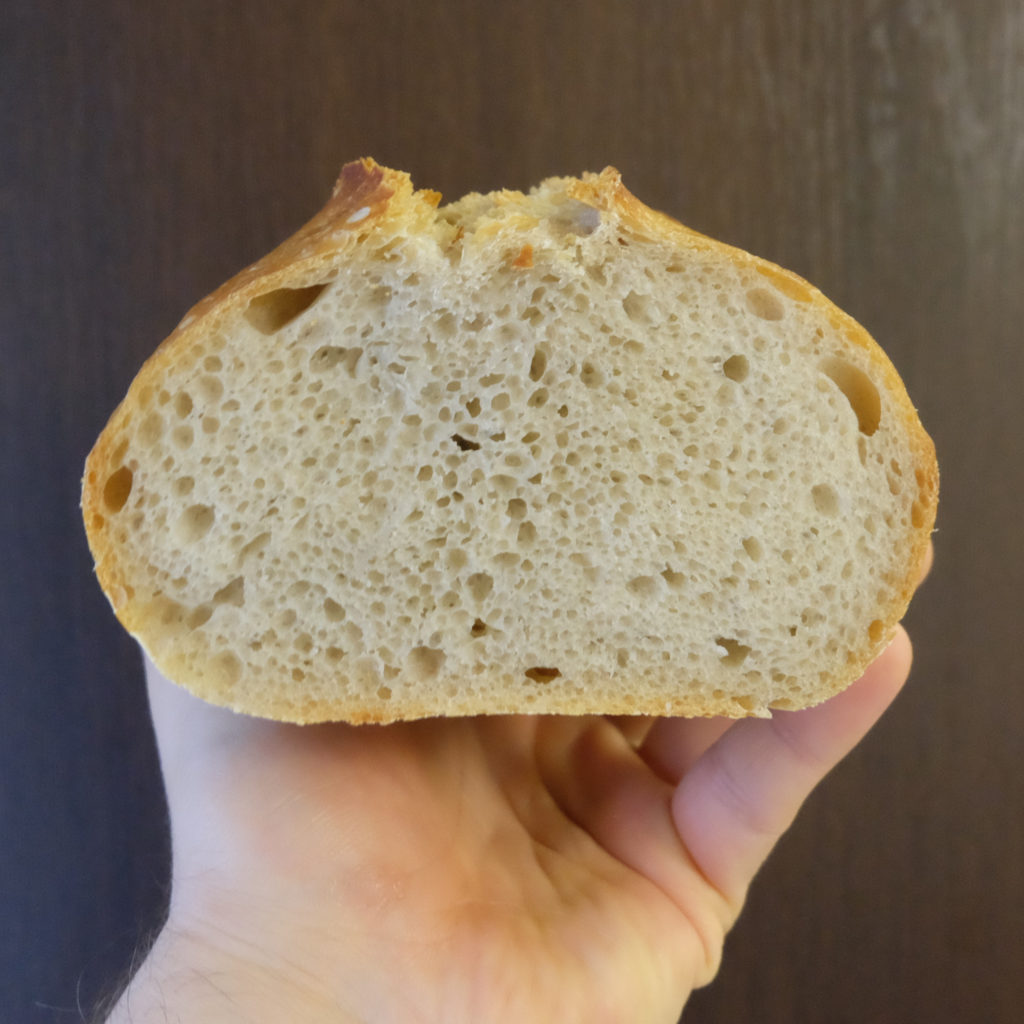 Ostateczny wynik: chleb idealny. Przepis nie jest w żaden sposób rewolucyjny, ale chleb i tak zniknął za jednym posiedzeniem.
Przepis ten pierwotnie opublikowałem na moim "metablogu" na Steemit, w dwóch częściach. Jeśli chcesz obejrzeć moje próby i poprawki, możesz mnie tam obserwować.