Every nation has recipes to reuse old food. This one comes from the Czech region of Moravia and is and adaptation of a potato pancake recipe to use up old bread (bread pancakes?). Some people say it should be called chleboraky because of the used ingredient (chleb=bread).
Każdy naród ma swoje przepisy, wykorzystujące stare jedzenie. Ten pochodzi z czeskiego rejonu Moraw i jest przepisem na placki ziemniaczane, przerobionym aby wykorzystać stary chleb.
I have found this recipe on a website promoting Polish food celebrity Robert Makłowicz. In his shows he travels around the world and cooked dishes characteristic in given region.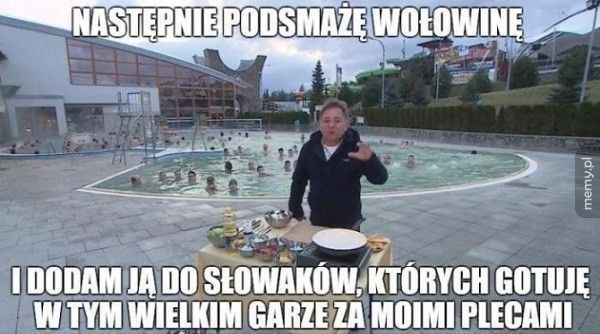 This recipe is one of many ways you can reuse your old bread.  Have a look at How to use excess bread? to find other ways.
Planning
Have some old bread, can be dry. It's a good idea to soak it in water a bit earlier, this will make the preparation much faster.
Paper towel is useful if you want to get rid of the excess fat after frying. I put it on a plate on which I take the bramboraky from my frying pan.
Ingredients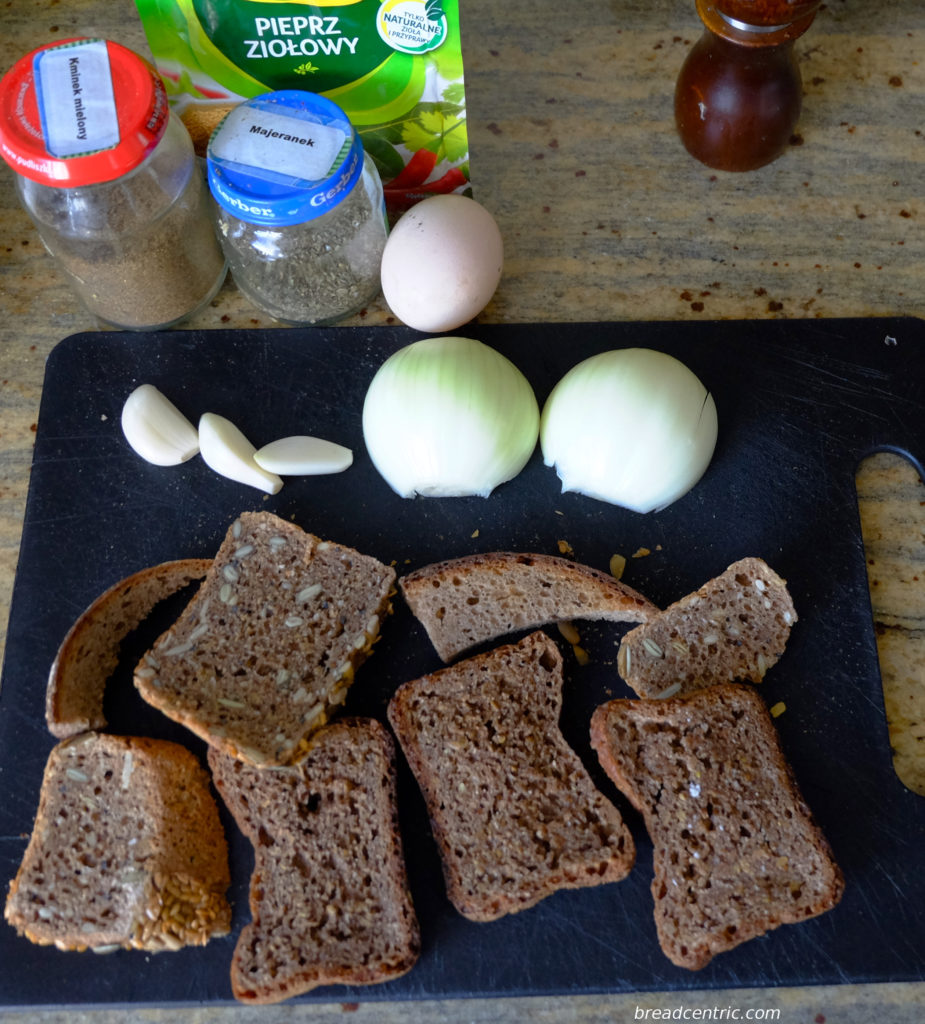 I know, hardly any metric system in here – this recipe doesn't need precise measurements. I used about 5-6 slices of bread and it worked fine. It was enough to make about 12-15 small pieces.
4-5 slices of wheat-rye bread
200 ml water (I used more and used warm water, but then I think the dough got too wet and I had to use more flour)
1 tsp caraway (I used ground seeds)
pinch of marjoram
pinch of sweet pepper powder (I used herb pepper instead)
pinch of salt
1 onion, coarsely grated
2-3 garlic cloves, finely chopped
1 egg
plain wheat flour (depending on how moist your dough will be, you will be adding it while kneading until you are happy with the texture). You can also use wholemeal flour, spelt will also work
oil for frying
Preparation
Soak the bread in water and leave to get it really soft
Squeeze the bread pulp to remove as much water from it as possible
Gradually add flour until it can be shaped into patties. My dough was still quite runny, but I was afraid of adding more flour so I scooped it out with a spoon and placed on some flour, and coated them so that they don't stick. This worked pretty well
Shape the patties and fry them until they get golden brown
Serve hot or eat cold – both taste really nice. You know, it's not really a flavour orgy, but it's really tasty.
Wersja polska
Ten przepis znalazłem na stronie Roberta Makłowicza.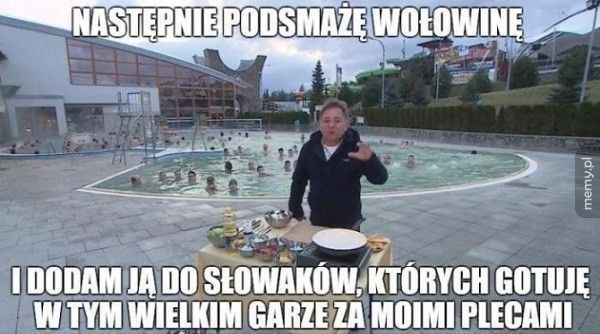 Jest to kolejny pomysł na wykorzystanie starego chleba. Aby poznać pozostałe, zajrzyj do wpisu Jak wykorzystać nadmiar chleba?
Planowanie
Potrzebujesz trochę starego chleba, może być wyschnięty. Warto go namoczyć trochę wcześniej, to przyspieszy przygotowania.
Warto mieć papierowy ręcznik do odsączenia nadmiaru tłuszczu po smażeniu. Ja zawsze wykładam nim talerzyk i tam kładę gotowe placki.
Składniki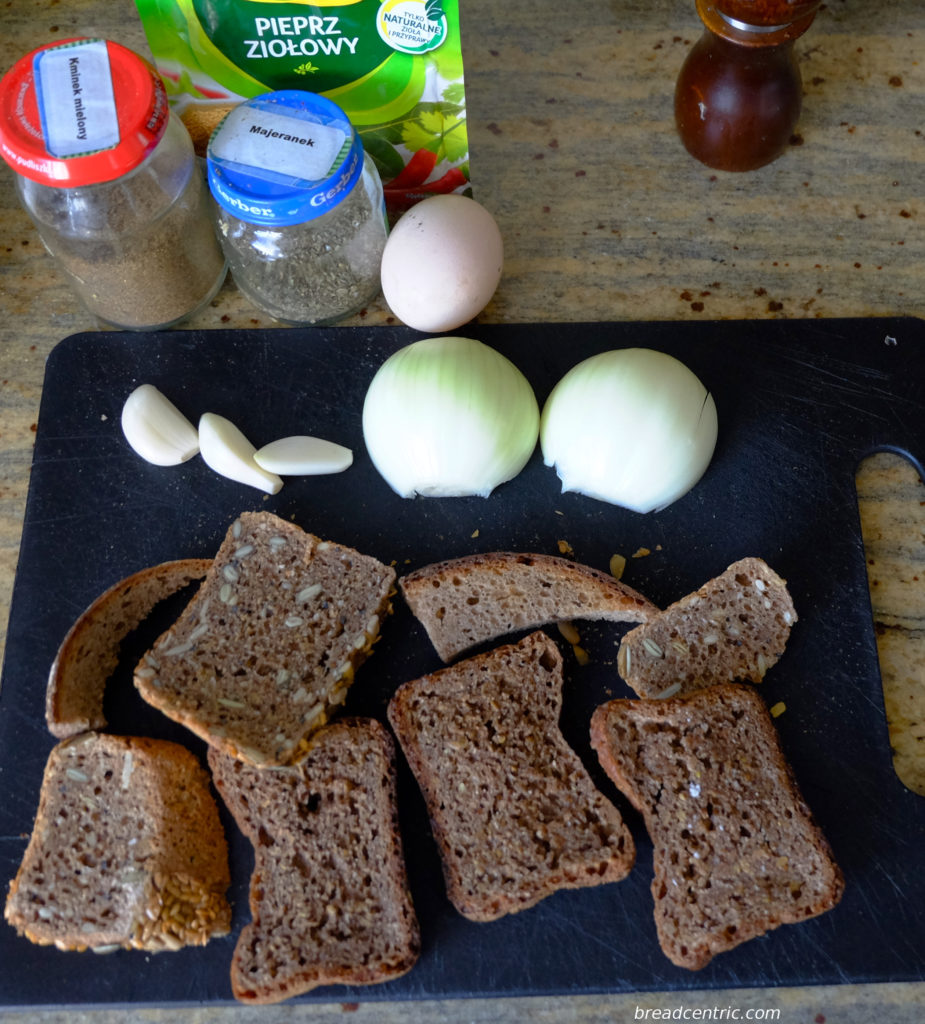 Zdaję sobie sprawę z tego, że nie podaję konkretnych miar w przepisie – są zbędne. Użyłem 5-6 kromek chleba i wyszły ok. Wystarczyło na około 12-15 małych placków.
I know, hardly any metric system in here. I used about 5-6 slices of bread and it worked fine. It was enough to make about 12-15 small pancakes.
4-5 kromek chleba pszenno-żytniego
200 ml wody (użyłem więcej ciepłej wody, aby chleb szybciej nasiąkł, ale wydaje mi się że wciągnął za dużo wody i musiałem użyć więcej mąki)
1 łyżeczka kminku (użyłem mielonego)
szczypta majeranku
szczypta słodkiej papryki w proszku (nie miałem, więc dałem pieprzu ziołowego)
szczypta soli
1 cebula starta na dużych oczkach
2-3 ząbki czosnku, drobno posiekane
1 jajko
mąka (ile zabierze, aby konsystencja była dobra do formowania; ja użyłem tortowej, może być i chlebowa, i pełnoziarnista, i orkiszowa)
olej do smażenia
Przygotowanie
Namocz chleb w wodzie i zostaw aż zmięknie
Wyciśnij wodę z masy chlebowej, im więcej tym lepiej
Stopniowo dodawaj mąkę, aż z ciasta będzie dawało się formować placuszki. Moje ciasto było wciąż dość mokre, ale bałem się dodać więcej mąki, więc nabierałem je łyżką i kładłem na warstwie mąki, aby je obtoczyć. W ten sposób mogłem je formować bez dalszego zagęszczania
Uformuj placuszki i smaż je, aż nabiorą koloru złotobrązowego
Podawaj gorące lub jedz na zimno – i tak i tak są fajne. Nie jest to orgia dla zmysłów, ale są smaczne.