I had an epiphany recently: yeast water is free of gluten. I decided to redo my gluten-free bread without the sourdough.
Miałem ostatnio objawienie: woda drożdżowa jest bezglutenowa. Postanowiłem przerobić mój bezglutenowy chleb, pomijając zakwas.
Wersja polska poniżej.
A wonderful person visited me. When she was in London, I used to bake her the sourdough gluten-free bread every now and then. I couldn't miss the chance when she came over.
This time I decided to try a different aproach and replaced the sourdough with dates yeast water. I've been having some fun with it – every now and then I'm trying to work out a kaisersemmel recipe using it. This time however I decided to go gluten-free to match my visitor's preferences.
Remember: I cannot really make gluten-free stuff as my kitchen is contaminated. I bake it mainly for the technical challenge and with focus friends who prefer to avoid it but do not suffer from celiac disesase.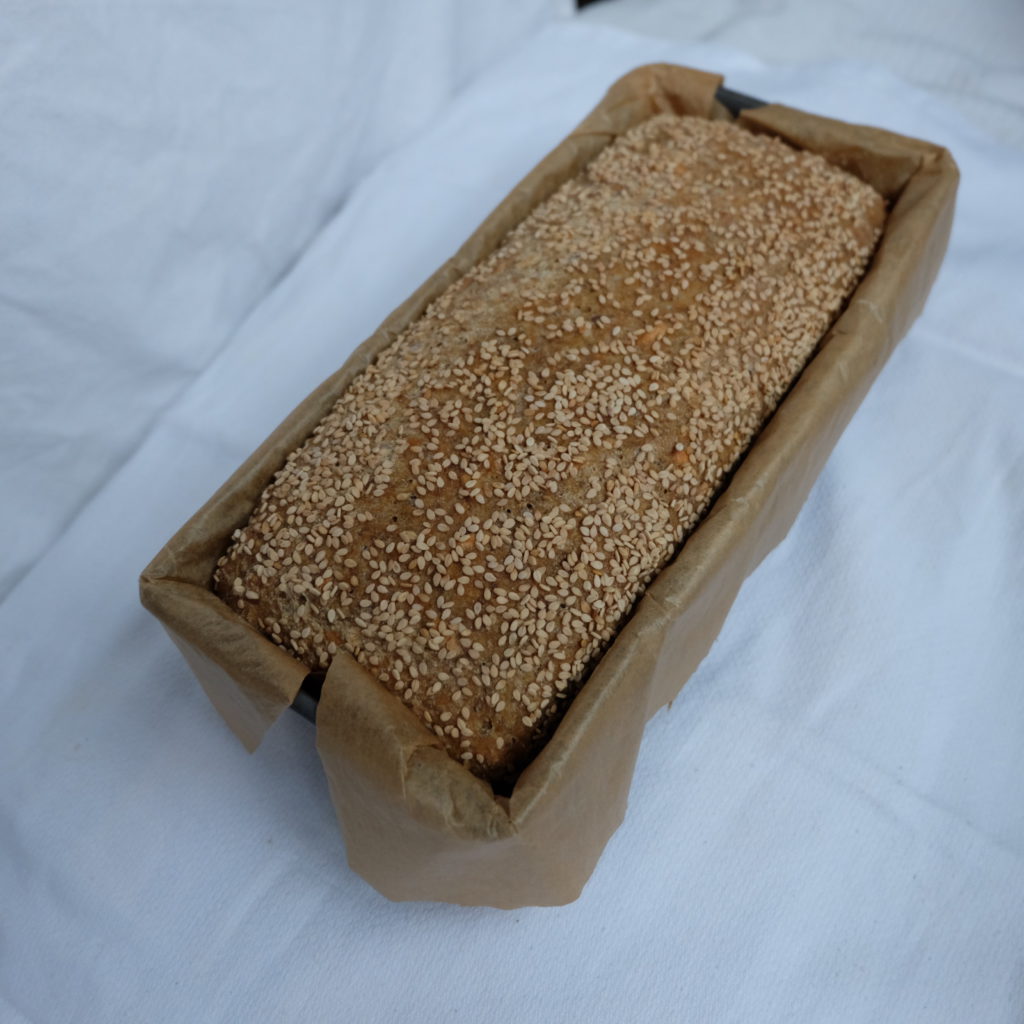 Planning
Make the starter and give it 8-12 hours, mix the dough leave for 8-12 hours, bake when it's risen, let it cool down a bit.
Ingredients
These are enough to make a single loaf.
Levain
150 g sorghum flour
180 g yeast water
Wet mixture
Levain
10 g ground linseed
20 g psyllium husks ( I don't recommend using more than that, I once used 30 grams and had to add 150 g water, it takes so much!)
350 g water
The dough
Wet mixture
60 g millet flour
60 g potato flour
60 g corn flour
60 g teff flour
20 g sunflower seeds
20 g linseed
20 g sesame seeds
10 g chia seeds
Preparation
Mix the levain and leave to mature for about 8-12 hours
In a second bowl add all dry ingredients of the dough. Mix them and make sure you have no lumps left
When the levain is ready, in a third bowl add water to psyllium husks and ground linseed. Mix until they it forms a thick gel

Combine the gel with levain and mix well
Add the wet mixture to the dry ingredients and mix until all dry ingredients get incorporated. When I am having problems, I add a little bit of water to help myself
Place it in a loaf tin and leave it to rise for about 8-12 hours
Set your oven to 160 C degrees with fan. Know your oven
Cover the tin with kitchen foil. I make a dome so that the bread has some space to rise
Place it in the oven and bake for 70 minutes. Add steam. After 40 minutes remove the foil
I must say, I like this bread without rice flour more than with it. This leads to conclusion that I'm a fan of neither buckwheat nor rice.
It's quite soft, the crumb isn't very open but it looks good, smells perfect and tastes nice. It's delicious with butter and jam
Wersja polska
Odwiedziła mnie wspaniała osoba. Kiedy mieszkała w Londynie, zwykłem jej piec od czasu do czasu chleb bezglutenowy na zakwasie. Nie mogłem nie wykorzystać okazji, gdy nas odwiedziła.
Tym razem zmieniłem trochę podejście i zastąpiłem zakwas wodą drożdżową na daktylach. Bawiłem się nią od kilku tygodni – co jakiś czas próbuję upiec na niej kajzerki. Tym razem jednak poszedłem w klimaty bezglutenowe, aby dopasować się do preferencji gościa.
Pamiętaj: nie mogę robić rzeczy prawdziwie bezglutenowych z uwagi na skażenie mojej kuchni. Piekę głównie dla wyzwania technicznego i dla przyjaciół, którzy glutenu unikają, ale nie cierpią na celiakię.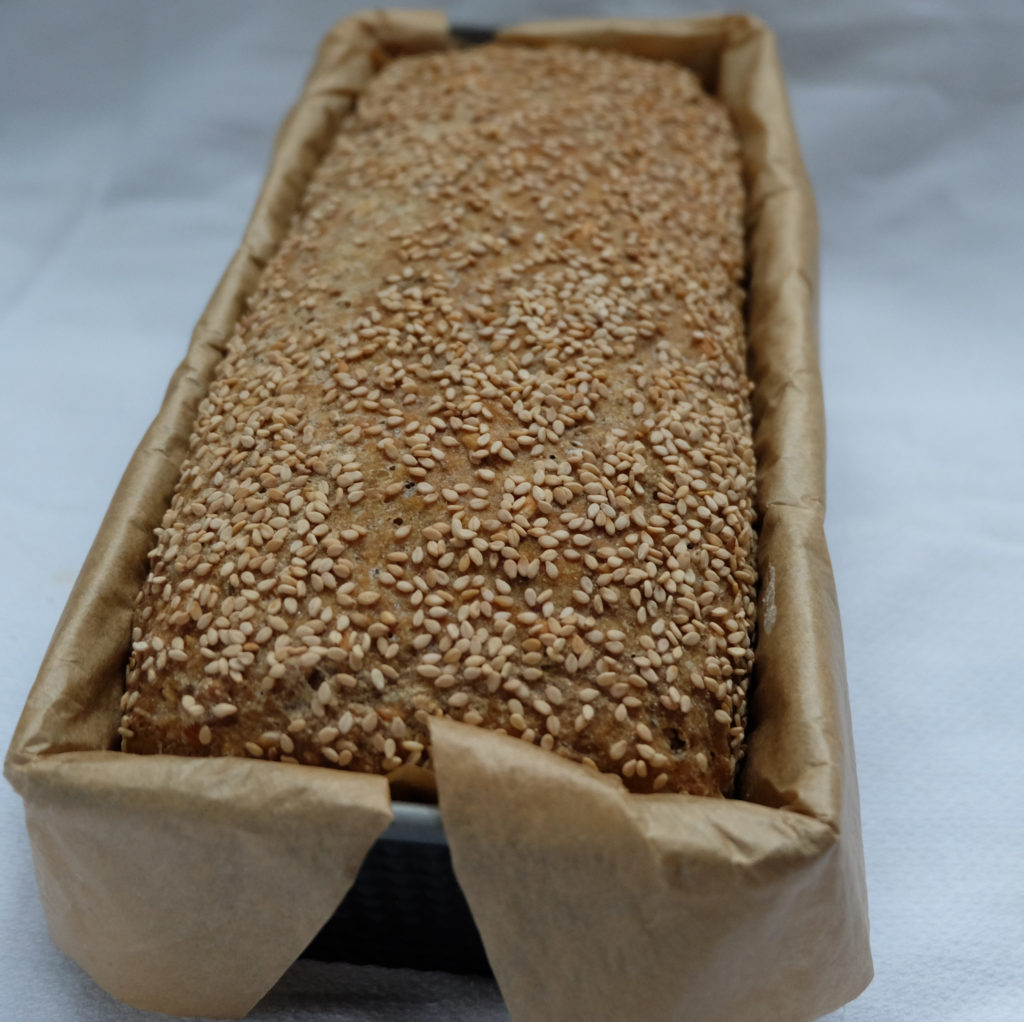 Planowanie
Zrób zaczyn, daj mu 8-12 godzin, zamieszaj ciasto, daj mu 8-12 godzin, upiecz gdy wyrosło, daj mu ostygnąć.
Składniki
Wystarcza na jeden bochenek.
Zaczyn
Mokre
10 g mielonego siemienia lnianego
20 g babki płesznik (nie polecam używać więcej; raz dodałem 30 gramów i musiałem dać dodatkowe 150 gramów wody, tak bardzo chłonie!)
Ciasto
60 g mąki z miłki abisyńskiej, czyli teff
Preparation
Zmieszaj składniki na zaczyn i zostaw na dojrzewanie na 8-12 godzin
W drugiej misce umieść wszystkie suche składniki ciasta, wymieszaj je i upewnij się, że nie zostały żadne grudki
W trzeciej misce (gdy zaczyn jest gotowy) wymieszaj babkę i len z wodą, zamieszaj aż powstanie galaretowata substancja


Połącz galaretę z zaczynem i dobrze zamieszaj
Dodaj mokre do suchych składników i wymieszaj, aż wszystkie składniki się wchłoną. Jeśli idzie mi ciężko pomagam sobie odrobiną wody
Umieść w foremce i pozostaw na 8-12 godzin do wyrośnięcia
Ustaw piekarnik na 150 stopni z termoobiegiem. Znaj swój piekarnik
Przykryj foremkę folią. Ja robię z folii kopułę, aby chleb miał jeszcze miejsce do wyrośnięcia
Umieść chleb w piekarniku i piecz przez 70 minut. Dodaj pary. Po 40 minutach zdejmij folię
Muszę przyznać, że wolę ten chleb od wersji na ryżowym zakwasie. Chyba jednak nie lubię mąki ryżowej tak jak gryczanej.
Chleb jest dość miękki, miękisz nie jest zbyt otwarty, ale wygląda dobrze, smakuje idealnie i smakuje bardzo. Jest pyszny z masłem i dżemem.