It's Epiphany today. One of the traditions for this day is to bake "a cake with horns": croissants. And if croissants, they have to be Aunt Halinka's Croissants.
Dziś Trzech Króli. Jedną z tradycji jest piec "rogate ciasto", czyli rogaliki . A jak rogaliki, to tylko te od Cioci Halinki.
Yesterday I was reminding my family tradition of making dumplings :
https://www.facebook.com/breadcentric/posts/543692415988753
One of the comments (thank you Agnieszka!) reminded me of another one:
"and we make a cake with horns (croissants), so that the world doesn't perish"
I did forget about it as we didn't follow it in our family. But once she mentioned this, my memories went back to summer in Raków:
and this: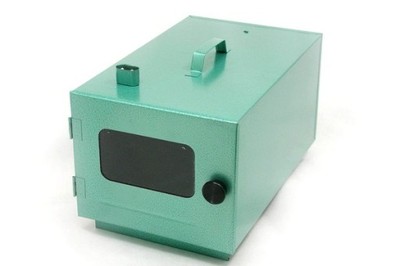 Aunt Halinka used this kind of oven to bake her croissants (I don't think she uses it anymore). The croissants have become her signature dish in the family (one of many).
Here's her recipe.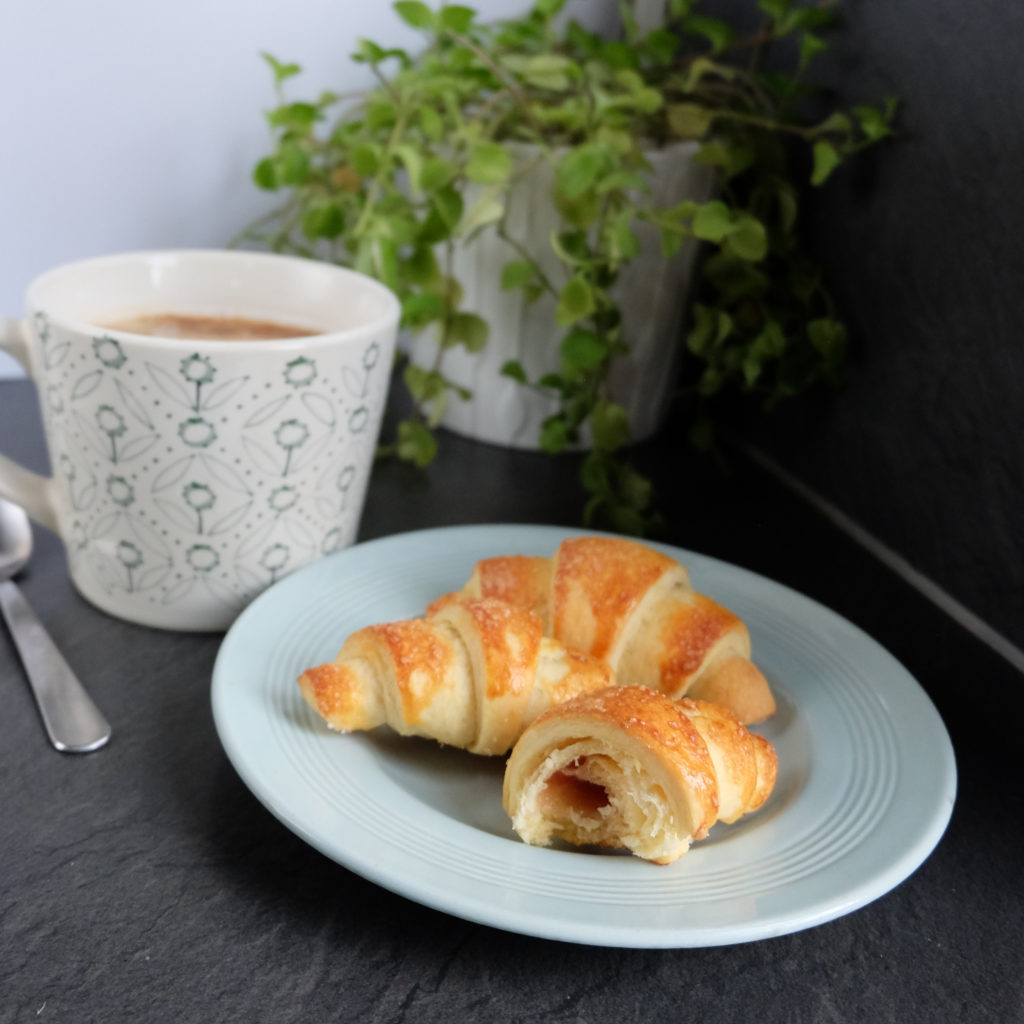 Planning
Start the oven, make the dough, roll it, cut, fill, make croissants, bake. Done in one hour.
Ingredients can be cold out of the fridge.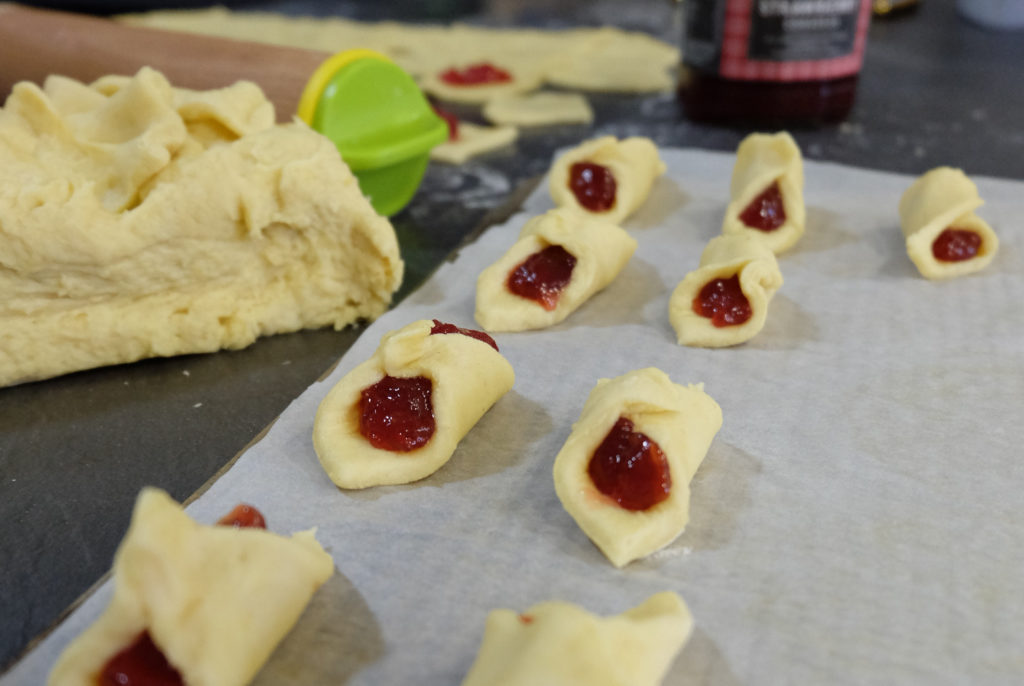 Ingredients
Makes a lot.
500 g plain flour
250 g margarine (or butter as an alternative)
50 g fresh yeast & 1 tbsp sugar for activating them
1 egg
1 egg yolk
150 ml sour cream
some marmalade/preserve to put in the croissants
1 egg white for coating
Preparation
Turn the oven on, 180 C degrees, fan assisted if available. Know your oven
Put the yeast and a tbsp sugar in a cup, use a spoon to work it till it turns runny and the sugar dissolves, more or less
Put all ingredients in a bowl and work it till you get a nice dough. You can start with a little less cream and add a bit more if it looks too dry
Roll the dough flat and divide into triangles. Hint: you can make a dough circle and divide like pizza
Put the marmalade on the triangles (about a third of a teaspoon per triangle) and roll them in croissants
Put on a baking tray, brush with whisked egg white and sprinkle with sugar
Done. I could write more about them, but I have a lot of croissants and they won't eat themselves.
Wczoraj przypominałem moją rodzinną tradycję lepienia dumplings :
https://www.facebook.com/breadcentric/posts/543692415988753
W jednym z komentarzy Agnieszka (dzięki!) przypomniała mi o innej:
Zapomniałem o niej, bo w naszej rodzinie tego nie robiliśmy. Ale gdy tylko przeczytałem wypowiedź Agnieszki, pamięcią sięgnąłem to wakacji w Rakowie:
i tego: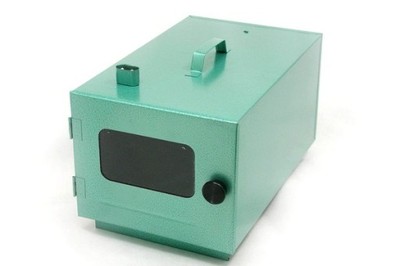 Ciocia Halinka używała takiego piekarnika, gdy piekła jej rogaliki (wątpię żeby go jeszcze używała, ale wspomnienie zostało). Rogaliki stały się jej daniem popisowym (jednym z wielu).
Oto jej przepis.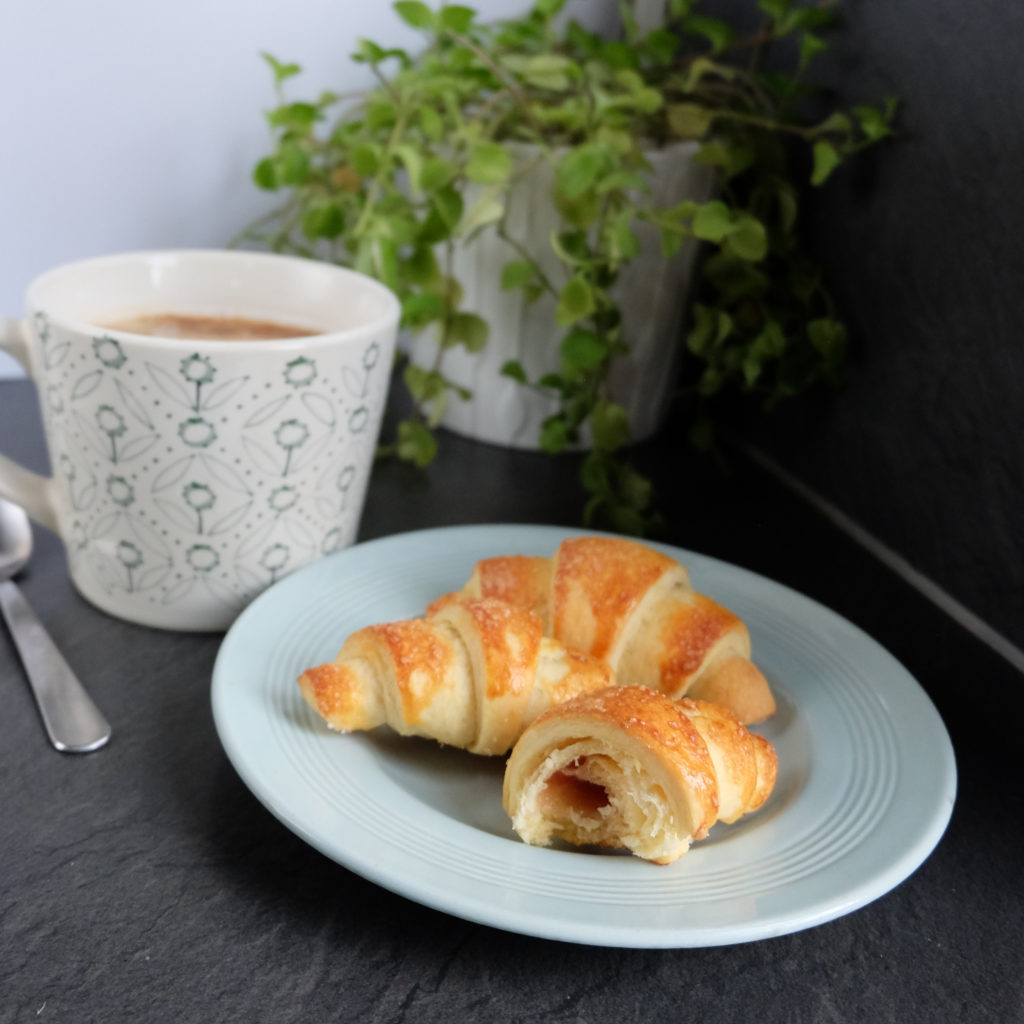 Planowanie
Uruchom piekarnik, zrób ciasto, rozwałkuj, potnij, nadziej, zrób rogaliki, upiecz. Skończysz w godzinę.
Składniki mogą być zimne z lodówki.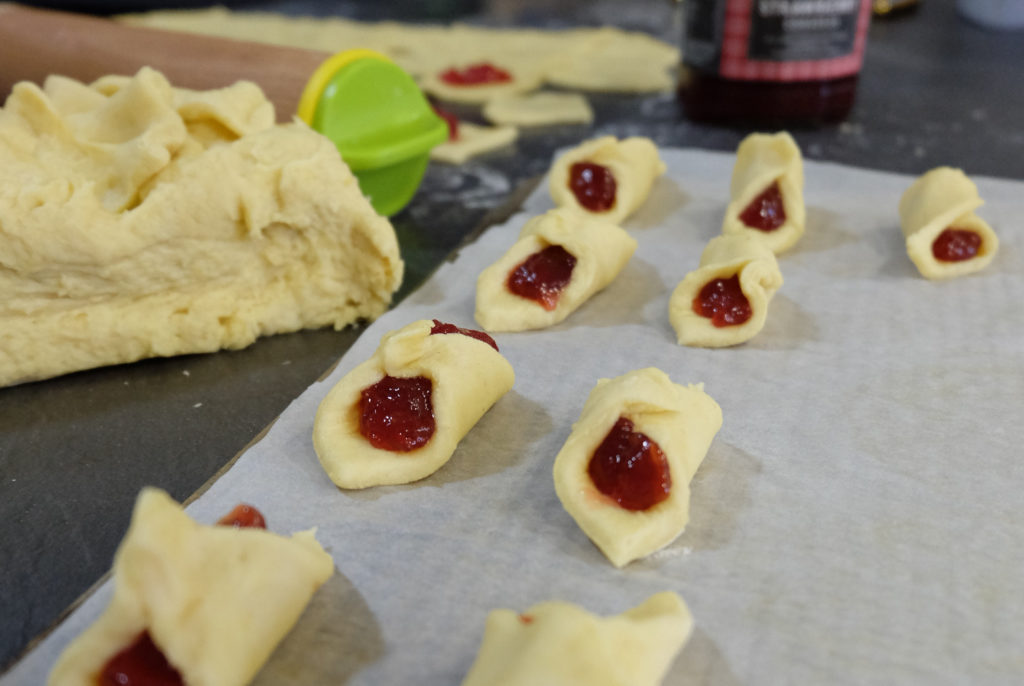 Składniki
Starcza na wiele.
500 g mąki tortowej
250 g margaryny (alternatywnie masła)
50 g świeżych drożdży i łyżka cukru do rozrobienia
1 jajko
1 żółtko
150 ml kwaśnej śmietany 18%
marmolada do nadziania (użyliśmy wieloowocowej)
1 białko do posmarowania
Przygotowanie
Włącz piekarnik, 180 stopni z termoobiegiem. Znaj swój piekarnik
Rozetrzyj łyżką drożdże z cukrem w kubeczku. Muszą zrobić się płynne, a cukier mniej więcej rozpuścić
Umieść wszystkie składniki w misce i wyrób na ciasto. Możesz zacząć z mniejszą ilością śmietany i stopniowo dodawać, jeśli będzie zbyt sucha
Rozwałkuj ciasto na płasko i podziel na trójkąty. Rada: możesz rozwałkować na kółko i pociąć jak pizzę
Nałóż marmoladę na trójkąty (mniej więcej jedną trzecią łyżeczki na trójkąt) i zawiń w rogaliki
Umieść na tacce do pieczenia, posmaruj rozbełtanym białkiem i posyp cukrem
Tyle. Mógłbym trochę się jeszcze nad nimi porozpływać, ale mam sporo rogalików, a same się nie zjedzą.