It's been a while since I last wrote about how to start or progress one's baking adventure. I would like to share a new experience that I had – I created a new recipe.
Minęło trochę czasu odkąd ostatnio napisałem cokolwiek o rozpoczynaniu pieczenia lub rozwinięciu swoich umiejętności. Chciałbym podzielić się nowym doświadczeniem – stworzyłem nowy przepis.
You may remember from Challah or Pain Au Levain that we are having some attractions at school like the Valentine's Day Cake Sale. This time we had an International Day to share information about our cultures. We've got kids at school from all around Europe, Africa, Asia, Australia, South America. Maybe Great Murica as well, I don't know. Kids dress up, parents bring their local food. There was some pizza, goat meat in banana leaves, samosas, tiramisu, cheesecake, Cornish pasties, shepherd's pie. And bread, surprise surprise. Guess who made it.
Originally I planned to make a Silesian sourdough, but I forgot that we planned to make one for our friends also having an International Day at another school nearby. I gave it a quick thought: I had nothing prepared, it was Thursday evening and I had to bake early enough to let the bread cool down. By nothing prepared I mean two starters a couple hours after feeding. I decided to make something up.
I'm not sure if I'm ready to make such stuff, but I guess there's only one way to find out. For the last three-four months I've been reading the theory from two books: "Bread" by Jeffrey Hamelman and "Flour Water Yeast Salt" by Ken Forkish (sources). Only skipped the chapter about creating one's own recipe… Sounds like this is the time to test things.
My assumptions and ideas:
I want a bread that would look nice (out of a banneton),
It needs to be tasty, potentially experimental mixture of flours,
I want to have big percentage of a whole rye flour to make it dense and moist.
I need about two kilograms of the dough,
I want a lot of whole flours, so only strong wheat flour to make the dough elastic, not like clay,
Since there is a lot of whole flour, the hydration needs to be reasonably high (I assumed 70% of flour weight),
I don't have a levain, so I need to use a mixture of mature sourdoughs (to have enough),
2% of flour weight would be salt,
I know wholemeal calls for more water, but I was afraid it would go runny and flat, so I knew I want to do some stretch and folds during the two hour bulk proof (until it more or less doubles in volume),
I also decided to make it by hand to feel the dough better and experience what it is like to work with it – just to know what to expect from it. Because a lot of kneading was not an option, I added 30 minutes of autolyze to make it easier,
It had to rise overnight in the fridge – even if it is too wet, it will get stiffer, which in turn will prevent it from going fully flat in the oven.
Easy-peasy. I did initial maths:
100% flour + 70% water + 2% salt = 2 kg
I know, I ignored the sourdough above – I initially thought I could make a smaller loaf to leave at home. I didn't, and it all landed in a big banneton.
172% x = 2 kg
x = 2 / 1.72 kg = 1.163 kg
70% x = 0.814 kg
2% x = 0.023 kg
Now let's take into account that I'm baking bread, not running a home pharmacy.
Flour: 1200 g (100%)
Water: 850 g (70.8%)
Salt: 25 g (2%)
Let's choose the flours:
Strong wheat (as mentioned),
Wholemeal rye (as mentioned),
Dark spelt (because it's neither wheat nor rye, and I happen to have it).
Initially I assumed it would be equal amounts, but:
I only had 300 g dark spelt – I added 100 g light spelt flour,
I accidentally added 500 g of wholemeal rye – there was only 300 g left for the strong wheat flour.
Let's write it all down:
500 g whole rye flour
300 g dark spelt flour
300 g strong wheat flour
100 g light spelt flour
25 g salt
850 g water
Now to lift it, I needed some serious amount of sourdough. But at the same time it will have more time to rise in the fridge, so I finally used:
150 g mature strong wheat sourdough (Helena's Kwiatek),
100 g mature whole rye sourdough.
I will repeat some of the above details now just to apply the template I normally use.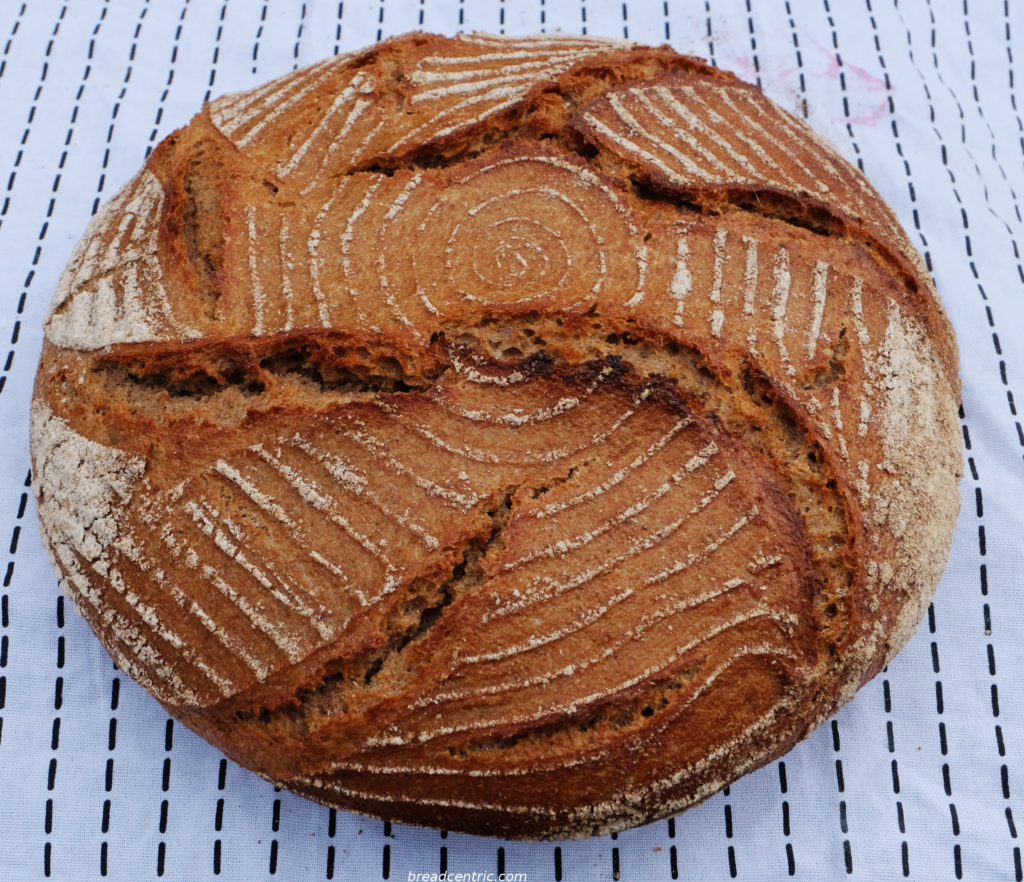 Planning
You need to have around 250 g of sourdough available, healthy and hungry (around 8 hours after feeding).
Two hours for bulk proof, a night in fridge (eight-nine hours), 50 minutes baking (40 if you make two loaves, not one). Twelve hours altogether.
If you plan to work by hand like me, have a large bowl (I used 10 litre bowl) and a small bowl of water to dip your hands every now and then. Wet hands don't stick so much to the dough – it's easier to work with it.
You'll need a large banneton (to fit over two kilograms of dough).
Ingredients
This is 2300 grams of dough, so a lot of bread out of this.
500 g whole rye flour
300 g dark spelt flour
300 g strong wheat flour
100 g light spelt flour
25 g salt
850 g water
250 g mature sourdough(I used 150 g strong wheat and 100 g whole rye, both around 100% hydration)
Preparation
Mix flours with water – leave for 30 minutes for autolyze
Add sourdoughs and salt, mix. After a couple folds, I switched to a pincer method described by Ken Forkish
[youtube https://www.youtube.com/watch?v=HoY7CPw0E1s ]
Leave for 2 hours, stretch and fold after 30 and 60 minutes (last hour of bulk proof without folding)
Dough is quite soft, sticky and loose, not much gluten action, but you will see it rise. This is the time to shape the loaf. I took the dough on a lightly floured surface, but it started sticking to it straight away. I think that next time I will start with a stretch and fold in the bowl, as you can clearly see how gluten begins to resist. Shape a round loaf
Put it into a heavily rye-dusted banneton, hide in a plastic bag and place in the fridge overnight (9 hours in my case). The banneton needs to be really heavily dusted, the dough will stick to it otherwise. Put some flour on top to prevent the dough from sticking to the bag
In the morning set the oven to 250 C (or as high as you can get) and stone/iron cast sheet in it (at least 40 minutes). If you don't have one, it should be still fine, just make sure the crust doesn't burn – I usually put an empty tray between the bread and the heating element to provide some heat screening.
I usually heat up using an upper & lower heating elements and switch for the lower one when I put the loaf in the oven. Know your oven
Put the dough straight out of the fridge on the stone, score and bake for 50 minutes. Provide a lot of steam when putting the loaf into the oven, but release it after 20-30 minutes of baking.
The bread was very nice, very moist. It expanded nicely in the oven, cracked in an unexpected way, maybe the crust formed too quickly, or maybe it was simply because there was a lot of rye and that's what rye does. Or it had too much left to expand for the scoring that I gave.
At the International Day there wasn't much interest in the bread during the event, but at the end the whole bread disappeared (people took it home, just like us). And it was quite enjoyable.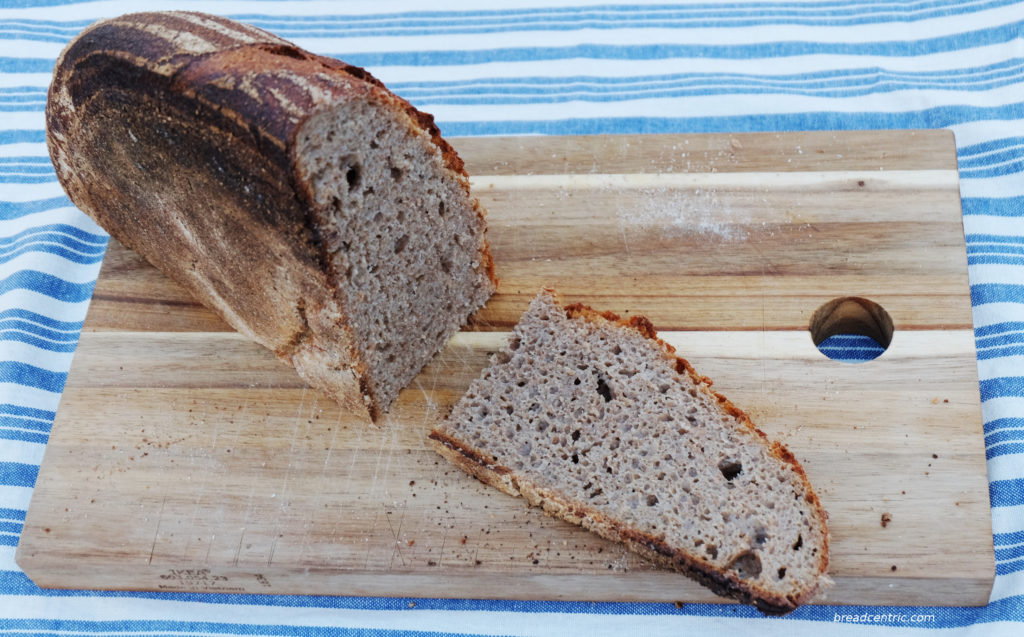 Since this is a learning journey, here's a couple things to try out:
only light spelt flour – I've run out of the dark one, but event without it, I'm wondering what change this can cause
perhaps 50 g less water – I'm not 100% convinced it requires changing, but maybe the dough would be a bit more manageable.
take out of the fridge when the oven is heating up – maybe there will be less cracks (but then maybe it will go flat on the spot when taken out of the banneton)
5 g more salt (I was missing a bit)
400 g whole rye flour and 400 g strong wheat flour – maybe it will make the dough more manageable
Of course, you cannot make all the changes at once (you would not see the impact), but it is something to try.
Możesz pamiętać z wpisu o Chałce lub Pain Au Levain, że miewamy w szkole różne atrakcje, takie jak kiermasz ciast na Walentynki. Tym razem mieliśmy Międzynarodowy Dzień, aby podzielić się swoimi kulturami. Mamy dzieci z całej Europy, Afryki, Azji, Australii, Ameryki Południowej. Może nawet z Północnej, nie wiem. Dzieci się przebierały, rodzice robili jedzenie. Była prawdziwa włoska pizza, kozina w liściach bananowych, samosy, tiramisu, sernik, placki z mięsem z Kornwalii. I chleb, niespodzianka. Zgadnij kto go zrobił.
Początkowo miał być śląski, ale zapomniałem, że mieliśmy zrobić dwa chleby, bo jeden był obiecany naszej koleżance na międzynarodowy dzień w jej szkole. Szybka analiza: nie mam niczego przygotowanego, jest czwartek wieczorem, a w piątek rano można piec najpóźniej, aby chleb ostygł. Nic przygotowanego obejmuje dwa dojrzałe i głodne zakwasy. Postanowiłem spróbować.
Nie jestem pewien, czy jestem gotów na zrobienie własnego bochenka w tym stylu, ale jest tylko jeden sposób, aby się przekonać. Przez ostatnie trzy-cztery miesiące czytałem teorię z dwóch książek: "Chleb" Jeffreya Hamelmana i "Mąka Woda Drożdże Sól" Kena Forkisha (źródła). Pokonałem jedynie rozdział o tym, jak opracować własny przepis… Nadchodzi czas próby​.
Moje założenia i pomysły:
Chcę chleb o ładnym wyglądzie (z koszyka),
Ma być smaczny, może mieć eksperymentalną mieszankę mąk,
Chcę dużo żytniej mąki, żeby był gęsty i wilgotny,
Potrzebuję ok. dwóch kilogramów ciasta,
Chcę dużego udziału mąk pełnoziarnisty​ch, więc jednocześnie tylko chlebową pszenną, żeby ciasto było elastyczne, nie jak glina,
Skoro będzie dużo mąki pełnoziarnistej, musi być dużo wody (założyłem 70% wagi mąki)
Nie ma zaczynu, więc chcę użyć mieszanki dojrzałych zakwasów (żeby było dość)
Sól – 2% masy mąki,
Obawiam się, że przy takiej hydracji ciasto będzie się lało i rozpłaszczy się w piekarniku, więc zastosuję składanie ciasta przy pierwszym wyrastaniu,
Postanowiłem wyrabiać ręcznie, żeby czuć lepiej ciasto i zobaczyć​, jak się z nim pracuje – liczyłem, że poczuję, czego się po nim spodziewać. Ponieważ dużo wyrabiania nie wchodzi w grę, dodałem 30 minut autolizy, aby ułatwić sobie pracę,
Ciasto musi wyrastać przez noc w lodówce.
Łatwizna. Wstępne obliczenia:
100% mąki + 70% wody + 2% soli = 2 kg
Wiem że pominąłem zakwas. Początkowo myślałem że nadwyżkę ciasta użyję, by zrobić osobny chleb do domu. Ostatecznie wszystko wylądowało w dużym koszu.
172% x = 2 kg
x = 2 / 1,72 kg = 1,163 kg
70% x = 0,814 kg
2% x = 0,023 kg
Teraz nałóżmy poprawkę: pieczemy chleb, a nie prowadzimy domową aptekę.
Mąka: 1200 g (100%)
Woda: 850 g (70,8%)
Sól: 25 g (2%)
Dobierzmy mąki:
Chlebowa pszenna (jak wspomniałem)
Pszenna pełnoziarnista (jak wspomniałem)
Ciemna orkiszowa (bo nie jest ani żytnia ani pszenna, a tak się złożyło, że posiadam).
Początkowo planowałem jednakowe ilości, ale:
Miałem tylko 300 g ciemnej orkiszowej – dodałem 100 g jasnej,
Przypadkiem dałem 500 g żytniej -zostało 300 g miejsca na pszenną chlebową.
Zapiszmy to:
500 g mąki żytniej pełnoziarnistej
300 g mąki orkiszowej ciemnej
300 g mąki pszennej chlebowej
100 g mąki orkiszowej jasnej
25 g soli
850 g wody
Aby unieść to ciasto, potrzeba było konkretnej ilości zakwasu. Jednocześnie jest sporo czasu na wyrastanie, więc wybrałem:
150 g dojrzałego zakwasu z mąki pszennej chlebowej (Kwiatek Heleny)
100 g dojrzałego zakwasu z mąki żytniej pełnoziarnistej
Teraz powtórzę sporo z tego, co napisałem powyżej, już w tradycyjnej formie przepisu.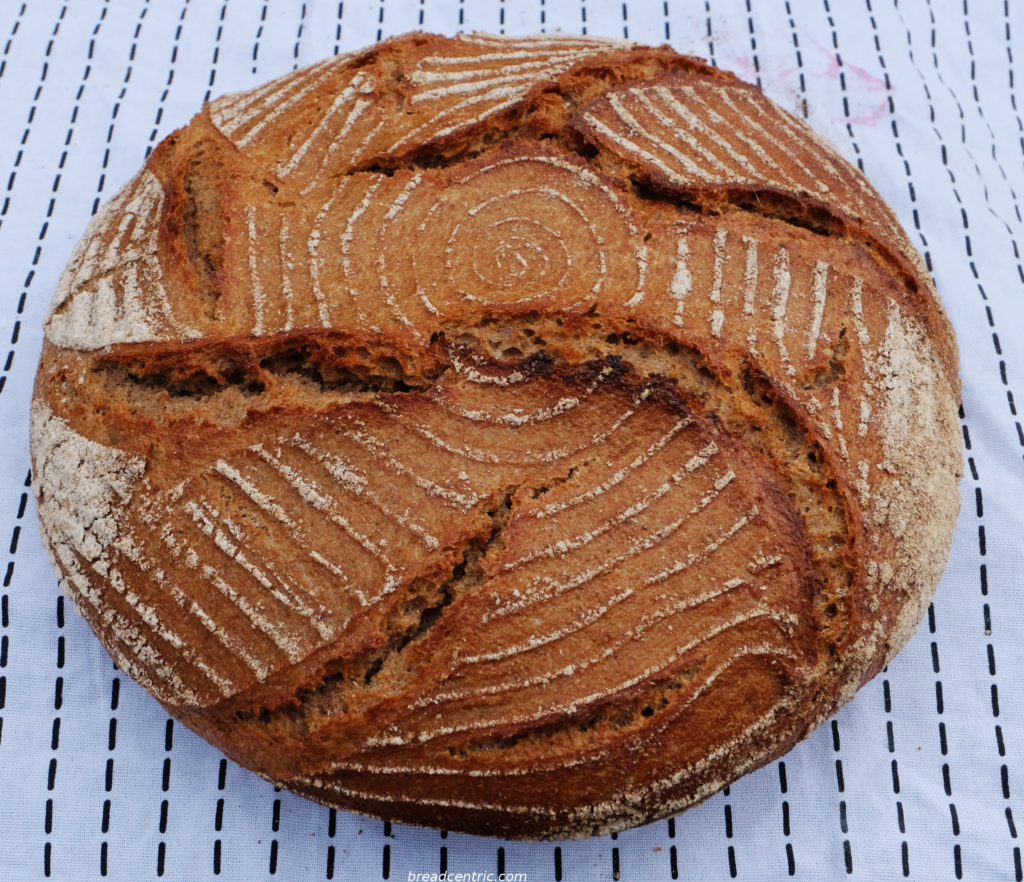 Planowanie
Potrzebujesz około 250 g zakwasu, zdrowego i głodnego (jakieś 8 godzin po karmieniu).
Czas: dwie godziny pierwszego wyrastania, noc w lodówce (osiem-dziewięć godzin), 50 minut pieczenia (jeśli robisz dwa mniejsze bochenki – 40). Razem dwanaście godzin.
Jeśli planujesz pracować dłońmi, tak jak ja, przygotuj dużą miskę na ciasto (moja ma 10 litrów) i mniejszą na wodę do maczania dłoni. Mokre nie kleją się do ciasta – znacznie łatwiej się pracuje.
Będziesz potrzebować dużego kosza (aby pomieścić ponad dwa kilogramy ciasta).
Składniki
To jest 2,3 kg ciasta, więc wyjdzie sporawo chleba.
500 g mąki żytniej pełnoziarnistej
300 g mąki orkiszowej ciemnej
300 g mąki pszennej chlebowej
100 g mąki orkiszowej jasnej
25 g soli
850 g wody
250 g dojrzałego zakwasu (Ja użyłem 150 g z mąki pszennej chlebowej i 100 g z mąki żytniej pełnoziarnistej, oba hydracja około 100%)
Przygotowanie
Zmieszaj mąki z wodą i pozostaw na 30 minut na autolizę
Dodaj zakwasy i sól. Wymieszaj. Po kilku złożeniach, zastosowałem metodę szczypcową, opisaną przez Kena Forkisha
[youtube https://www.youtube.com/watch?v=HoY7CPw0E1s ]
Pozostaw na dwie godziny do wyrośnięcia, złóż ciasto po 30 minutach i po 60 minutach (ostatnia godzina wyrastania bez składania)
Ciasto jest dość miękkie, kleiste i luźne. Nie widać zbytnio działania glutenu, ale dostrzeżesz rozrost. Teraz jest czas na uformowanie bochenka. Wyjąłem ciasto na lekko oprószony mąką blat, ale od razu zaczęło się kleić. Myślę że następnym razem przed formowaniem złożę ciasto raz jeszcze, bo po złożeniu jest dużo mniej lejące. Uformuj okrągły bochenek
Umieść w koszu, bardzo mocno oprószonym żytnią mąką, schowaj w plastikowej torbie i włóż do lodówki na noc (w moim przypadku 9 godzin). Kosz potrzebuje bardzo dużej ilości mąki, inaczej ciasto będzie się kleić. Posyp lekko wierzch bochenka, żeby torba nie przykleiła się do niego
Rano nastaw piekarnik na 250 C (albo tyle, ile dasz radę) i umieść w nim kamień/płytę żeliwną (nagrzewałem około 40 minut). Jeśli nie masz takiego cuda do pieczenia, nie powinno być problemu, tylko upewnij się, żeby skórka się nie spaliła. Ja zazwyczaj umieszczam pustą foremkę pot i nad chlebem, aby gorąco nie promieniowało bezpośrednio na bochenek. Zazwyczaj rozgrzewam piekarnik w ustawieniu góra-dół, a po włożeniu chleba do niego, ustawiam na sam dół. Znaj swój piekarnik
Umieść ciasto prosto z lodówki na kamieniu, natnij i piecz przez 50 minut. Zapewnij dużo pary przy wkładaniu do piekarnika, ale pamiętaj ją wypuścić po 20-30 minutach pieczenia
Chleb wyszedł fajny, bardzo wilgotny, z chrupiącą skórką. Ładnie się rozrósł, pękł trochę niekontrolowanie – może skórka uformowała się zbyt szybko, a może to przez spory udział żyta, a tak zachowuje się żyto. A może nie wyrósł dostatecznie w lodówce i miał jeszcze sporo potencjału w piekarniku.
Na Dniu Międzynarodowym chleb nie przyciągnął zbyt wielkiej uwagi, ale koniec końców zniknął cały (ludzie pozabierali do domu, my też). Był całkiem przyjemny.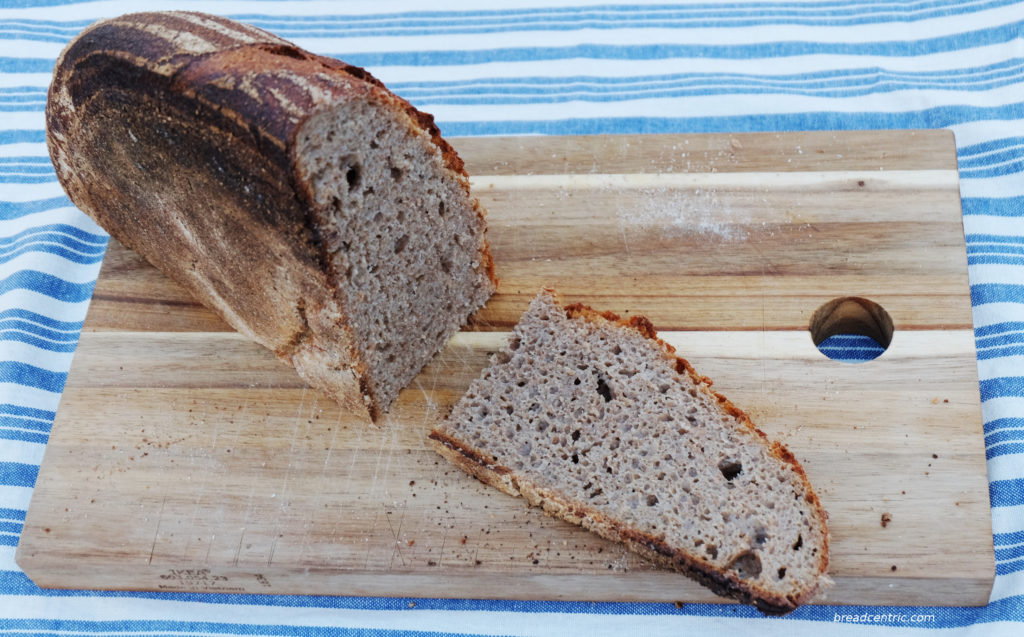 Ponieważ to dopiero początek dla tego przepisu, jest kilka rzeczy, które chciałbym wypróbować:
użyć tylko jasnej mąki orkiszowej – skończyła mi się ciemna, ale i bez tego ciekaw jestem, jak wiele to zmieni
może 50 g mniej wody – nie jestem przekonany czy to wymaga zmiany, ale może łatwiej pracowałoby się z ciastem
wyjąć z lodówki na czas nagrzewania piekarnika – może będzie mniej pęknięć (ale może jednocześnie rozpłaszczy się w piekarniku i wyjdzie wielki dysk)
5 g więcej soli (trochę mi brakowało w smaku)
400 g pełnoziarnistej żytniej mąki i 400 g chlebowej pszennej – może to poprawi właściwości ciasta w obróbce
Oczywiście nie mogę wykonać wszystkich zmian na raz (nie dałoby się wykryć czynnika decydującego), ale jest to jakiś potencjał do rozwoju.