It is a blessing not to have an allergy. You can eat anything edible, follow any diet. When you're celiac it's not so beautiful any longer.
To błogosławieństwo nie mieć alergii. Możesz jeść wszystko wszystko, co jadalne, pójść na dowolną dietę. Kiedy masz celiakię, nie jest już tak pięknie.
You know I enjoy my verbal diarrhoea, but this time I'll keep it short. I'll only write a little. Teeny weeny. Nothing long.
Back in the old days there where hardly any allergies. No one had problems, maybe some rare cases that survived to the age when they could tell about it. I treated eliminating gluten in baking as a sport. In general, I bake bread not because I eat three loaves a day (the daily average for 2016 is slightly lower), but because I can rest, relax, run away and get fascinated. Gluten Shmuten. This makes me a bit of an ignorant in the area of allergies, appart from the "don't feed peyote with what can kill them rule".
Technically speaking it is a big challenge – with gluten free flours the gas escapes as nothing can stop it. Without gluten water goes to the surface and you get a residue on the bottom – that's why there needs to be something to replace this protein. Xantan gum is the most common, linseed is also used (creates a mucus), and I use it together with psyllium husks, which creates a gel. It is an interesting ingredient. 7 grams of psyllium husks with 2 grams of linseed can absorb 75 grams of water and become a thick gel. Then I work flours into it. Just a warning: psyllium husks are common in supplements supporting your intestines work and stopping diarrhoea. If you do not want to defecate concrete, drink plenty water and don't eat too much of it. I don't know how much is too much, ask Uncle Google.
I am a member of a Polish digg equivalent, http://wykop.pl, where I am mainly active in bread baking discussions. Hannahalla, another user, cooks a lot for her partner, but she doesn't eat it, as she is celiac. When she was planning a homemade version of a dish from a big restaurant chain, I started wondering if one could make a gluten free version of that. I focused on the bun, obviously.
On Saturday I made the first version, on Sunday I removed some water and added butter. It improved significantly, in taste with butter. The buns are very tasty, no strange flavor, soft.
Planning
None. You finish 2.5 hours after start.
Ingredients
This amount is to make two medium or one big bun. I have a scale weighing by 0.1 g, so I can easily make such small portions. If you don't have one like this and can't get one, you'll need to multiply the amounts. You can try freezing, but I don't know if it will work. Let me know if you do. I ate mine quite quickly.
7 g psyllium husks
2 g ground linseed
1 g fast action yeast
2 g salt
75 g water
15 g corn flour
15 g millet flour
15 g potato flout
10 g soft butter
an egg white and sesame for sprinkling
Preparation
Mix psyllium husks, linseed, yeast and salt in a bowl
Add flour and mix it in to get a dough. It will be slightly humid when touching, it will not stick to the fingers, but a little bit will remain on your finger (just like wet fine sand leaves a couple grains on your skin when touched)
Divide the dough in two (or not) and form a circular shape, then flatten quite well, to 15-20 mm thickness. Put on a dusted surface so that it doesn't stick. I use rice flour for this purpose. Cover with cling film so that it doesn't get dry and leave in a warm place for an hour. It will rise a little (it didn't double in my case)

Shaped buns

Set the oven to 200C. It can use the fan, but make sure the buns aren't directly exposed to the heating element in the top section of your oven (you can use a cover made from kitchen foil for this)
Before you bake brush the surface with egg white and sprinkle with sesame. Poppy seeds can be good as well

Buns sprinkled with sesame

Put the buns into the oven for 20 minutes. After 15 minutes I brushed them with egg white again for a better shiny finish.

A bun in the oven
That's it. I'll just add that I used a cast iron baking stone for the first time and noticed that it transfers the heat from the bottom very nicely.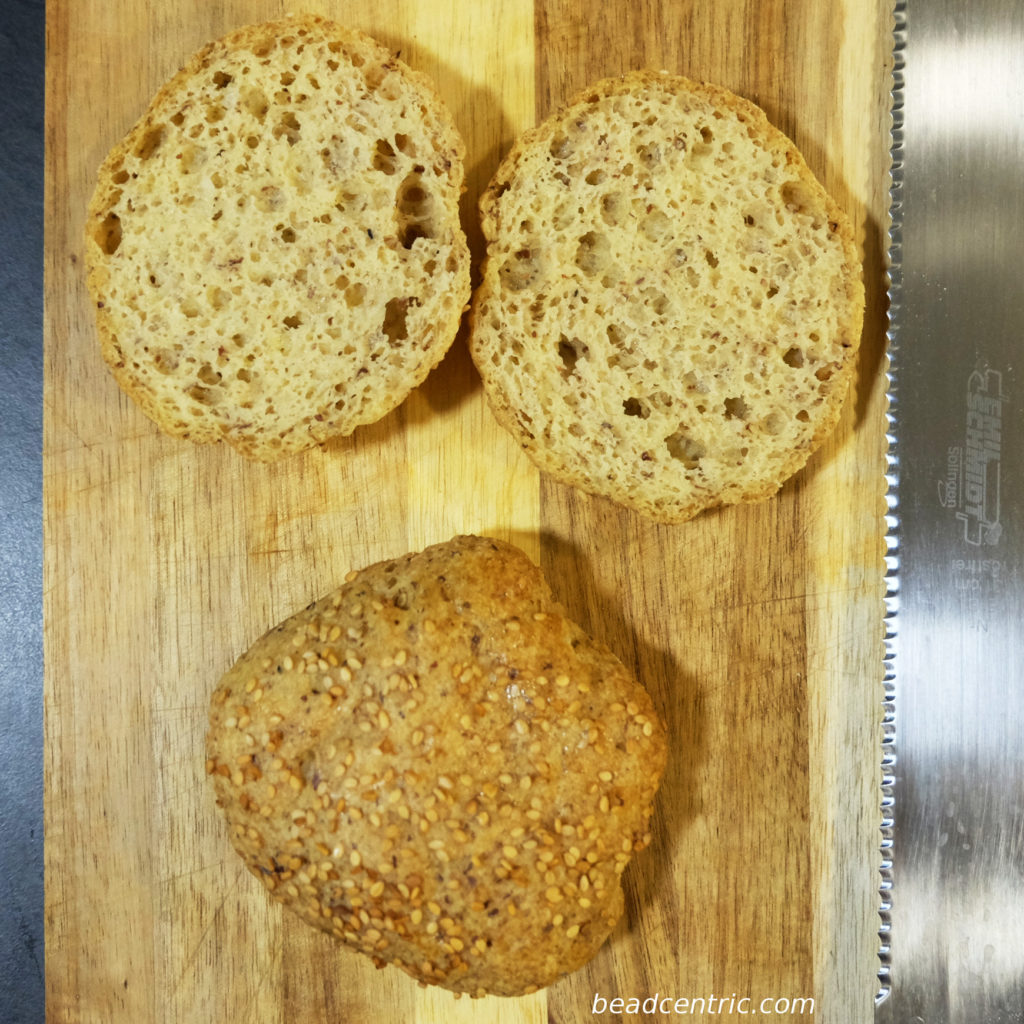 Serving suggestion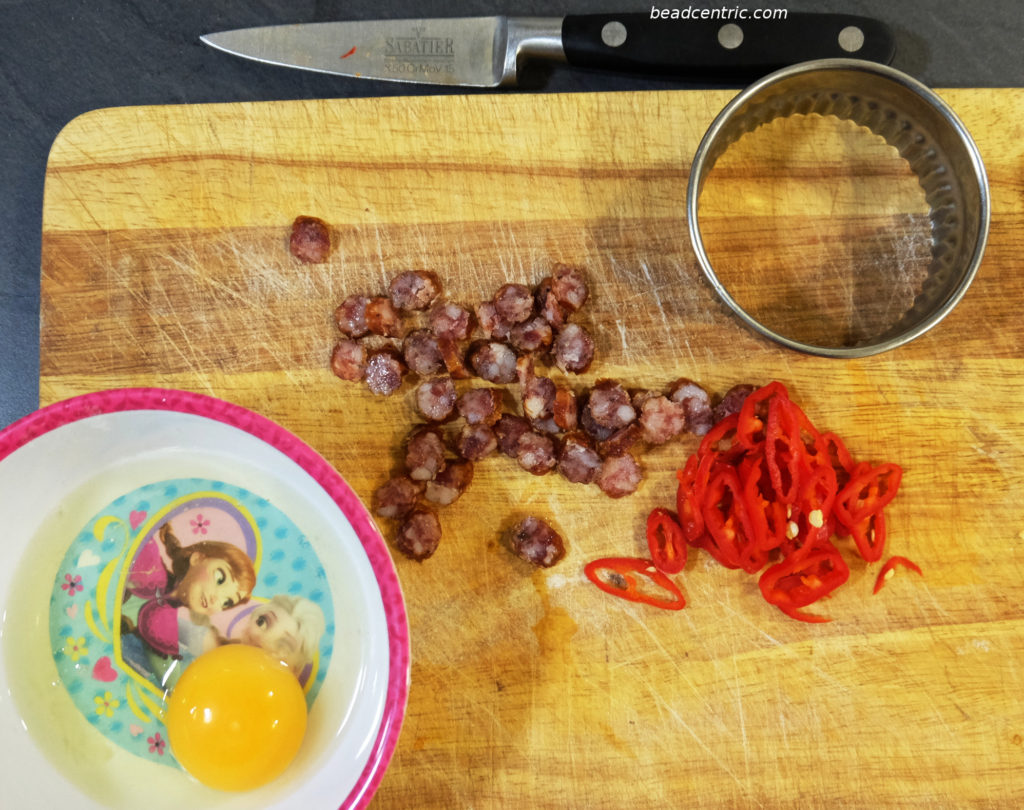 Gluten free food is often considered to be a hipster's wet dream, so I decided to do a hipster fridge cleanup. I found some old dry smoked pork sausage, I used the egg from brushing, kale, spinach, very old chilli, passata with spices, parmigiano reggiano and Majonez Kielecki. My wife made sweet potato chips.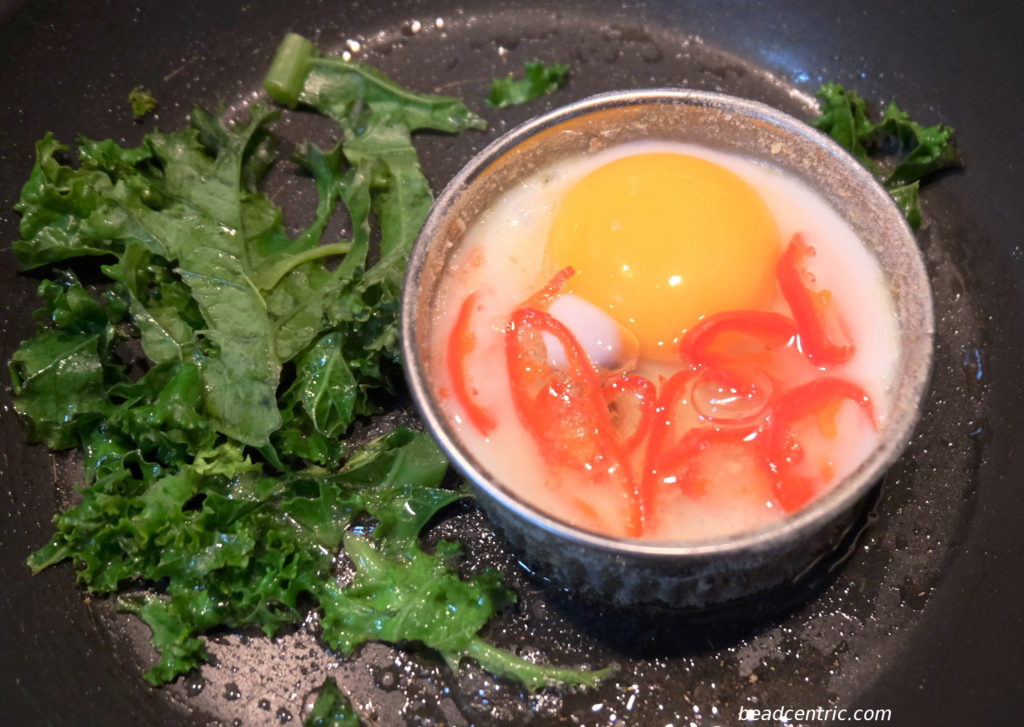 Here comes an eggburger. I fried kale a little, and the egg, sausage and chilli were fried in a stainless still cookie cutter (I don't have any fancy egg frying stencils).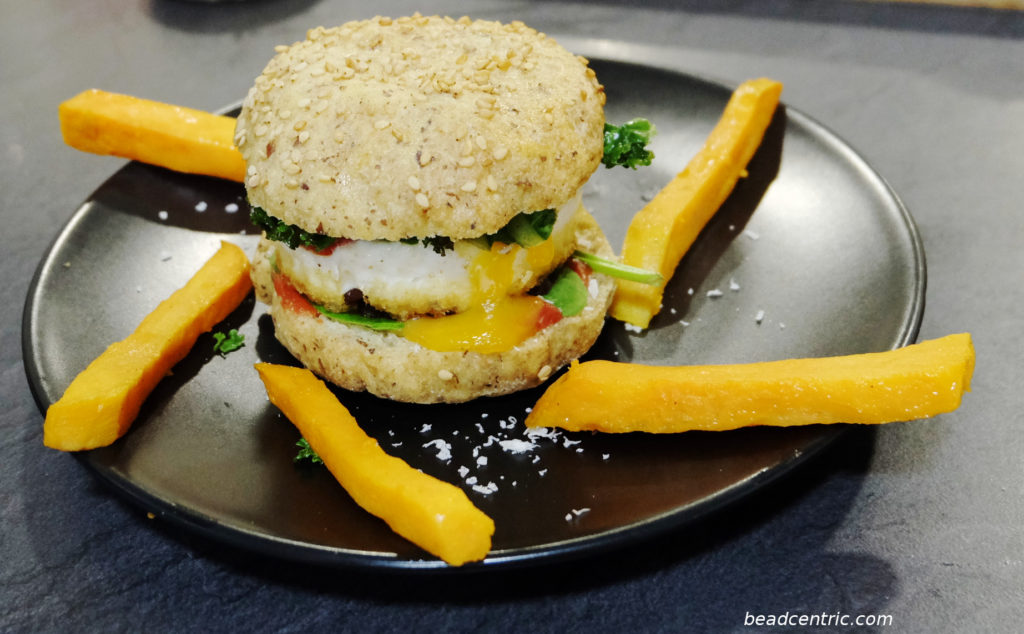 Wiecie, że cierpię na werbalną biegunkę, ale dziś postaram się ograniczyć. Napiszę tylko troszeczkę. Tylko tyci tyci. Nic długiego.
Kiedyś nie było alergii. Nikt nie miał problemu, może jakieś nieliczne przypadki, które dożyły momentu, kiedy mogły to powiedzieć. Ja temat eliminacji glutenu potraktowałem jako sport, generalnie pieczenie chleba to nie dlatego, że jem trzy bochenki dziennie (średnia pieczenia za rok 2016 jest nieznacznie mniejsza), tylko dla odpoczynku, relaksu, ucieczki, fascynacji. Gluten sruten. Podsumowując, jestem troszkę ignorantem w temacie alergii, poza regułą niekarmienia ludzi tym, co może ich zabić.
Technicznie to jest spore wyzwanie – jak ciasto bez glutenu jest zbyt mokre, gaz wypływa, bo nie ma na czym się zatrzymać. Bez glutenu powstaje coś jak woda z osadem. Tak wygląda mój zakwas jeśli go nie zamieszam – stąd w cieście musi być dodane coś, co zastąpi to białko. Guma ksantanowa jest najczęstsza, czasem siemię lniane (śluzuje). Ja używam babkę płesznik, której łupiny nasion mocno żelują, dodaję troszkę lnu. Babka to bardzo ciekawy składnik. Sam len zrobi śluz, tak jak mówiłem. 7 gramów babki i 2 gramy lnu wchłoną 75 gramów wody i będą sztywnym żelem. Potem w to wrabiam mąki. Tu ostrzeżenie: babka jest składnikiem leków na poprawę pracy jelit i na rozwolnienia. Jeśli nie chcesz wypróżniać się betonem, pij dużo wody i nie jedz tego za dużo. Nie wiem ile to jest za dużo, zapytaj Wujka Google.
Jestem wykopkiem (użytkownikiem http://wykop.pl, portalu ze śmiesznymi obrazkami), i udzielam się na mikroblogu (mirko) w tagu #bojowkapiekarska. Hannahalla jest użytkownikiem, który dużo gotuje dla swojego partnera, ale mało tego je, bo nie może w gluteny. Przy okazji jej robienia domowej wersji potrawy z dużej sieci restauracji, ja zacząłem się zastanawiać, czy nie dałoby się zrobić tego w wersji bezglutenowej. Skupiłem się rzecz jasna na bułce.
W sobotę zrobiłem pierwszą wersję, w niedzielę zmniejszyłem ilość wody i dodałem masło. Poprawa jest zauważalna, choć obie bułki są smaczne, bez dziwnych posmaków, delikatne.
Planowanie
Brak. Bułki robi się 2,5 godziny od pierwszego mieszania do wyjęcia z piekarnika.
Składniki
Porcja jest na dwie średnie bułki, lub jedną dużą. Ja mam wagę z podziałką 0,1 g, więc mogę robić takie małe porcje, jeśli nie masz takiej i nie możesz zdobyć, musisz sobie przeskalować. Możesz spróbować zamrozić bułki, nie wiem jak to wychodzi, daj mi znać jeśli spróbujesz – ja swoje cztery zjadłem dość szybko.
7 g babki płesznik
2 g zmielonego siemienia (siemia?) lnianego
1 g drożdży instant
2 g soli
75 g wody
15 g mąki kukurydzianej
15 g mąki jaglanej
15 g mąki ziemniaczanej
10 g miękkiego masła
białko jajka i sezam do posypania
Przygotowanie
Babkę, siemię, drożdże i sól wymieszaj w misce
Dodaj mąki i wmieszaj w żel, aż powstanie dość zwarta masa. W dotyku będzie lekko wilgotna, nie będzie się kleić, ale zostanie trochę na palcu (tak jak mokry piasek zostawia po dotknięciu na skórze kilka ziarenek)
Dodaj i wmieszaj masło. Tu mieszania będzie najwięcej, żeby w cieście nie było kulek masła tylko jednolita mieszanina

Zmieszane ciasto

Podziel na pół (lub nie) uformuj okrągły kształt, spłaszcz dość mocno, tak na 15-20 mm wysokości. Połóż na posypanym podłożu, żeby się nie przylepiło. Dowolna mąka bezglutenowa da tu radę, ja używam do podsypywania ryżowej, bo mam. Przykryj folią, żeby nie wyschło, pozostaw w ciepłym miejscu na godzinę. Trochę urośnie (u mnie nie podwoiło się już)

Uformowane bułki

Piekarnik nastaw na 200C. Może być termoobieg, ale zadbaj, żeby bułki nie były wystawione bezpośrednio na grzałki (użyj np. daszka z folii aluminiowej)
Przed pieczeniem posmaruj jajkiem powierzchnię bułek i posyp sezamem. Mak też może być fajny

Bułki posypane sezamem

Wrzuć do piekarnika na 20 minut. Po 15 minutach jeszcze raz posmarowałem białkiem, żeby miały więcej połysku.

Bułka w piekarniku
No i tyle. Ja dodam jeszcze, że użyłem do pieczenia żeliwnego kamienia, zauważyłem, że fajnie oddaje ciepło od spodu.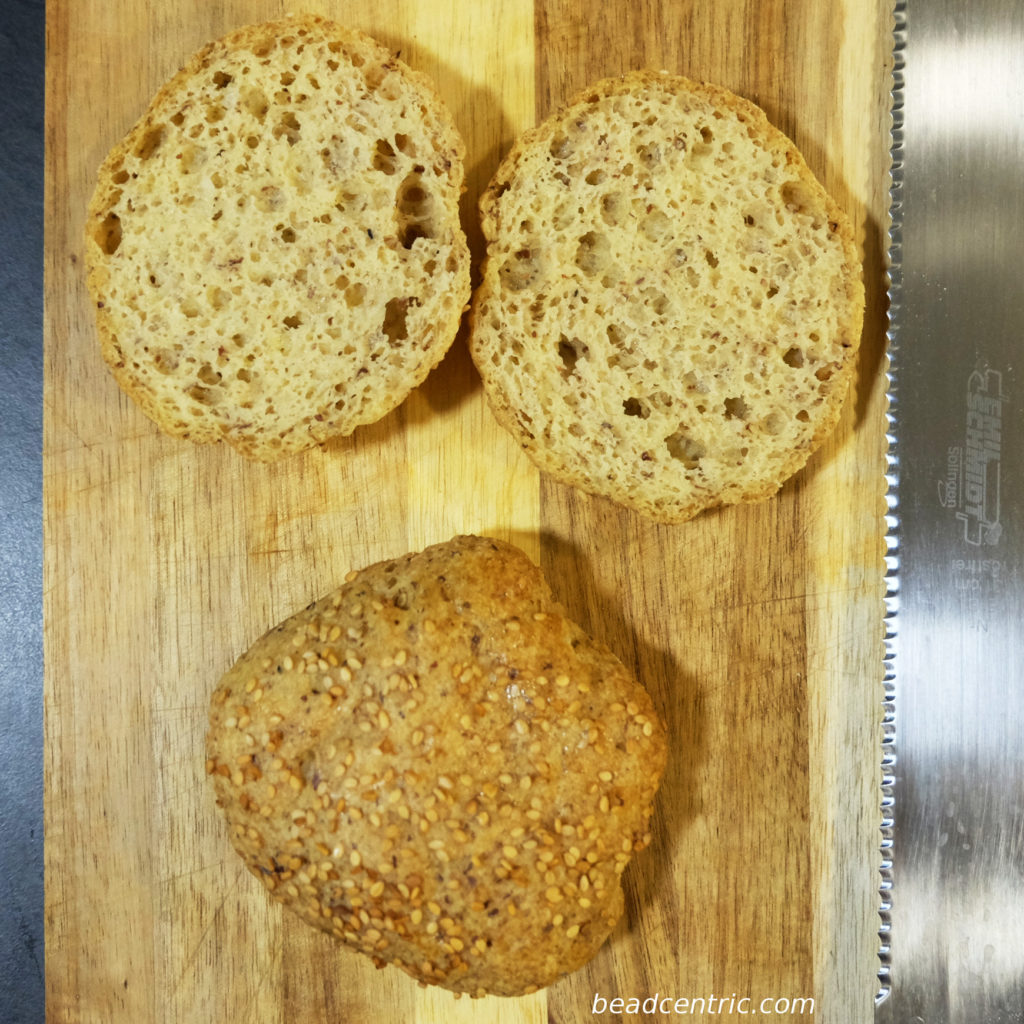 Propozycja podania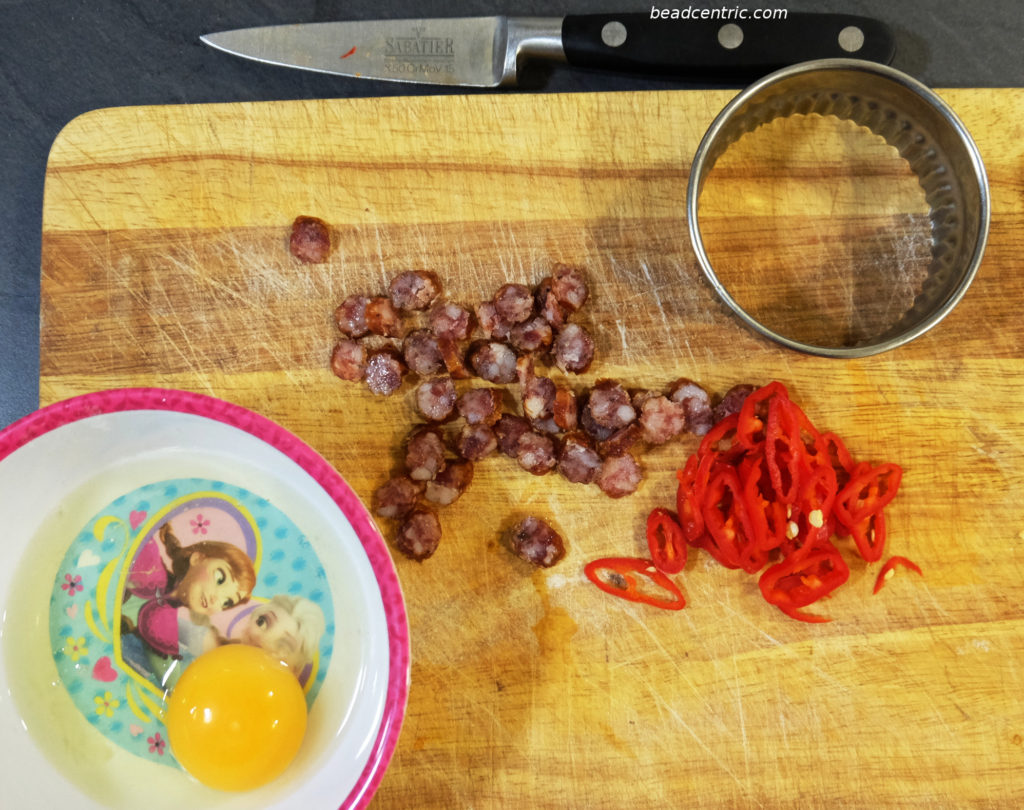 Temat żarcia bezglutenowego jest traktowany jak mokry sen hipstera, więc zrobiłem hipsterskie sprzątanie lodówki. Znalazłem starego kabanosa, użyłem jajko, którego białkiem smarowałem bułki, jarmuż, szpinak, dogorywające chili, sos pomidorowy (passata z ziołami z makaronu dzieci), parmezan i Majonez Kielecki. Żona zrobiła frytki z batata.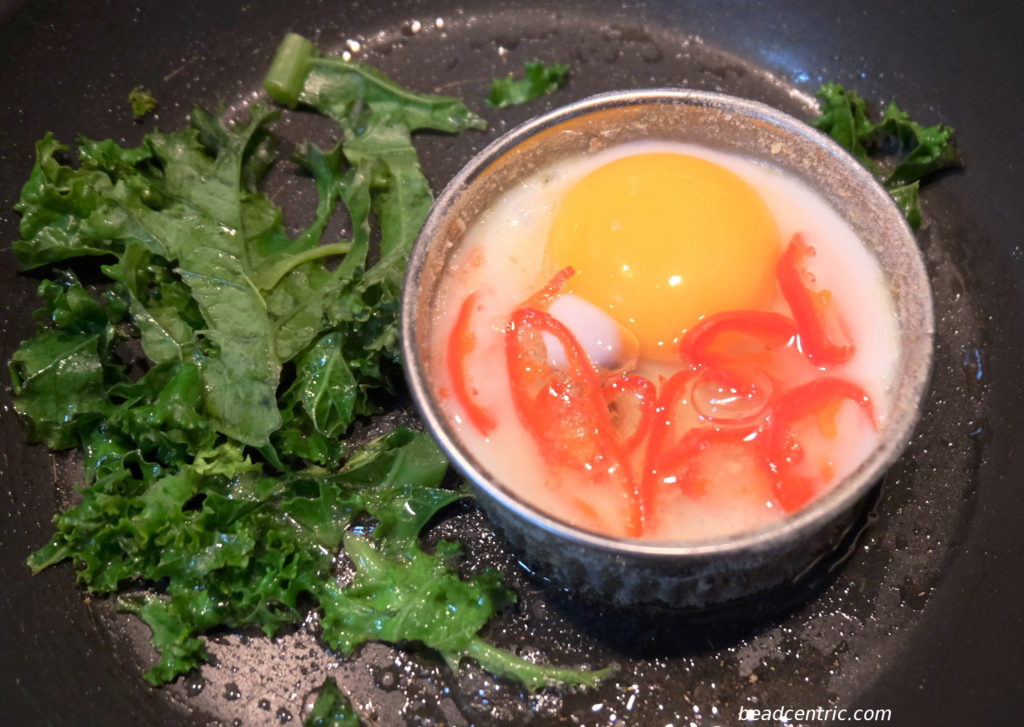 Oto jajcoburger. Jarmuż był podsmażony nieco, jajko z kabanosami i chilli smażyłem w wykrawaczu do ciastek (nie mam tych fikuśnych kształtek do smażenia jajek).