Delicious ice-cream to enjoy the last bits of summertime!
Pyszne lody, aby cieszyć się ostatnimi okruszkami lata!
Truth be told, I planned to make vanilla vanilla ice-cream. Unfortunately last time I tried I lost focus and ended up with sweet vanilla scrambled eggs. That's why I put it on low heat and mixed for about 40-50 minutes. I caramelised the sugar a bit and got a slightly darker colour and a caramel aroma. A very tasty surprise.
Planning
You will need an hour or two to make the ice-cream mixture, a couple hours to chill it and then 20-40 minutes to churn it. An optional extra couple hours freezing may be needed afterwards.
I really recommend having an ice-cream maker for this. I have tried making it with a blender before and I could not get the proper ice-creamy texture. It may require chilling a bowl if it has no frosting mechanism included. Refer to your manual. We keep our bowl in a freezer all the time even though we only use it once or twice a year.
You'll also need a mixer to whisk the egg yolks.
Make sure the saucepan has a thick bottom. This will ensure the heat spreads evenly with no rapid temperature jumps to cause burns.
Ingredients
I got 2/3 of a 1l ice-cream box, which was enough for the servings for a family of 15. Some got more than one.
2 vanilla pods
450 ml double cream
450 ml whole milk
150 g caster sugar
6 egg yolks
Preparation
In a saucepan, mix milk and cream
Cut the vanilla pods in half lengthways, scrape the seeds out, add to milk. Add the pods too
Put on a low heat and bring to simmer.  Mix regularly and simmer for 10-15 minutes
In a mixer, whisk the egg yolks with sugar
After 10-15 minutes, bring the dairy mixture to boil
While whisking the eggs slowly, gradually pour the dairy mixture onto the eggs
Pour it back into the saucepan and simmer, while stirring pretty much constantly.
At some point the mixture will get dense and turn into custard. Now if you do it over a medium heat, it will take about 15-20 minutes (with a constant stir, remember). If you set a low heat, the sugar will caramelise, as it happened to me. But it will take some 40-50 minutes (with a constant stir, remember). The rule I have heard once is that the mixture should be thick enough to coat a spoon and not drip.
It feels that I haven't emphasised this enough: remember to stir constantly, or the yolks will turn solid and make sweet scrambled eggs

Transfer into a bowl through a sieve to get rid of the vanilla pods
Chill for a couple hours. The general rule is to get it very cold but not frozen
At this point you will need your ice-cream maker machine ready to churn. Switch it on and gradually put the mixture inside. Leave it until you're happy with the texture or you start seeing that it's not getting any more frozen
If you're not happy with it just yet, pop it into the freezer. It will be fine now: you will have some well aerated almost frozen ice-cream that will not freeze totally anymore
If it get's too hard, give it 10-15 minutes to soften before serving. Mines did not have any problems with this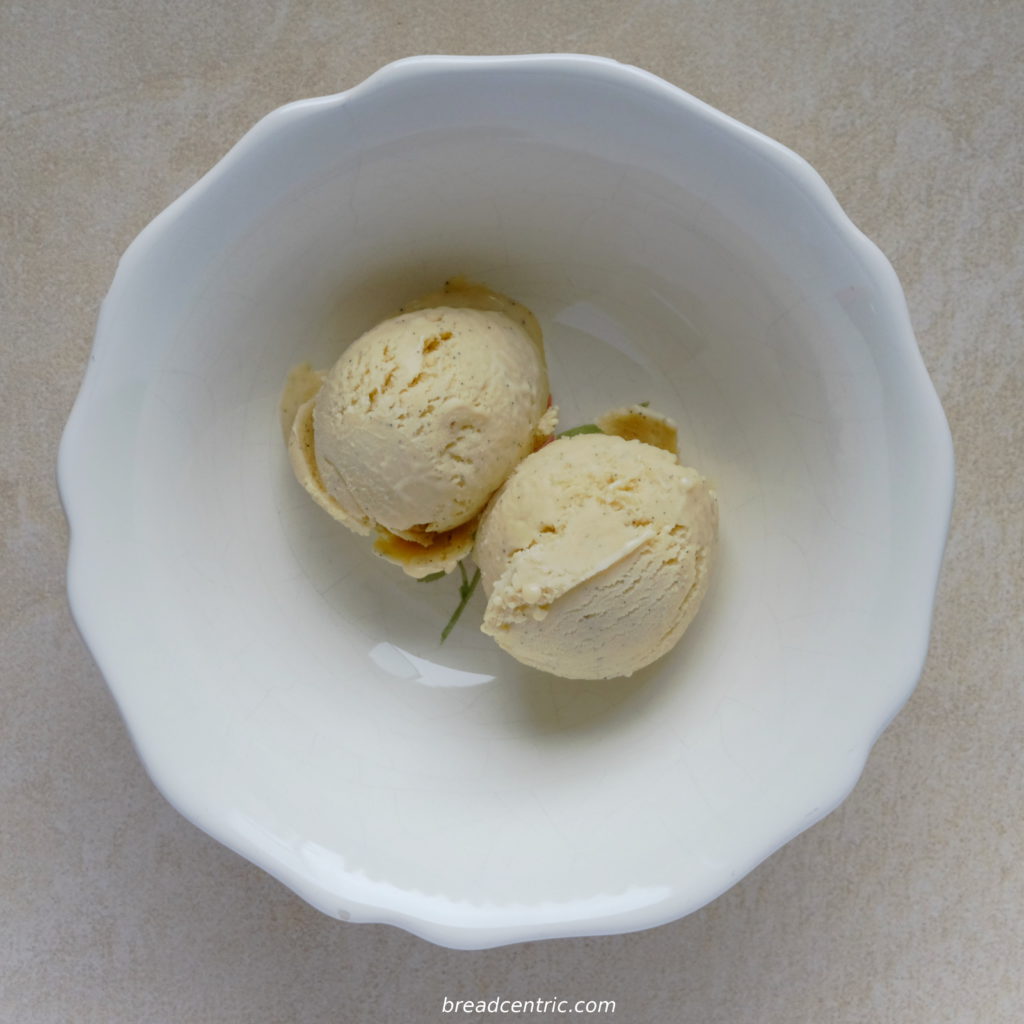 My family liked it. One person said they were too sweet, but it's 150 g sugar per 900 ml of liquid so not that much, I think. Maybe it's the caramel aroma that has caused this. Or maybe I should have added a pinch of salt or something? Most of us loved it.
Prawdę mówiąc planowałem zrobić zwykłe lody waniliowe. Niestety poprzednim razem rozproszyłem się i zakończyłem przygotowania ze słodziutką jajecznicą waniliową. Dlatego tym razem umieściłem całość na małym ogniu i mieszałem przez około 40-50 minut. Skarmelizowałem trochę cukier i otrzymałem nieco ciemniejszy kolor i karmelowy aromat. Bardzo smaczna niespodzianka.
Planowanie
Potrzebujesz godziny-dwóch, aby przygotować masę lodową, kilka godzin na schłodzenie i 20-40 minut kręcenia. Możliwe, że będzie potrzeba jeszcze pomrozić lody przez kilka godzin dla lepszego efektu.
Bardzo polecam użyć maszynki do robienia lodów. Próbowałem robić je blenderem i nie mogłem uzyskać takiej kremowej-lodowej tekstury. Maszynka może wymagać zmrożenia miski, jeśli nie zawiera mechanizmu mrożącego.  Sprawdź w instrukcji. My trzymamy miskę cały czas w zamrażalniku, mimo że używamy jej ze dwa razy w roku.
Będziesz też potrzebować miksera, aby ubić żółtka.
Upewnij się, aby garnek miał grube dno. Dzięki temu będzie nagrzewać się równomiernie, bez gwałtownych skoków temperatury.
Składniki
Otrzymałem 2/3 litrowego pudełka na lody, co wystarczyło do poczęstowania piętnastoosobowej rodziny. Niektórzy dostali więcej niż jedną porcję.
2 laski wanilii
450 ml kremówki (o kremówce pod składnikami!)
450 ml tłustego mleka
150 g drobnego cukru
6 żółtek
Byłem w szoku, gdy dowiedziałem się od osób z rodziny, że większość kremówek na rynku zawiera E407 – karagen. Jest to stabilizator, który moja jedna siostra oskarżyła o powodowanie raka, co druga siostra zakwestionowała, tłumacząc, że jedynie doprowadza do owrzodzenia żołądka czy tam jelit. Mimo niskiej szkodliwości, zdziwiło mnie stosowanie dodatków tego typu. W Wielkiej Brytanii, większość śmietany i mleka to produkty o krótkim terminie ważności i żaden tego cuda nie posiada. Znaczy się jasne, śmietanki UHT, mające przetrwać długi czas, mają go dla stabilizacji, ale świeże też chyba to dość często mają. Z tego co dziś widziałem w Biedronce, śmietana 42% z Piątnicy nie miała. Możliwe że Twoja regionalna spółdzielnia też nie dodaje. Najlepiej byłoby zadzwonić do nich i zapytać.
Przygotowanie
Wymieszaj mleko ze śmietaną w garnku
Rozetnij laski wanilii wzdłuż długiego boku, wydrap ziarenka i dodaj do mleka. Skórki też dodaj
Postaw na małym ogniu i doprowadź do gotowania się. Mieszaj regularnie i gotuj przez 10-15 minut
W mikserze ubij żółtka z cukrem na kogel-mogel
Jak to 10-15 minut minie, doprowadź mleko ze śmietaną do wrzenia
W trakcie ucierania wlewaj stopniowo mleko do kogla
Przelej ponownie do garnka i gotuj, właściwie bez przerwy mieszając.
W pewnym momencie mieszanina zgęstnieje i zmieni się w budyń (custard). Jeśli będziesz podgrzewać na średnim ogniu, zajmie to 15-20 minut (bez przerwy mieszając, pamiętaj), na małym ogniu jednak cukier skarmelizuje się, tak jak to mi się przytrafiło, ale zabierze 40-50 minut (z ciągłym mieszaniem, pamiętaj). Reguła końca, jaką słyszałem to upewnić się, że masa przylepia się do łyżki i nie ścieka .
Mam wrażenie, że nie zaznaczyłem to jeszcze dostatecznie mocno: pamiętaj ciągle mieszać, inaczej uzyskasz słodką jajecznicę waniliową

Przelej przez sitko do miski, pozbywając się skórek laski wanilii
Schłódź przez kilka godzin. Generalna zasada jest taka, że masa musi być bardzo zimna, ale nie zamrożona
W tym momencie będziesz potrzebować maszynki do lodów. Włącz ją i stopniowo dodawaj masę do lodów. Pozostaw, aż uzyskasz zadowalający Cię rezultat, lub mieszanina nie schładza się już bardziej
Jeśli jeszcze chcesz domrozić lody, wrzuć je w pudełku na lody do zamrażarki. Nie stanie się z nimi nic złego – są już napowietrzone i prawie zamrożone. Na skałę już nie zamarźnie
Jeśli zbytnio zesztywnieją, przed podaniem daj im 10-15 minut na zmiękczenie. Moje nigdy nie miały tego problemu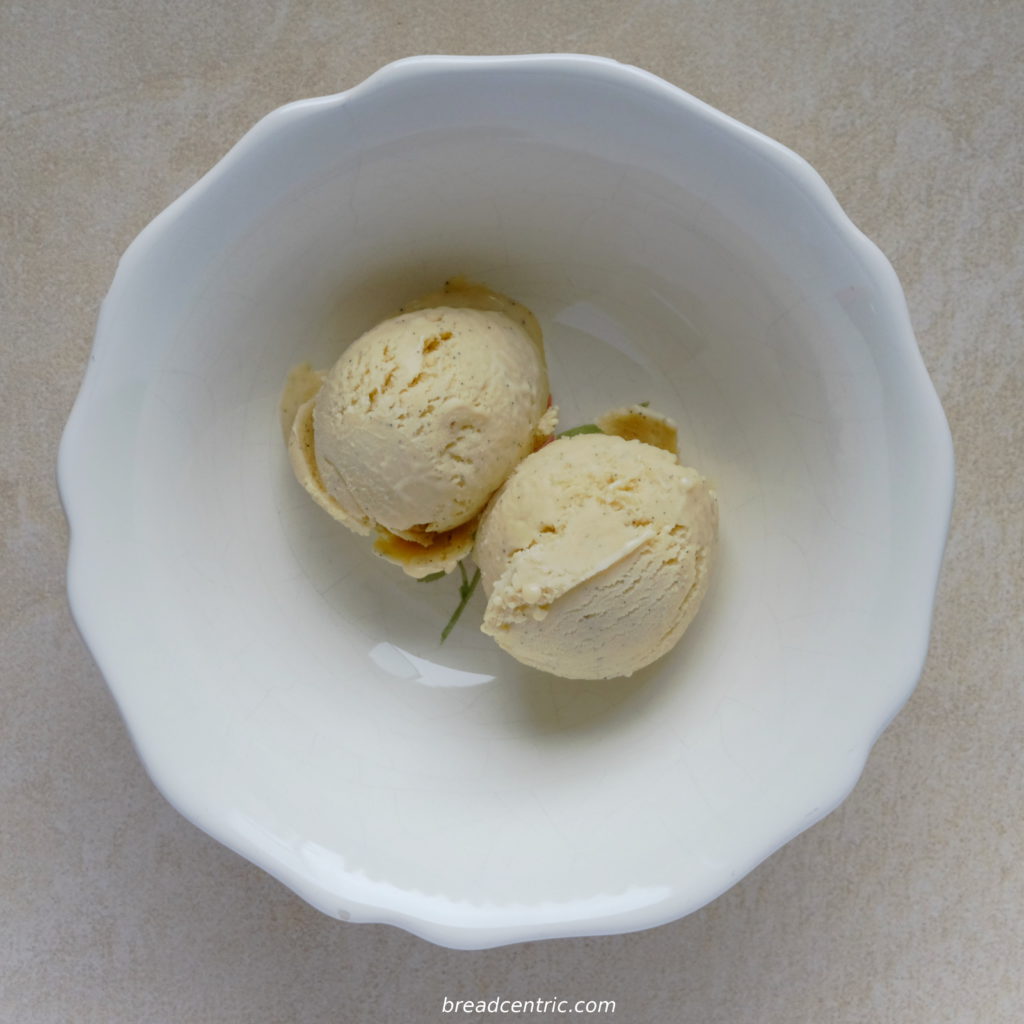 Moja rodzina polubiła je. Jedna osoba stwierdziła, że jest zbyt słodko, ale to tylko 150 g cukru na 900 ml, więc chyba jednak nie tak źle. Może to aromat karmelowy tak sprawił? A może powinienem byłem dodać szczypty soli. Większość z nas jednak je uwielbiała.