This is probably the most common type of typically Polish fast food. Zapiekanka is bread baked with typically mushrooms and cheese. We feel like making some from time to time and I do recommend that you try.
To chyba najpowszechniejszy polski fast-food. Polecam jeśli nie masz co zrobić z bułkami.
For the last week I've been working on a longer post about sourdough. We've just come back from holidays, the sourdough was too sour to bake anything with it. We turn ourselves to the generosity of a Tesco nearby. Have a quick run, grab one baguette, run back home. Today we'll share a quick cheat food that will make everyone happy. I Hope I will come back to you with some interesting topic next Monday.
Planning
None, preparation takes about 30 minutes including warming up the oven.
Ingredients
Today I will not provide quantities. It's not that important as you can use as much of anything that you want.
rolls (baguettes will be the best). We got a big baguette and it was enough to feed our family. You can also use regular bread. Whatever you like
mushroom and some butter
mozzarella cheese – we buy a bag of grated cheese in Lidl
Preparation
Preheat the oven. High temperatures are desired as the roll will not get dry and food will be ready quickly. We've set ours to 200 C degrees with a fan. Know your oven
Chop the mushrooms and place them on a frying pan with a bit of butter. They should soften and get shiny
Place the mushroom on a roll, then other ingredients if you plan any
Sprinkle generously with mozzarella cheese and pop into the oven
Bake for 5-10 minutes, so that the cheese melts and the roll becomes crispy
Eat while still warm! I recommend serving with ketchup.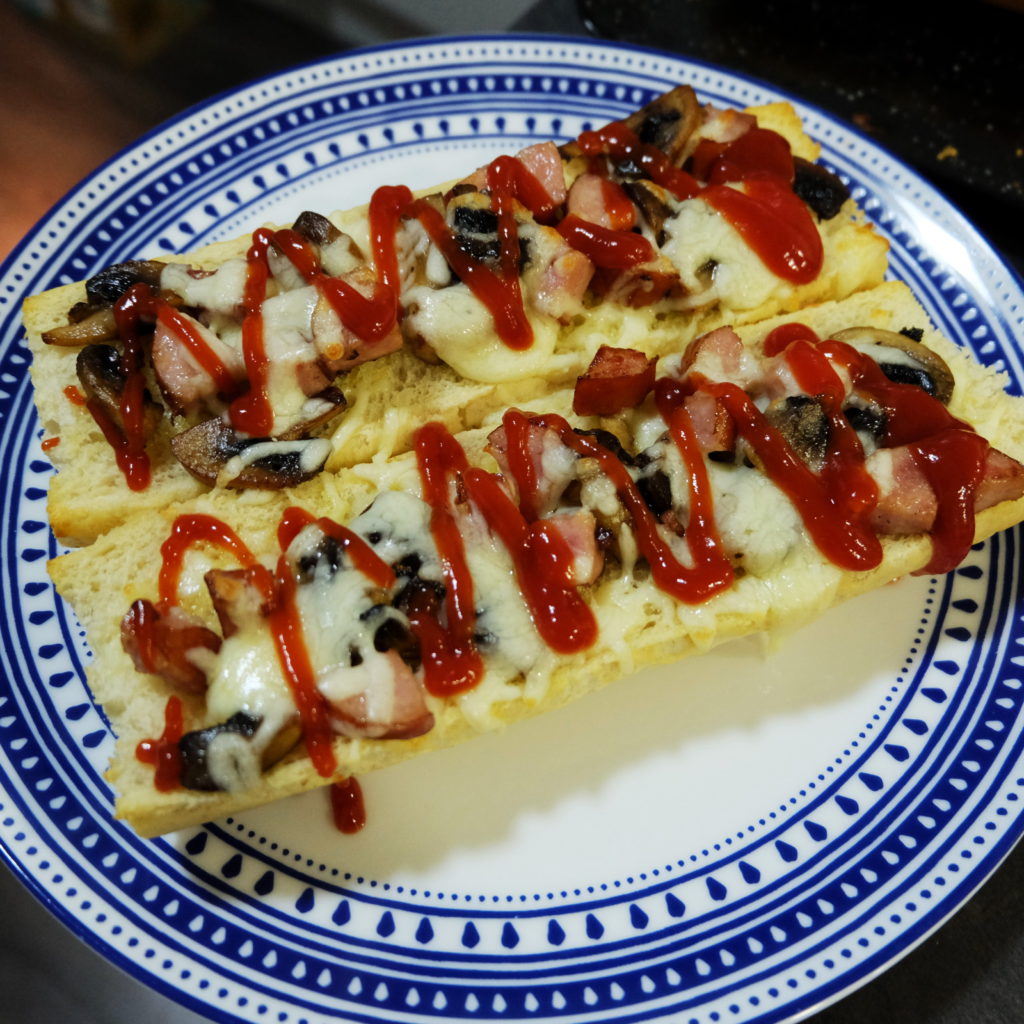 If you make it and have some different idea for the toppings, let me know in the comments below!
Przez ostatni tydzień pracowałem nad dłuższym wpisem o zakwasie. Dopiero co wróciliśmy z wakacji, zakwas jest zbyt kwaśny, aby na nim upiec zbyt wiele. Korzystamy z hojności pobliskiego Tesco. Szybki bieg, chwycić bagietę i jazda do domu. Dziś prezentujemy szybki pomysł na żarcie, które wszystkich uszczęśliwi. Mam nadzieję, że w następny poniedziałek ukończę prace nad nowym wpisem.
Planowanie
Brak. Przygotowanie zabiera 30 minut razem z nagrzewaniem piekarnika.
Składniki
Dziś nie podaję żadnych ilości. Nie są ważne. Możesz też użyć różnych składników, nie tylko tych, które proponujemy.
podłużne bułki. My kupiliśmy bagietę i to wystarczyło na naszą rodzinę. Możesz też użyć zwykłego chleba. Co tylko Ci się podoba, będzie doskonałe

pieczarki i trochę masła. Z kurkami będzie wymyślniej, ale pieczarki wystarczą
mozzarella – my kupujemy startą w Lidlu
Przygotowanie
Nagrzej piekarnik. Mile widziane wysokie temperatury, aby bułka się nie ususzyła, a żarcie było gotowe szybciej. Ustawiliśmy nasz na 200 stopni z termoobiegiem. Znaj swój piekarnik
Posiekaj grzyby i zeszklij na patelni z odrobinąmasła. Powinny zmięknąć
Połóż na połówkach grzyby, następnie inne składniki, jeśli jakieś planujesz
Posyp chojnie serem i wrzuć do piekarnika
Jedz ciepłe. Jest pysznie z keczupem.
Bardzo chętnie poznam Twój sposób na zapiekankę idealną.