This is the end. Time to go back to London. Helena asked her Grandma to bake an apple pie. Here's a recipe.
To koniec. Czas wracać do Londynu. Helena poprosiła Babcię o upieczenie szarlotki. Oto przepis.
This is my childhood's flavour. Mom tried to switch to a different recipe before and I have kindly asked her to abandon that blasphemy. This recipe is the best recipe for an apple pie. Others are usually quite delicious for inferior recipes.
This apple pie is:
not gluten-free
not vegan
not vegetarian
not diabetics-friendly
not good for pork-non-eaters
Eating a lot of it will get you into a bad health state. It is advisable you share it with others to dilute the guilt. If you don't, don't worry – it's still worth it.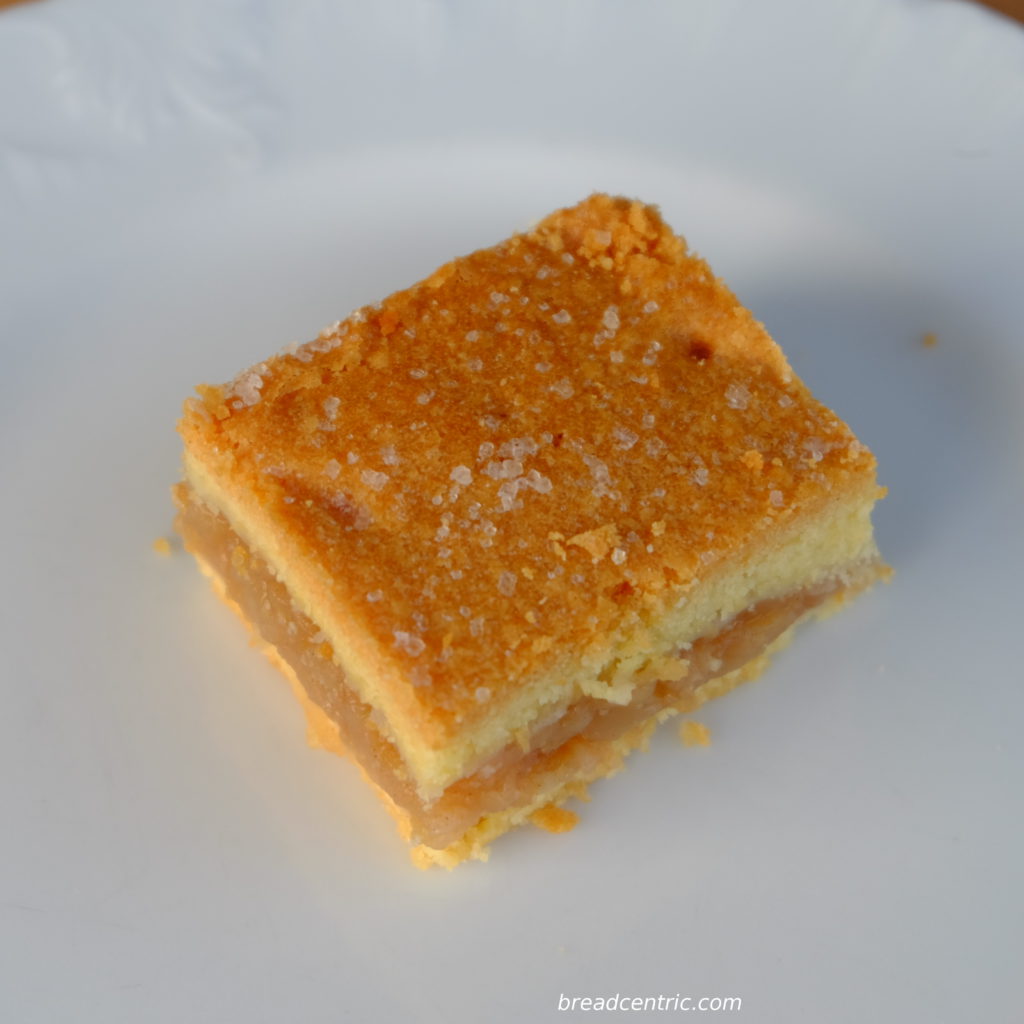 Planning
Just remember you need to cook the apples beforehand and cool them. You also need to chill the dough before baking.
You will need a big baking tray, around 40×35 cm, rather deep one (like the roasting tray to catch the dripping grease) and baking parchment to line it.
Ingredients
The ingredients are carefully measured to match the baking tray. You can scale it down but why would you?
Apples
2.5 kg apples
a bit of sugar, depending on how sweet the apples are (to your preference). For this amount start with two tablespoons and see if you like it
half a teaspoon cinnamon
a heaped tablespoon breadcrumbs
Dough
1 kg plain flour
300 g icing sugar
400 g butter
50 g lard
8 egg yolks
2 heaped teaspoons baking powder
2 teaspoons vanilla extract
pinch of salt
2 tablespoons of double cream
two teaspoons breadcrumbs
a bit of regular sugar for sprinkling (not more than a tablespoon)
Preparation
Apples
Peel the apples, slice them, add sugar and cook them on a rather low heat till they turn into a mash. Remember to mix from time to time
Once ready, put it aside to cool down
When cool, add the breadcrumbs and cinnamon and mix well
The cake
Knead the dough using the ingredients. While kneading, gradually add the cream – it will simplify the kneading and make the dough easier to work with
Chill the dough for an hour or two so that it's rather stiff
Set the oven to 165-170C with convection. Know your oven
Split the dough into even portions
Put one half as an even layer on the baking tray and bake for 20 minutes
Sprinkle the baked bottom evenly with one tablespoon breadcrumbs
Place apples on this. I recommend leaving 1-2 cm margin so that the top and bottom layers of dough stick together. Trust me, I'll explain why later
Sprinkle the apples evenly with one tablespoon breadcrumbs
Put an even top layer of dough on this
Prick with fork (in the good old days Google Translate did not translate such a sentence very well)
Sprinkle sugar on top
Bake for 55-60 minutes
Cool it down
This is the best. cake. ever. period.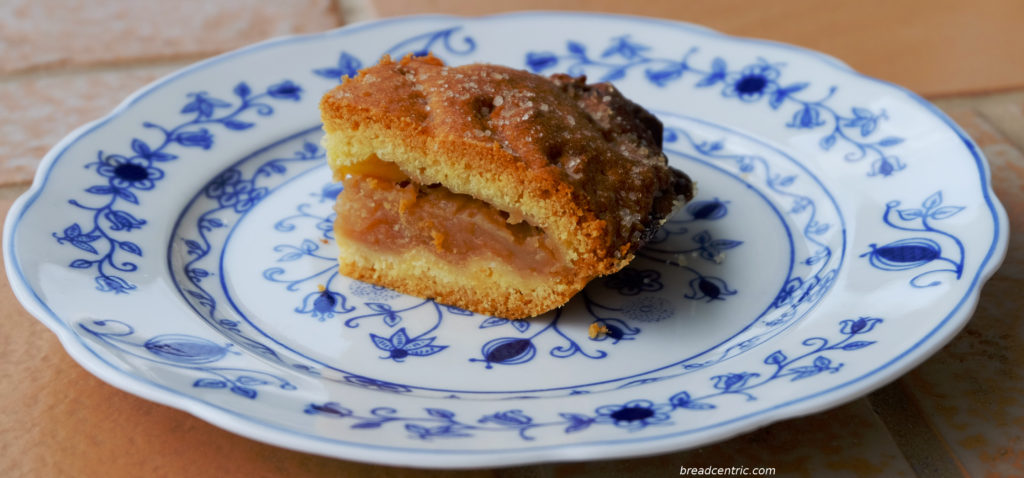 The border of the cake is a very important bit of it, especially the corners. The crust is so delicious I could leave the apples out to have even more of the thick treat.
Tuesday: back to work. How was your summer? Mine was appley.
To smak mojego dzieciństwa. Mama próbowała przejść kiedyś na inny przepis, ale grzecznie poprosiłem, aby porzucić tą herezję. To jest najlepszy przepis na szarlotkę. Inne są zazwyczaj całkiem pyszne, jak na gorsze przepisy.
Ta szarlotka jest:
nie bezglutenowa
nie wegańska
nie wegetariańska
nie dla cukrzyków
nie dla unikających wieprzowiny
Nadmierne spożycie nadwyręży Twoje zdrowie. Zaleca się dzielić z innymi aby rozcieńczyć poczucie winy. Jeśli nie masz z kim, nie martw się – i tak warto ją zjeść.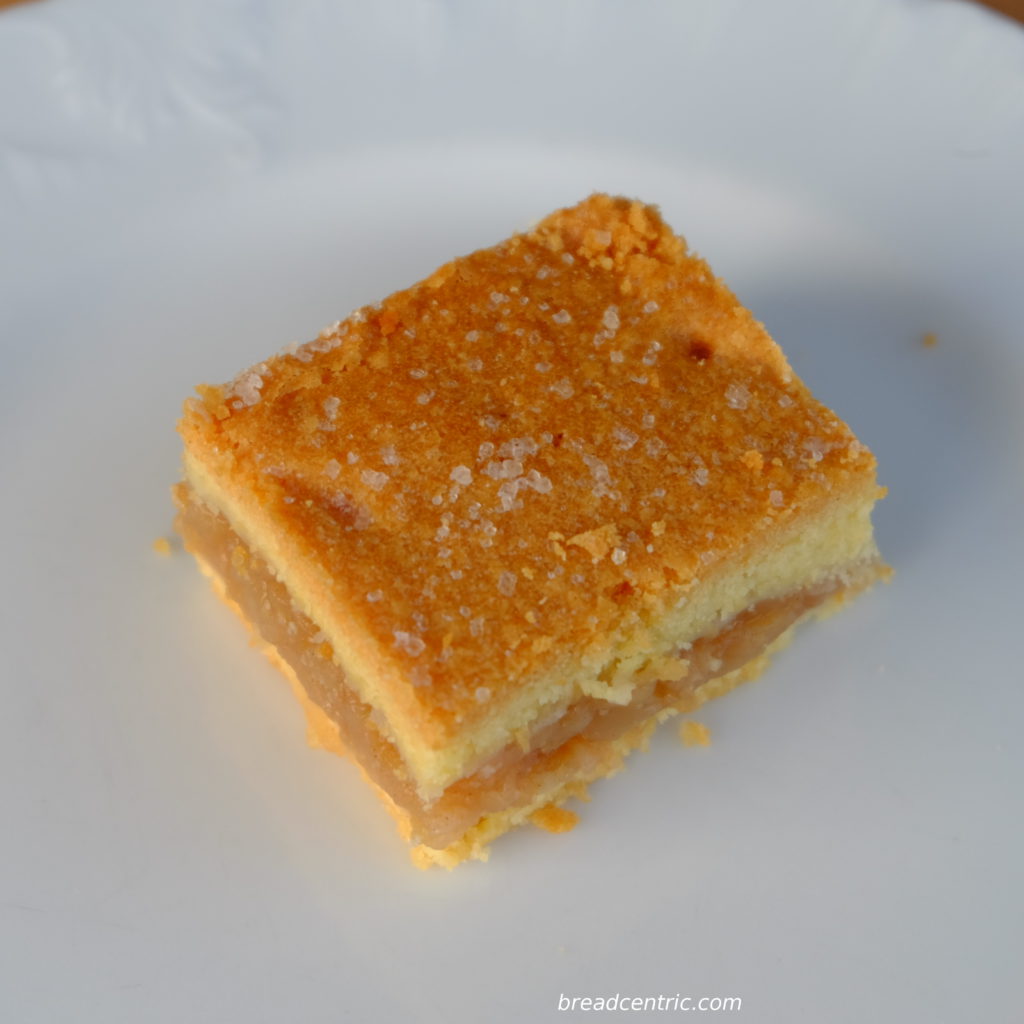 Planowanie
Pamiętaj, że musisz najpierw uprażyć jabłka i je schłodzić. Potrzeba też schłodzić ciasto przed rozwałkowaniem i pieczeniem.
Będziesz potrzebować formy do pieczenia, około 40×35 cm, raczej głębokiej (można użyć tacki pod ruszt do łapania tłuszczu) i papieru do pieczenia do wyłożenia.
Składniki
Składniki zostały ostrożnie wymierzone, aby pasować to formy. Możesz je przeskalować pod mniejszą, ale po co?
Jabłka
2,5 kg jabłek
trochę cukru, zależnie od słodkości jabłek (kwestia Twoich preferencji). Dla tej ilości jabłek możesz zacząć od dwóch łyżek cukru i zobaczyć, czy to Ci odpowiada
pół łyżeczki cynamonu
czubata łyżka bułki tartej
Ciasto
1 kg mąki tortowej
300 g cukru pudru
400 g masła
50 g smalcu
8 żółtek
2 czubate łyżeczki proszku do pieczenia
2 łyżeczki ekstraktu waniliowego
szczypta soli
2 łyżki tłustej śmietany, trzydziestki lub wyżej
2 łyżki bułki tartej
trochę kryształu do posypania (nie więcej niż łyżka)
Przygotowanie
Jabłka
Obierz i pokrój jabłka, dodaj cukier i gotuj na małym ogniu, aż uprażą się. Pamiętaj mieszać regularnie, aby się nie przypaliły
Kiedy będą gotowe, odstaw do ostygnięcia
Kiedy ostygną, wymieszaj z bułką tartą i cynamonem
Placek
Wyrób ciasto ze składników. Przy wyrabianiu dodawaj stopniowo śmietanę – ułatwi to wyrabianie i sprawi, że z ciastem będzie łatwiej pracować
Schłódź ciasto przez godzinę-dwie, aby zrobiło się raczej sztywne
Nastaw piekarnik na 165-170 stopni z termoobiegiem. Znaj swój piekarnik
Podziel ciasto na dwie równe porcje
Wyłóż formę równą warstwą ciasta z jednej porcji i piecz przez 20 minut
Posyp upieczony spód  jedną łyżką bułki tartej
Wyłóż na to jabłka. Pozostaw 1-2 cm marginesu na rant. Zaufaj mi, wyjaśnię to później
Posyp jabłka drugą łyżką bułki tartej
Połóż na to równą warstwę ciasta z drugiej porcji
Ponakłuwaj widelcem
Posyp wierzch cukrem
Piecz przez 55-60 minut
Schłódź
To ciasto jest najlepszym ciastem we wszechświecie. Kropka.
Rant jest bardzo ważną częścią ciasta, szczególnie narożniki. Ciasto jest tak pyszne, że mógłbym zapomnieć dodać jabłek, aby mieć go jeszcze więcej.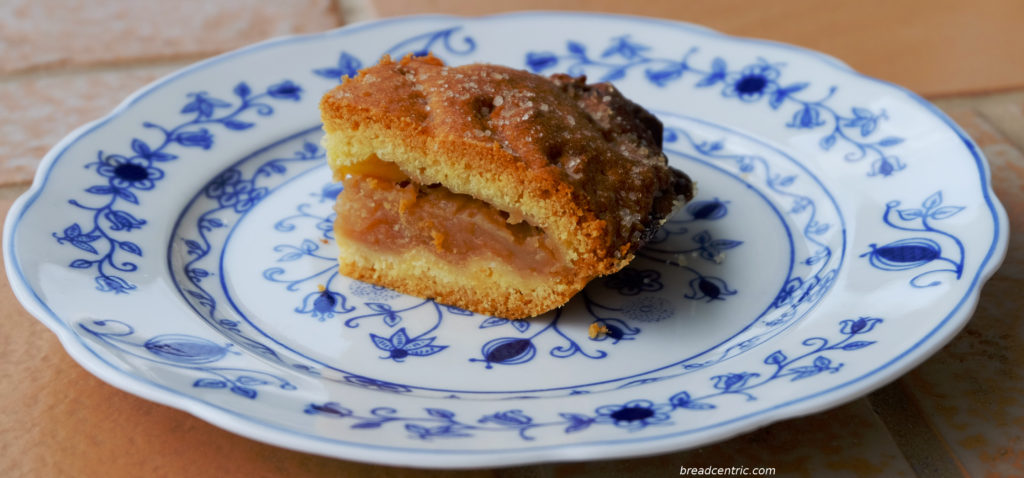 Wtorek: powrót do pracy. Jak Wam minęło lato? Mi jabłkowo.