I usually order seeds from a store that offers a variety of products I haven't used before. Last month I got some spelt flour and this was time to use it.
Zazwyczaj kupuję ziarna w sklepie, który sprzedaje mnogość produktów, z których dotychczas nie korzystałem. W zeszłym miesiącu nabyłem trochę mąki orkiszowej i nadszedł czas na jej wypróbowanie.
Spelt is a very old variety of wheat, but I heard it should be handled more gently than wheat and gives a delicate dough. I followed recipe form J. Hamelman's "Bread" (sources).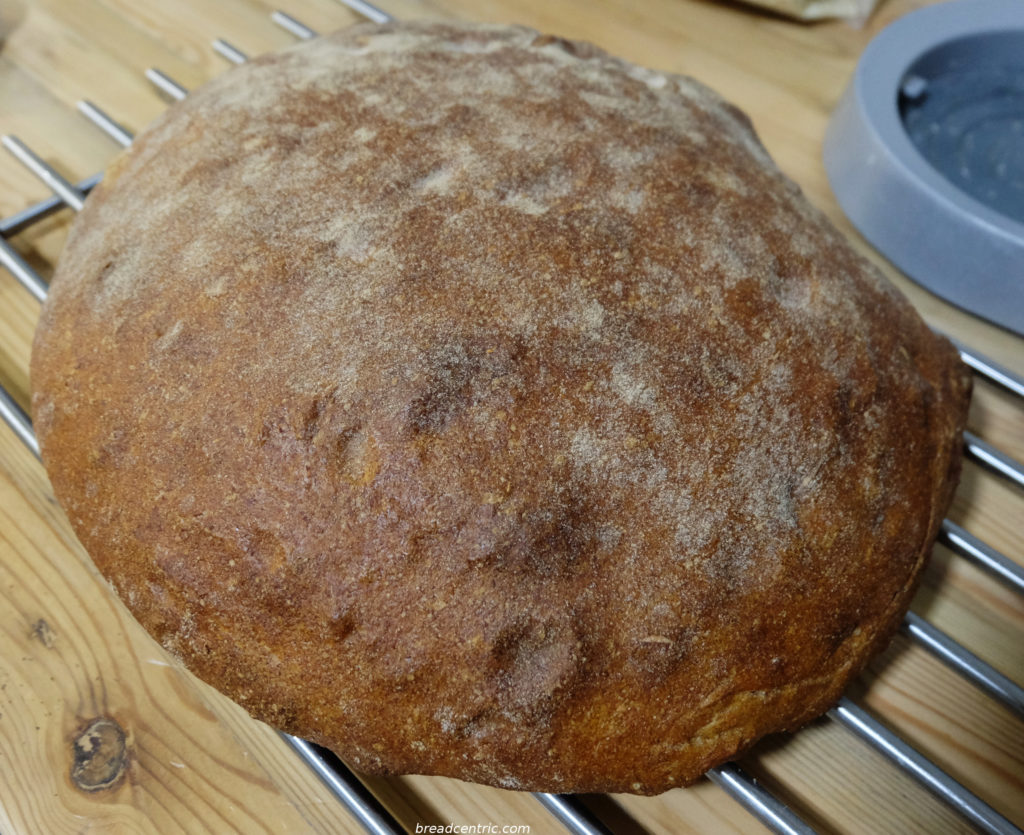 Planning
It will take 12-14 hours to prepare the levain, 2 hours bulk rise, one hour final proof, 40 minutes baking. You should fit into 19 hours.
Ingredients
Levain
230 g dark spelt flour
150 g water
10 g salt
0.5 g fresh yeast or 0.2 g instant
Final dough
450 g dark spelt flour
230 g strong wheat flour
500 g water
10 g salt
12 g fresh yeast or 4 g instant yeast
40 g honey. I used buckwheat which made the bread darker and dominated the flavour. I would recommend using something milder to taste something different, although this one was very tasty with cooked meat
Preparation
Mix yeast with water, add flour and mix until you get a smooth levain. Leave for 12-14 hours in room temperature
Mix all final dough ingredients except the levain. I recommend starting with 90% of the water. Mix this for 3 minutes on lower speed and gradually add levain. If the dough is too stiff, add remaining water. Finish mixing for 3 minutes on higher speed
Leave for two hours to rise. Do a stretch and fold after one hour
Shape a loaf or two smaller ones and put in dusted baskets. Put the baskets into plastic bags and set aside for one hour for final rise
Set your oven to 230 C without fan (know your oven). If You're using a stone or iron cast sheet, give it 40 minutes or so before placing bread on it
Put your loaf in the oven, add a lot of steam and bake for 40 minutes. When you see them getting a dark colour, begin to gradually release steam. The honey will cause the crust to get quite a dark colour, but if you feel it's happening to fast, reduce the temperature to 210 C

Spelt bread with honey – the crumb
If you have two baskets, I recommend dividing the dough as there​ was too much dough for my 2kg banneton. It also went flat in the oven, but then rose nicely during baking.
I added all the water from the recipe straight away, but it feels that it was too much. Next time I'll use 90% first.
The crumb was very soft, much softer than whatever I usually bake. After all, it's a yeast only bread. The crust was also very thin, as I was afraid I would burn it.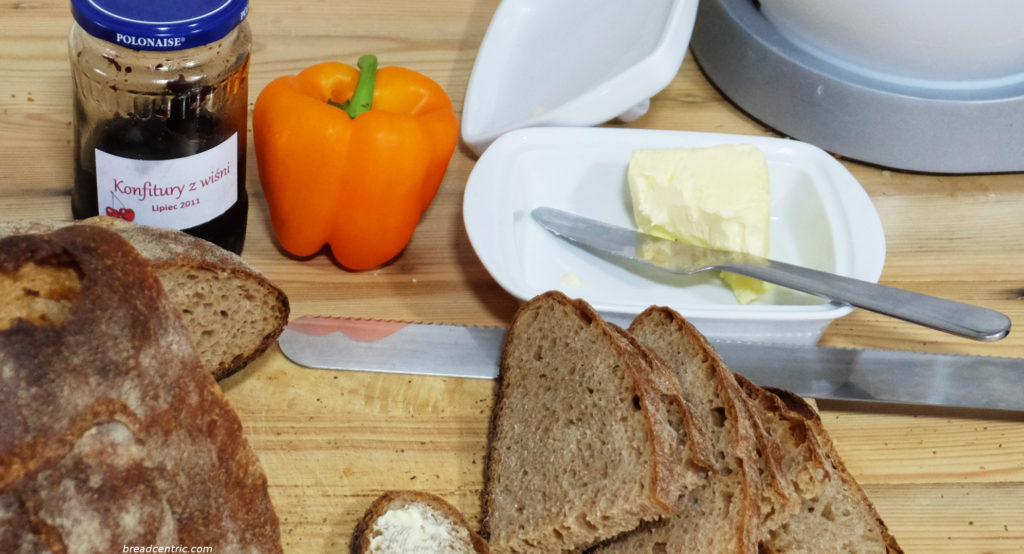 In terms of flavour, as mentioned, buckwheat honey dominated it. Next time I would probably use acacia honey.
Orkisz to bardzo stara odmiana pszenicy, ale słyszałem, że powinien być traktowany z większym wyczuciem niż zwykła pszenica i daje delikatniejsze ciasto. Zostałem przepis z książki "Chleb" J. Hamelmana (źródła).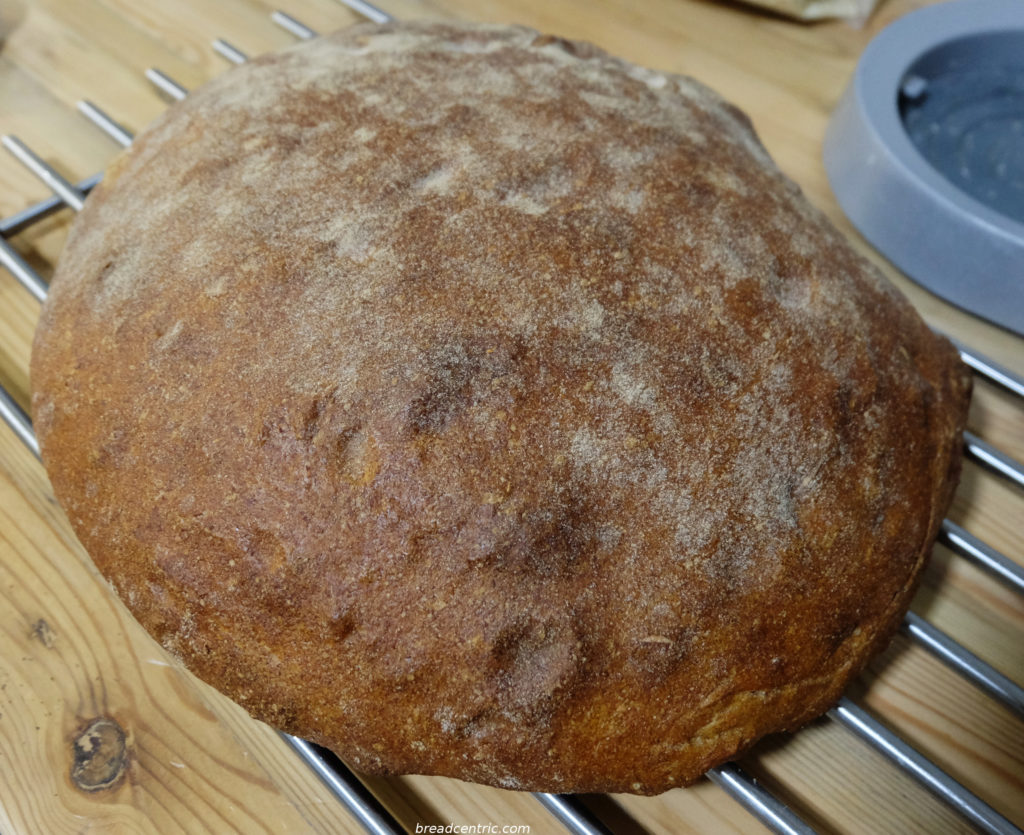 Planowanie
Zaczyn dojrzewa 12-14 godzin, pierwsze wyrastanie trwa 2 godziny, końcowe – jedną, pieczenie 40 minut. Wychodzi około 19 godzin od rozpoczęcia do zaliczenia.
Składniki
Zaczyn
230 g mąki orkiszowej ciemnej
150 g wody
10 g soli
0,5 g drożdży bświeżych lub 0,2 g instant
Końcowe ciasto
450 g mąki orkiszowej ciemnej
230 g mąki pszennej chlebowej
500 g wody
10 g soli
12 g drożdży świeżych 4 g instant
40 g miodu. Ja użyłem gryczanego, który dał ciemniejszy chleb i zdominował smak. Polecam jednak użyć czegoś łagodniejszego w smaku, mimo że rezultat był smaczny i dobrze pasował do wędliny
Przygotowanie
Rozpuść drożdże w wodzie, dodaj mąkę z solą i mieszaj aż uzyskasz gładki zaczyn. Pozostaw na 12-14 godzin w temperaturze pokojowej
Mieszaj wszystkie składniki na ciasto końcowe poza zaczynem. Polecam użyć 90% wody na początku. Mieszaj przez 3 minuty na niższej prędkości, dodając stopniowo zaczyn. Jeśli ciasto jest zbyt sztywne, dodaj zachowaną wodę. Dokończ mieszając przez 3 minuty na wyższej prędkości
Pozostaw na dwie godziny do wyrośnięcia. Po godzinie złóż ciasto
Uformuj bochenek, lub dwa mniejsze, i umieść w oprószonych mąką koszach. Kosze umieść w plastikowych torbach i odłóż do końcowego wyrastania
Nastaw piekarnik na 230 stopni bez termoobiegu (znaj swój piekarnik). Jeśli używasz kamienia lub żeliwnej płyty, nagrzewaj je w piekarniku przez około 40 minut
Umieść chleb w piekarniku, zrób dużo posty i piecz przez 40 minut. Kiedy zobaczysz, że skórka zaczyna ciemnieć, zacznij stopniowo wypuszczać parę. Miód uczyni skórkę ciemniejszą niż zwykle, jeśli masz przeczucie, że następuje to zbyt szybko, obniż temperaturę do 210 stopni

Chleb orkiszowy z miodem – miękisz
Jeśli masz dwa kosze, polecam podzielić ciasto, bo u mnie było go więcej niż mogłem zmieścić w moim dwukilowym koszu. W piekarniku bochenek początkowo się rozpłaszczył, ale potem się ładnie podniósł.
Podczas mieszania dodałem od razu całą wodę, ale wydaje mi się, że to było za dużo. Następnym razem zacznę od 90%
Miękisz był bardzo delikatny, dużo bardziej niż zazwyczaj gdy piekę. W końcu to chleb wyłącznie na drożdżach. Skórka wyszła bardzo cienka, bałem się bowiem, że ją przypalę.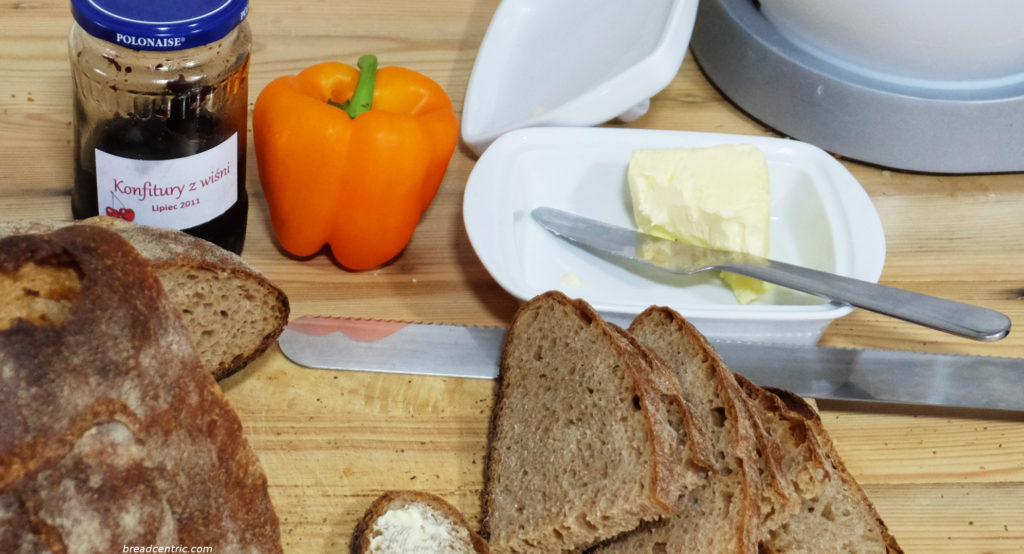 Jeśli chodzi o smak, wspomniałem już, że miód gryczany go zdominował. Następnym razem pewnie skorzystam z innego, może akacjowego.